Asus Padfone 2 review: Plug and play
Plug and play
GSMArena team, 21 February 2013.
Docking station controls
The Asus Padfone 2 slides into its docking station effortlessly, but thanks to cleverly designed locks it fits firmly in place once it's there. Even if you turn the docking station upside down and shake it vehemently the smartphone won't fall off.





The nicely designed docking space makes sure the smartphone doesn't fall off
The docking station itself packs a 10" screen, with a video-call camera sitting right below it. There's no need for another camera at the back as you can use the smartphone's 13 MP shooter when it's docked.


There's a front-facing camera above the screen
On top you get the power button, while the volume rocker is on the left side of the tablet body. Another 13-pin port sits at the bottom, while the back hosts the loudspeaker and the microphone pinhole.




The docking station power button and volume rocker • The 13-pin port
Asus has put a lot of effort into optimizing the audio output of that loudspeaker and it shows. The company has developed the SonicMaster technology together with Bang&Olufsen. It's not quite perfect, but it's certainly better than just about every other tablet loudspeaker we have heard.
Displays
The Asus Padfone 2 comes with a 4.7" Super IPS+ display with a resolution of 1280 x 720 pixels. This comes down to a pixel density of 312ppi - not quite as good as the recent wave of 1080p flagships, but the perceivable difference is minor.


We love the Asus Padfone 2 screen
The screen of the smartphone boasts good brightness and great contrast, along with decently vibrant colors. The viewing angles are impressively wide and the overall image quality is generally very pleasing. Sunlight legibility turned out surprisingly good, as seen in the chart below.
We have seen slightly better (the HTC Butterfly, which we reviewed the other day springs to mind), but the Padfone 2 screen won't let users down. Besides, Asus claims that thanks to the technology used this is also one of the most responsive smartphone screens around having an average touch response time of 65ms, compared to Galaxy S III's 85ms and HTC One X's 75ms. Of course this is not the kind of difference you can feel in real life, but what's important is the Padfone2 is as responsive as a proper flagship smartphone should be.
Display test
50% brightness
100% brightness
Black, cd/m2
White, cd/m2
Contrast ratio
Black, cd/m2
White, cd/m2
Contrast ratio
Asus Padfone 2
0.26
320
1243
0.48
600
1256
Asus Padfone 2 (docking station)
0.25
238
950
0.42
387
911
HTC Butterfly
0.14
173
1200
0.45
501
1104
Sony Xperia Z
-
-
-
0.70
492
705
Oppo Find 5
0.17
176
1123
0.51
565
1107
Sony Xperia S
-
-
-
0.48
495
1038
Samsung I9300 Galaxy S III
0
174
∞
0
330
∞
HTC One X
0.15
200
1375
0.39
550
1410
Nokia Lumia 920
-
-
-
0.48
513
1065
Nexus 4
0.22
314
1447
0.45
608
1341
LG Optimus G
0.14
197
1445
0.33
417
1438
Apple iPhone 5
0.13
200
1490
0.48
640
1320
The docking station is an entirely different story, though. With fullHD screens available on phones, 1280x800 pixels on a 10"display is bound to result in mediocre image quality.


The screen on the docking station is hardly exciting
The contrast of the screen is not bad and its colors are okay, but the pixilation is pretty obvious. After all, you when you slide the Padfone 2 in the docking station you gain more than four times the surface and yet you only get 80 extra pixels on one of the sides. The difference in the pixel sizes on the two screens is pretty big, as you can see in the two images below captured with our digital microscope.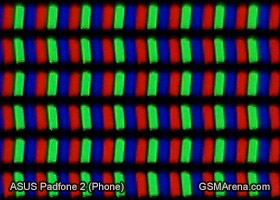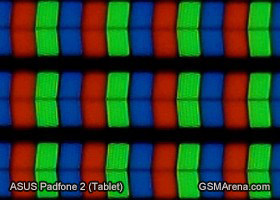 Padfone 2 phone and tablet screen matrices compares
That camera user interface in the screenshots on page 8 of this review (ID 891) looks very beautiful.
Word of advice don't buy anything from Asus. I've bought 3 products (Padfone 2 & Tablet & Laptop) from Asus & all 3 products broke down within the 1st year. On top of it all they offer near zero support & after care. Their warranties ...
Also I forgot to say that the screen of the smartphone, yes it is very bright, but unfortunately black colour is bad, it is never real dark black.