ASUS ROG Kunai 3 Gamepad & TwinView Dock 3 review
GSMArena team, 8 November 2020.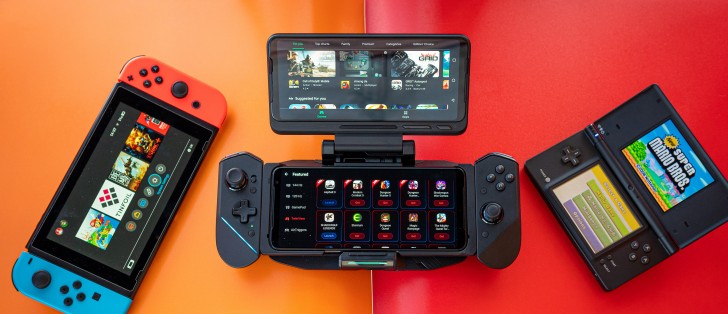 Kunai 3 Gamepad
The Kunai 3 Gamepad is an amazingly versatile piece of kit. The form factor similarities to Nintendo Switch JoyCon's are immediately apparent, and the Kunai Gamepad appears to be a great gaming attachment, retailing for around $180.
Let's start with breaking down the different parts of the Kunai 3 Gamepad. That's quite literal since there are a lot of individual components to mention in this transformer-style controller.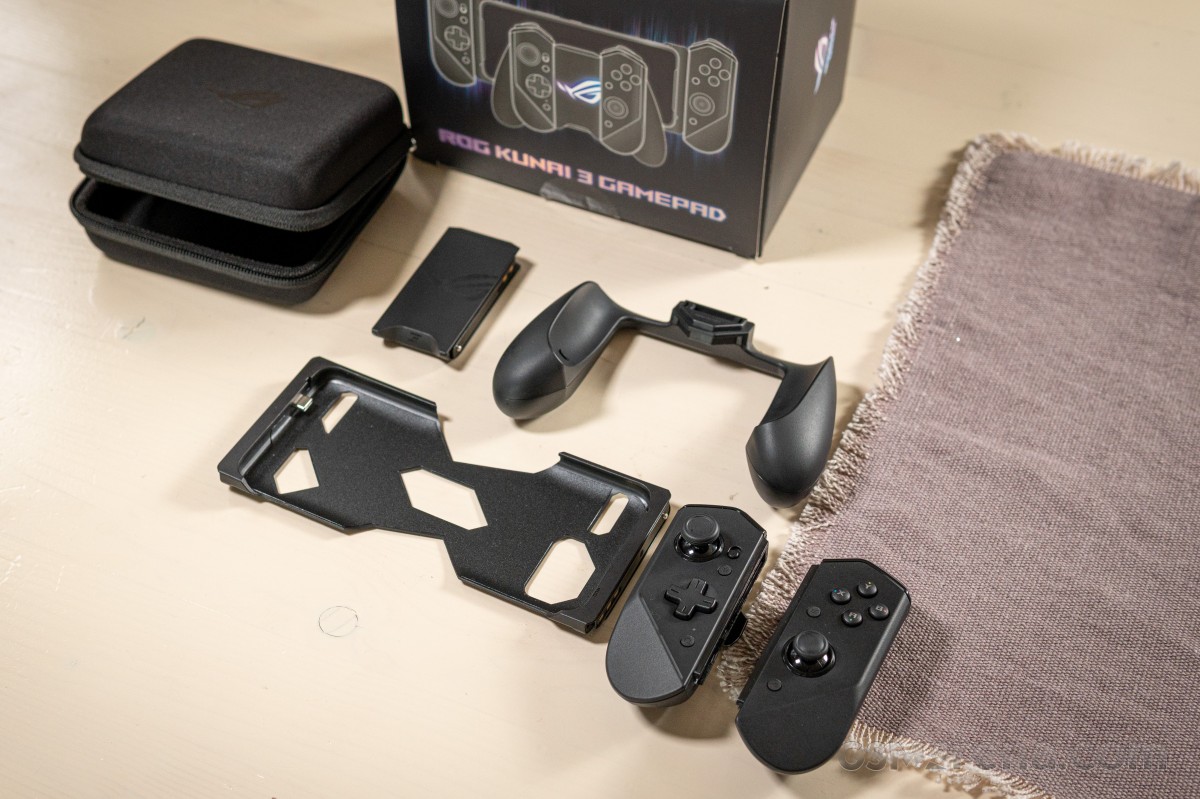 The left and right controller are the heart of the experience. These two are not symmetrical and employ the popular diagonal analog stick offset design. Whether you find that more comfortable or not will come down to personal preference.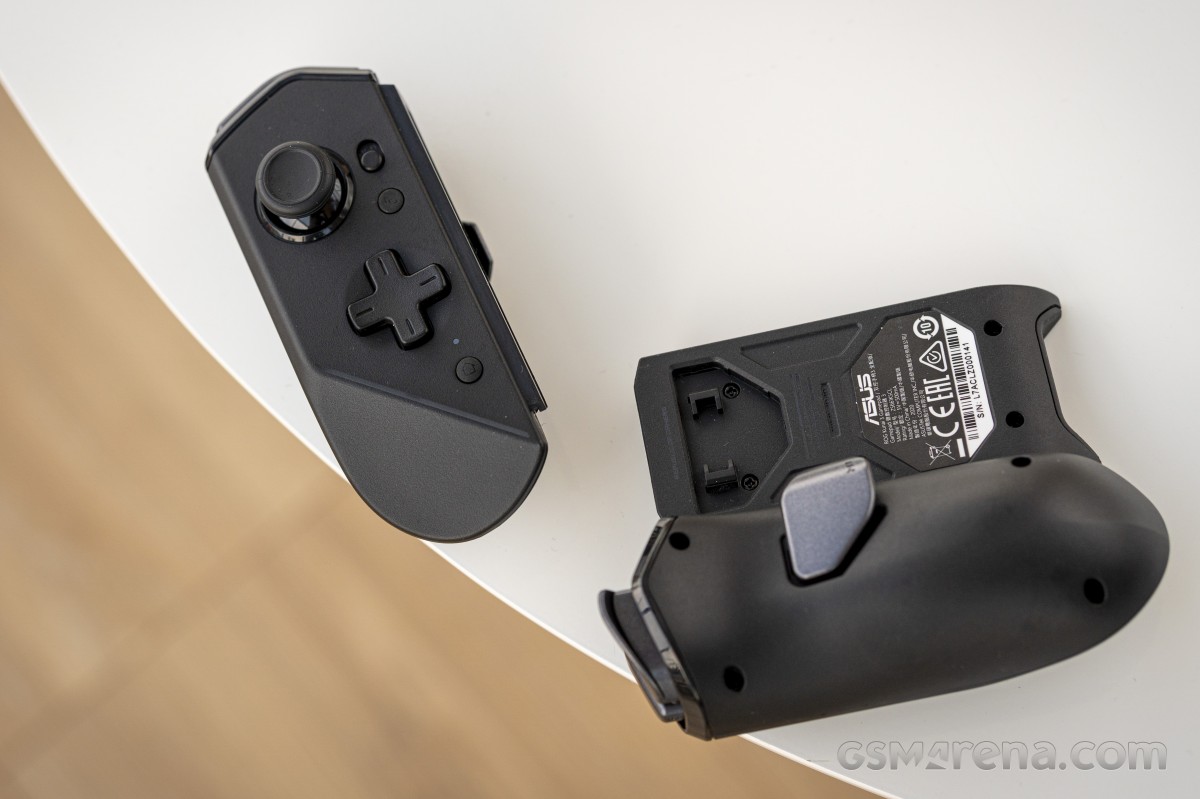 Both sides have ALPS joysticks, which can be clicked-down and an identical trigger set up around the back. You get a regular top trigger - very "clicky" and responsive. Below that - the LZ and RZ inputs, as they are commonly known, are actually analog triggers. That's not something you see every day and has the potential to be game-changing in things like racers, given the proper accompanying software support.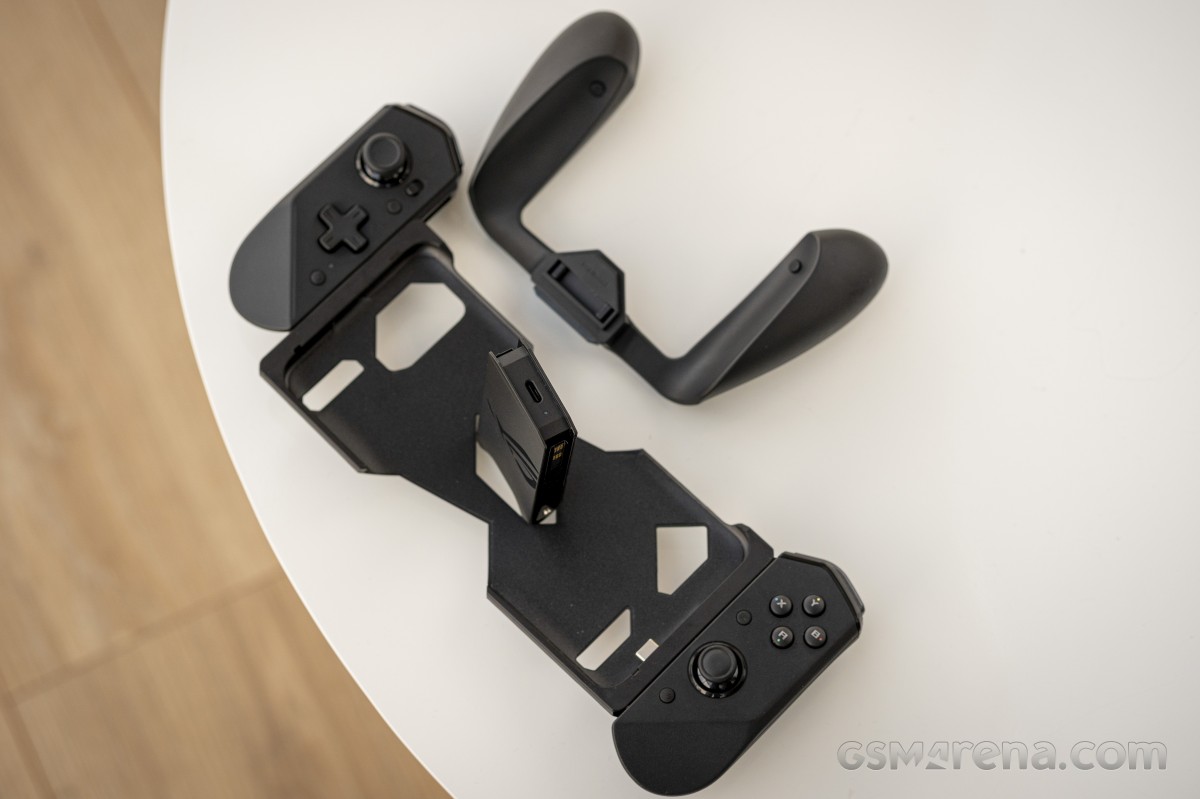 Asus is all about providing versatile options. The second set of triggers on each side, dubbed "Rear Control Keys," perfectly fits that goal. While a bit unorthodox, in general, these work surprisingly well in practice. Their placement is just right to be used with your middle fingers. Plus, the elongated fin-style design seamlessly avoids accidental presses of any other triggers due to overall pressure while squeezing your hand in.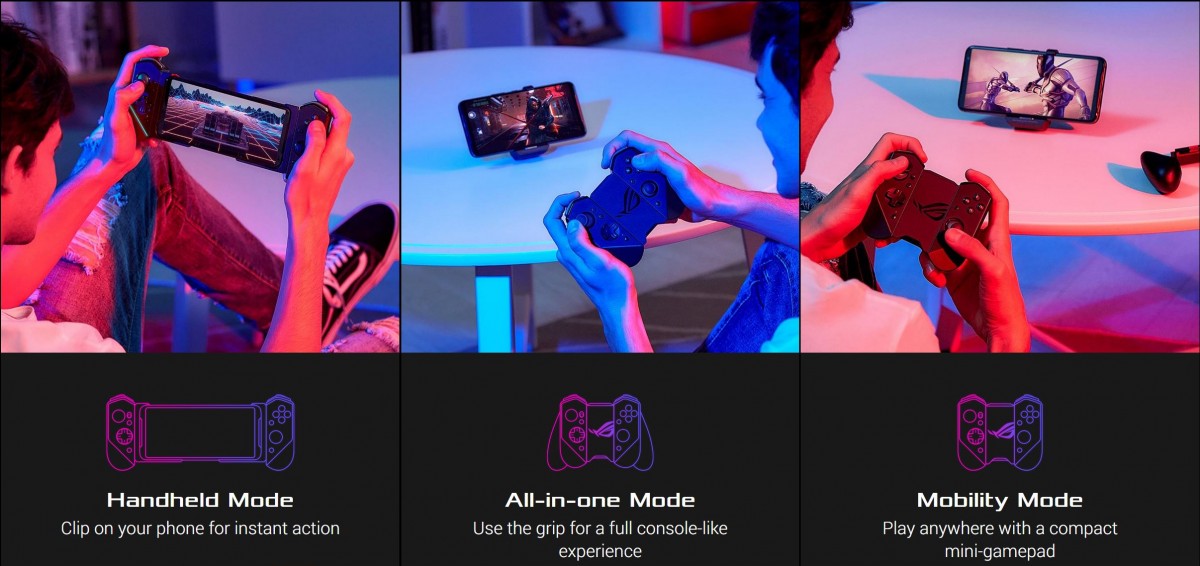 On to asymmetrical controls - the left-hand joystick has a d-pad, while a standard four-button cluster is on the right. Those tiny colorful dots on the front are printed-on, though they look like tiny LEDs. All of the buttons offer nice travel and are fairly-well stabilized. They can feel just a tiny bit mushy, but that may be nitpicking.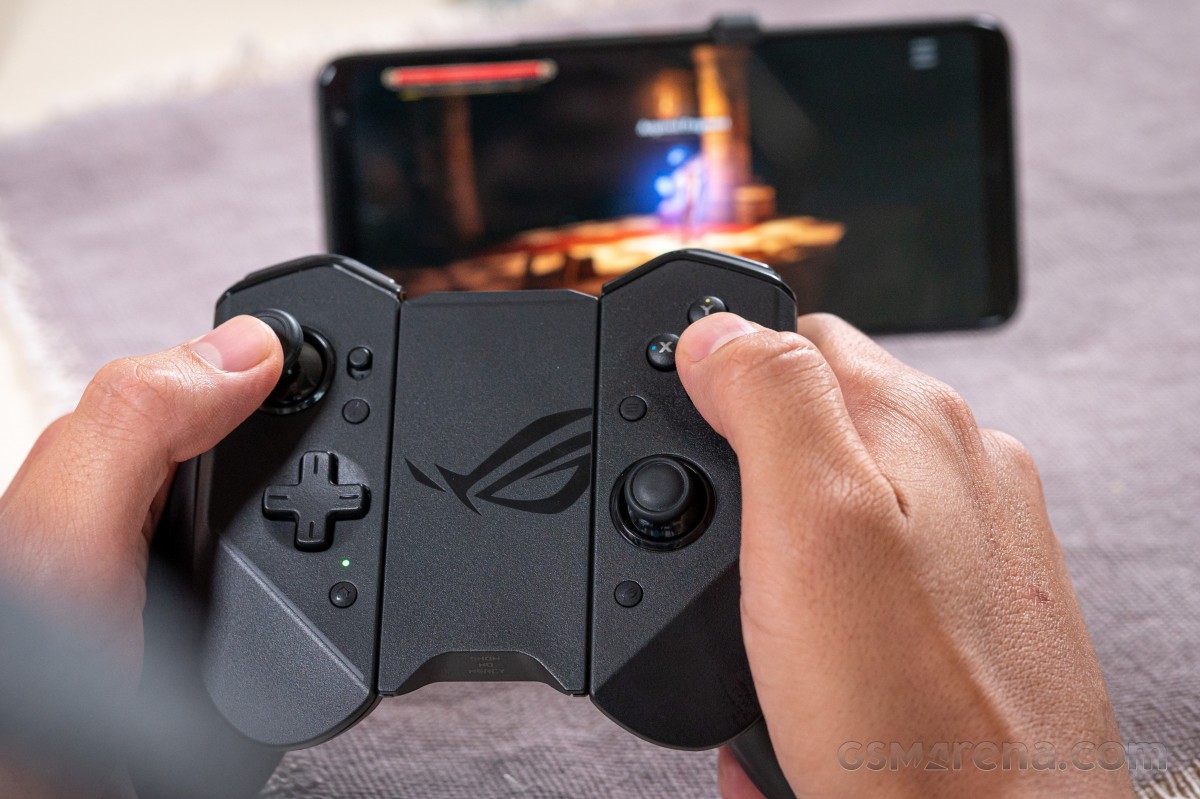 Finishing off the hardware tour, we have a total of four small buttons - home, recent apps, menu key, and an Armoury Crate shortcut. Plus, a small status LED on the left and right below it - an RGB strip. Of course, Asus didn't skimp out on RGB. This one can also be controlled through the Armoury Crate software. There is also a tiny switch that allows you to flip the Kunai 3 Gamepad in USB or Bluetooth mode.
Using the Kunai 3 Gamepad
We left that little switch for last since it has a lot to do with how the Kunai 3 Gamepad actually works. The joystick's left side is the "master one," for lack of a better term. Out of the pair, it is the only one that has a battery inside and does all of the actual connecting and data transfer. The right-half simply gets wired into it, one way or another, to pass its inputs. This explains why the wired mode works the way it does. It's also the reason why you can actually only use the left half of the joystick without the right one, but not the other way around.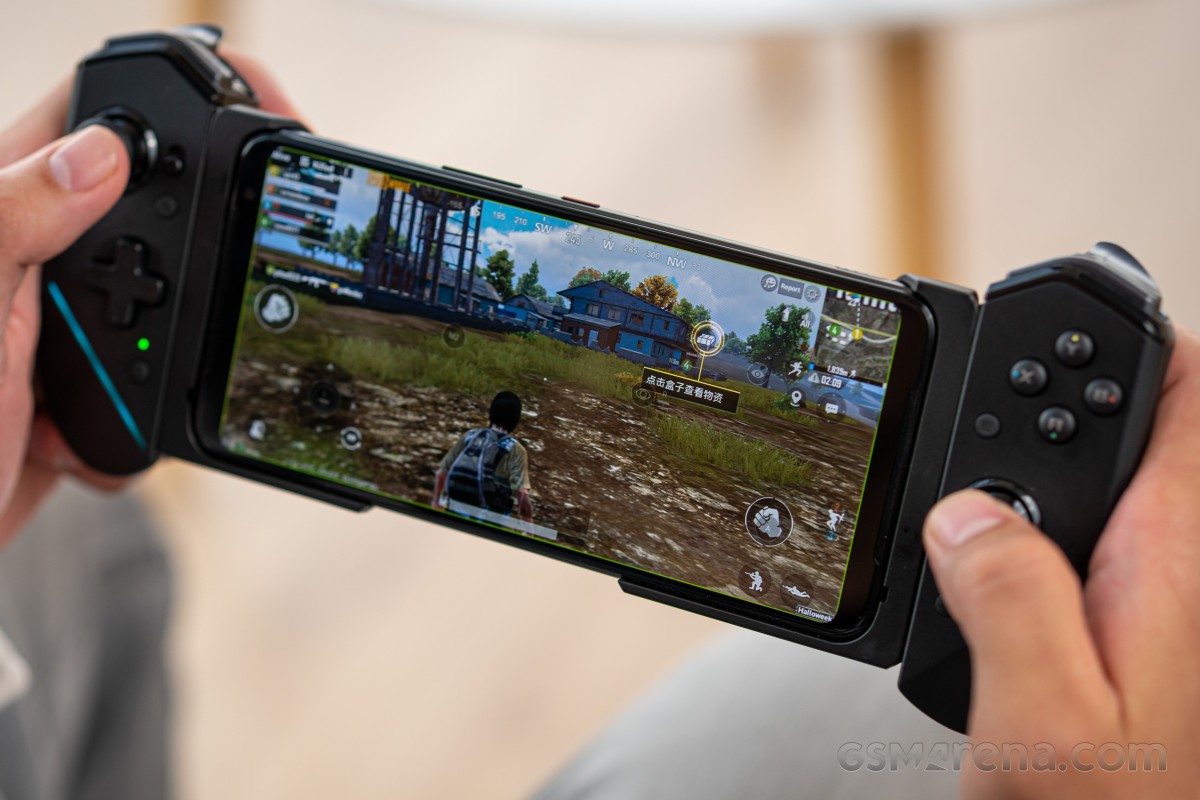 The most obvious and lowest input lag way of using the Kunai 3 Gamepad is with the included Kunai 3 bumper. It is basically a cradle that slots into the bottom USB port on the ROG Phone 3 and then has rails for sliding in the two sides of the Kunai 3 Gamepad. This effectively gives you a wired USB connection to the phone for optimal efficiency. The left controller can also charge from the phone's battery in this mode.
The attachment mechanism feels solid-enough and relies mostly on friction and a rather chunky ball-bearing near the bottom end to hold the joysticks in place. The very-similarly designed Nintendo Switch has a an additional latch mechanism on top to hold its sliding JoyCon controllers in place. It does tend to get worn-out, though, so it's not a perfect solution either. Plus, the Kunai 3 Gamepad never separated while we were using it, so we will deem this solution perfectly adequate.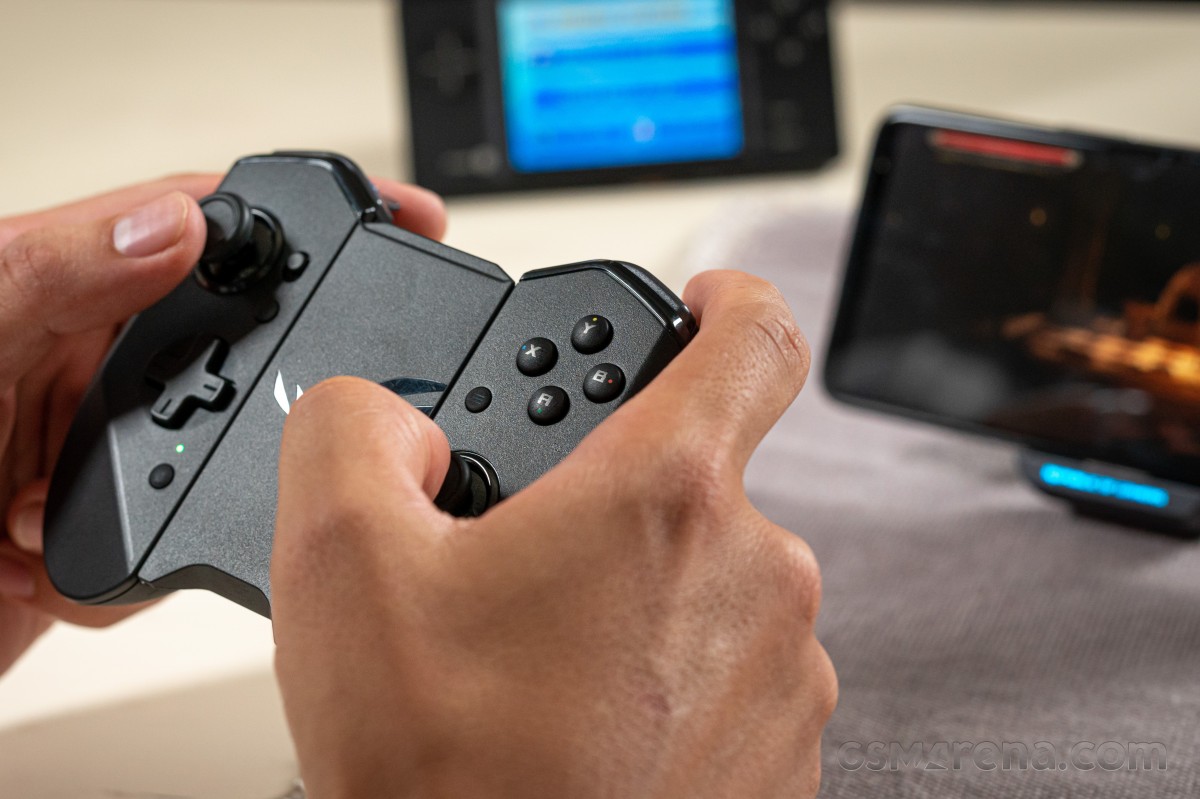 You could, technically, flip the mode switch on the Kunai 3 Gamepad to Bluetooth while still connected to the bumper and, if the phone and Gamepad are paired, everything will work. We aren't sure why you would want to forego wired connection.
When you detach the Gamepad from the phone to use in the wireless Bluetooth mode, the Kunai 3 Charger becomes an indispensable part of the setup.
The Charger is the only way to get the passive right half Gamepad functioning. Unlike the Nintendo Switch and its independent JoyCons that can both be used wirelessly, the right half is both figuratively and quite literally powerless without the left one.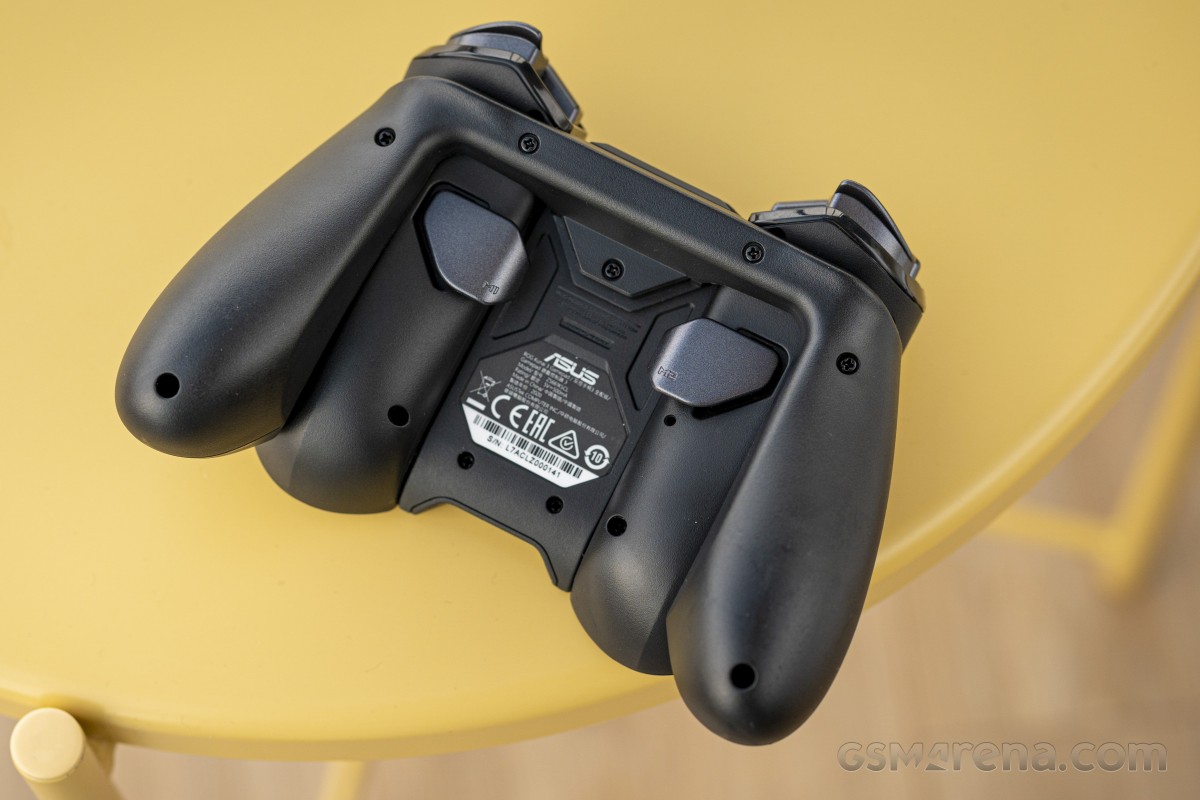 Just to further clarify, the Kunai 3 charger, or, simply put - the middle connecting bit, does not have a battery of its own. It simply binds the left and right halves together and provides a USB Type-C input to charge the battery in the left half.
Finally, there is the Kunai 3 Grip. It is just a plastic add-on that attaches to the Kunai 3 Gamepad's back to provide better grip and comfort once the Charger is already installed. We definitely appreciate the extra comfort it provides, especially for prolonged gaming sessions. How prolonged? Well, we managed to get a good 6 and a half hours of gaming out of the Kunai 3 Gamepad in Bluetooth mode, connected to a PC.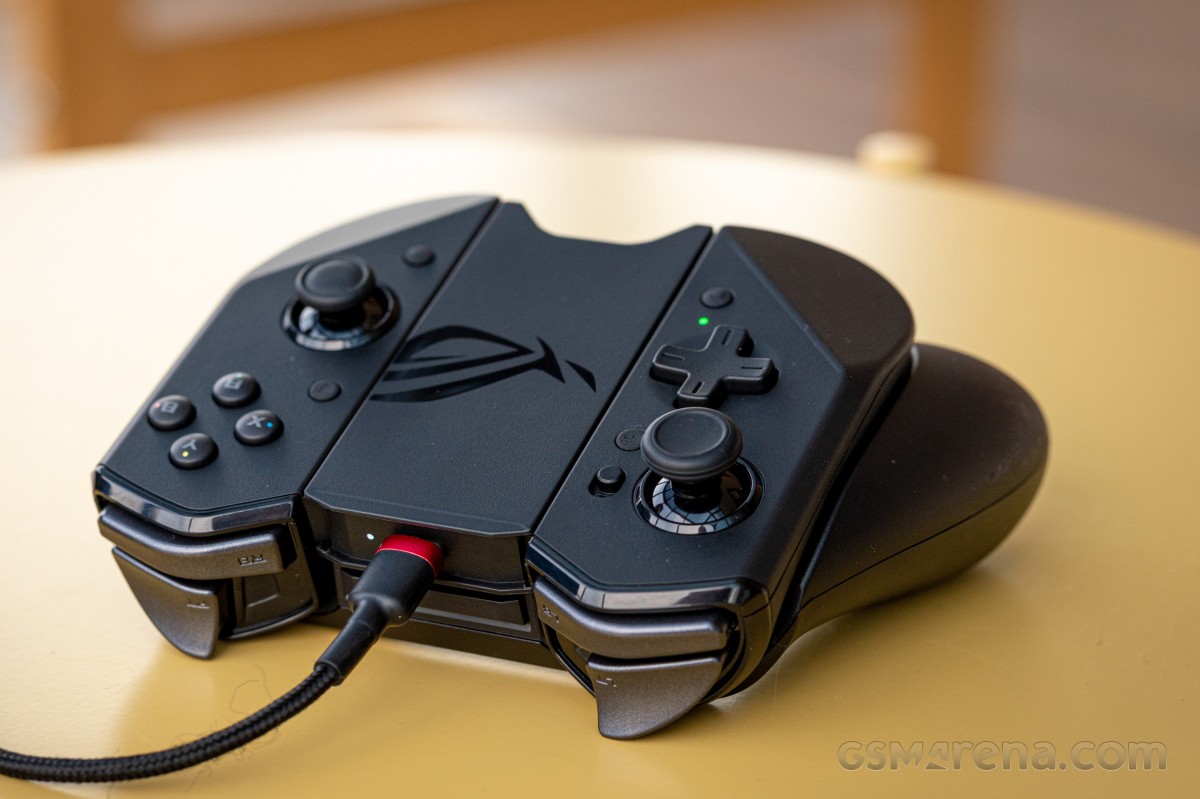 That's right, the Kunai 3 Gamepad can be used as a regular Bluetooth and USB gamepad. We tried it on several phones, and it worked great since Asus seems to be adhering to the generic HID protocol. PC connection works great - both wirelessly and wired - even if it's not officially supported.
The only drawback we found is that the PC recognized the Kunai 3 Gamepad's analog shoulders as basic buttons.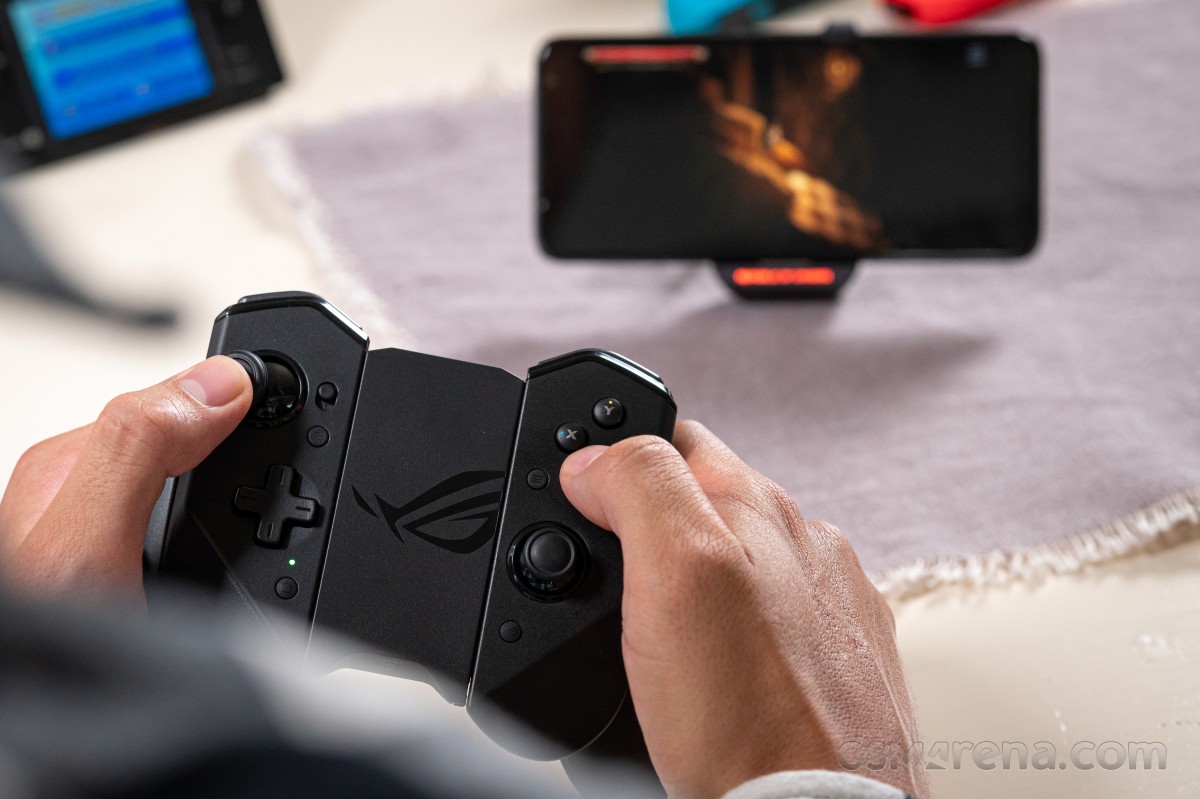 In contrast to the lackluster dual-screen support under Android, we can't exactly complain about gamepad support. There are plenty of titles that natively support controller input and work great with the Kunai 3 Gamepad.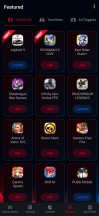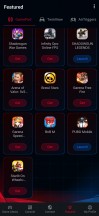 Armoury crate curated list of games with controller support
The real treat and reason to attach a controller to the ROG Phone 3, though, is for gaming. Particularly, gaming seamlessly on your phone with the most familiar and comfortable console controller of your choice. As you can imagine, for any game that has native controller support baked-in, this works without any additional steps. We tried Fortnite, Asphalt 9, Dan The Man, and Death Trigger 2, and all worked flawlessly.
What about games that only offer on-screen controls, though? The overall controller support on Android is thankfully getting better by the day, but there will likely always be notable exceptions. PUBG Mobile is one such title. It lacks gamepad support and notably bans users for using certain workarounds to get gamepads working. If you've been keeping up with our ROG Phone reviews, though, you already know that the solution Asus has in place is highly advanced and low-level in nature. As per the common-wisdom shared online, it should be low-level-enough to not be detectable or bannable by PUBG. At least in theory.
While we can't attest to the long-term safety of using Key Mapping and Macros in PUBG, nor can we condone what is effectively cheating in online gaming, we can at least confirm that the system definitely works. You likely have to spend some time mapping the physical controls to on-screen ones yourself, though, since Asus never quite offered a seamless solution to share and exchange profiles between users. You can go into a particular game in Armoury Crate and then import or export all or part of your settings for said game, including Key Mapping and Macros in a proprietary .gcprofile file. These can then be exchanged between users and imported - also full or partially. That means that if you just want to get your friend's Key Map, but not their aggressive performance settings for a particular game, or the other way around, you can do that. It's a truly powerful system, but sadly one lacking its own centralized repository.
You can find the occasional .gcprofile file online, especially in the Asus zentalk forum. There is some ROG Phone cross-generational compatibility, as well, and most Key Maps generated on the older ROG Phone II will work fine on the ROG Phone 3. Still, you might have to invest some time into setting things up just right. You only have to do it once, and you are not limited to just using a controller either. You can forgo one simply map the Air Trigger keys, or you can go all-in and map a mouse and keyboard with the help of the Asus Mobile Desktop Dock or the Professional Dock dongle.
All of these are made possible by the advanced and versatile mapping system Asus has in place. While not strictly-speaking a unique offering in the mobile realm, it is definitely one of the best out there.
Emulators work great with the phone and its accessories. While the Citra 3DS emulator doesn't work with the Twinview-Dock on dual screen, it has native support on the Kunai gamepad. The Drastic-DS emulator has dual-screen support with the T...
Chicagoboynaz
12 Aug 2021
rU$
Why would Asus make a clip that supports other controllers but not the kunai controller making it (the kunai) easier to use with other phones.. Just absent minded in my opinion