Asus Zenfone 5, 5z, 5 Lite hands-on review
GSMArena team, 28 February 2018.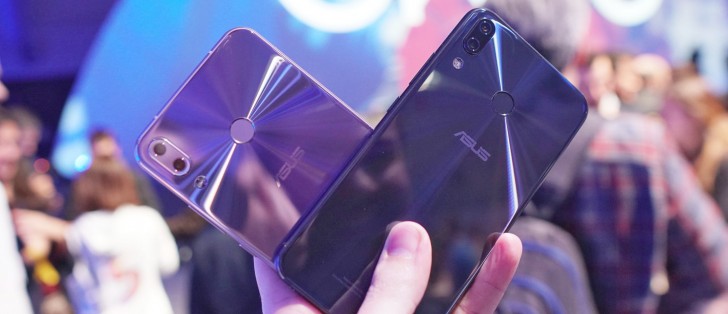 Zenfone 5 and Zenfone 5z hands-on
The Zenfone 5 duo was the star of the Asus event in Barcelona and there is an obvious reason for that. The flagship pair uses a 6.2" borderless LCD screen with an iPhone X-like notch. Fitting all sensors at the top allowed Asus to trim, if not get rid of, the bezels and the Zenfone 5 phones would post an excellent mark in the bezel-less race.
But the screen is not the only flagship feature, there are a whole lot of those.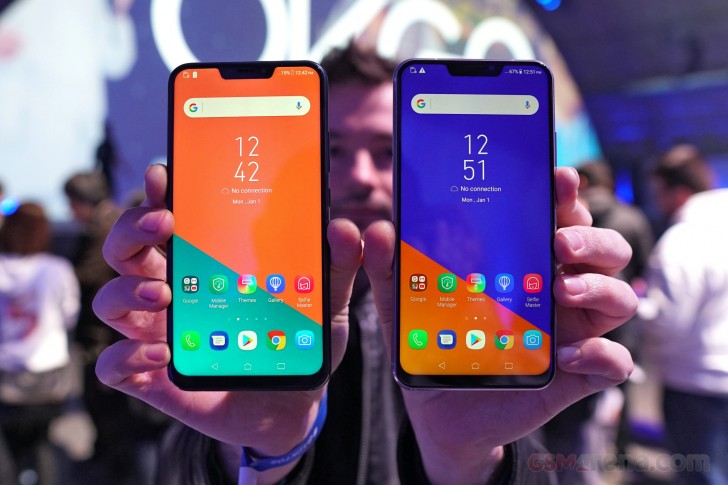 The design is where the Zenfone 5 and 5z easily excel with a shiny glass-sandwich shell made of two curved Gorilla Glasses and an aluminum frame. Midnight Blue and Meteor Silver are the two available colors and they look stunning, no two words about it.
But as every glass design that lacks oleophobic coating, the beauty comes at a price - smudges and fingerprints all over the place. Still, anyone with a thing for glass phones should have made peace with that a long time ago.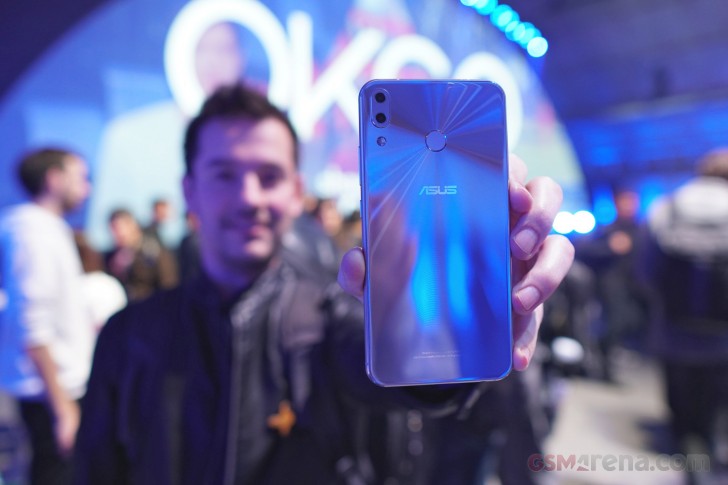 Asus likes to point out their notch is smaller than Apple's. That's probably because they didn't need to fit a nearly impossible to miniaturize Kinect sensor beneath, but yes - Asus wins. Yay!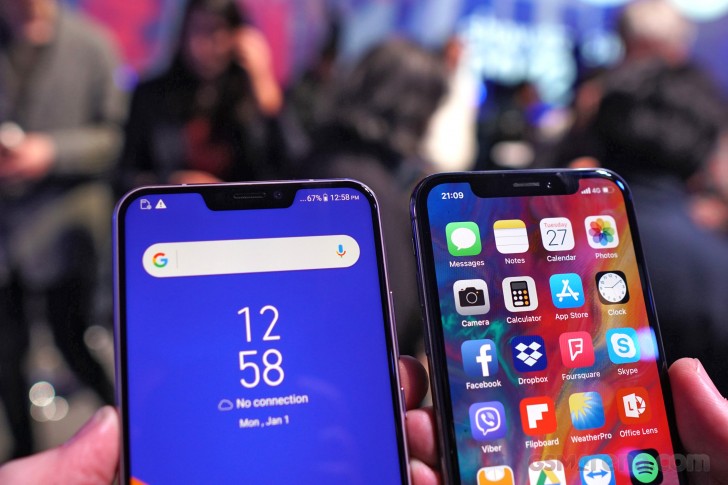 Asus chose an 18.5:9 screen aspect for its 6.2" unit but it's not that impressively-specced. For starters, it's an LCD unit but we can confirm it's really bright, contrasty, and with very nice viewing angles. The resolution of 1080p (1080 x 2246 pixels) makes up for 402ppi density, which check the box for a flagship-grade sharpness.
Flipping the Zenfone 5 or 5z isn't helping to shake the iPhone X reminiscence. On the contrary - it looks like an iPhone X even more with that horizontal dual-camera setup that's even humping like the X's. Yes, we are all for competition, options and choices, but sometimes too much is too much.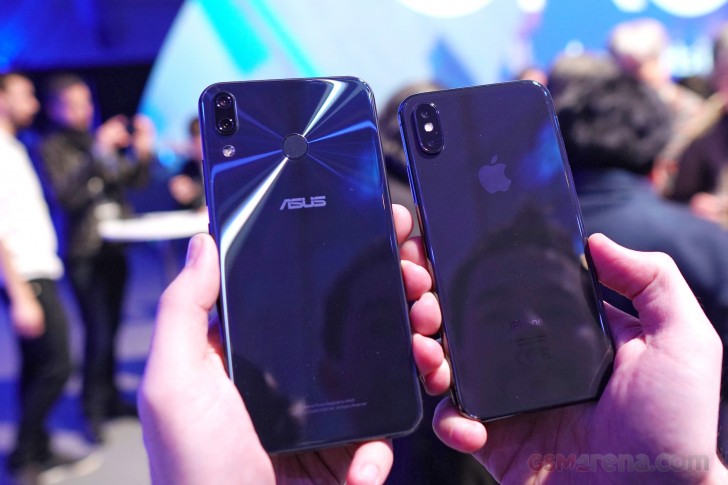 Anyway, there is a somewhat invisible texture over the rear glass which makes it grippier than the front. That and the sandblasted-like frame add for a rather secure grip and pleasant feel while handling those Zenfones.
The dual-camera at the back has a 12MP main Sony IMX363 with bright f/1.8 lens and dual-pixel PDAF. It supports EIS and 4K video recording at 30 fps. The Zenfone 5z with the Snapdragon 845 chip should be capable of 4K at 60fps capturing once it comes out in June.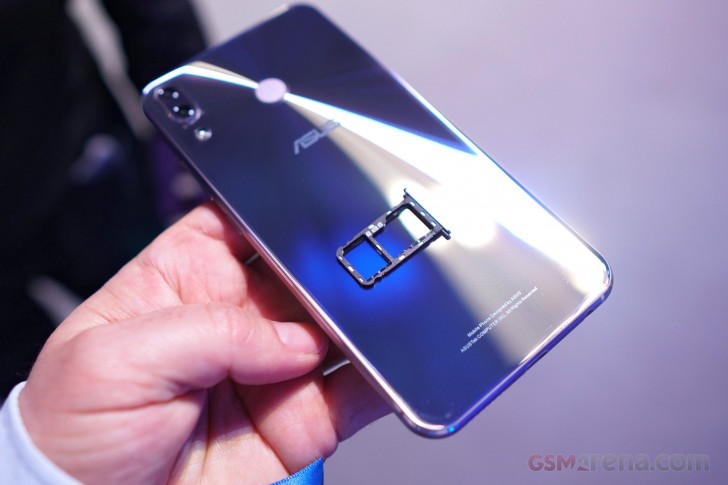 There is also a secondary 8MP 120-degree wide-angle camera, just like on the LG G5.
The setup surely looks promising, but we couldn't test it at the event.
Other notable features found around the Zenfone 5 sides include a stereo speaker setup (earpiece + bottom speaker), and USB Type-C port. The 5 and 5z will also allow dual-SIM 4G slot in selected markets, where you can swap the second SIM for a microSD card.
The phone runs on Android Oreo with Zen UI. The notification icons were placed in the two horns, as expected. Tapping anywhere inside a horn will pop up all available notification icons as those can't be fitted all up there at the same time.
Also, swiping down from the right horn brings the regular notification drawer with one row of toggles, while a swipe from the left horn will bring the expanded view of that drawer.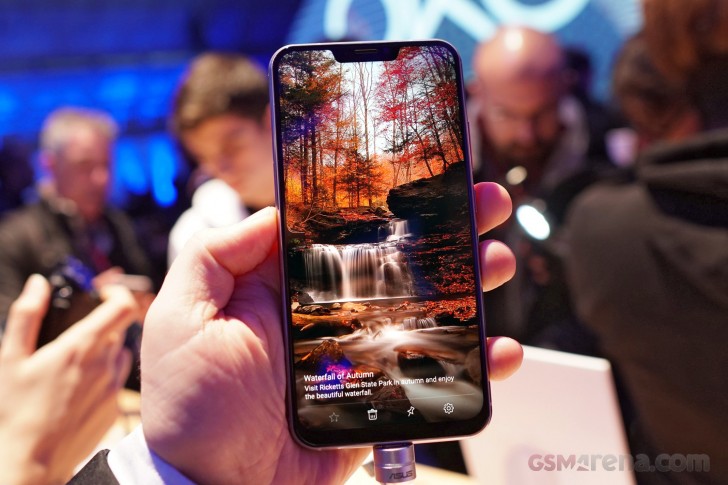 Both flagships are filled to the brims with AI: AI Boost (for more power when gaming), AI Photography (with scene detection, photo learning, portrait mode and beautification), AI Display (stays on while you're looking at it and has automatic color temperature adjustment), and even AI Ringtone (which automatically adjusts the volume according to how noisy your surroundings are). Asus is also introducing something called ZeniMoji, of course, - live-animated avatars which you can even use in video calls or live streams. And Face Unlock is available, in case you thought otherwise.
The Zenfone 5 duo features a 3,300 mAh battery with AI charging that should double its lifespan.
The Asus Zenfone 5 and 5z are completely identical outside, including the screen. The only thing different is the motherboard inside - the 5's will pack Snapdragon 636 chip with less memory, while the 5z will have Snapdragon 845 soldered with more RAM and storage.
The less-expensive Zenfone 5 launches in April, while the €480 Zenfone 5z comes in June.
I love the spec ASUS_X00QD,best quality engineering. Great support and fast
soundmaster
31 Mar 2021
spd
very mediocre phone with very bad camera and sound, but good battery. looks like a pro, very nice manufacter but evrything else is poor. i'm very dissapointed. i buy a samsung s 51 and the diffrence si gorgeous.
Anonymous
01 Nov 2020
gmF
it is what it is