Caviar's Samsung Galaxy Note9 has 1 kg of pure gold on its back
Yordan, 16 August 2018
Samsung launched the Galaxy Note9 on August 9 with a price tag of $999/€999 for the basic 128 GB variant. It arrived in four fancy colors and Gorilla Glass 5 protecting the back panel.
The luxury smartphone company Caviar that is based in Russia decided that price and looks are not flashy enough and launched the Galaxy Note9 with 1 kilogram of pure gold on the back. We're not joking, just look at the images.
The Samsung Galaxy Note9 Fine Gold Edition retains its internals with Caviar choosing to focus on the looks only.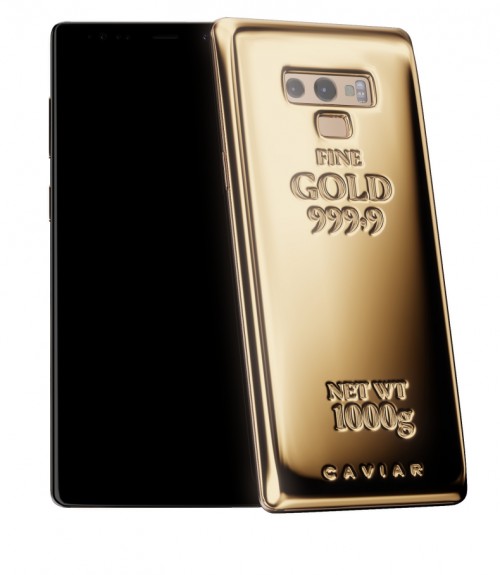 The Russian customization company also offers the Galaxy Note9 in variants with golden engraving, alligator leather, composite onyx in fancy shapes and forms, including a golden logo of the Russian Federation. While these cost around €3,000, they are dirt cheap, compared to the Fine Gold Edition.
It starts at RUB3,87 million or around $60,000/€50,000. No, we didn't put some extra zeros, this is the actual price. And if you want the 512 GB variant, you must shed around $300/€250 more.
Source (in Russian)
Related
bahahaha 1 kg phone in gold!! i'm sure everyone hand will tremble in less than 5 minute if they try holding this phone XD
Imagine carrying something that heawy in your pocket all the time... Better carry some sort of weapon in other pocket aswell since you might gonna need it if you'r having something that expensive with you all the time.
Anonymous
20 Aug 2018
nys
Kilogram of gold is worth $40k. $20k for profit.
Popular articles
Popular devices
Electric Vehicles