Counterclockwise: base storage grows, but the card slot remains popular
Peter, 04 February 2018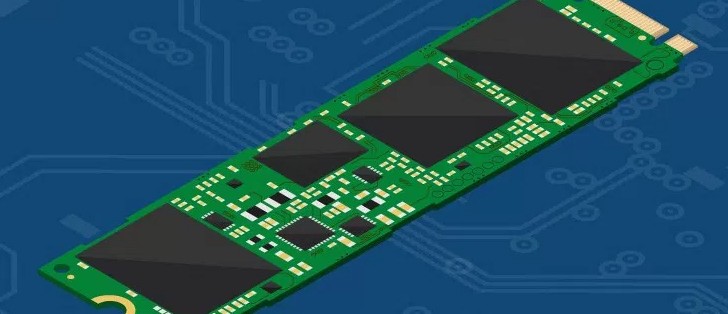 A while back, we walked down memory lane to revisit storage milestones on mobile phones. That article focused only on the stand-out devices, today we're going to take a broader look.
We will look at the base storage for all phones added to our database since 2005. We're only be counting phones with 4GB or more as anything less is basically the same from our current point of view.
Last time, we highlighted the Nokia N91, which was the first phone to deliver 8GB of storage (with a micro HDD). However its base version had only 4GB – that's the metric we're tracking today, the minimum storage a phone comes with.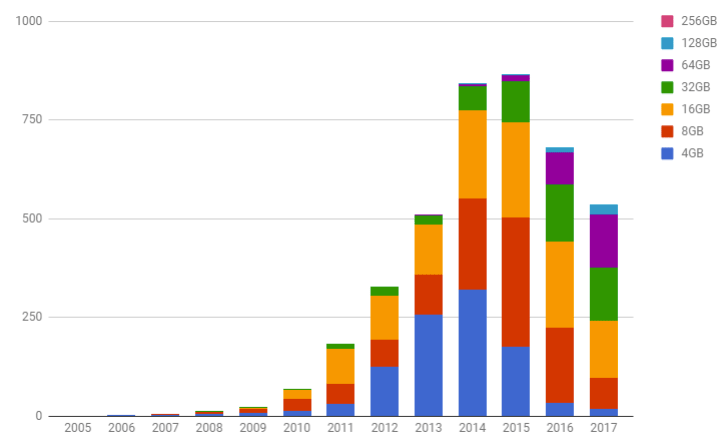 Large storage on mobiles didn't take off until 2010 when it was a fairly even split between 4GB, 8GB and 16GB. No surprise here, it was mostly flagships that boasted large internal memory as flash was still expensive.
Then you see 4GB peak in 2014 (we were surprised that it was this recent). We have a second chart, which shows the proportion of phones with and without a card slot. Around 2013/2014 was also when the card slot hit peak popularity.
Makers expected you to provide most of the storage you use, but then things shifted. Once they realized people will pony up $100 more for extra storage, the microSD slot became surprisingly rare among flagship phones. Still, as you can see 90% of phones today still have expandable storage.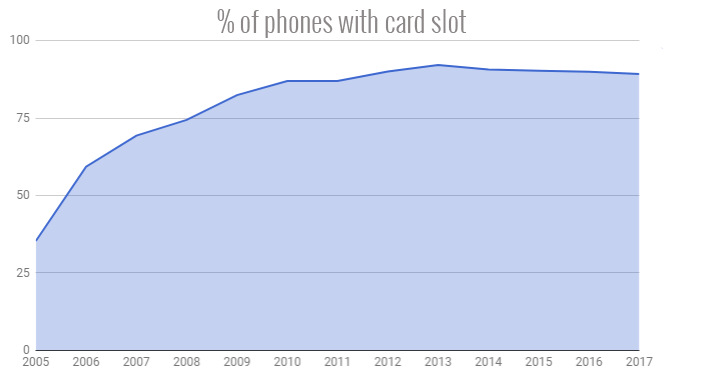 Anyway, in 2015 phones with 8GB of storage had their day in the sun and promptly lost the top spot to 16GB handsets the following year. Again, this is the base storage not counting pricier options.
2017 is complicated – it's almost a three-way tie between 16GB, 32GB and 64GB as the minimum storage built into phone (the difference is within 10 models). You probably still need a memory card on the low end, but many people can fit their storage needs within 64GB.
The 16GB segment has been shrinking ever since 2016 and we think this trend will continue. Meanwhile, the 64GB phones have become more numerous – that's a trend we'd like to see continue.
PS. You can't really see it in the chart, but there are actually phones that come with 256GB as base storage – but they are premium halo phones like the Huawei Mate Porsche Design, low-volume, high-price phones that are mostly for bragging rights.
Related
It's an xtra feature, not a must. And people should learn how to live in 2018+, not 2014. I still don't see anyone explaining why sd cards are a thing we absolutely can't live without. I only see people who doesn't know how to think a little bit out ...
Anonymous
06 Feb 2018
kAF
How many people are going to record in 4k? Let alone playing it on multiple 4k screens at once? SD card is convenient tool for MP3, MP4, MPEG and JPEG images. Just because a specific use case doesn't have use for slow SD cards, doesn't mean that phon...
Anonymous
05 Feb 2018
Feq
The problem is not with storage space, the problem is with the stupid MTP which is slow as hell and can only allow one operation at one time.
Popular articles
Popular devices
Electric Vehicles