Counterclockwise: the rise of Gorilla Glass and how it changed the phone industry
Peter, 16 June 2019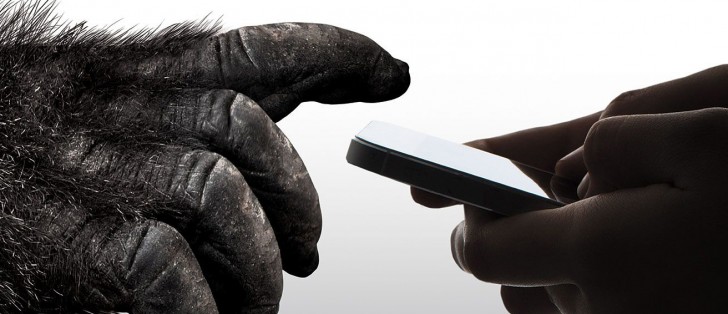 Back in 2007 a certain CEO got annoyed that the screen of his prototype phone got scratched up in his pocket. So, mere weeks before unveiling it, he decided to swap the plastic cover of the screen for chemically-strengthened glass.
Plastic was the standard back in the day, it had done a good job for years. But that wasn't good enough for Steve Jobs. His decision changed the mobile landscape and made Gorilla Glass the standard.
It is produced by Corning, which has a long history in specialty glass. It made the Pyrex cookware. It made the glass for the Hubble telescope's main mirror. It made the windows of the space shuttle. Corning even produced the glass for Thomas Edison's light bulb.
Yet this legendary company was struggling – by 2007 it had been losing money for five years straight. Thanks to Steve Jobs and the massive success of the iPhone, the company has (mostly) returned to profitability.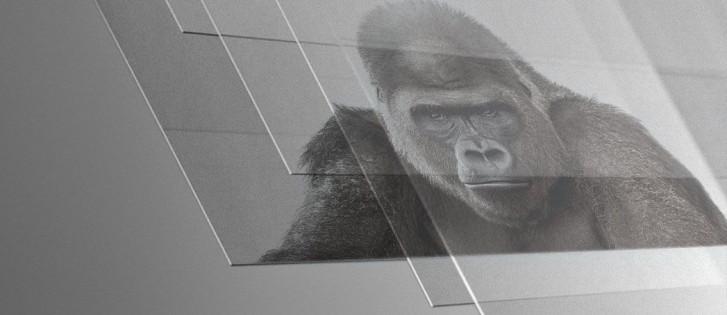 This quickly caught on. In 2008, the iPhone 3G and the T-Mobile G1, the first-ever Android phone, brought Gorilla Glass to the attention of even more people.
The following year some Symbians (e.g. Samsung i8910 Omnia HD and the Nokia X6) adopted Gorilla Glass as did various featurephones, like the extra long LG BL40 New Chocolate and even the small, affordable Samsung S3650 Corby. In 2010, Gorilla Glass could be found on roughly 200 million smartphones, according to data from Corning.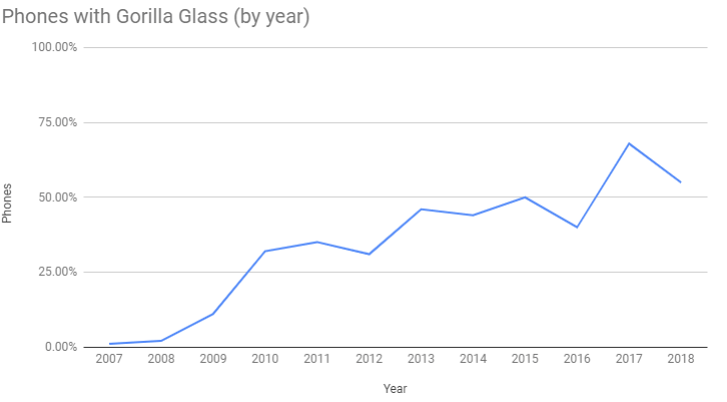 And for a long time, Gorilla Glass was enough. However, the upgrade treadmill and the drive for thinner phones lead to the introduction of Gorilla Glass 2 in 2012 – 20% thinner than GG1, but just as strong (says Corning).
After that, there was a new version almost every year – GG3 in 2013 reduced reflections and fingerprint smudges, GG4 in 2014 improved impact resistance, GG6 improved it further (it was advertised as being able to survive drops from "selfie height").
We're currently on Gorilla Glass 6, which has reworked chemistry to achieve better resistance to damage, after GG5 faced criticism.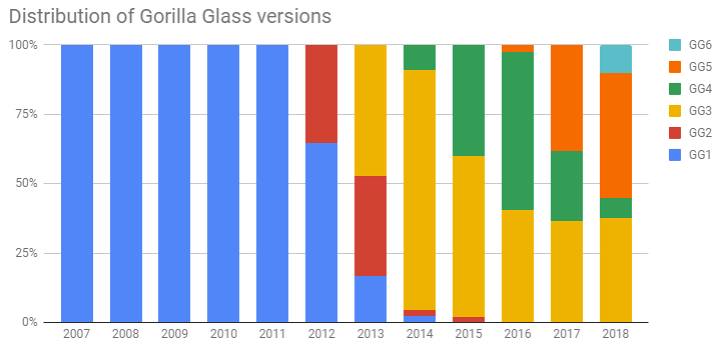 Gorilla Glass is not the only strengthened glass on the market, of course. Apple, the company that pushed GG into the stratosphere, famously divorced it and switched to "ion-strengthened" glass starting with the iPhone 6. Apple originally wanted to use sapphire, but the company that was preparing to produce the panels went bankrupt.
There's the occasional alternative like Dragontrail, which was used on the Pixel 3a most recently and some Xperia phones before that. Some makers just say "scratch-resistant glass" and leave it at that, so it's hard to tell what you're getting sometimes.
To this day, however, Gorilla Glass is the standard. And life without it can be tough, just look at what happened to the top screen layer of the Galaxy Fold. Corning is working on foldable Gorilla Glass, there's a special version for wearables, even some TVs use Gorilla Glass. It's a material that's highly important for modern tech (the modern world has screens everywhere) and it deserves recognition.
Related
When will the Akhan's diamond coating on glass launch into the market?
Well i never try to look for something like Elephone because this is a very minor brand its not even in top 20 or 30 phone brands. And here n Slovakia we dont have such brand for sale. If aliexpress wont work for you try wish site or ebay amazon e...
Everything? You try to find a fully curved tempered glass protector for an Elephone U / U Pro. And yes that IS an uncommon device BUT the Boe display is identical to the one on the F(x)tec Pro1 https://www.fxtec.com/pro1/ (And that is what I'm l...
Popular articles
Popular devices
Electric Vehicles