Estimated Samsung Galaxy F bill of materials shows why it will cost $1,800
Peter, 16 December 2018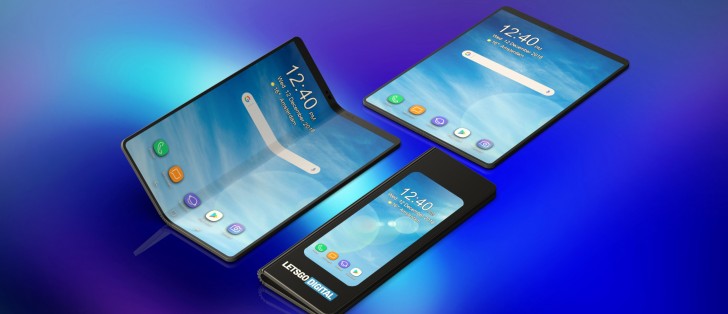 Korean agency CGS-CIMB Research has posted a report in which it estimates the Bill of Materials (BOM) for the foldable Galaxy F and compares it to a Galaxy S9+ and an iPhone XS Max.
The priciest item is the display – or should we say "displays". The Galaxy F will have one large 7.3" panel that folds down the middle along with an external 4.58" display. There will reportedly be two batteries as well, though that doesn't add much to the cost (total capacity is expected to be around 5,000-6,000mAh).
The BOM works out to around 65% more than the iPhone and the S9+, which cost about the same. The analysts are predicting that Samsung will go for a profit margin of 65%, matching Apple, instead of the 55% of the Galaxy S9+.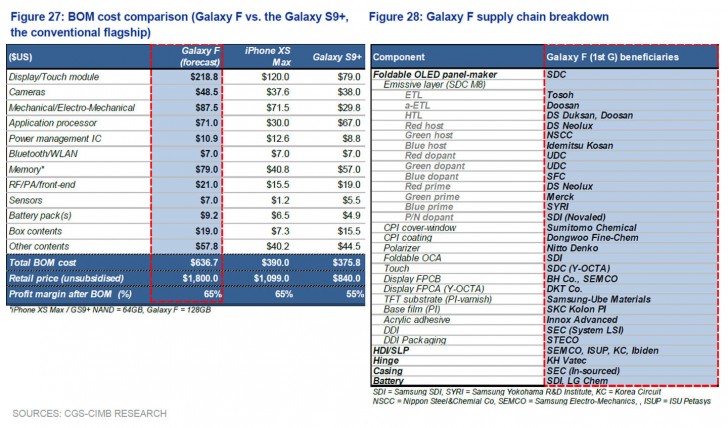 And with that they arrive at a retail price (without carrier subsidies) of $1,800. Which is an almost exact match for the rumored price.
That's steep, but the Samsung Galaxy F will be among the very first devices with a proper foldable screen. And the biggest money drain right now is the active research, costs will come down in a few years.
The analysts are predicting decent sales of around 3.5 million units of foldable phones next year, a number that will rise quickly to 24 million units in 2022. Price tags, however, will change slower – the average price of a foldable phone in 2022 is predicted to be around $1,300.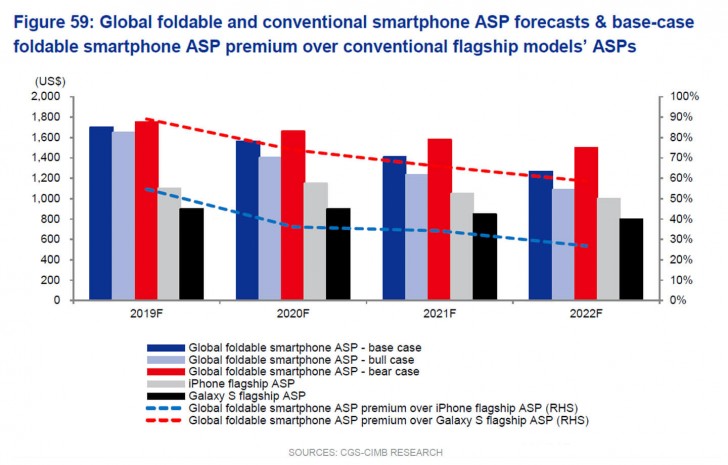 There will be competition to make components for foldable phones too. Samsung Display is in the lead right now, it can crank out 1 million foldable screens a year, according to the report. LG Display will achieve that scale in 2020.
Makers of foldable circuit boards and batteries stand to benefit from foldable phones too.
Related
here we are the end of 2022 in coming fast and the price of foldables is where they predicted. Z fold can be bought for 1400 and Z flip for 800
Popular articles
Popular devices
Electric Vehicles