Flashback: Toshiba TG01, the first smartphone to hit 1GHz, is now mostly forgotten
Peter, 28 November 2021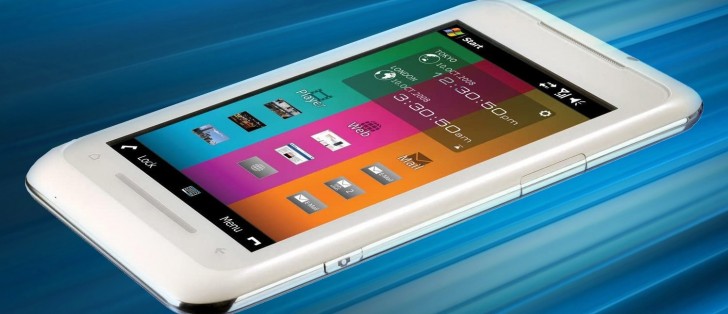 Last year Qualcomm unveiled the first mobile chipset to go above 3.0GHz, that was the Snapdragon 865+. But today's story takes us a decade earlier to visit another Snapdragon chipset – the first to achieve 1GHz on mobile and more specifically the first smartphone to use it.
The Toshiba TG01 was nothing short of jaw-dropping when it was unveiled in January of 2009. For the first time we had to use "gigahertz" when describing the CPU clock speed and that wasn't the only incredible feature of this device.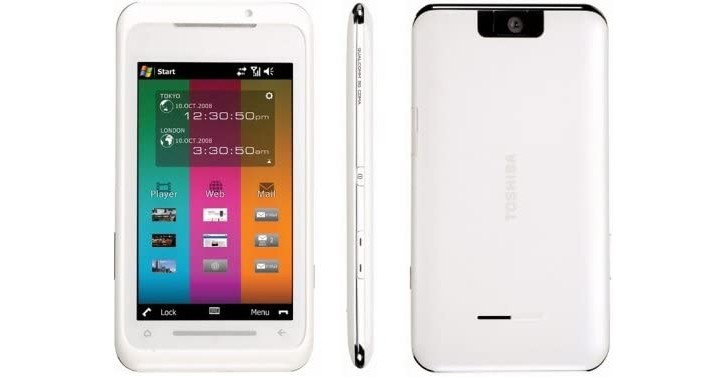 It was both large and small. It had a "massive" (for the time) 4.1" screen and we were genuinely worried if it could be used single-handed and whether it will fit in their pocket. The 5:3 aspect ratio of the screen and some chunky bezels did make the device 70mm wide and 130mm tall. Certainly not unwieldy by today's standards, but pretty huge for the time.
However, all of that compute power and the large LCD were housed in a slate that measured just 9.9mm thick. This was before the modern trend of razor-thin phones came about and was fairly impressive
So, what OS was chosen to rein in this 1GHz beast? Windows Mobile 6.1 Professional (later updated to 6.5). Android had only arrived on the scene a few months earlier, so WM didn't seem like an unreasonable pick. Also, Toshiba envisaged this as a phone for demanding business folk, so the Microsoft OS was the way to go.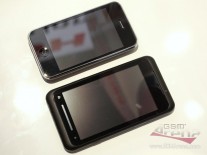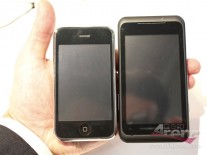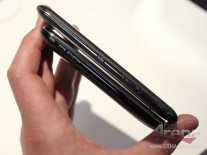 Toshiba TG01 next to an iPhone 3G
Tradition dictates that the manufacturer should do its best to cover up the ugly Windows Mobile UI. In this case Toshiba divided the display into eight vertical strips. They were kind of like folders in that they contained shortcuts and files and each represented a category (e.g. contacts, media files, etc.). Only three were visible at the time, so you had swipe left and right to view the ones off screen and up and down to view additional items in each category.
Above that was a single widget – developers were still trying to figure out touch UIs. Anyway, once you got past the custom Toshiba UI and its fancy 3D animations, you were faced with the dour Windows Mobile interface that looked straight out of Windows 95.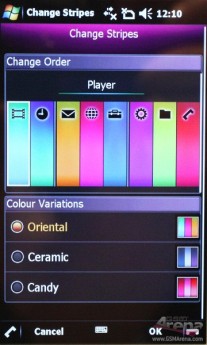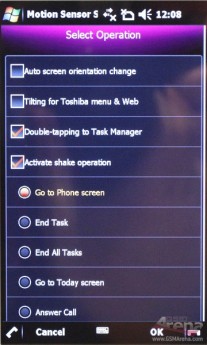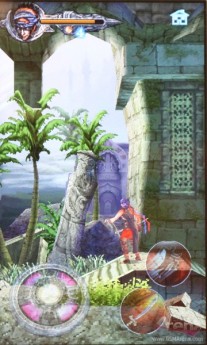 The TG01 interface supported basic customization • And gestures • Playing Prince of Persia HD
The situation wasn't helped by the touchscreen. The LCD was partly to blame. The 4.1" panel had 480 x 800 px resolution and at 228 ppi it looked sharp. However, color rendering was limited to 65K, even though full 24-bit color was available on some contemporary phones (65K colors was a Windows Mobile limitation).
Even worse, this was a resistive touch display and it lacked the sensitivity of capacitive touchscreens like the ones on the iPhone. The typing experience on the virtual keyboard wasn't great, despite having larger keys to aim for. There was an accelerometer for auto screen rotation, but that was rather sluggish.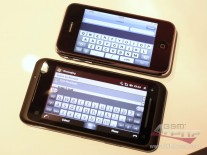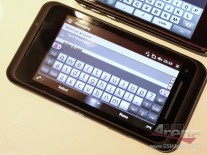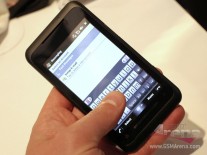 The larger screen made for a larger virtual QWERTY keyboard
Beauty requires sacrifice or rather that sub-1 centimeter thickness required limiting the battery capacity to 1,000 mAh. If that sounds small it's because it is – featurephones had 1,000 mAh or so, smartphones tended to have more. For example, a Nokia E52 also measured 9.9 mm thick and had a 1,500mAh battery. And that one only had to feed a 600MHz CPU and a 2.4" display. An iPhone 3GS from 2009 (quite chunky at 12.3mm thick) had a 1,400mAh battery and it wasn't known for its endurance.
Anyway, it's clear that all the work went into three things: the 1GHz chipset, the 4.1" display and the 9.9 mm thick body. Everything else was less important. The camera, for example, had a 3.15MP sensor and could record 480p videos at 30 fps. Not bad, but nothing to get excited about either, since the first phones with 720p recording also arrived in 2009. And some of them didn't even need a 1GHz CPU to do it.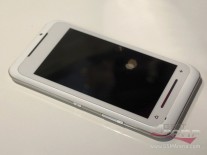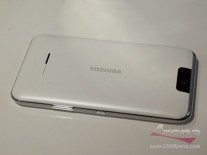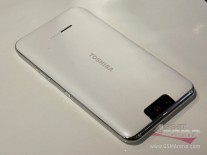 The Toshiba TG01 as we saw it at the MWC back in 2009
The Toshiba TG01 made a splash in the headlines when it was announced and it left an impression on us when we first handled it at MWC 2009. However, despite its dominating clock speed and screen size, the phone didn't leave much of a mark on the smartphone industry.
Previously we looked back at the HTC HD2, which launched a few months after the TG01. It used the same Snapdragon S1 chipset as the Toshiba, had an even larger 4.3" display and ran Windows Mobile 6.5 with HTC's superior Sense UI. Despite their similarities, however, the HD2 achieved legendary status, while the TG01 is barely remembered.
Related
Anonymous
03 Dec 2021
0q7
I never really saw speed tests of this phone. But the few I can recall I saw, didn't put it really in front of the competitors, especially when because it had a very very sh*tty GPU at its time.
WTF this phone is so lit before
Anonymous
01 Dec 2021
J5s
Also first phone with Arm v7 Cortex Archtiecture.
Popular articles
Popular devices
Electric Vehicles