Nexus 6P vs. LG V10 vs. Galaxy Note5: Jumbo joust
Jumbo joust
GSMArena team, 13 January, 2016.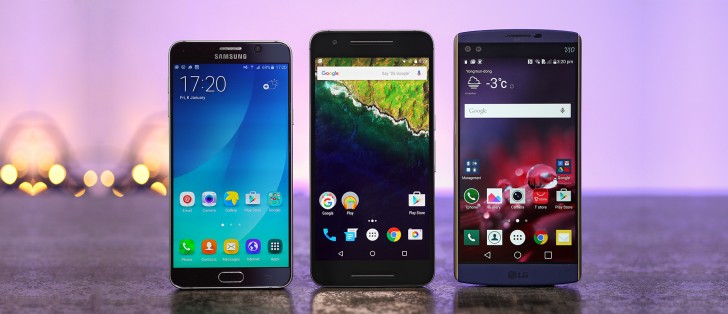 Introduction
We've gathered three of the best Android phablets with a 5.7" screen. All three hail from the East but instead of Zen calmness they epitomize the latest and greatest in mobile technology.
We will focus on several key areas, starting with the screen quality and battery life. Those are the best things about large phones - large screens and large batteries. We'll also look at how their chipsets perform, how they do sound-wise (both with and without headphones) and we'll finish off with a deep dive in camera quality.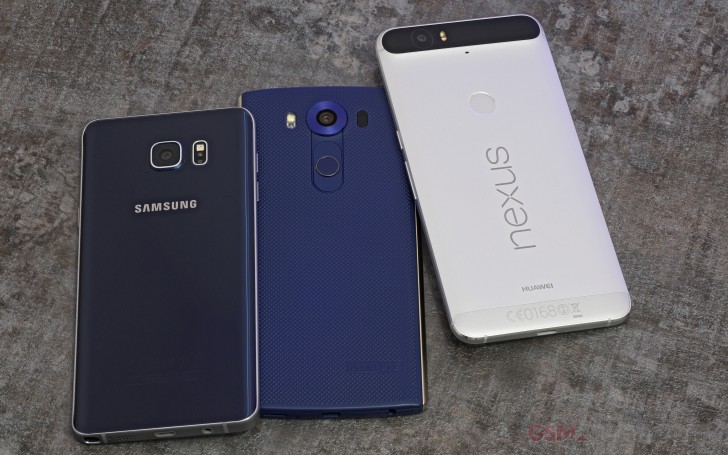 If we have to summarize the differences between these phones our keyboards will run out of ink ribbon, so here is a more concise comparison.
Huawei Nexus 6P
All-metal unibody
Vanilla Android 6.0 Marshmallow
Stereo speakers
Large pixels for low-light shooting
Dual-LED flash
8MP selfie camera
240fps slo-mo
Bigger battery, 3,450mAh
USB Type-C

No memory expansion
Less RAM than the other two (3GB vs. 4GB)
No camera OIS
Screen colors not very accurate
This is the first Nexus to have an aluminum unibody (previous models used metal more sparingly) and it's the first one from Huawei. It features mostly the same specs as the LG-made Nexus 5X, except for the better screen (a larger, sharper AMOLED) and the faster chipset (Snapdragon 810 vs. 808).
LG V10
Durable body (double glass screen, rubber back, internal bumpers)
Replaceable battery
Secondary, always-on screen
16MP camera with OIS, f/1.8 aperture
Dual 5MP selfie cameras: 80° and 120°
4K TV-out (SlimPort)
IR blaster, FM radio

Snapdragon 808 chipset (only two high-performance A57 cores, weaker Adreno 418 GPU)
LCD screen doesn't handle sunlight very well
Heavier than the other two
The LG V10 is an improved version of the G4, the first of a new flagship line. LG made it more rugged and added a unique secondary display which can stay on 24/7. The company also improved the software for the impressive camera (same as the G4) and added a second selfie camera so you get a choice of solo shots (80° field of view) and group shots (120° FoV).
Samsung Galaxy Note5
Glass and metal body
Screen with accurate colors and great sunlight legibility
S Pen stylus with dedicated digitizer
16MP camera with OIS, f/1.9 aperture
Selfie cam with 1440p video
Heart rate and blood-oxygen sensors
Fast wireless charging

Still not available in Europe
No memory expansion
No TV-Out
The Samsung Galaxy Note5 is like a grown up S6 in terms of design and specs, but it brings the signatory S Pen stylus. The Super AMOLED screen has been polished to perfection and you get the latest fast charging tech - the one that doesn't need cables.
Anonymous
05 Aug 2018
7BD
I don't think it's tremendously fair to knock the V10's battery performance so much when you can actually get a full charge in under a minute... by swapping in another battery, something you absolutely can't do with the other two. That deserves point...
LG V10 tc better than Google nexus #IG
AnonD-551984
22 Jun 2016
4@R
Absolutely awesome review, appreciate the time spent here. Two things I'm bothered by, one even in final conclusion when speaking of battery you forget to point out the LG V10 will allow you to insert another battery with very little trouble. Th...