Google Pixel 3 review
Angie Zampona, 31 October 2018.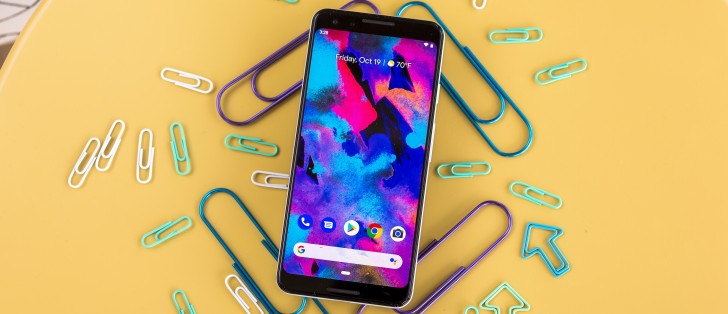 Google's recipe for Pie
The Pixel phones are meant to showcase Google's software, and the Pixel 3 comes with Android 9.0 Pie preinstalled. The Pixel launcher is on top - in a way, Google's custom skin over its own OS.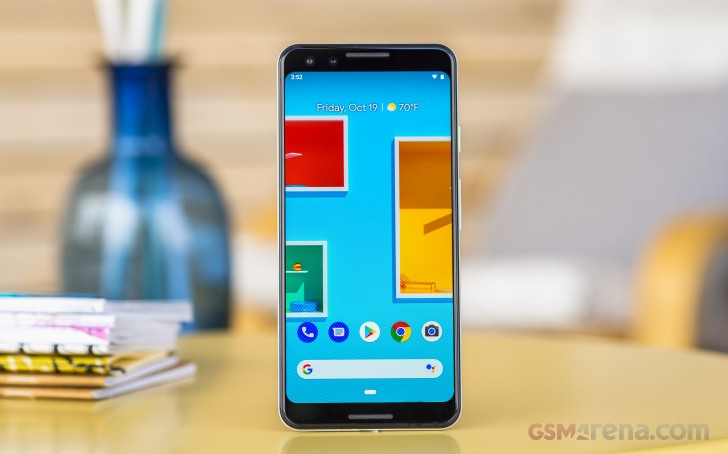 We're familiar with the Pie on Pixel combo from the beta we fooled around with for a bit, though things have evolved slightly since then. For one, gone is the option for tap-based navigation - it's all gestures now.
A tap on the pill button takes you Home, a quick flick from it to the right switches back and forth between the last two apps, while sliding it to the right takes you to one of the UIs for task switching. A short-ish swipe up from the bottom evokes the 'other' task switcher which is also the way to go into multi-window, and it's about as clumsy as they could have possibly made it.
A longer (like seriously-almost-all-the-way-to-the-top-longer) swipe up takes you straight to the app drawer, though a second swipe up from Task switcher 2 will also work. It's not all ideal, no. Ah, and there's a back button on top of all that, there's no gesture for that. There's also Active edge - the squeeze for Assistant shortcut that maybe someone uses?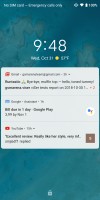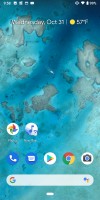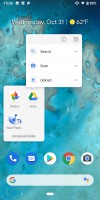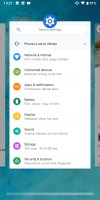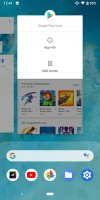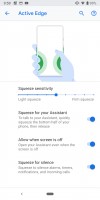 Lockscreen • Homescreen • Folder view • Task switcher 1 • Task switcher 2 • Active edge
The notification shade has been redesigned yet again and now the quick toggles don't let you change stuff then and there, but take you to the respective settings menu. The settings have colorful icons, and there are display color modes out of the box unlike the Pixel 2's dull-only fiasco at launch. Best of all, the Now playing feature that recognizes ambient music now keeps history.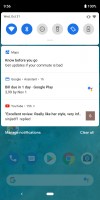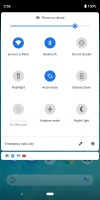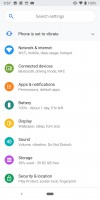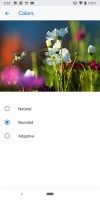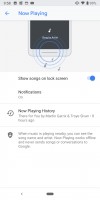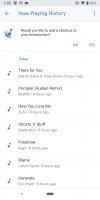 Notifications • Quick toggles • Settings • Display modes • Now playing keeps history now
The emphasis with this year's software is on your digital wellbeing - that is, taking proactive steps towards spending less time on your phone, and making sure that the time you do spend is quality time. Or, you know, just look at the stats once, and move on to the next cat video.
The Digital Wellbeing hub of sorts tells you what it is that you've done on your Pixel 3 today, and how much time you spent on each app, plus it counts the notifications and the number of times you've unlocked the phone. Delve into the Dashboard and you can get per-app stats, as well as set limits for the time spent in each one. There's a handy shortcut to Do Not Disturb mode called 'Flip to Shhh' - pretty self-explanatory, just... please, don't put your phone face down on a hard surface, please?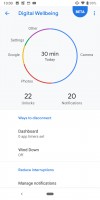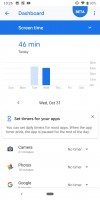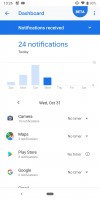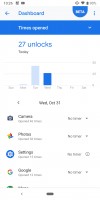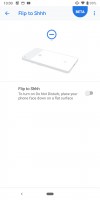 Digital Wellbeing homescreen • Dashboard with per-app statistics • Shhh
Then there's Wind Down. What a time it is to be alive, when you need your phone to change the tint of its display in low light, then go all grayscale at a predetermined time, and engage Do Not Disturb mode, so you can get some rest.
The Pixel Stand is where you could potentially keep the phone at night, so it can both charge and serve as a desktop office for your Google Assistant. Come morning, it can brighten up with warm colors before it blares the death metal alarm you've set up to get you out of bed on Mondays. Just don't take it out on the Stand, as it costs some $79.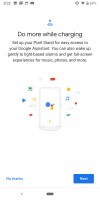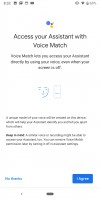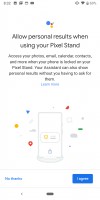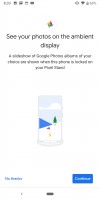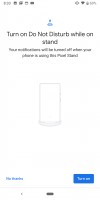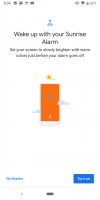 Stuff the Pixel 3 can do on the Stand
Google Lens is an in-camera helper for copying texts, shopping for stuff you see around, scanning barcodes, and whatnot. Well, it fails miserably in the shopping part, and we so wanted to buy a Pixel 3, but it figured we should get ourselves an original Pixel. And purchasing a pair of Sony headphones isn't quite like purchasing Sony Corporation.
Synthetic benchmarks
Guess what, the Google Pixel 3 is powered by the Snapdragon 845 chipset like only every other top-tier droid on the market that isn't Huawei's or Samsung's (and even the Koreans use Qualcomm's chip for China and North America). As is customarily the case with Pixels, the CPU is slightly downclocked to 2.5GHz for the high-performance cores (vs. the typical 2.7GHz), and 1.6GHz for the efficiency-focused cluster (nominally 1.7GHz).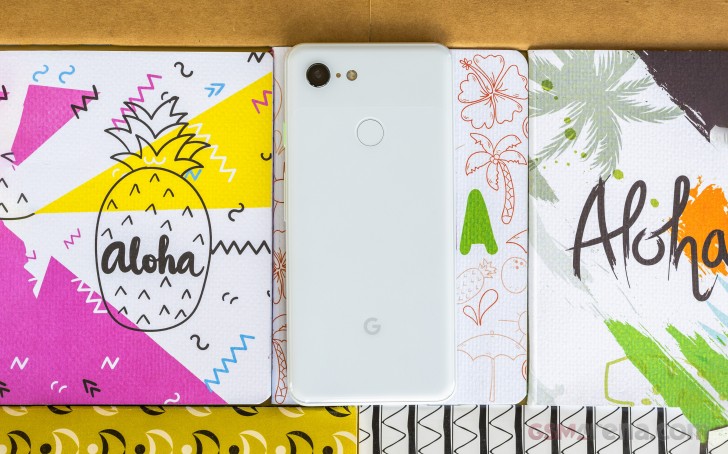 Predictably, the Pixel 3 doesn't quite achieve the same results we've seen from competitors using the same chip. More importantly, however, the Pixel is unable to maintain its slightly lower results over repeated runs of most benchmarks and experiences severe throttling. Forcefully cooling it helps greatly and allows it to put out sustainable performance.
In GeekBench, for example, the cooled Pixel 3 could put out multi-core results upwards of 8,300pt run after run. Off our active cooler, however, the highest it got was 8,146 and run after run the score would drop a little until eventually reaching a low in the 6,900s which it could then sustain. That's with major competitors pushing 9,000 points.
GeekBench 4.1 (multi-core)
Higher is better
Apple iPhone XS
11472
Huawei Mate 20
9793
Razer Phone 2 (cooled)
9110
Xiaomi Pocophone F1
9003
HTC U12+
9001
OnePlus 6T
8977
Razer Phone 2
8923
Samsung Galaxy S9+
8883
LG G7 ThinQ
8865
Samsung Galaxy S9
8830
LG V40 ThinQ
8769
Sony Xperia XZ3
8607
Xiaomi Mi 8
8494
Samsung Galaxy S9+ (Snapdragon)
8349
Google Pixel 3 (cooled)
8337
Google Pixel 3
8146
Google Pixel 3 XL
8088
Oppo Find X
8018
Huawei P20 (cooled)
6739
Huawei P20
6722
Google Pixel 2
6437
Google Pixel 2 XL (Android 9)
6055
There was a similar disparity in the single-core results where the cooled Pixel 3 could post figures just under 2,400, while otherwise the score would peak there and fall all the way down to around 1,800. Here, the other Snapdragon 845 handsets aren't that far ahead, but the current Exynos and the latest Kirin have a significant advantage.
GeekBench 4.1 (single-core)
Higher is better
Apple iPhone XS
4823
Samsung Galaxy S9+
3771
Samsung Galaxy S9
3759
Huawei Mate 20
3284
Sony Xperia XZ3
2486
HTC U12+
2456
Xiaomi Pocophone F1
2438
Xiaomi Mi 8
2431
OnePlus 6T
2431
LG V40 ThinQ
2425
Razer Phone 2
2424
Razer Phone 2 (cooled)
2421
LG G7 ThinQ
2395
Google Pixel 3 (cooled)
2383
Google Pixel 3
2377
Google Pixel 3 XL
2363
Oppo Find X
2322
Samsung Galaxy S9+ (Snapdragon)
2199
Google Pixel 2
1912
Huawei P20 (cooled)
1900
Huawei P20
1897
Google Pixel 2 XL (Android 9)
1807
In Antutu, cooling the Pixel 3 allowed it to reach very high scores, towards the top of the pack. Those numbers, however, were unattainable off the active cooler at all, not by a long stretch. There was some consistency between runs though, and not much of a drop in scores after multiple ones.
AnTuTu 7
Higher is better
Apple iPhone XS
346379
OnePlus 6T
293994
Oppo Find X
291218
Razer Phone 2 (cooled)
286076
Razer Phone 2
285051
Google Pixel 3 (cooled)
285044
Sony Xperia XZ3
284555
Huawei Mate 20
273913
LG V40 ThinQ
270634
Xiaomi Pocophone F1
265314
Samsung Galaxy S9+ (Snapdragon)
264044
HTC U12+
263696
LG G7 ThinQ
259393
Google Pixel 3 XL
258244
Samsung Galaxy S9
250156
Samsung Galaxy S9+
246660
Google Pixel 3
233699
Xiaomi Mi 8
217298
Huawei P20 (cooled)
207016
Huawei P20
206906
Google Pixel 2 XL (Android 9)
206711
Graphics-only tests yielded similar results, only here the uncooled Pixel 3 was often able to match its performance when cooled for the first benchmark run, and the differences weren't that drastic once the throttling did kick in.
GFX 3.1 Car scene (1080p offscreen)
Higher is better
Apple iPhone XS
60
Sony Xperia XZ3
35
OnePlus 6T
35
Google Pixel 3
35
Google Pixel 3 (cooled)
35
Samsung Galaxy S9+ (Snapdragon)
35
LG G7 ThinQ
35
HTC U12+
35
Razer Phone 2 (cooled)
35
Oppo Find X
35
Xiaomi Pocophone F1
35
Razer Phone 2
35
LG V40 ThinQ
35
Xiaomi Mi 8
33
Google Pixel 3 XL
28
Huawei Mate 20
28
Samsung Galaxy S9
28
Samsung Galaxy S9+
28
Google Pixel 2 XL (Android 9)
24
Google Pixel 2
24
Huawei P20
23
Huawei P20 (cooled)
23
GFX 3.1 Car scene (onscreen)
Higher is better
Apple iPhone XS
47
Google Pixel 3
33
Google Pixel 3 (cooled)
33
Xiaomi Mi 8
33
OnePlus 6T
31
Xiaomi Pocophone F1
31
Huawei Mate 20
28
Oppo Find X
28
Google Pixel 2
26
Huawei P20 (cooled)
23
Huawei P20
23
Razer Phone 2
22
Razer Phone 2 (cooled)
22
Samsung Galaxy S9+ (Snapdragon)
20
HTC U12+
20
Sony Xperia XZ3
19
LG G7 ThinQ
18
LG V40 ThinQ
18
Samsung Galaxy S9
14
Samsung Galaxy S9+
14
Google Pixel 2 XL (Android 9)
13
Google Pixel 3 XL
12
Francklyn
04 May 2023
jCe
I have a google pixel 3 it just fell in my hands and the screen won't turn on. I want to know what to do
Pixel 3 in Japanese model esim facility is there
Anonymous
26 Apr 2023
kmG
I have a Google pixel 3 .And I can't make or receive calls it's fully unlocked by the manufacturer but is it ?