Google Pixel XL review: Upsampled
Upsampled
GSMArena team, 28 October 2016.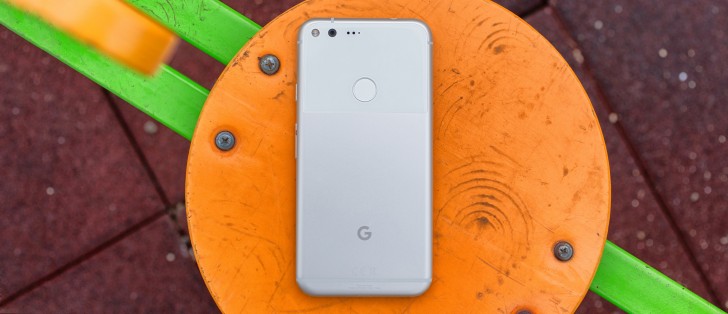 Telephony
The Google Pixel XL is available solely as a single-SIM device. Dual-SIMs are not that popular in the US (Pixel's main market), plus with Allo and Duo Google thinks you'll be doing much of your talking over the Internet.
For regular voice calls, the Pixel XL supports Wi-Fi calls and VoLTE, including the latest Ultra HD Voice. This improves the quality of calls and makes them more resistant to spotty connectivity. Noise reduction is handled by three or two microphones (depending on whether you're using the loudspeaker or not).
Google leverages its search and mapping info to provide a smart phonebook - you can search for nearby places, even if their number is not stored in your phonebook. Just type "pizza" and you're ready to order that pepperoni pie you've been craving.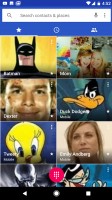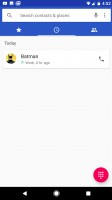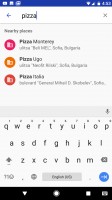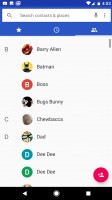 Favorite contacts • Call log • Searching for numbers of nearby businesses • All contacts
Starting with Nougat, Android has native call screening functionality. You can add numbers to be blocked (both calls and texts) and third-party apps can also check this list (for apps that use your number as an ID - WhatsApp, Viber, etc.).
Google will try to do caller ID for unknown numbers and if it suspects the call is spam, it will warn you.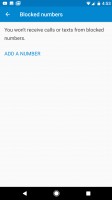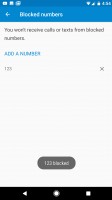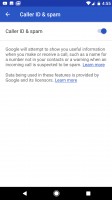 Built-in number blocking • 123 is blocked! • Caller ID and spam detection
Duo is available for audio calls and is as straight forward as possible - you confirm your phone number and you're taken to a big Video call button (you can call people in your phonebook). We appreciate the simplicity, but as the name suggests, this is a tete-a-tete deal - no group "hangouts" here.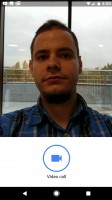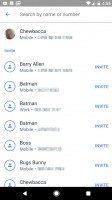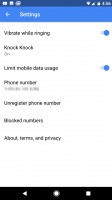 Duo is a very simple video chatting app • Just pick a number and dial • A few settings
There is "ViLTE" too - a relatively new format that does native video calling over LTE networks. Wi-Fi calling, VoLTE and ViLTE are available on Verizon (US) and EE (UK), but some carriers may not support them. For VoLTE and ViLTE you need the second phone to support them too, ViLTE in particular is quite rare.
Loudspeaker
Google went with a single speaker for the Pixel XL but leaning on HTC's audio prowess proved enough - it's one loud speaker alright. It scored an Excellent result, being equally apt at music and for hands-free talking. It prevailed over a number of stereo speaker phones, including the iPhone 7 Plus, LG V20 and Xperia XZ (even over HTC 10's dual speaker system). The audio remains clean even when you crank up the volume.
| | | | | |
| --- | --- | --- | --- | --- |
| Speakerphone test | Voice, dB | Pink noise/ Music, dB | Ringing phone, dB | Overall score |
| Sony Xperia XZ | 61.6 | 65.5 | 67.6 | Below Average |
| HTC 10 (Music mode) | 63.1 | 66.7 | 74.3 | Average |
| Samsung Galaxy S7 edge | 70.0 | 69.1 | 71.8 | Good |
| OnePlus 3 | 62.4 | 71.0 | 77.8 | Good |
| Apple iPhone 7 Plus | 68.3 | 72.2 | 72.9 | Good |
| LG V20 | 68.2 | 68.6 | 80.9 | Good |
| Google Pixel | 74.0 | 68.3 | 78.0 | Very Good |
| ZTE Axon 7 | 66.4 | 72.2 | 84.1 | Very Good |
| Huawei P9 Plus (regular) | 71.7 | 73.7 | 81.3 | Very Good |
| Google Pixel XL | 73.4 | 72.1 | 84.1 | Excellent |
Messaging
Messenger is the default (and only pre-installed) SMS/MMS app on the Pixel XL. It handles threaded conversations and manages to create a modern experience over the old communication channel - you can easily embed photos, audio and location into your message. And there are stickers too, of course.
Starting with Nougat, Allo is the mandated IM app and not Hangouts. It can't handle SMS so you can't interleave conversations like you could with Hangouts ("could," Google removed that feature). Annoyingly, we had to set up Allo and Duo separately - it took a few seconds, but setting up one app should do the same for the other.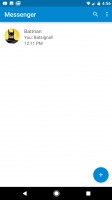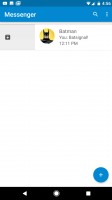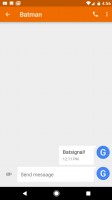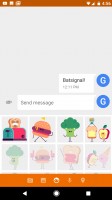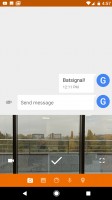 Messenger • Swipe to archive a thread • Chatting with Batman • Stickers • Sending a photo
Anyway, Allo's top feature is access to the Assistant. You can ask questions, search nearby, set reminders and alarms. The Assistant can even be proactive and send you recent news, sport scores and even entertain you - we tried playing trivia games with it, but guessing 1940s movie titles written in emoji was not our strong suit. So, instead we asked it to teach us something and it offered a video about genuine wasabi.
Note that this is the same Assistant available on the homescreen, you just text with it instead of talking to it.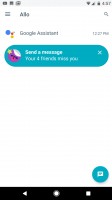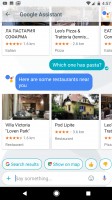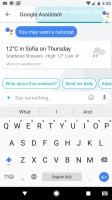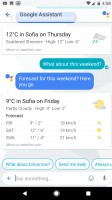 Asking the Assistant what's good to eat around here • About the weather • More weather info
Text input
The Google Keyboard is probably the only keyboard you'll need. You can adjust its height and key layout and there's a built-in one-handed mode. There are even themes - many of them - so you can pick light, dark, colorful and even just an image from your gallery. Another neat option lets you put or remove the border around keys.
There's both gesture and voice typing available. Google's autocorrect is top notch and is always learning. The keyboard even has a Dvorak option (along with the more traditional AZERTY, QWERTZ, etc.) so it can handle any locale.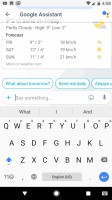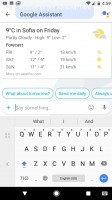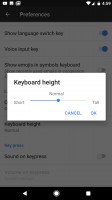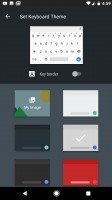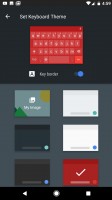 Google Keyboard • One-handed mode • Keyboard height • Keyboard themes • Red with key borders
Aside from basic emoji, the keyboard can also send GIFs too sorted by topic (yes, no, thumbs up, shrug, etc.). You can search for rarer GIFs (e.g. "dancing cat").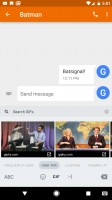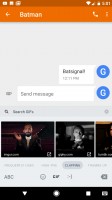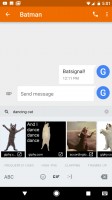 The GIF keyboard • High Five! • Clapping • Dancing cats (of course)
does anyone know where to buy a pixel xl in 2022?
Loyal and fanatic Pixel and iphone user here. I am currently going through the entire line of pixels. Typing this on a Pixel XL. I found one new in the box on ebay. Ok. It runs hot. Other than the speed and panel it can't hold a candle to the ip...
Anonymous
25 Feb 2021
X$r
Right absolutely