HMD's Nokia smartphones suffer large drop in shipments as market sees largest decline yet
Peter, 04 May 2020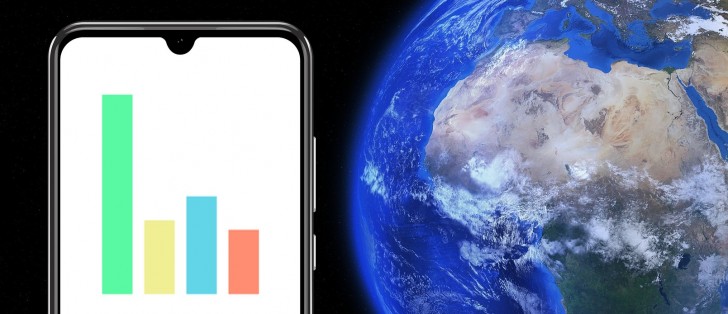 For the first time since early 2014 smartphone makers shipped less than 300 million units in a quarter. This is a sharp 13% drop compared to the shipments of Q1 last year. The analysts at Counterpoint Research note that China was hit hard both in terms of smartphones (down 27% year on year) and smartphone components. This may lead some makers to diversify their supply chains, shifting larger parts to India and Vietnam.
The analysts predict a change in consumer behavior – even after the lock-downs are lifted (which will be done gradually), people will prefer more affordable devices bought online.
5G phones proved fairly resilient to this crisis and they made up 8% of all smartphones shipped in Q1 this year, up from 1% during the last three months of 2019. The percentage will grow even higher, boosted by the upcoming sub-$300 5G phones.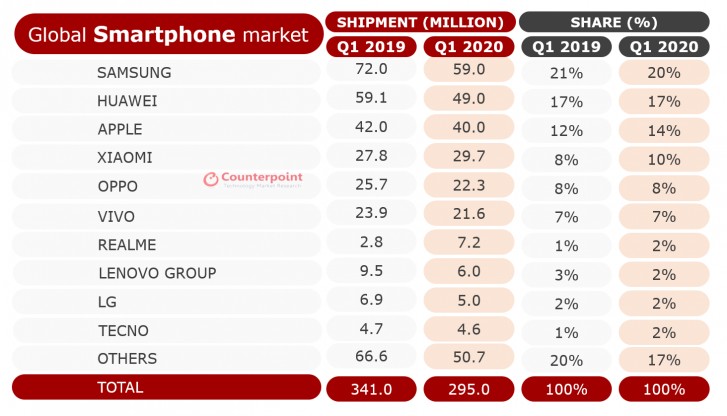 Realme showed massive growth (157% compared to last year), but the brand is quite young. Established player Xiaomi was the only other brand to grow (by 7%). This is because India's lockdown came relatively late and that is the main market for both brands.
The analysts believe that the premium segment will be affected the least while shipments of entry-level phones in emerging markets will decline as their target audience faces a financial crunch. The mid-range phones will be the ones driving the shipping volumes up, same as before.
Samsung remains the largest smartphone maker in the world, but its Q1 shipments suffered an 18% decline year on year. Counterpoint predicts that the Q2 decline will be even worse.
Huawei enjoyed a strong performance in China, but still fell 17% YoY. As the country will be among the first to recover, brands with a large presence there (like Huawei) will also recover quickly. Brands with little market share in China will have to wait on their key markets to recover.
Apple saw only a 5% decline in iPhone shipments and 7% decline in iPhone revenues, suggesting a mild shift towards more affordable models. Xiaomi went up 7% thanks to growth in India, where it is the leading brand with 30% market share.
This brings us the HMD and its Nokia-branded phones. Most of the volume is made up of feature phones, but they fell 34% compared to Q1 last year with a total of 8.6 million shipped.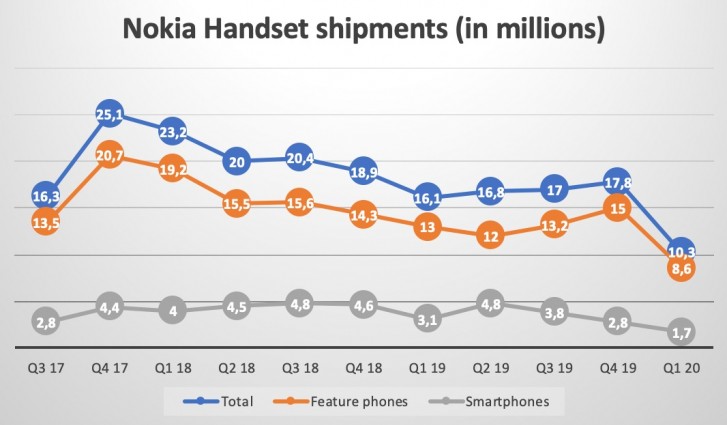 Nokia smartphones are not doing any better, showing a steady decline since Q2 2019. In the first three months of 2020, HMD shipped only 1.7 million Nokia smartphones, a precipitous 45% drop compared to Q1 of last year.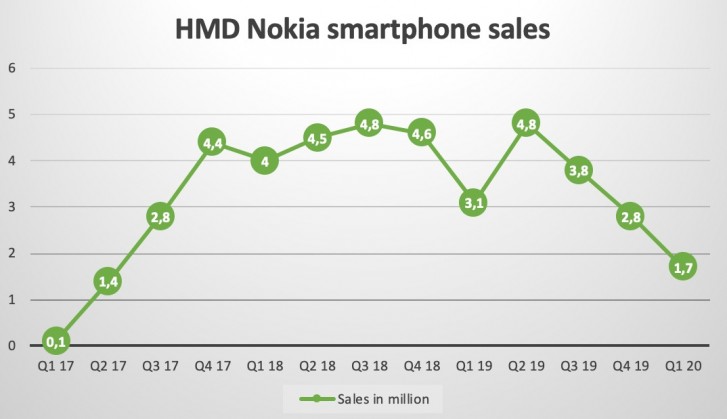 While other vendors can point to the COVID-19 outbreak as the reason for the Q1 decline, the situation with HMD clearly involves other factors.
Related
Nokia Tabah da. I regret buying 6.1 plus, at 1st month charging jack started issue and for which nokia care insulted behaviour took me several months to repair.
Angry Bird
07 May 2020
mst
Agreed. Nokia 7 plus is an excellent product, an example of how to create a good product. Nokia 7.2 is basically a 7plus with some additional functionality but basically this show how durable the product is!! Kudos for 7 plus.
Angry bird
07 May 2020
mst
It is difficult to sell if you have nothing to sell. E.g. Nokia 8.3 delayed because of the movie. Terrible decision. It is a nice product could have sold itself with a little marketing and the movie giving some boost to it but now it will be an ...
Popular articles
Popular devices
Electric Vehicles