Honor 10 review
GSMArena team, 1 June 2018.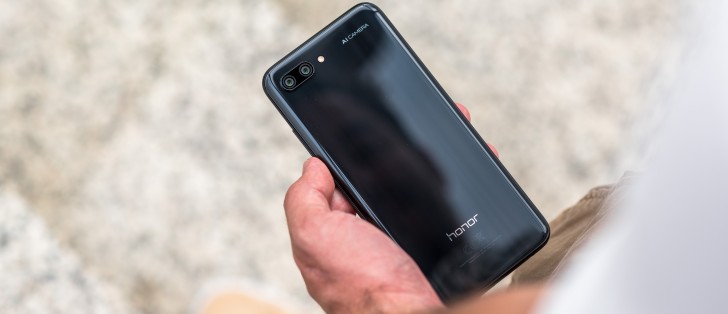 Android 8.1 with EMUI 8
Honor 10 runs on the same Android 8.1 with EMUI 8.1 combo found on the Huawei P20. Huawei synchronized the version number of its OS overlay with the release of the Mate 10, and now on the P20 and Honor 10, it's Android 8.1 Oreo and EMUI 8.1. Not that it's radically different or anything, but there are some fresh bits.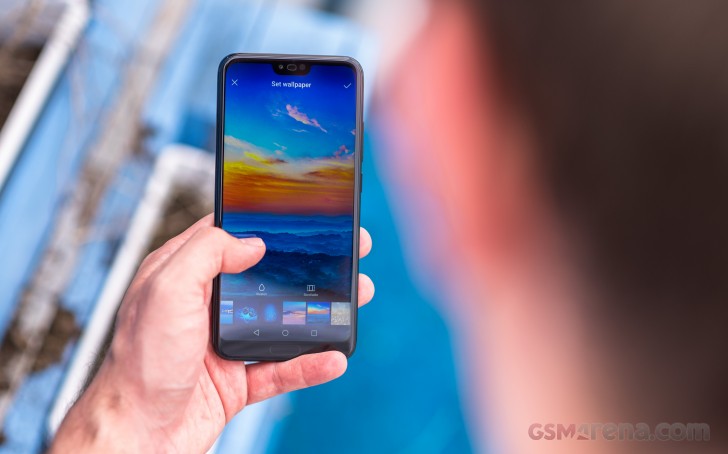 Let's start with the elephant in the room. You can embrace the notch, or you can opt to mask it with a black status bar that extends all the way down to the bottom edge of the notch. You should know, however, that hiding it doesn't really work as well with an LCD panel as with it does with an AMOLED.
Nevertheless, if you opt for this, the corners of the active display area will be rounded too, to match the actual corners on the bottom of the display. The size of this software bezel on the top ends up being symmetrical to the physical bottom bezel all while showing your status information white on black. This reminds us of what the LG V10 and V20 did with their extra displays, but this implementation is quite different, of course.
Out of the box, there is no app drawer on the EMUI 8 - it's a single tier interface like on the iPhone. However, if you miss the Android's usual layout, you can enable it back in the Display settings. There is also a handy search feature, which can be accessed by flicking down on any empty area of the home screen.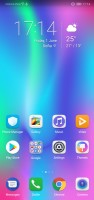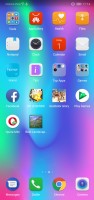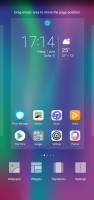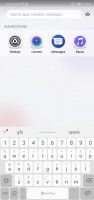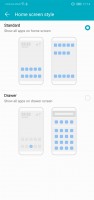 Home screen 1 • Home screen 2 • Home options • Search • Enable drawer
EMUI has something called Magazine lock screen, which rotates through a bunch of wallpapers, so you see a different one every time you fire up the display.
Just like the most recent Huawei smartphones, the Honor 10 has the so-called off-screen navigation set by default. It uses the surface of the fingerprint sensor for everything - tap to go back, tap and hold for Home, and swipe in either direction for Recents. But you can opt for the regular onscreen navigation key, among other options.
EMUI offers plenty of customization and features like face unlock, smart rotation, and lift to wake. Themes are supported, too, and there is a lot to choose from. There are a few themes to choose from with the option to change the icons, the skin, and wallpaper.
From the Phone Manager app, you can access shortcuts to storage cleanup, battery settings, blocked numbers, Virus scan powered by Avast, and mobile data usage.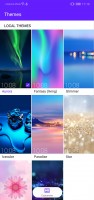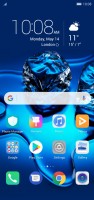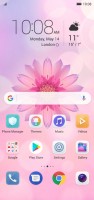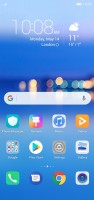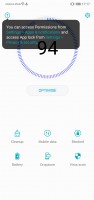 Theme chooser • Theme • Theme • Theme • Phone Manager
The notification shade is pretty much a standard affair. There's a brightness bar with an Auto toggle - pull down again for more toggles.
Multitasking is pretty standard as well. Tap-holding the Recents key will let you activate split screen.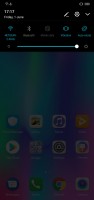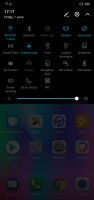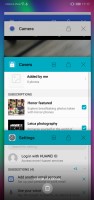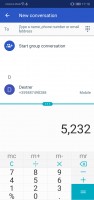 Notification area • Toggles • Recent apps • Split screen
Huawei's own Music app is here and offers a way to listen to stored MP3s. Huawei's Health app is also pre-installed. It offers Google Fit syncing and step counting. There's a file manager app and a note-taking app. There is an abundance of replacements for these in the Play Store, however.
Finally, there is a proprietary app called Smart Controller, which will allow you to use the IR blaster as universal remote for your compatible appliances.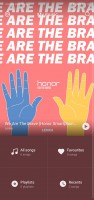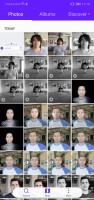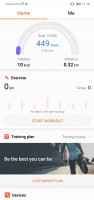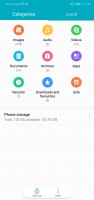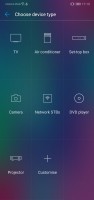 Music Player • Gallery • Huawei Health • Files • Smart Remote
Performance and benchmarks
The Honor 10 is powered by Huawei's own Kirin 970 chipset, one we're very familiar with from the P20 and Mate 10 series. It's packing 4 Cortex-A73 cores clocked at up to 2.4GHz and another 4 Cortex-A53 cores capped at 1.8GHz. The GPU is a twelve-core Mali-G72 MP12. There's either 4 or 6 GB of RAM depending on the model you get.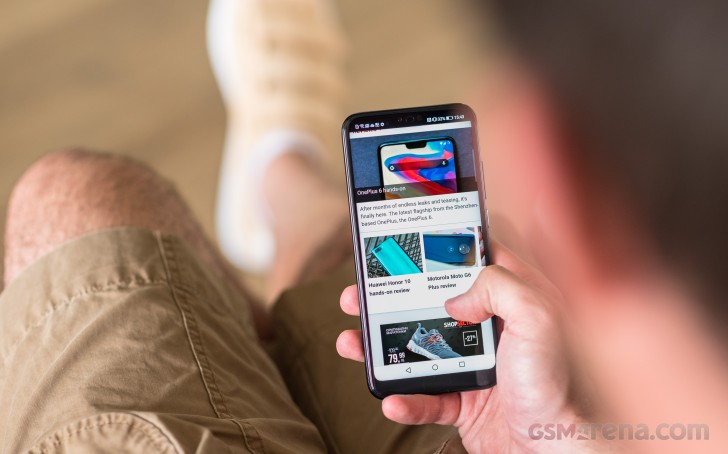 Unsurprisingly, the Honor 10 scores on par with Huawei P20 in benchmarks. Single-core performance in Geekbench is right there with the Snapdragon 835 (OnePlus 5T), but the latest Qualcomm chip is superior (OnePlus 6). All of the above applies equally well to the Honor 10's multi-core CPU performance.
GeekBench 4.1 (single-core)
Higher is better
OnePlus 6
2450
OnePlus 5T
1960
Huawei P20
1897
Honor 10
1894
Honor 9
1876
Oppo R15 Pro
1612
Samsung Galaxy A8 (2018)
1532
Oppo F7
1531
Huawei P20 Lite
938
Motorola Moto G6 Plus
882
Xiaomi Redmi 5 Plus
874
Let's not forget the Honor 10 is cheaper than the Huawei P20 and OnePlus 6, so we can't demand cutting-edge performance. Yet, its CPU scores are close to that.
GeekBench 4.1 (multi-core)
Higher is better
OnePlus 6
9011
Huawei P20
6722
OnePlus 5T
6701
Honor 10
6591
Honor 9
6457
Oppo F7
5901
Oppo R15 Pro
5809
Samsung Galaxy A8 (2018)
4418
Xiaomi Redmi 5 Plus
4309
Motorola Moto G6 Plus
4160
Huawei P20 Lite
3756
Raw graphics power is also a notch down from the best players. The Adreno 630 in the Snapdragon-powered OnePlus 6 is a proven beast, but the Mali-G72 in Honor 10 does pretty alright for the class, if not beyond the expectations.
GFX 3.0 Manhattan (onscreen)
Higher is better
OnePlus 6
59
Honor 10
53
OnePlus 5T
52
Huawei P20
46
Honor 9
40
Oppo R15 Pro
19
Oppo F7
18
Samsung Galaxy A8 (2018)
14
Motorola Moto G6 Plus
13
Xiaomi Redmi 5 Plus
9.4
Huawei P20 Lite
8.1
GFX 3.1 Manhattan (onscreen)
Higher is better
OnePlus 6
55
Huawei P20
39
Honor 10
37
OnePlus 5T
35
Honor 9
33
Oppo R15 Pro
12
Oppo F7
11
Motorola Moto G6 Plus
9.3
Samsung Galaxy A8 (2018)
8.7
Xiaomi Redmi 5 Plus
6.2
Huawei P20 Lite
4.9
AnTuTu and BaseMark benchmarks got us some pretty big and impressive numbers, bested only by the most current Snapdragon 845 chip in the OnePlus 6.
AnTuTu 7
Higher is better
OnePlus 6
264200
Huawei P20
206906
Honor 10
200440
Honor 9
156984
Oppo R15 Pro
146526
Oppo F7
139414
Motorola Moto G6 Plus
90263
Huawei P20 Lite
87431
Basemark OS 2.0
Higher is better
OnePlus 6
4440
OnePlus 5T
3632
Huawei P20
3338
Honor 10
3337
Honor 9
3072
Oppo R15 Pro
2438
Samsung Galaxy A8 (2018)
2007
Oppo F7
1953
Motorola Moto G6 Plus
1525
Huawei P20 Lite
1455
Xiaomi Redmi 5 Plus
1226
The Honor 10 may not be the fastest smartphone on the planet, but nobody really hoped for that. We had to manage our expectations for the Huawei P20 and P20 Pro, which cost €650+, but that's not the case with the €390 Honor 10. It's bested only by the latest Snapdragon chip but is still among the best performers on the market - both CPU and GPU-wise.
In a surprising turn of events the Honor 10 turned out better at heat dispersion than the worrisome Huawei P20. Sure, it does build some heat once we start running the benchmarks, even some throttling eventually occurs, but it takes a lot more time to get to the P20's hot and throttled situation and that's commendable.
I have got Huawei Honor 10i in 2018 and I have been using it. It's fantastic with high performance, high resolution display, high resolution still pictures and video recording having most of the capabilities (dicovered new techniques every new ...
Agree with the last few comments, bought this phone on launch May 2018 and still using it now. Battery rarely lasts the whole day, but a quick 15 min or so charge on the evening usually sees me through. I recently bought the Xiaomi Mi 11 on impu...