HTC 10 review: Greatest hit
Greatest hit
GSMArena team, 02 May, 2016.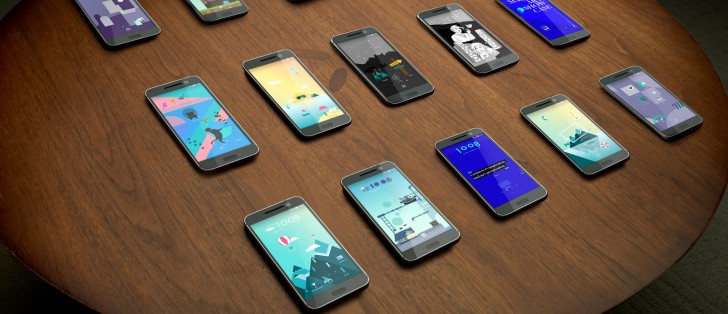 User interface
HTC's Sense UI has been simplified a lot. Today, HTC says they've trimmed all the fat from the Sense UI, meaning they've gotten rid of some of the redundant applications that co-existed with Google's editions of such apps like HTC Internet, Fun Fit, Scribble, and Polaris Office. These apps were replaced with Chrome, Google Fit, Google Keep, and Google Docs, respectively.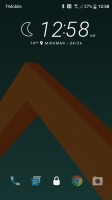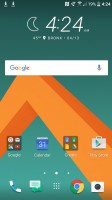 Swipe up to unlock, or drag an icon to launch it from the lock screen • Default home screen
HTC's lock screen is a simple swipe up to unlock, unless you've got a fingerprint registered. In this case all you need to do is touch the sensor and the phone will wake up, bypassing the lock screen. Otherwise, you can swipe up on the lock screen to unlock. Swiping up on the shortcuts in the lock screen will launch these apps directly.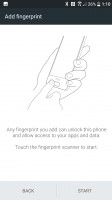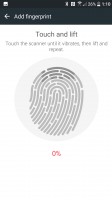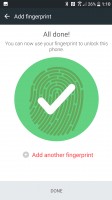 Adding a fingerprint is a straightforward process
HTC's Sense UI offers themes right out of the box. You can browse themes right from the launcher's menu and there is a variety of themes to choose from. Some of those themes come with Freeplay mode, which allows you to place widgets, icons and stickers anywhere on the screen without sticking to a grid arrangement. The different elements can even overlap each other, if you need this sort of thing.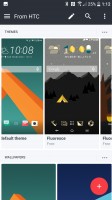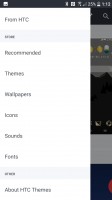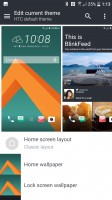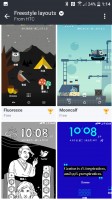 Main Themes page • Personalization menu • Theme editing menu • Freestyle layouts
HTC's app drawer is set to a custom method of organization by default. All of the preinstalled apps are arranged in a single page of the app drawer and any additional apps will be shown in the second page in the order they were downloaded.
You can also set the launcher to alphabetize your apps or organize them by most recently installed.
The app drawer also features convenient shortcuts to access the Play Store, Search for installed apps, and a menu that lets you rearrange apps in the drawer.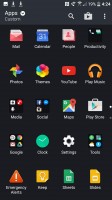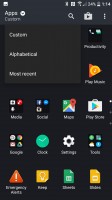 App drawer lets you organize apps in three ways
BlinkFeed is found again on the home screen but it's less annoying than before. Out of the box, BlinkFeed is empty, so you need to manually add content to it for it to start providing you with news, videos, and content to satisfy your need for feed. BlinkFeed continues to be somewhat useful but still does not offer a compelling enough reason for customers to use it.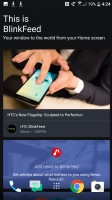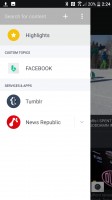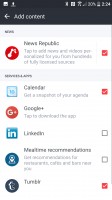 You need to add content manually in order to start using BlinkFeed
Google Now on Tap has made it to the HTC 10 and you can activate it by holding the capacitive home button.
In case this is important to you, holding longer the Recents key will act as a "menu" button. But all apps have had hamburger menus and 3-dot buttons for a while and there is hardly any need for the menu button on Android.
What's interesting about the HTC Sense skin this time is seeing how minimal it has become when compared to previous versions. The settings and quick toggles have been minimally skinned and mostly come with a stock-Android look with just a bit of sprucing up here and there.
This is great news, a heavily skinned UI means more sluggish performance and slower software updates, and the HTC 10 seems to be on the right track in this regard. It provides users with a unique user-experience without bogging down the system.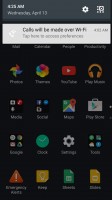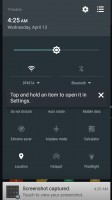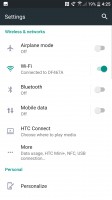 Notification shade, Quick settings toggles, and Settings app are all minimally skinned on Sense 8.0
HTC's stock keyboard is based on the Touch Pal keyboard with tweaks to make it an HTC Sense version. The keyboard is quick and works fairly well, as long as you are typing the in the language of the keyboard.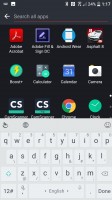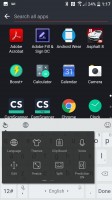 Touch Pal keyboard is the HTC Sense default keyboard
Some of us can get away with typing the occasional four or five words in another language without switching the keyboard from English. The keyboard is so tedious at doing that, especially when the word is being corrected to two or more words. The original word is gone, even after backspacing.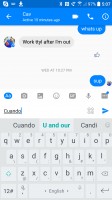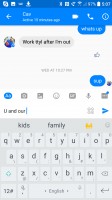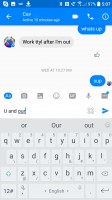 Typing a Spanish word... • Auto-corrects to 3 English words... • You have to type the word again
We found the HTC 10 waking up many times unintentionally. The display fires up even when just brushing a part of your body on the fingerprint scanner, such as your palm or your arm. When taking the HTC 10 for a jog, we found the screen turning on all by itself for no reason. Just holding a finger over the screen activated the double-tap to wake feature incessantly. Thankfully, you can disable both of these features from waking the phone up.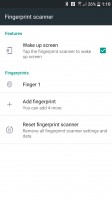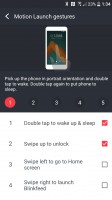 If your HTC 10 is waking up unintentionally, you can disable these features
One more thing worth noting, the lock screen notifications behave differently than what we're used to. Usually, with a Nexus or Samsung device running Marshmallow, for instance, you can tap the notification once to select it, and then you can unlock your device by either swipe or fingerprint, then you'll be taken to the app immediately. The problem is, the HTC 10's lock screen notifications don't behave this same way. Even though the first tap highlights the notification, unlocking the device right after this won't pop you into the app. Instead, you'll need to double tap before unlocking in order to see the app. This isn't a huge deal, but it's not consistent with how Android is supposed to behave.
Preinstalled apps, SMS, and allocated storage
Our HTC 10 unit is the unlocked model and it came with minimal software preinstalled. HTC says it has trimmed the fat on its HTC Sense software by removing any duplicate programs. Indeed, it has become a lean, mean machine. There are a total of 34 app icons, all of which fit into a single app drawer page, seeing as some of them are grouped into folders. Carrier versions of the device will have a varying app package depending on the carrier. The Gallery, Music player, and Calendar are all Google's own offerings.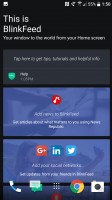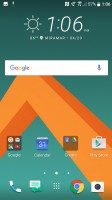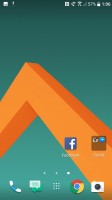 A swipe to the left brings you to BlinkFeed • Main home screen icons • Second page of the home screen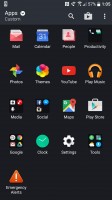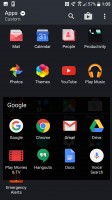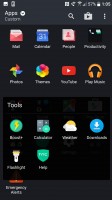 Default layout of the pre-installed apps in the Sense launcher
These pre-installed apps could theoretically be disabled if you wanted to, though, there is no straightforward way of doing so from the app drawer as dragging the icon only prompts you to cancel your action. You'd have to go into the application manager and manually disable the apps you don't want to use - say Facebook and its Messenger, and Instagram if you are not into social networking. These three apps, by the way, are the only social networks pre-installed on the HTC 10.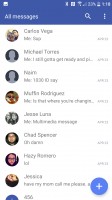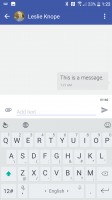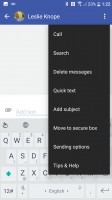 Stock SMS app conversations • Conversation window • Conversation options
The stock SMS app is a simplified version of Google's own Messenger, but you're better off downloading another app as it does this one thing that we find quite annoying - it closes the keyboard every time you send a message. So you can't fire off messages as you type them because you'll be interrupted by the keyboard hiding. The original Google's Messenger app, for instance, does not behave this way.
Allocated Storage
Our 32GB unlocked model came with 23.17GB of available storage after formatting, system, pre-installed apps and such. The preinstalled apps mentioned earlier take up about 770MB of the device. Thankfully, though, if this is not enough storage, you can always load up the microSD card tray for some more storage.
My htc 10 keeps on turning on and off and wont charge. I have tried to reboot but its not working. What could be the issue?
I like the 5.2" screen. I need another phone now but theyre all large screens which i don't like. one remark about this phone is roaming goes bad, the phone gets logged of the grid when travelling, the handover to different cells fails s...
Same, even with the battery fast drain problem