HTC 10 evo review: The sea dragon
The sea dragon
GSMArena team, 21 February 2017.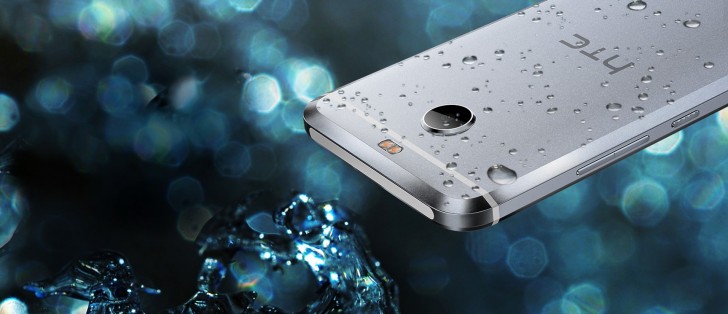 Telephony
The HTC 10 evo supports VoLTE and VoWi-Fi (that's Wi-Fi calling, it needs carrier support to work). There is no dual-SIM version of the phone (at least for now), but the chipset supports several LTE bands (both FDD and TDD) so you should have no trouble traveling abroad. The EU wants to dismantle roaming charges anyway (hopefully, other regions will follow suit). The Home dialing assistant will make sure to add the correct country code to numbers that don't have it.
Flip to mute, Quiet ring on pickup and Pocket mode are available (the latter boosts the loudspeaker volume when the phone is in your pocket or bag). The 10 evo supports Android Nougat's native call blocking abilities.
Loudspeaker
The HTC 10 evo has only one loudspeaker but it's powerful - it managed a Very Good score, matching the Axon 7 and its stereo speakers. The sound quality is audibly worse, though. It is tuned to boost the high tones, making music sound tinny. It's relatively quiet in the human vocal range (relative to its other readings that is, it's still great for hands-free use).
Unlike the HTC 10, there's no stereo and no tweeter/woofer separation here, all the sound comes out the bottom.
| | | | | |
| --- | --- | --- | --- | --- |
| Speakerphone test | Voice, dB | Pink noise/ Music, dB | Ringing phone, dB | Overall score |
| HTC 10 (Theater mode) | 61.9 | 66.0 | 62.1 | Below Average |
| Xiaomi Mi 5s Plus | 65.0 | 68.2 | 70.8 | Average |
| HTC 10 (Music mode) | 63.1 | 66.7 | 74.3 | Average |
| OnePlus 3T | 61.0 | 69.3 | 78.3 | Good |
| Samsung Galaxy S7 edge | 70.0 | 69.1 | 71.8 | Good |
| Lenovo Moto Z Droid | 64.5 | 66.2 | 81.8 | Good |
| HTC 10 evo | 65.8 | 75.4 | 80.6 | Very Good |
| ZTE Axon 7 | 66.4 | 72.2 | 84.1 | Very Good |
| Huawei Mate 9 | 83.1 | 74.5 | 85.0 | Excellent |
Messaging
The messaging app is simple and with clean Material Design looks. You can adjust the message preview between 1 and 3 lines for the threaded view. The app's wallpaper and speech bubble colors can be customized.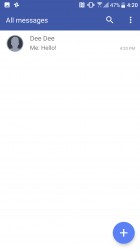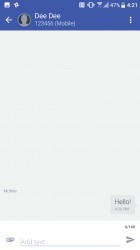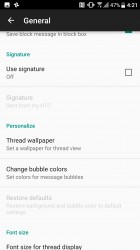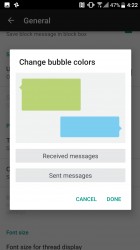 Basic messaging app • Saying hi • Settings • Changing speech bubble colors
HTC continues to use the TouchPal keyboard as the default on its phones. It offers solid customization options like 2-axis resizing, split view and themes (including custom fonts). You can add a number row, pick which emoji to use (and there's even emoji prediction, imagine that!).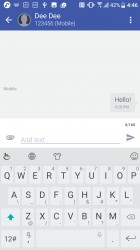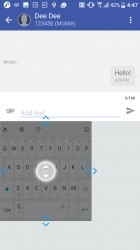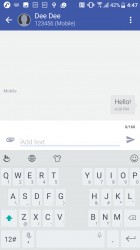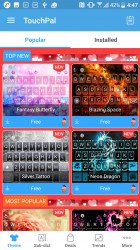 The TouchPal keyboard • 2-axis resizing • Split keyboard • Themes
Note that this is the free version of the keyboard. You can get a bit extra out of it, by enabling TouchPal Cloud, which will offer better word suggestions and teach you about trends in words and phrases. The Cloud will also sync your personal dictionary (privacy-minded people may not like that).
Other apps
HTC preloaded the Record app - as you may have heard, the company partnered with Under Armour to make fitness tracking solutions. This app is how you control them. You can use the full HTC Healthbox combo - a smart band, chest heart rate monitor and a smart scale. It was nice to see that this isn't locked to just the UA brand, also supported are: the Samsung Gears (S2, S3, Fit2), Withings watches, Fibtit, Garmin, Jawbone and so on.
The app can work without accessories. It can count steps and calories, track activity and sleep time, even your general mood. You can follow friends and famous people as they post updates (you can post too), a mini social network to keep your motivation up.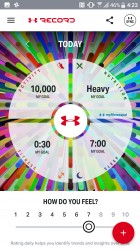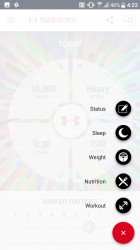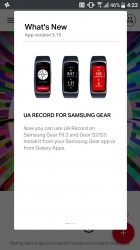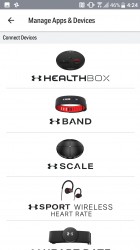 UA Record app • Logging your exercises • Samsung Gears are supported • And many others
The Voice recorder app seems basic, but it's worth pointing out that it has high-quality recording modes - AAC LC (good but lossy) and FLAC (lossless and Hi-Res, but takes up a lot of space).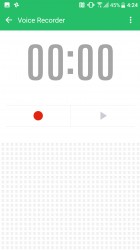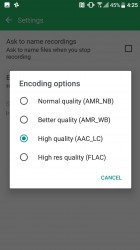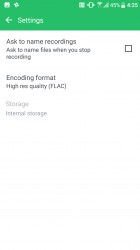 Voice recorder • Switching audio codecs • Lossless FLAC recording
It was nice to see the Flashlight, an old HTC standby, but it has lost its ability to change the light power of the LEDs. We're used to a certain standard of living, HTC, that includes three brightness levels for the flashlight app.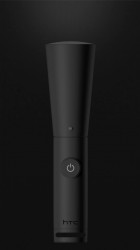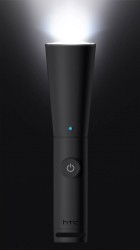 The flashlight app has only one brightness level
Jokes aside, this about exhausts the list of useful pre-loaded apps. Facebook (+ Messenger) and Instagram came pre-installed, a dead-simple Weather app and some bloatware (to be fair, it seems that it was region-dependent cruft).
HTC relies on several Google apps to handle important tasks on the 10 evo - calendar, gallery, music and a few more. Those we cover on the next page.
HTC 10 EVO. HTC ditched the boomsound headset so the touting of the adaptive design is useless. The USBC port is also useless due to the fact that there is no headset adapter that can function properly with their proprietary nontechnology. Any USB-...
i bought this mobail but i am facing an issue in this mobail.that its screen it's not good ..mean its screen shows diffrent colure ..like yotube icon is red but this mobail showing drak red cloure,,pls tell me how change its cloure