HTC explains why it chose the U12+ name
Vlad, 23 May 2018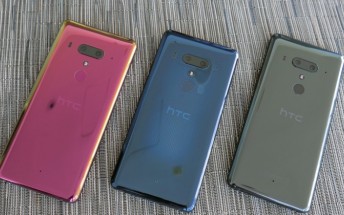 Earlier today HTC announced its latest flagship smartphone, the much-leaked U12+. Here's the thing, though - there is no non-Plus U12 version. Just one phone, the U12+. And apparently that situation might confuse some people used to the way Apple and Samsung do things with their top of the line handsets.
To appease these people, the Taiwanese company has revealed why the U12+ is called U12+ and not U12. It's because, in terms of size and specs, it's much more directly comparable to the Samsung Galaxy S9+ than the S9. That's the gist of it, basically. Nowadays tacking "plus" onto a name is suggestive regarding what to expect in terms of size, and HTC felt it would do itself a disservice by omitting the "+".
Now that this huge controversy has been sorted, why not take a look at our hands-on review of the U12+ (video included), and then peek at the promo video HTC's put out.
Related
HTC company is flop because HTC Smartphone is very expensive.
Meh....What are they supposed to do? Keep one camera? Move to the corner and "copy" the iPhone like everyone else? Make it square like Samsung? U12+ moved some sensors around, gave you a nice finish on the back, and gives you dual selfie cams. Every ...
Asus Zenphone 5 - but with 636, still wait to take a look at their 5z... also Sony XZ2 Premium
Popular articles
Popular devices