HTC outs Q2 2017 results
Yordan, 14 August 2017
HTC reported operating losses of NT$2.2 billion, which got to NT$1.95 billion ($64.3 million) after taxes in Q2 2017. This is the ninth consecutive quarter that HTC loses money although the numbers aren't as bad as they were in the January-March period. The overall revenue for the company in Q2 was NT$16.1 billion or about $531 million.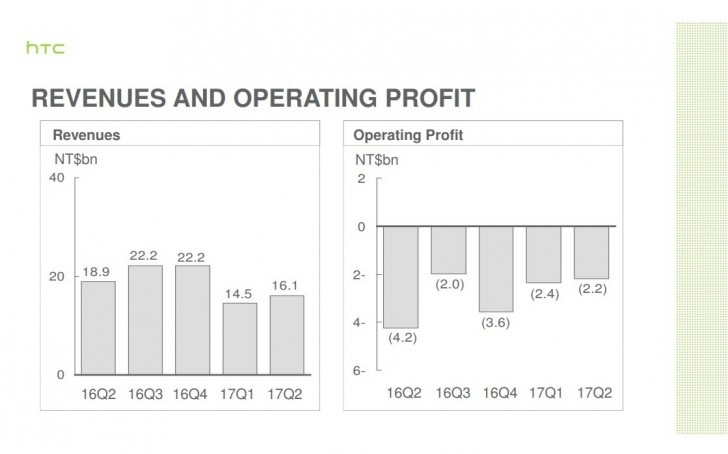 After a series of management and realignment of resources, HTC managed to cut its operating expenses down to NT$4.4 billion ($145 million) from NT$6.4 billion ($211 million) a year earlier.
HTC started shipping the U11 in May and according to the company, "topped the list of Android flagship phones in Taiwan". This led to an 11% increase in quarterly revenues. It also lowered operating loss from $2.4 billion before taxes in Q1 2017.
The company expects better financial results in Q3 2017 after the launch of the VR headset HTC Standalone.
Related
Someone Help This Company!!!
HTC never offered, complete package like Samsung for price they asked and never sold mid range or low end phone for affordable price, because they think HTC brand is still premium, I sorry HTC but your brand long time ago doesn't mean anything, all m...
HTC used to produce great phones.. One X+, One S, Legend, HD2, Touch Diamond 2, HTC Pro 2.. In fact HTC was the first to kill the iPhone with the HTC Touch.. The HTC Legend pioneered the metal unibody phone with removable battery no less! The One S i...