HTC Salsa review: "Like" it or not
"Like" it or not
GSMArena team, 15 July 2011.
Connectivity
The HTC Salsa has a complete connectivity set. There's quad-band GSM/GPRS/EDGE and dual-band 3G: 7.2Mbps downlink and 384kbps uplink thanks to HSPA.
The local wireless connectivity has Wi-Fi b/g/n but there is no DLNA support. The Bluetooth version is 3.0, but you should not expect high-speed transfers either.
When you plug in the microUSB cable you're presented with a long list of options - Charge only, Disk drive (mass storage), HTC Sync, USB tethering (use the phone as a modem) and Internet pass-through (the phone uses the computers Internet connection).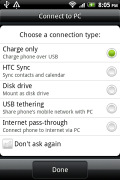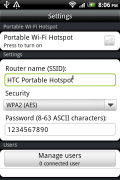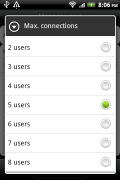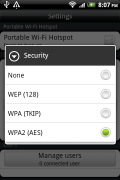 Selecting a USB connection type • Starting the personal Wi-Fi hotspot
Last but not least is the HTC Portable Hotspot. It feed up to 8 client devices with wireless internet, you can WEP, WPA or WPA2 encrypt the hotspot and you can enable only "allowed users" to connect or leave it open for anything (unsecure, but the quickest setup).
The app can be set to power off automatically after 5 or 10 minutes of inactivity, saving your battery in case you forget to switch it off manually.
Good browsing experience enhanced with Flash support
The HTC Salsa has the latest Android 2.3 Gingerbread web browser. It also supports Flash (currently 10.3) and can handle 360p videos and some not heavy Flash games.
The user interface keeps mostly out of sight, which leaves the entire screen to the web page. The minimalist UI is still quite powerful – hit the menu key and six keys pop up.
There are back and forward buttons, adding and viewing bookmarks and managing the open tabs. Finally, the More button brings out yet more options – anything from finding on page and text selection (which works just like in the messaging app).
The Salsa browser also supports pinch/double tap zooming and text reflow, which makes it extremely easy to read even longer texts on the phone display. Without text reflow you will either have to zoom out until the text fits (but then it's too small to read comfortably) or scroll sideways to read each line.
Once you select some text, you can copy it, launch the Quick lookup app (which offers Google Translate among other things) or share the text over a message or social networking.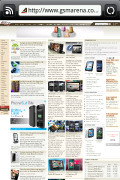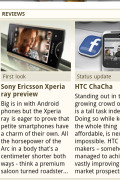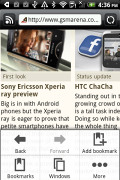 Web browsing is a pleasurable experience on the HTC Salsa
The bookmark list shows a thumbnail view of the bookmarked pages and you get a "most visited" list in addition to the regular history. Tabs are displayed as 3D cards too – a really neat trick is that if you pinch zoom out beyond the minimum zoom level you go straight into the tab selector. This may be a cool way to manage tabs but too many of them open at once will seriously slow down the browser.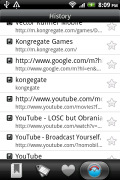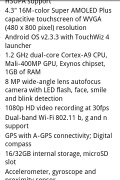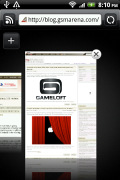 The bookmarks and History lists • Text reflow in action • Tabs are supported
The HTC Salsa comes with full Flash support, but given its hardware the best you can extract from it are 360p Flash videos at best and some light Flash games.
You could always use the YouTube app though, which partially compensate for the poor Flash videos. Mind you, the Android 2.3 browser has support for HTML5 and its video tag but that is a few years (at best) away from becoming the norm.
No document viewer in the organizer package
The calendar has four different types of view: daily, weekly, monthly and agenda. Adding a new event is quick and easy, and you can also set an alarm to serve as a reminder.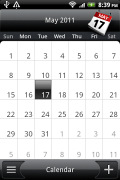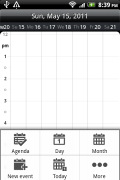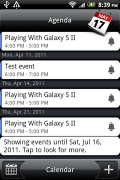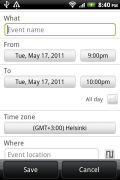 The HTC Salsa organizer centerpiece – the calendar
The Agenda view shows a list of all the calendar entries from the recent past to the near future. It's a very handy tool when you need to check your appointments for the next few days.
There is also a calculator aboard. It is nicely touch optimized with big, easy to hit buttons. Flipping it horizontally enables some more advanced functions like logarithms.
The HTC Salsa features an alarm clock application, which can handle multiple alarms, each with its own start and repeat time. The Desk clock app turns your Salsa into a… well, Desk clock. It displays the current time and date and allows you to switch off the display backlighting to save battery power or not disturb at night.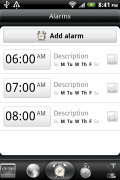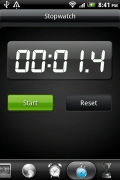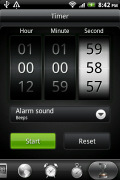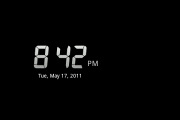 The alarm clock and desk clock apps
The World clock app lets you quickly check the time in different time zones, while the stopwatch and timer apps might come in handy if you plan to take the phone with you when doing sports.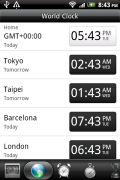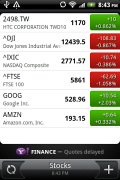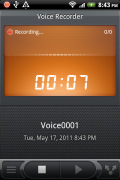 World clock • Stocks app • Voice recorder
The Stocks application gives you quotes from Yahoo finance. The Voice recorder might be quite useful for making audio notes and the weather app brings Yahoo's weather forecast for your area a click away.
I am using this phone since last 1.5 years: Pros: 1.Screen secsitivity and touch response is excellent 2.Hardly the phone hangs 3.Fast access to applications 4. Good look and feel 5.Robust( I accidently dropped it from my hand 3-4 tim...
Nice phone I m happy with that phone
worst phone with low internal memory