HTC sees monthly revenues double for September
Paul, 11 October 2017
HTC has announced that it saw consolidated revenue for September 2017 of NT$6.51 bn (US$215 million). This represents more than double the revenue for August 2017 of NT$3,00 bn.
It would be a safe guess to say that revenues have likely been boosted by shipments to Google of the recently launched Google Pixel 2 which HTC manufactures.
However, the big picture is less positive as this represents a 30% decline Year-On-Year.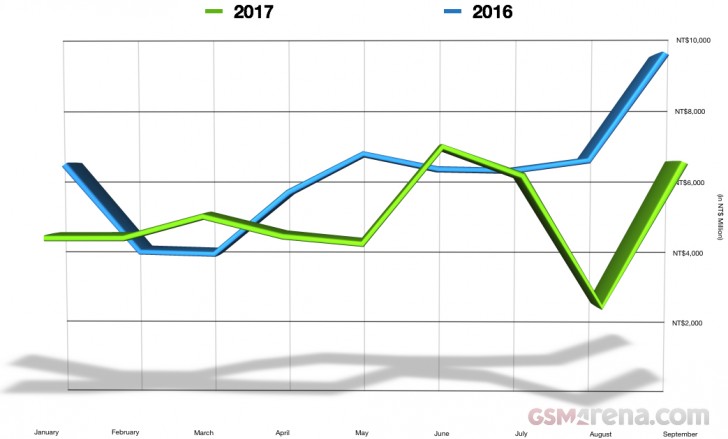 Monthly Consolidated Revenue
Let's see if HTC can finish the year strong as it's rumored to be launching several new phones before the year is out, one of those allegedly will be the U11 Plus, widely tipped to be the first HTC handset to make the leap to a 18:9 aspect ratio display with minimal bezels.
It could also be postulated that HTC is seeing additional revenues following its recent price reduction of the HTC Vive VR Headset, whilst the new rumored headset ensures that HTC isn't standing still in this category.
Year to date HTC has seen total revenues of NT$46.3 bn, which represents a 17% decline Year-On-Year.
Note that these are unaudited numbers, HTC will publish audited numbers with the quarterly results.
Related
HTC should have followed the Apple model a number of years ago - focus on just 1 model, a flagship, per year. Keep the model around for 3 years, dropping pricing and market tier annually, as their next model launches. They should have devoted a siz...
Sony was doing a bit bad but who knows if that was a product of not updating the appearance of their phone for years. They tend to have good hardware, cameras and overall features but just need to spit shine their UI and phone design which is what sh...
Popular articles
Popular devices