HTC Tattoo review: Your phone, your ink
Your phone, your ink
GSMArena team, 12 March 2010.
Telephony does well
Voice quality when making calls with the HTC Tattoo is good and the call volume is decent so you don't have to keep it at max at all times.
The dialer features a keypad and a list of contacts beneath (you can hide the keypad) and also boasts Smart dialing. It's pretty rare for an Android handset to have smart dialing so we believe extra praise is due.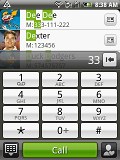 Smart dialing saves you the effort to enter the phonebook
Thanks to the built-in accelerometer, turn-to-mute also works like a charm.
We conducted our traditional loudspeaker test on the HTC Tattoo. It got a Good mark, ranking just above the middle of our table.
| | | | | |
| --- | --- | --- | --- | --- |
| Speakerphone test | Voice, dB | Pink noise/ Music, dB | Ringing phone, dB | Overal score |
| Apple iPhone 3G | 66.1 | 62.1 | 71.7 | Below average |
| Nokia 8800 Gold Arte | 70.8 | 69.9 | 66.9 | Average |
| Samsung Armani | 69.7 | 64.6 | 71.0 | Average |
| HTC Tattoo | 75.1 | 66.6 | 75.9 | Good |
| HTC Magic | 70.3 | 69.5 | 79.3 | Very good |
| HTC Hero | 76.7 | 71.9 | 77.7 | Very Good |
Messaging well covered
The HTC Tattoo can handle all common types of messages - SMS, MMS and email with ease. Email support is excellent with support for Exchange out of the box and social media buffs will be pleased with the level of integration of that content as well.
Like on other Androids, if you have only one SMS message, a line in the notification area displays the sender and part of the message itself. If you have two or more messages, you are simply informed of the number and once you hit the icon you're taken to the Messaging Menu.
The SMS and MMS interface is quite straightforward and simple at first glance - there are no folders here, just a new message button.
It doesn't stay like that for long - under that button is a list of all your messages organized into threads. Each thread is labeled by the names of the recipients and shows the number of messages in the thread and part of the last message.
Composing a message is a little frustrating as the text box only takes a single line of the screen even if you hide the keyboard, which really only gives you little space to work with.
To add recipients, just start typing a name or number and choose from the contacts offered. The automatic suggestions will appear and you can easily select one by tapping it. The Tattoo shows the name and number/email of each of the suggestions so you won't end up using the wrong number for some of your contacts.
A press-and-hold on the text box gives you access to functions such as cut, copy and paste. You are free to paste the copied text into any other application like email, notes, chats, etc. and vice versa.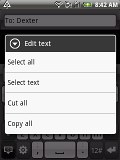 Cut, copy and paste are all here for you
Converting SMS to MMS is logical and easy. When you add multimedia content to the message, it is automatically turned into an MMS. You can just add a photo or an audio file to go with the text, or you can choose to go into a full-blown MMS editor, depending on your needs.
Gmail is one thing that you can't expect to have changed much compared to other Android handsets. There are a few HTC add-ons, but nothing major. Batch operations, which debuted on the HTC Magic, allow multiple emails to be archived, labeled or deleted.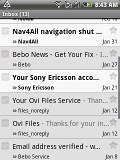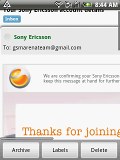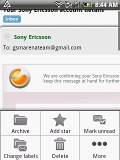 The Gmail app is simple to use but very functional
The user interfaces of both the Gmail and Mail apps have been slightly polished with several icons in the menus changed. The extended Gmail features include spam report and of course conversation-style email view mode.
When replying to an email you can opt for either Gmail or the generic mail client, and set one of the two options as default. The reason behind most Android handsets coming with two email clients is the added corporate Exchange ActiveSync support.
The standard Mail app has been slightly tweaked up too. The general Inbox displays the last sync time, the sort order, the current email account and of course the actual messages. At the bottom there are three virtual buttons that change the inbox view to display conversations or only the emails with attachments.
The conversations tab mimics the Gmail client threaded view, which is otherwise missing in the generic inbox.
The option to only display emails with attached files is a good one to have on hand. Attachments are not automatically downloaded by default.
Email sorting is possible (in either ascending or descending order) by date, subject, sender and size. The chosen filter is displayed in the top right corner of the display.
The on-screen full QWERTY keyboard in the Tattoo works in both portrait and landscape modes. The buttons are on the small side but given the available screen estate you couldn't actually hope for more now, could you?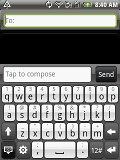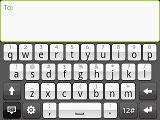 The virtual landscape QWERTY keyboard is our weapon of choice when texting on the Tattoo
There is also a SureType kind of QWERTY keyboard where each button is shared by two letters and a regular multitap keypad. We don't see why someone would actually prefer those for their text input needs but it certainly doesn't hurt having them.
AnonD-646030
19 Feb 2017
rKV
One of my favorite phone I have ever use
hamidreza1338
24 Nov 2014
HIN
Please new software for download .
I want to know if the htc tattoo upgrade is out.