Huawei Mate 40 Pro review
GSMArena team, 22 October 2020.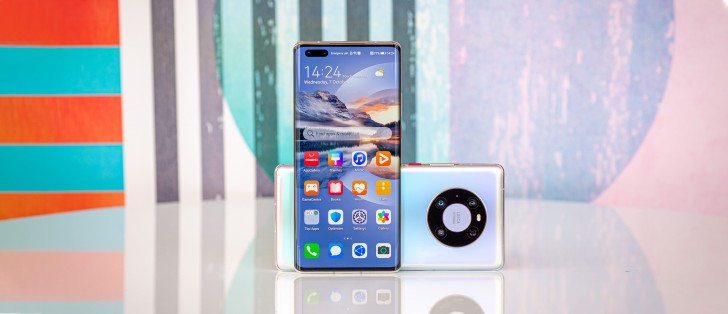 6.76-inch OLED can go as high as 90Hz
The Mate 40 Pro is equipped with a 6.76-inch OLED display that spills over to its sides. Resolution is a somewhat odd 1344x2772px - it's even weirder than the P40 Pro's 1200x2640px. The aspect ratio going by the Mate's numbers is 2.0625:1 (or 18.6:9, if 9 is a more familiar denominator) while pixel density works out to 456ppi.
The panel also supports a 90Hz refresh rate, same as the P40 Pro and P40 Pro+. That can be set to Standard (60Hz), Ultra (90Hz), or Dynamic, which should adjust it based on content. There's also a Screen resolution setting with three options - High (the native 1344x2772px), Standard (1152x2376px) and Low (896x1848px, or 2/3 of the native pixels in each direction). And then there's a 'Smart' option for auto adjustment.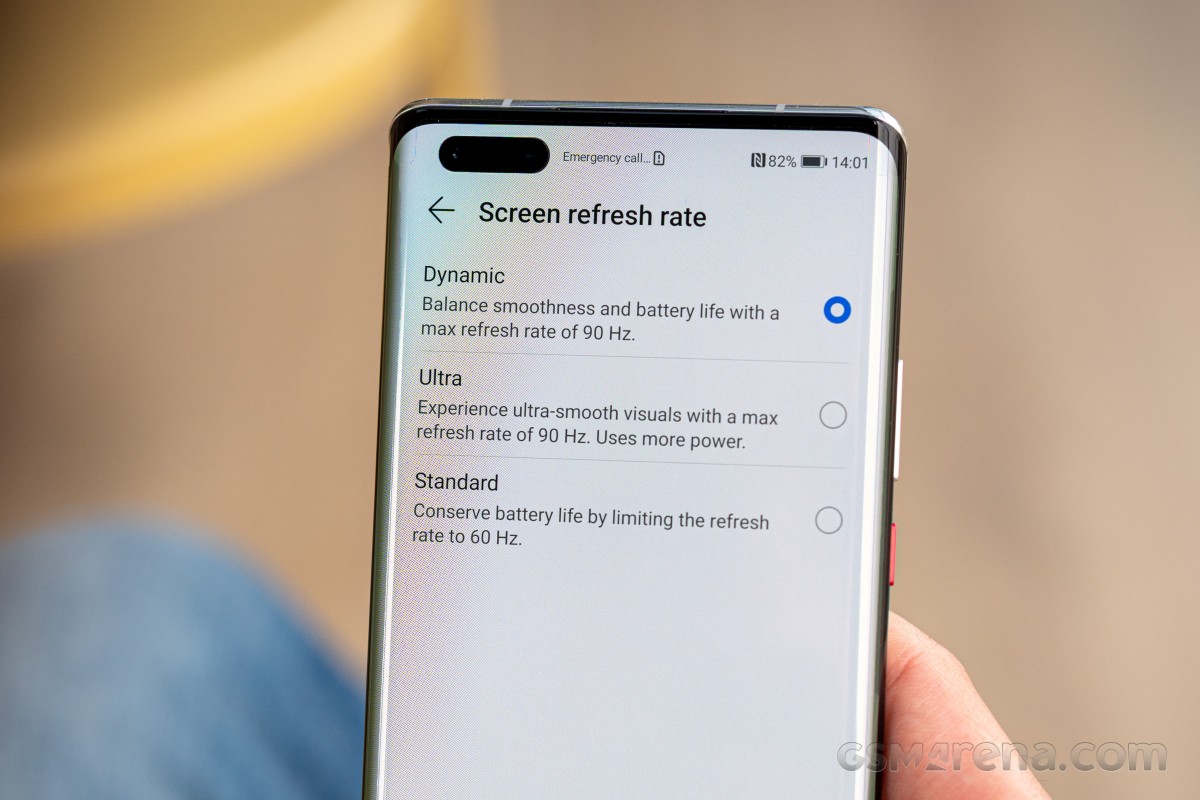 The max brightness out of the Mate 40 Pro's display is plenty. We measured 807nits with adaptive brightness enabled in bright ambient light conditions, which is up there with the other high-end offerings (though the Galaxy Note20 Ultra is capable of pushing more than 1000nits in our test). The result is also slightly higher than the P40 Pro+ (760nits) and notably better than the P40 Pro's 531nits. Operating the slider manually, we got 485nits, and that, too, is higher than previous Huawei's and in line with top-class competitors.
Display test
100% brightness
Black,cd/m2
White,cd/m2
Contrast ratio
Huawei Mate 40 Pro
0
485
∞
Huawei Mate 40 Pro (Max Auto)
0
807
∞
Huawei Mate 30 Pro
0
464
∞
Huawei Mate 30 Pro (Max Auto)
0.028
683
24393:1
Huawei P40 Pro
0
425
∞
Huawei P40 Pro (Max Auto)
0
531
∞
Huawei P40 Pro+
0
455
∞
Huawei P40 Pro+ (Max Auto)
0
760
∞
Samsung Galaxy Note20 Ultra 5G
0
504
∞
Samsung Galaxy Note20 Ultra 5G (Max Auto)
0
1024
∞
Samsung Galaxy S20 Ultra 5G
0
398
∞
Samsung Galaxy S20 Ultra 5G (Max Auto)
0
894
∞
Oppo Find X2 Pro
0
536
∞
Oppo Find X2 Pro (Max Auto)
0
871
∞
OnePlus 8 Pro
0
538
∞
OnePlus 8 Pro (Max Auto)
0
888
∞
Xiaomi Mi 10 Pro
0
510
∞
Xiaomi Mi 10 Pro (Max Auto)
0
858
∞
Motorola Edge+
0
422
∞
Motorola Edge+ (Max Auto)
0
607
∞
Sony Xperia 1 II
0
333
∞
Sony Xperia 1 II (Max Auto)
0
538
∞
Asus Zenfone 7 Pro
0
529
∞
Asus Zenfone 7 Pro (Max Auto)
0
741
∞
vivo X50 Pro+
0
499
∞
vivo X50 Pro+ (Max Auto)
0
733
∞
Xiaomi Mi 10 Ultra
0
498
∞
Xiaomi Mi 10 Ultra (Max Auto)
0
811
∞
When it comes to color reproduction, things are fairly straightforward on the Mate 40 Pro. There are two modes - Natural and Vivid, each with a Default/Warm/Cool selector and a color wheel for custom settings.
We got our Mate set to Natural-Default out of the box, and that yielded a very good average dE2000 of 2.0 for the standard set of sRGB swatches, though the white point was a bit cooler than ideal. Switching to Natural-Warm made things worse with a pronounced yellow cast and an average dE2000 of 2.4. However, further tweaking with the color wheel got us an excellent average dE2000 of 1.0 with a nearly perfect white point.
In the Vivid-Default mode, the one tailored for DCI-P3 content, we measured an average dE2000 of 4.0 with the whites strongly shifted towards blue. Moving to the warm setting, the average deviation dropped to 2.4, but white got a green shift. Again, we achieved the best results with a custom setting on the color wheel - average dE2000 of 2.0, white at around 2.5.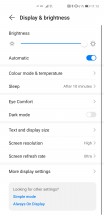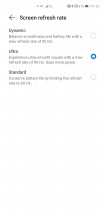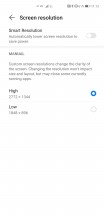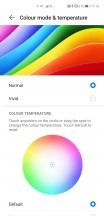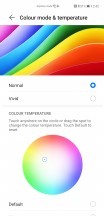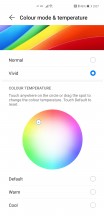 Display settings • Refresh rate • Resolution • Color settings • Custom settings
Huawei Mate 40 Pro battery life
The Mate 40 Pro has a 4,400mAh battery inside, a low-to-average capacity for the class. The Galaxy Note20 Ultra, for instance, has a 4,500mAh power pack, as do the Xiaomi Mi 10 Pro and the OnePlus 8 Pro, while the Oppo Find X2 Pro makes do with 4,260mAh. Meanwhile, the Motorola Edge+, Zenfone 7 Pro, and Galaxy S20 Ultra pack 5,000mAh cells.
We carried out our usual tests on the Mate 40 Pro, and it was good for a little under 24 hours of 3G voice calls while remaining fairly frugal in standby as well. As for the screen-on tests, we clocked 12:33h of Wi-Fi web browsing at 90Hz, which improved to 14:24 if you run it in 60Hz mode. For video playback, the phone always switches to 60Hz, and in our test, it could loop videos for a little under 17 hours.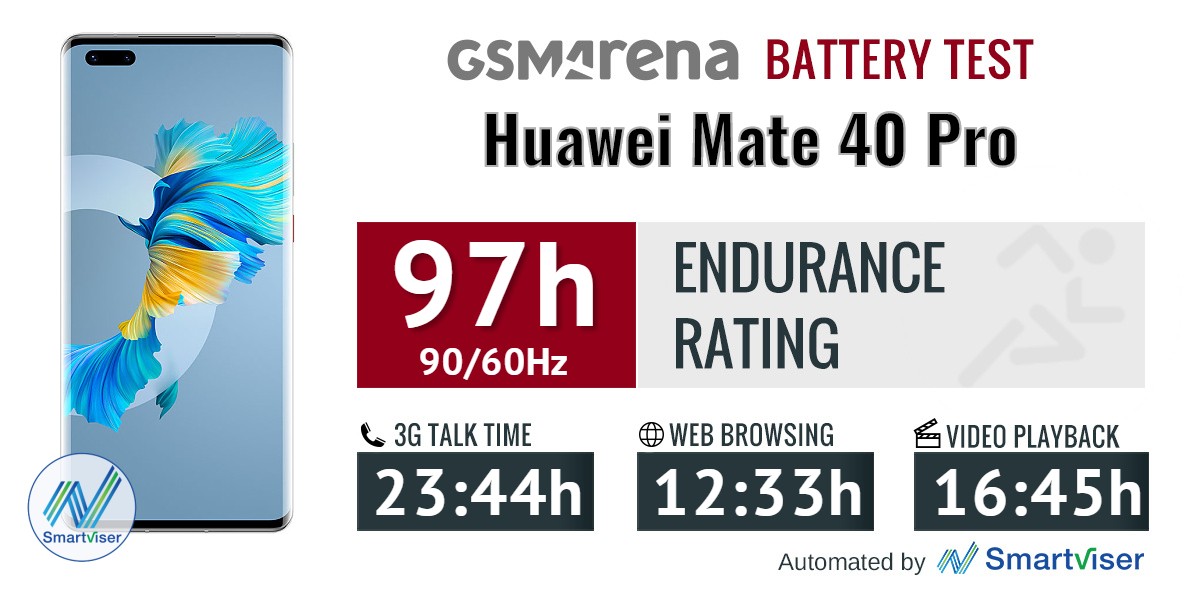 Taking everything into consideration, the Mate 40 Pro scored an Endurance rating of 97h with the screen set to 90Hz for web browsing, and 101h if you're scrolling the web at the regular 60Hz refresh rate.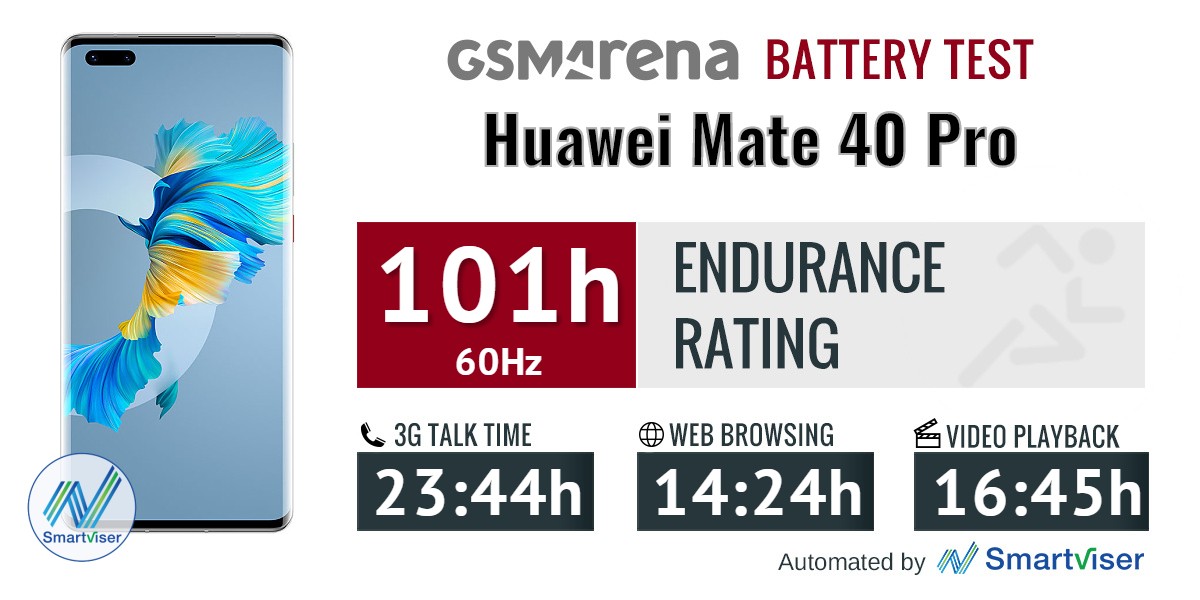 Our battery tests were automated thanks to SmartViser, using its viSer App. The endurance rating above denotes how long a single battery charge will last you if you use the Huawei Mate 40 Pro for an hour each of telephony, web browsing, and video playback daily. We've established this usage pattern so that our battery results are comparable across devices in the most common day-to-day tasks. The battery testing procedure is described in detail in case you're interested in the nitty-gritty. You can check out our complete battery test table, where you can see how all of the smartphones we've tested will compare under your own typical use.
Comparing to other 90Hz phones from this year, the Mate 40 Pro comes up over an hour short of the Mi 10 Pro's browser result (13:44h), while the Motorola Edge+ (14:27h) is good for two more hours than the Huawei in this test. The Mate does inch ahead of the Zenfone 7 Pro (11:57h), though. Browsing at 120Hz takes a bigger toll on the battery, and competitors like the OnePlus 8 Pro (10:58h) and Note20 Ultra (11:31h) can't match the Mate's longevity, much less the Find X2 Pro (9:08h).
When it comes to binge-watching sitcoms offline, the Mate is bested by most competitors, but not by all that much. Plus, modern phones with OLED displays have gotten so efficient that the Mate's 16:45h result is easily good enough. Having said that, you'll be able to get 3+ extra hours on the Motorola Edge+ (20:14h) while the OnePlus 8 Pro (18:03h), Mi 10 Pro (17:44h), and Find X2 Pro (17:38h) will outlast the Mate by about an hour. The Galaxy Note20 Ultra (17:21h) has a minor advantage, too, if you make sure it's running at 60Hz for the task.
Battery charging
The Mate 40 Pro comes bundled with a 66W adapter that's branded Huawei SuperCharge. It uses proprietary technology to get all the 66 watts you need to use Huawei peripherals. We clocked a full charge from flat in 45 minutes with that charger, with 87% showing in the battery indicator at the half-hour mark. While the Oppo Find X2 Pro and the Xiaomi Mi 10 Ultra are quicker, the Mate's numbers are among the best around.
If you happen to be missing your SuperCharger and have a USB PowerDelivery adapter, you can expect something along the lines of 33% in half an hour when starting from empty and a full charge in 1:42h. We got these using a 65W-rated third-party adapter, but the Mate clearly didn't max that out, so a lesser unit will perform similarly.
30min charging test (from 0%)
Xiaomi Mi 10 Ultra
100%
Oppo Find X2 Pro
95%
Huawei Mate 40 Pro
87%
Huawei P40 Pro
80%
Huawei P40 Pro+
77%
Xiaomi Mi 10 Pro 5G
77%
Samsung Galaxy S20 Ultra
64%
OnePlus 8 Pro
63%
Asus Zenfone 7 Pro
56%
Sony Xperia 1 II
46%
Samsung Galaxy Note20 Ultra 5G
43%
Huawei Mate 30 Pro
41%
Motorola Edge+
30%
Time to full charge (from 0%)
Xiaomi Mi 10 Ultra
0:27h
Oppo Find X2 Pro
0:36h
Huawei Mate 40 Pro
0:45h
Huawei P40 Pro
0:50h
Xiaomi Mi 10 Pro 5G
0:50h
Samsung Galaxy S20 Ultra
0:58h
Huawei P40 Pro+
1:10h
Samsung Galaxy Note20 Ultra 5G
1:23h
Asus Zenfone 7 Pro
1:32h
Huawei Mate 30 Pro
1:34h
Sony Xperia 1 II
1:51h
Motorola Edge+
2:37h
The Mate 40 Pro also supports wireless charging up to 50W - again, with in-house hardware. Reverse wireless charging is also possible.
Huawei doesn't make a big deal out of it, but the Mate does provide a couple of options to prolong the battery's health over time. One of these is Smart Charge that will delay topping up to 100% depending on your charging habits. Unlike Sony or Asus, there are no settings for this one where you can dial in full charge target times or tie it to your morning alarm - it's just a simple on/off toggle (on by default, by the way).
While Smart Charge was available on the P40 Pro, there's a new one on the Mate. It's called Smart Battery Capacity, and it limits full charges to just short of the battery's top capacity - lithium batteries don't like the 100% state and staying below it helps in the long run.
Speaker test
The Mate 40 Pro has a stereo speaker setup, and it's one of the better ones, conceptually. You get two dedicated speakers, one on the bottom, one on the top, so there's no discrepancy between a 'main' speaker and an earpiece-based sidekick.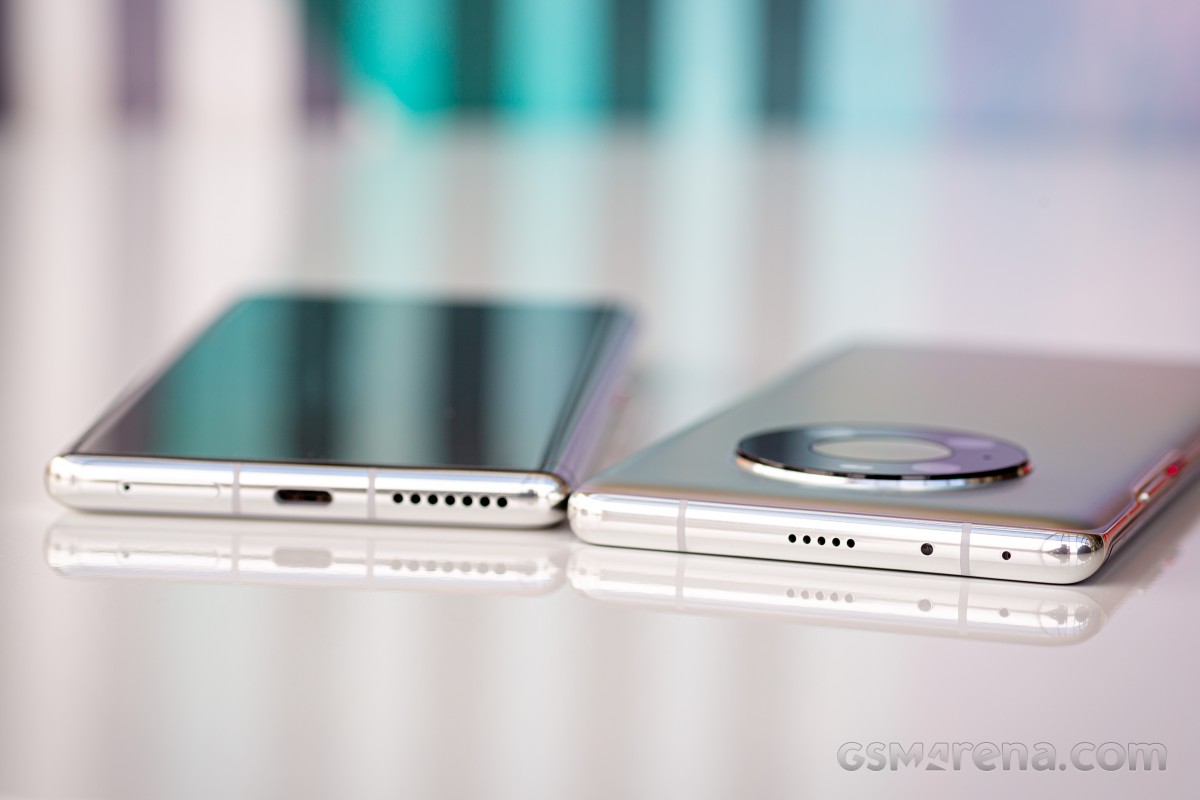 Indeed, the Mate's output sounds excellent. It's a significant step up from the P40 Pro's single speaker, and the improvement over the Mate 30 Pro is even more dramatic. The new Mate aced our 7-song test delivering clean sound with presence in the lows, lovely vocals, and lively well-placed highs. It also earned a 'Very Good' rating for loudness.
Use the Playback controls to listen to the phone sample recordings (best use headphones). We measure the average loudness of the speakers in LUFS. A lower absolute value means a louder sound. A look at the frequency response chart will tell you how far off the ideal "0db" flat line is the reproduction of the bass, treble, and mid frequencies. You can add more phones to compare how they differ. The scores and ratings are not comparable with our older loudspeaker test. Learn more about how we test here.
Audio output quality
We've recently discontinued our audio output quality test.
The reason for that is that most phones that arrived for testing were already excellent in this regard. Whatever difference there was, it was marginal and probably indistinguishable to anything but our lab equipment.
Anonymous
09 Jul 2023
tZ0
Not sure what you mean by "end of life". My LG V35 is on Android 9 and it is still receiving updates through Playstore in 2023, including updates for Google apps. If end of life for Android 9 was really 2021 like you said, my phone shouldnt...
Can I use custom rom with mate 40 pro?
Even if you were able to sideload the apps, its a pain really. I even tried Gspace, it just lagged, had to sell the device just to recover what I spent on it.