Huawei Mate 8 review: Checkmate
Checkmate
Chavdar Sirakov, 27 January, 2016.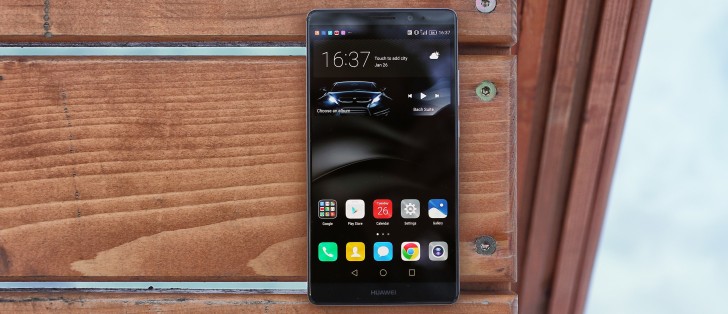 Marshmallow with EmotionUI ot top
The Huawei Mate 8 runs on Android 6.0 Marshmallow, skinned with Huawei's own EmotionUI, in its v.4.0 iteration. Skinned might be putting it mildly, though, as the interface has less in common with stock Android than it does with iOS. EmotionUI has been pretty consistent between versions and recurring Huawei users should feel right at home if upgrading to the Mate 8.
There's plenty of stuff going on on the lockscreen, starting with the alternating cover images - every time you wake up the device, you're greeted by a different wallpaper. That's if you opt for the Magazine unlock style. You can also go old-school and pick a single image set to be shown on the lockscreen. Whatever you choose, you likely won't be seeing much of it, as the fingerprint unlock will take you straight to the homescreen.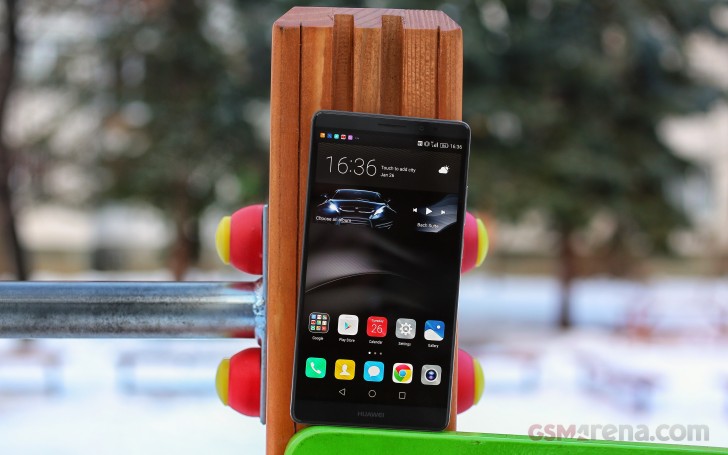 If you do decide to wake up the Mate 8 via the power button, you get a large clock with a date and a shortcut to the camera. You can also quickly start the camera by a double press of the Volume Down button.
Back to the lockscreen, you can pull up an iOS-style menu from the bottom, where you get yet another camera shortcut, but also quick access to the flashlight, calculator and voice recorder. If you've chosen the magazine style lockscreen, the pull-up menu will give you eight more options for control over the changing covers.
Beyond the lockscreen we find a fairly standard Android homescreen with any number of customizable shortcuts between 0 and 5, which are docked at the bottom and are visible on all homescreens.
There are eighteen (!) homescreen panes at most - we figured they'd be 9 as on the Mate S, but thought we'd double check and started regretting it past the dozen. With the Mate 8 targeted at the power user, Huawei has made sure said user will have enough space for apps and widgets.
Mind you, we're not saying shortcuts, but apps. As is customary for Chinese-made Android UIs, there is no app drawer like there would be on vanilla Android, or on other manufacturer's overlays.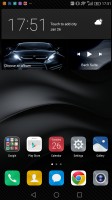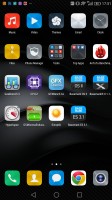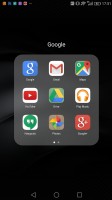 Default homescreen with clock widget • apps-only homescreen • folder on a blurred background
A pinch on the homescreen triggers the familiar Overview mode to let you check out and organize the homescreen panes currently in use, remove or add panes as you please. Widgets are available too - it's mostly the stock Android ones, but Huawei has thrown in some of its own as well. If you like your homescreens neatly organized, you can enable the shake feature, which will arrange scattered apps starting from the top left.
Themes are available as well. A theme will change your homescreen wallpaper, lockscreen style, system and app icons, system font, system color and the sound profile. You can also adjust things like homescreen transition effects. However, for the life of us, we couldn't find a link to an online store of themes, and there are just six pre-installed.
The notification area has two panes - one that holds all notifications sorted in a timeline, and another for all of your quick toggles.
The Huawei Mate 8 features an iOS-like task switcher that lets you swipe up and away unwanted apps. A downward swipe locks the app so that when you hit the Kill all button, it remains open. That's nifty if you are trying to free some RAM for a particular app or game.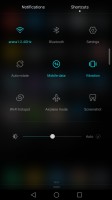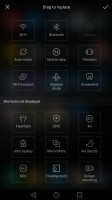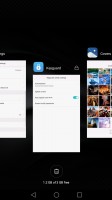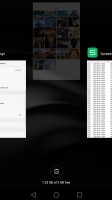 Notifications • quick settings • toggles rearrangement • pull down to keep • swipe up to kill
For certain scenarios, like in-car use, you can enable a Simple homescreen mode, which features large tiles for easy tapping. It's not particularly consistent, though, offering simple version of some menus, but not others - the dialler is the same size as in regular mode (in all fairness it's fairly oversized to begin with).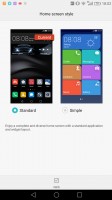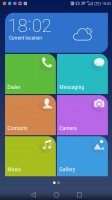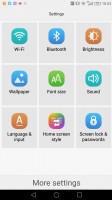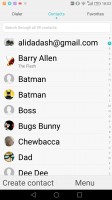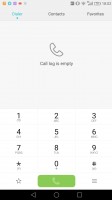 Simple homescreen with a tiled interface
A system-wide scale setting is available from within the display options, the Medium option enabled by default. We'd go with Small as the interface could be quite wasteful otherwise, but if you have trouble seeing tiny menu elements, do go for Large, the option is there. Additionally, you can independently set the font size (you'd be surprised to find out that the default is "Normal").
Huawei had granular control over app permissions before it was cool, and there's no reason to change that, now that the feature comes as a part of latest Android Marshmallow.
The Mate 8 features a notification center, from which you can control which apps can send you the three types of available notifications - the shade notifications, the lockscreen notifications and the banner style notifications.
This level of control is also employed when it comes to the app access to network data. The user can control the rights of each application to access either WiFi or mobile data. This can save a lot of traffic and help you optimize your data plan and consumption in an easy and convenient way.
As part of the extensive Smart assistance package, you can customize the bottom navigation bar - you can swap the task-switcher and back keys, or even add a shortcut for the notification area. There is also a one-handed UI mode, for easier menu surfing on the go.
You can enable the so-called Floating dock - it's a virtual key you can move anywhere on the screen, allowing you to expand it to the primary Android keys - Back, Home, Task Switcher, Lock and Close all running apps. It will help you control your phone with just one hand.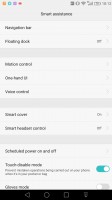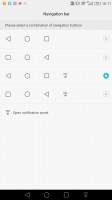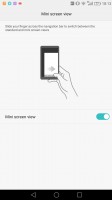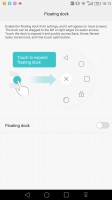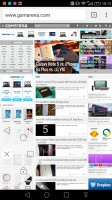 Smart assistance • navigation bar options • mini screen view • floating dock • floating dock in action
Motion control also plays a significant role on the Huawei Mate 8. There are flip gestures, as well as picking up, tilting and even things like knuckle detection and drawing. All of those are extensively customizable to your liking as well.
For a while now, Huawei has been offering a superfluous knuckle gesture control on its high-end phones, and it's available on the Mate 8 as well. While gladly avoided launching apps by drawing letters with a knuckle, certain aspects of the Smart screenshot feature we found handy.
You can start recording a video of your interaction with the UI by the intuitive double knock with two knuckles while drawing an S with a single knuckle launches the scrolling screenshot. Thank goodness that latter is available from the regular Power/Volume down shortcut. Scrolling screenshots were a bit hit-or-miss, though.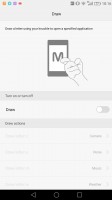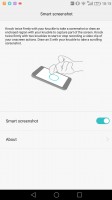 Launching apps at the touch of a knuckle • Smart screenshot • scrolling screenshot
The Mate 8 has a potentially handy, put in practice limited multi-window feature. Launched with a knuckle swipe (or a much more logical press-and-hold on the recent apps button), it lets you view two apps at once. You can resize the windows, and swap the two. The app selection is very limited, though, and is strikingly missing a browser.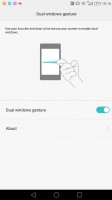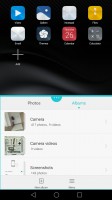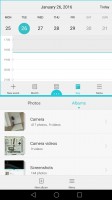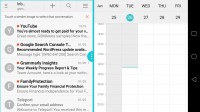 Multi window is promising, but fails to deliver
Voice control, on the other hand, lets you operate the Mate 8 entirely hands-free. The functionality resembles what we have seen on certain Nexus and Samsung Galaxy devices and boils down to the ability to trigger a voice command, even when the phone is locked, and its screen is off.
Huawei does this by always listening for a "trigger word", which by default is... "Okay, Emy." Once triggered, the phone wakes up and awaits further voice instructions, like placing a call. Speech awareness is also customizable. The wake-up phrase can be changed, and you can also train the device to recognize better your voice.
The list of accessibility features just goes on and on. Others that deserve mentioning include: glove mode, smart cover and smart headset control.
Huawei's fingerprint recognition has long been among the best available, and that's only gotten better on the Mate 8. The sensor is always on, and it will unlock the smartphone and take you to the homescreen in what can be described only as a 'mere instant'.
You can set up to 5 fingerprints, and those are more than likely going to be the index fingers of both hands, and potentially the same for another person, with one to spare, though we've never understood the limitation.
When you go to the fingerprint setup menu and tap the sensor with an already registered digit, it highlights in the list below - a nice touch. In a baffling turn of events, the Mate 8 deleted all fingerprints once we chose to disable the fingerprint unlock, forcing us to do the setup all over again.
Surprisingly, the Mate 8, unlike the Mate S, lacks the truly handy touchpad functionality of the fingerprint sensor. You can only set it up to take photos, answer calls and turn off the alarm, but you can't scroll through the gallery, or pull down the notification shade.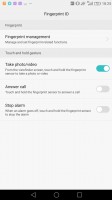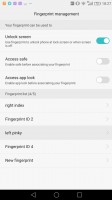 Excellent fingerprint reader implementation, but the touchpad feature has been stripped
How do I roll back to Marshmallow, Andriod 6, from Nougat 7.0 I bought HUAWEI Mate 8 on Andriod 6, however I upgrade to 7.0, which I regretted. My region is UK. Assistance is urgently needed.
Any 3rd party app were I can get more options for the apps available in Multi window?
my mate 8 is now 1 year and 4 months old but still performs just like before and recieved an update for android 7 nougat hooray,but it's battery drains 15% overnight due to battery wear and tear sad,but still a great phone :)