Huawei Mate 9 review: Mighty Mate
Mighty Mate
GSMArena team, 14 November 2016.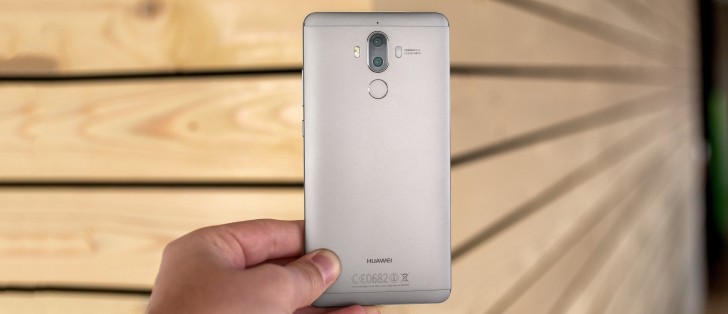 Synthetic benchmarks
The Huawei Mate 9 is powered by the Kirin 960 SoC, developed by the in-house chipmaker HiSilicon. Kirin chipsets have been around for a while now, but there are a lot of firsts that come along with this particular chipset - most notably, new ARM CPU cores and a new GPU.
The main processor within the chipset consists of a quad-core Cortex-A73 cluster clocked at 2.4GHz, plus a quad-core array of the familiar Cortex-A53 cores ticking at 1.8GHz. The Cortex-A73s boast a 30% power efficiency compared to the previous A72 design, while also promising improved performance.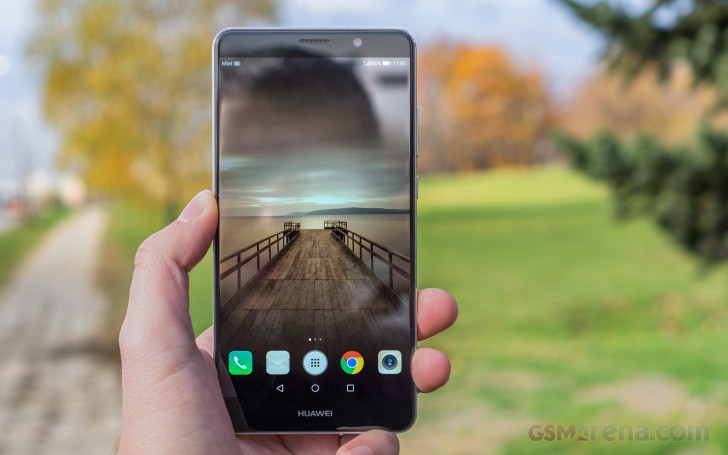 You know the drill - we start with the CPU testing, and that means some GeekBench-ing. In version 4 of the popular benchmark, the Mate 9 easily tops the flagship chart in multi-core. The iPhone 7 Plus' score is 8-9% lower, but the highest-ranked droid - the Snapdragon 821-powered Xiaomi Mi 5s Plus - is behind by a country mile.
In the single-core test the Kryo cores inside Qualcomm's top-of-the-line SoC make up for it, nearly matching the Mate 9's A73s. The iPhone 7's Fusion cores are in a league of their own in single-core computation powers, though.
GeekBench 4 (multi-core)
Higher is better
Huawei Mate 9
6112
Apple iPhone 7 Plus
5664
Xiaomi Mi 5s Plus
4333
Google Pixel XL
4152
Samsung Galaxy S7 edge (SD 820)
4128
LG V20
3890
GeekBench 4 (single-core)
Higher is better
Apple iPhone 7 Plus
3473
Huawei Mate 9
1898
Xiaomi Mi 5s Plus
1815
Samsung Galaxy S7 edge (SD 820)
1696
LG V20
1590
Google Pixel XL
1507
Two versions of Basemark OS II we ran on the Mate 9 (like we've done for a while now), and the Huawei phablet is without competition in the Android world. In Basemark 2.0 the Mi 5s Plus, the Snapdragon version of the Galaxy S7 edge, and the Pixel XL are staying somewhat close, but the Exynos S7 edge lags behind. The difference is more pronounced in the older version of the benchmark, where only the S821 Mi 5s Plus is putting up a fight, barely.
Basemark OS 2.0
Higher is better
Apple iPhone 7 Plus
3796
Huawei Mate 9
2637
Xiaomi Mi 5s Plus
2434
Samsung Galaxy S7 edge (SD 820)
2352
Google Pixel XL
2281
Huawei P9
2068
Samsung Galaxy S7 edge
2050
Basemark OS II
Higher is better
Huawei Mate 9
3280
Xiaomi Mi 5s Plus
2677
Huawei P9
2190
Samsung Galaxy S7 edge
2107
Samsung Galaxy S7 edge (SD 820)
2045
The Antutu 6 score isn't as mind-blowing - actually the Mate 9 places last of this year's flagships - a rather odd development.
AnTuTu 6
Higher is better
Apple iPhone 7 Plus
173110
Xiaomi Mi 5s Plus
155185
Google Pixel XL
141186
Samsung Galaxy S7 edge (SD 820)
132849
Samsung Galaxy S7 edge
129229
Huawei Mate 9
122826
Huawei P9
98069
We expected the new Mali-G71 GPU to shine, and for a brief moment there it almost did - in Basemark X. Inching ahead of the Mi 5s Plus, it did top yet another of the benchmark charts, though, there is nothing spectacular about its numbers.
Basemark X
Higher is better
Huawei Mate 9
36519
Xiaomi Mi 5s Plus
36062
Samsung Galaxy S7 edge (SD 820)
32160
Google Pixel XL
30861
Samsung Galaxy S7 edge
28480
Huawei P9
16942
On to GFXBench and the framerates, the Mate 9 didn't quite leave us raving, posting average scores across the board. In the most demanding test - the OpenGL ES 3.1 Car scene, the Mate 9 managed 14fps in the onscreen part, while the S821 Mi 5s Plus excels with a 19fps frame rate. Meanwhile, the Pixel XL and the S820 S7 edge did 11 and 10fps respectively, despite having to render 1.78 times the number of pixels.
In the offscreen part of the same test, which puts all devices on a level 1080p field, the Adreno 530 clearly shows its superiority over the Mate 9's Mali-G71.
GFX 3.1 Car scene (offscreen)
Higher is better
Google Pixel XL
19
Samsung Galaxy S7 edge (SD 820)
18
Xiaomi Mi 5s Plus
18
Samsung Galaxy S7 edge
15
Huawei Mate 9
13
Huawei P9
6.5
GFX 3.1 Car scene (onscreen)
Higher is better
Xiaomi Mi 5s Plus
19
Huawei Mate 9
14
Google Pixel XL
11
Samsung Galaxy S7 edge (SD 820)
10
Samsung Galaxy S7 edge
7.8
Huawei P9
7.1
You would think then that the Mate 9 would be defeated in Basemark ES 3.1, but no - it actually claims the top once again. Well, save for that iPhone 7 Plus, which makes us wonder just how comparable the cross-platform benchmark results are. Well, maybe it's that good.
Basemark ES 3.1 / Metal
Higher is better
Apple iPhone 7 Plus
1517
Huawei Mate 9
794
Samsung Galaxy S7 edge
733
Google Pixel XL
626
Samsung Galaxy S7 edge (SD 820)
624
Xiaomi Mi 5s Plus
538
Huawei P9
341
So, the conclusions we can draw about the Mate 9's performance is that it has a really fast CPU in both single-thread and multi-core applications and a GPU that's still not quite there. Or rather, a GPU that is still waiting for applications that can benefit from the Vulkan graphics API support.
The silver color is very nice in short Huawei mate there all nice
Please suggest, will I buy Mate 9 or not? I have to buy during this month. All suggestion repect
Why FM radio is not available.It is a basic for every body need. Try to implement......