Huawei Mate 9 vs. Xiaomi Mi 5s Plus: Bargain bin
Bargain bin
GSMArena team, 19 December 2016.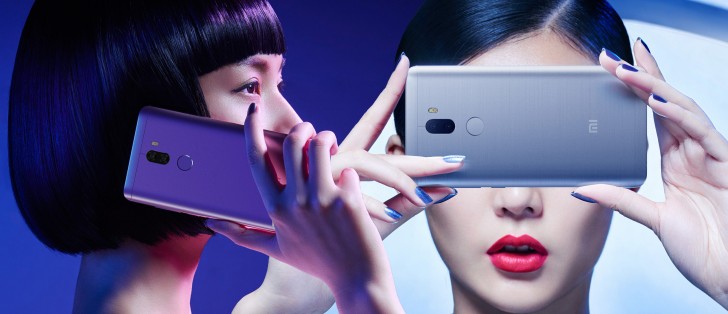 Half the price, but just as good?
We publish buyer's guides regularly, featuring the best phones in all price categories. But those are quite long and we thought you may be interested in a more targeted approach - one excellent phone and one alternative option that is much cheaper, often half the price.
This will be a series of articles, the first one pits the Huawei Mate 9 and the Xiaomi Mi 5s Plus against each other. Both are great, and at least on paper pretty similar, but the Huawei is close to €700 while the Xiaomi is around €350.
So, whether a flagship is outside your budget or you just want to make sure you don't overspend, this series will highlight what you do and do not lose by picking the more affordable option.
As a sneak peek, here are some of the other duets we will be visiting:
Huawei Mate 8 vs. Xiaomi Mi Mix
Samsung Galaxy S7 vs. Galaxy A5
OnePlus 3T vs. Google Pixel XL
Huawei Mate 9 vs. Xiaomi Mi 5s Plus
Huawei pronounced the Mate 9 the best phone in the world - and indeed it has many superior qualities. But we started wondering if we can match most features at half the price. This lead us to the Xiaomi Mi 5s Plus, which seems to tick a lot of boxes and share plenty of ideas with the Huawei.
While it doesn't benefit from Leica's touch, the Xiaomi also has a dual camera on the back with advanced features. And it comes with the best Android chipset of 2016, while Huawei chose to use mostly in-house components for the Mate 9.
This includes Huawei SuperCharge to feed its bigger battery, which is needed to power the bigger screen. Bigger, but not sharper - both phones come with 1080p screens, housed in metal bodies.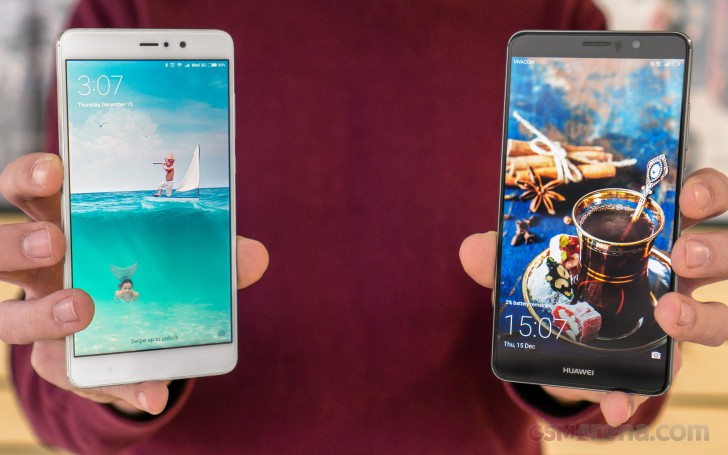 A closer look starts to reveal why the Huawei Mate 9 is the more premium offering. It's not just the Leica-branded camera or the slightly bigger screen and battery, it also has expandable storage and runs newer software, Android 7.0 Nougat.
The Xiaomi Mi 5s Plus also packs a punch - our tests show its battery lasts longer (despite its smaller capacity) and there's a premium version with more RAM and storage. But since this is a value-for-money challenge, we'll use the base version which has almost the same features as its opponent at almost half the price.

Huawei Mate 9

Xiaomi Mi 5s Plus
$
Around €700
Around €350
Metal
7.9mm thick, 190g
Metal
8mm thick, 168g
5.9" IPS LCD
1080p (373ppi)
5.7" IPS LCD
1080p (383ppi)
20MP + 12MP (OIS)
2160p
13MP + 13MP
2160p
2.4GHz (octa)
HiSilicon Kirin 960
2.35GHz (quad)
Qualcomm Snapdragon 821
6GB RAM
64 GB memory (expandable)
4GB/6GB RAM
64GB/128 GB memory
4000mAh
3800mAh
Availability
The Xiaomi Mi 5s Plus may be a great deal, but you can't just waltz into your local phone shop and buy one. There are several sites that sell it, including ones with European stock, so shipping will be fast and you won't have to deal with customs.
The Huawei Mate 9 has issues with availability as well - it is yet to launch in the US. Huawei announced that it will be available starting January next year, so at least the wait is almost over.
Alphanull
12 Jan 2017
nC8
Huawei is excellent. But it don't means Xiaomi is awful. Mate 9 may have better speed in multitasking but mi 5s+ have sd821 with adreno 530 . Mail G71 MP8 in the face of Adreno 530 Can't do anything....... Camera .. designe .. display : ...
Anonymous
25 Dec 2016
42a
Was going to say the same thing. They forgot to examine connectivity as well, which the mate kills the 5 on
Are you sure about battery performance? xiaomi is good on that. lol