Huawei Mate Xs review
GSMArena team, 13 May 2020.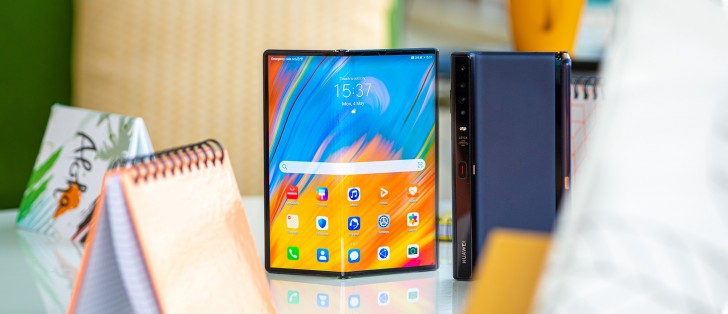 Introduction
The Huawei Mate Xs is finally here! We have it in our hands, in the comfort of our office, without any show floor employees looking over our shoulder and carefully guiding us through what our experience should be.
The arrival of the Mate Xs is a noteworthy moment - yet another high-end foldable device will be making its way to the market and in the hands of consumers.
The original model never got released in Western markets. The Huawei Mate Xs is the second release - an updated version, which arrives in even tougher times with Huawei still under the US trade ban and COVID-19 spreading throughout the world like wildfire. Even Huawei itself admits this device has cost it a lot.
But that doesn't take away any of the importance of this milestone. Each new foldable device that arrives breaks the mould and explores new possibilities while offering different and novel user experiences. It doesn't get any more exciting than that for tech reviewers like us.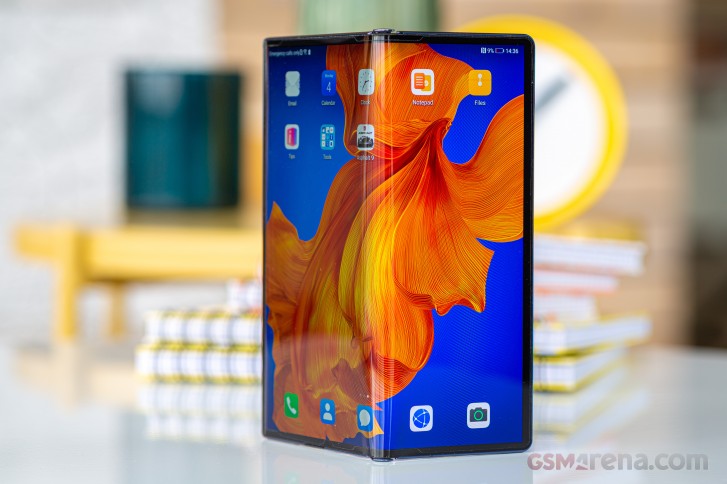 But let's go through the Mate Xs key specs first before getting to the actual reviewing.
Huawei Mate Xs specs
Body: Plastic front, aluminum back and frame; Unfolded: 161.3 x 146.2 x 5.4 mm; Folded: 161.3 x 78.5 x 11 mm; 300 g
Screen:Unfolded: 8.0-inch Foldable OLED FullView display, 2200 x 2480px; Folded: 6.6" OLED 1140 x 2480px
Rear camera: Primary: 40MP f/1.8, 1/1.7", PDAF; Telephoto: 8 MP, f/2.4, 52mm, OIS; Ultra-wide: 16 MP, f/2.2, 17mm; LED flash; 3D ToF; 2160p@30fps video recording, EIS; AIS (Huawei Ai image stabilization)
Front camera: Uses the main cameras.
Chipset: HiSilicon Kirin 990 5G (7nm+): Octa-core (2x2.86 GHz Cortex-A76 & 2x2.36 GHz Cortex-A76 & 4x1.95 GHz Cortex-A55), Mali-G76 MP16; NPU (Neural processing unit) Dual Big Core + 1 Tiny Core NPU
Memory: 8GB RAM, 512GB storage; NM (Nano Memory), up to 256GB (uses shared SIM slot)
OS: Android 10; EMUI 10.0.1
Battery: 4,500mAh (separated in two packs), 55W SuperCharge fast charging
Connectivity: 5G (SA/NSA), Hybrid Dual SIM (Nano-SIM, dual stand-by), Bluetooth 5.0, Wi-Fi a/b/g/n/ac/ax, dual GPS, USB 3.1 Type-C; NFC; IR blaster
To put things in context, it was actually the original Mate X that stole all the headlines, mainly due to its leading role in the last big foldable craze that took place during MWC 2019.
That led to an interesting story of rushed progress and all sorts of mishaps due to the overzealous desire of major manufacturers like Huawei and Samsung, as well as a few other smaller operators, to get on the foldable hype train as early as possible. This story is beyond the scope of this review, but let's just say that the foldable efforts by all makers have been through a rather rough patch.
Which gets us back to the excitement caused by the arrival of the Mate Xs for review. Yup, it's a milestone - at least for us - because its arrival means foldables are perhaps a step closer to becoming mainstream.
Design-wise, the Mate Xs is almost identical to its predecessor. However, it is, in a lot of ways, a second-generation device. It has been refined through and through and it's now a real product that Huawei plans on selling globally.
Most of these changes to the Mate Xs, however, are either internal or subtle enough to be rather hard to notice. Certainly not minor, but so intricate and particular that you shouldn't expect the updates to be apparent. It's not that most of us have had much hands-on time with the predecessor anyway so drawing parallels will not be of much use.
It's a good thing then that the new Mate Xs should now be easier to find and experience to anyone interested.
It is still the very definition of a "halo product" only meant for the most affluent and adventurous early adopters. And, of course, ideally suited for attracting media coverage, such as this review, and gathering tons of organic brand exposure and public interest.
What we will be looking into in more detail, however, is how good the Mate Xs rates as an actual end-user product meant to be used day in, day out.
Unboxing the Huawei Mate Xs
When you are paying this much money for a phone, you'd be right to expect a certain level of experience across the board. Packaging and presentation are not things that any company, especially not one of Huawei's size, would skimp out on in a "halo product".
The Mate Xs comes in a big, lavish box made of thick cardboard, with a soft finish all around.
The internal space features the same soft, almost silky material and plenty of boxes to divide everything up, as well as a solid tray for the Mate Xs itself. It ships unfolded and well protected.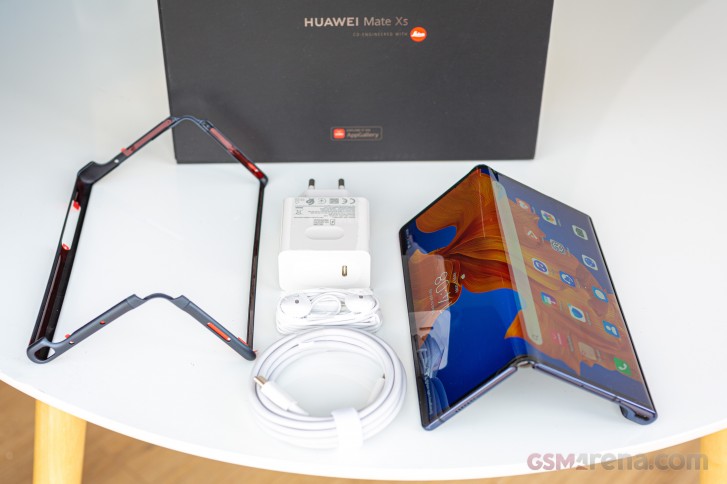 In terms of the accessory bundle, you get a pair of white, USB Type-C buds in one box. These are reminiscent of the signature Apple design that hangs off the ear lobe, instead of going inside the canal.
Also in the box - there is a case for your shiny new Mate Xs. We were quite curious as to what sort of case Huawei would come up for a device that has more screen than anything else and it's exactly what you can imagine - a thin piece of plastic that's meant to be used as a bumper case. It's attached with a set of adhesive stickers to the phone and it's designed to run around all edges, including the thicker metal bit.
There is not much you can do to protect a phone in this form factor from accidental drop damage. As far as we are aware, Huawei should also be offering some sort of a carrying case where you can tuck away the phone so it doesn't get scratched in your pocket.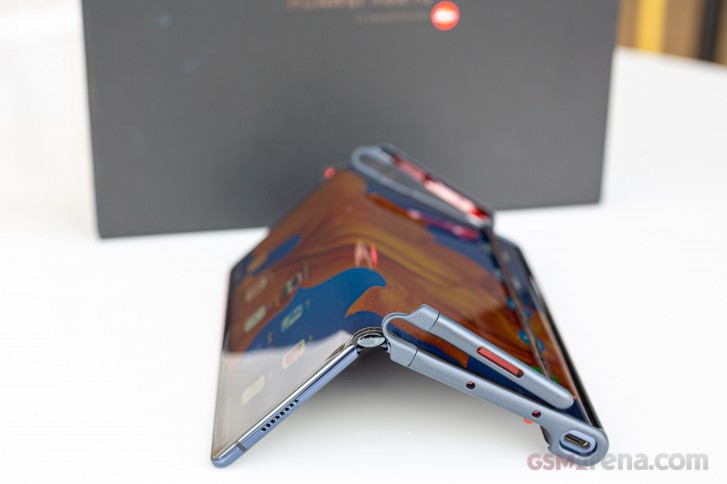 Naturally, Huawei also includes a charger in the box. The cable it uses is a quite long Type-C to Type-C cable, rated at 3.3 amps. This is enough to cover the full 65W Power Delivery rating of the provided wall charger.
The Mate Xs charging capabilities, however, top off at 55W, so it was nice of Huawei to provide a 65W laptop-grade charger which is definitely above spec for this phone but one that might come in handy for your notebook just as well.
I can't help but think that LG or any other brand can use this phone as an inspiration for their rollable screen smartphone. I mean, the camera and the power+volume button is placed on one side with no bezel or notch or even punch-hole interrupt...
It comes with a pre installed screen protector. I've had mine 9 months it's still on there.
I've had mine for about a year, like 9 months, and I haven't had any issues with failure yet.