Huawei MatePad Pro 12.6 review
GSMArena Team, 9 June 2021.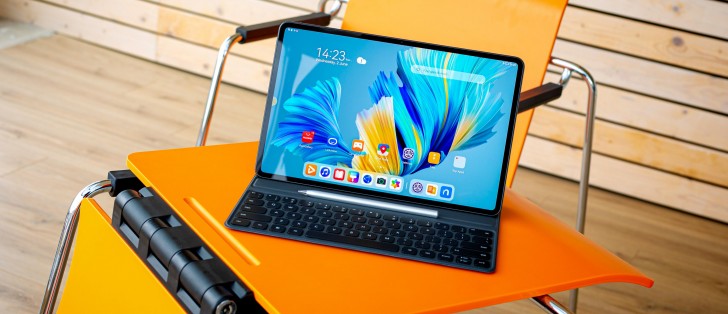 Design, build, handling
Well, the MatePad Pro 12.6 a tablet alright, and it isn't the one to break the mold. The one thing that will probably differentiate this large slab from the recent Galaxy and iPad slates is the curved metal frame, which combined with the rounded corners, makes for a nicely elegant look.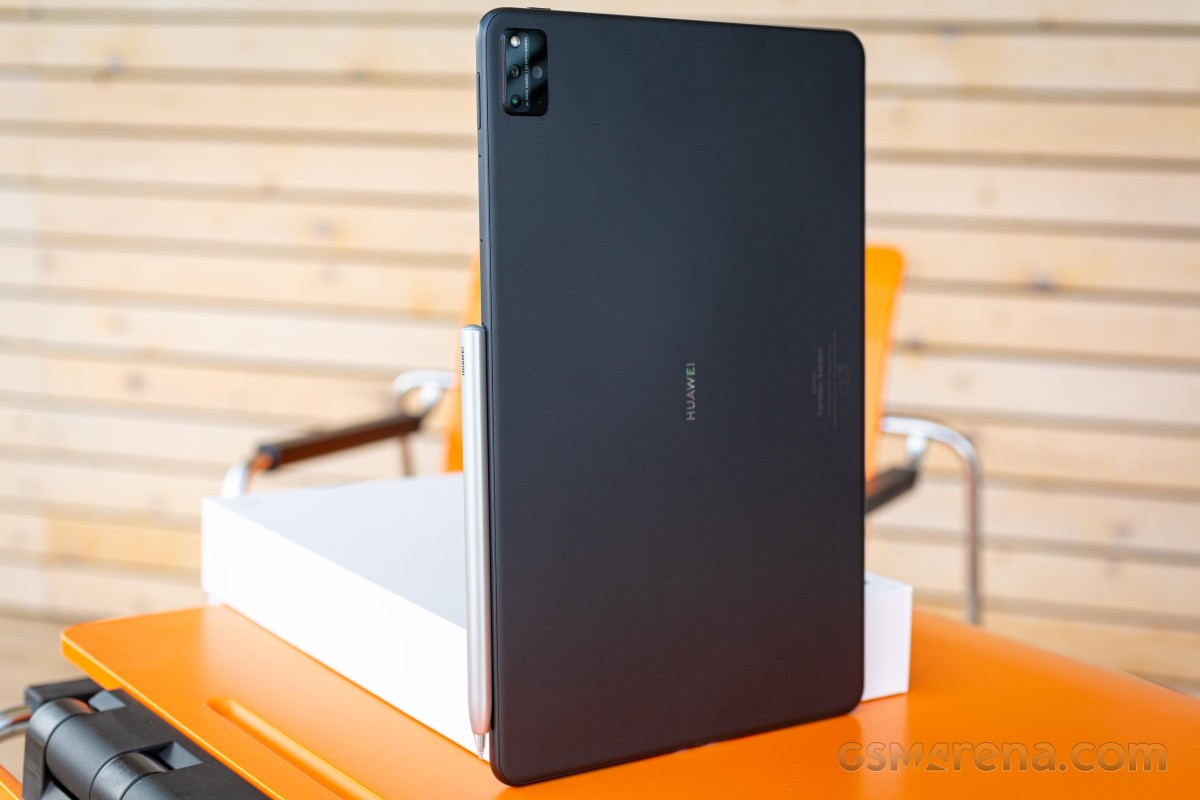 The MatePad Pro 12.6 has a flat, glass-covered front. The rear panel is either glass or plastic, we couldn't really tell. But what we know is that it has a cool matte finish, making it pleasant to touch and provides enough grip to feel safe in your hands.
The frame is aluminum, with a matte finish, too. It's a bit curved, but this doesn't affect the grip negatively. The flat sides have become a thing once again, thanks to Apple, but it's nice to see Huawei not following this trend. We do like flat, sure, but it has become a bit, well, too common.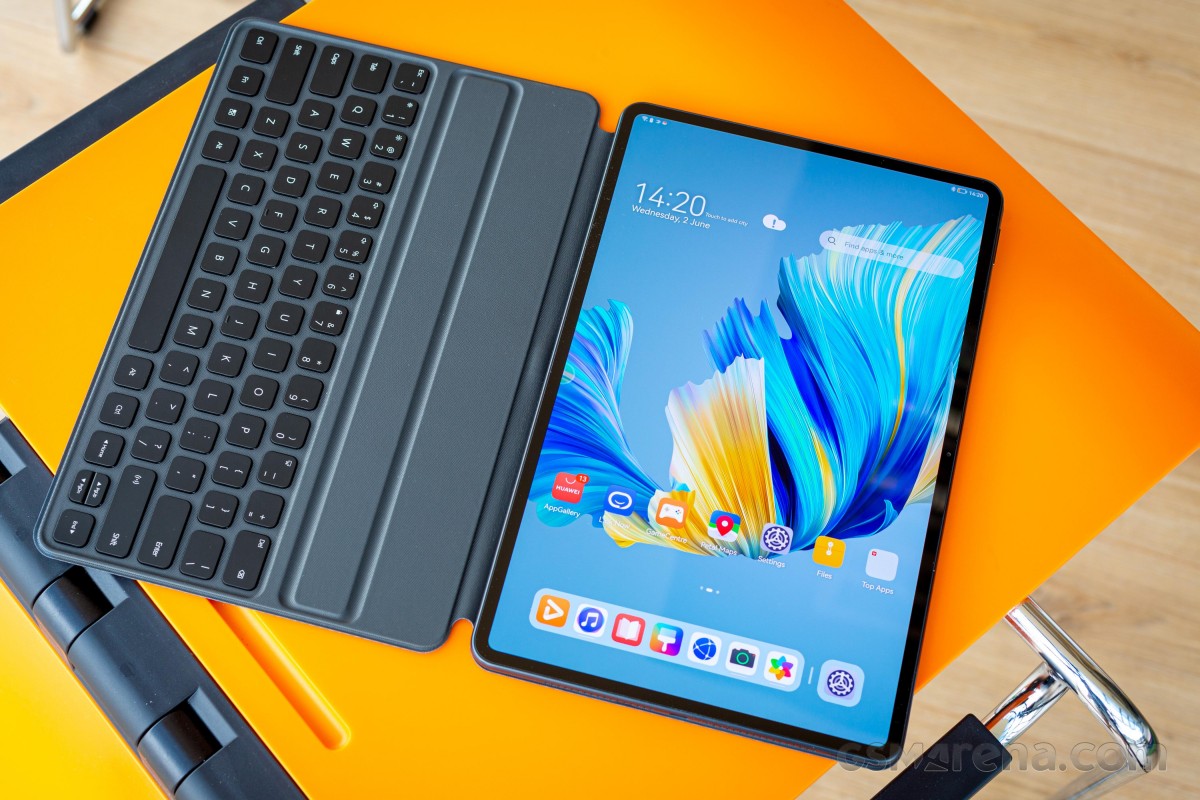 Let's circle back to the front. The bezels surrounding the 12.6" OLED screen have matching rounded corners. The bezels are reasonably thin and even across all sides. The OLED panel supports HDR10 and is of high resolution - 2,560 x 1,600 px - but it offers just the standard 60Hz refresh rate.
There are two things of interest here besides the screen. The first one is the 8MP front camera. Its hole is centered within the top bezels (landscape view), and it is one of the tiniest front shooters we've seen. Next to it is hidden a tiny notification LED light - it flashes green for notifications and for a fully charged device, or red while charging or when the battery is low. You can turn it off if you don't like it.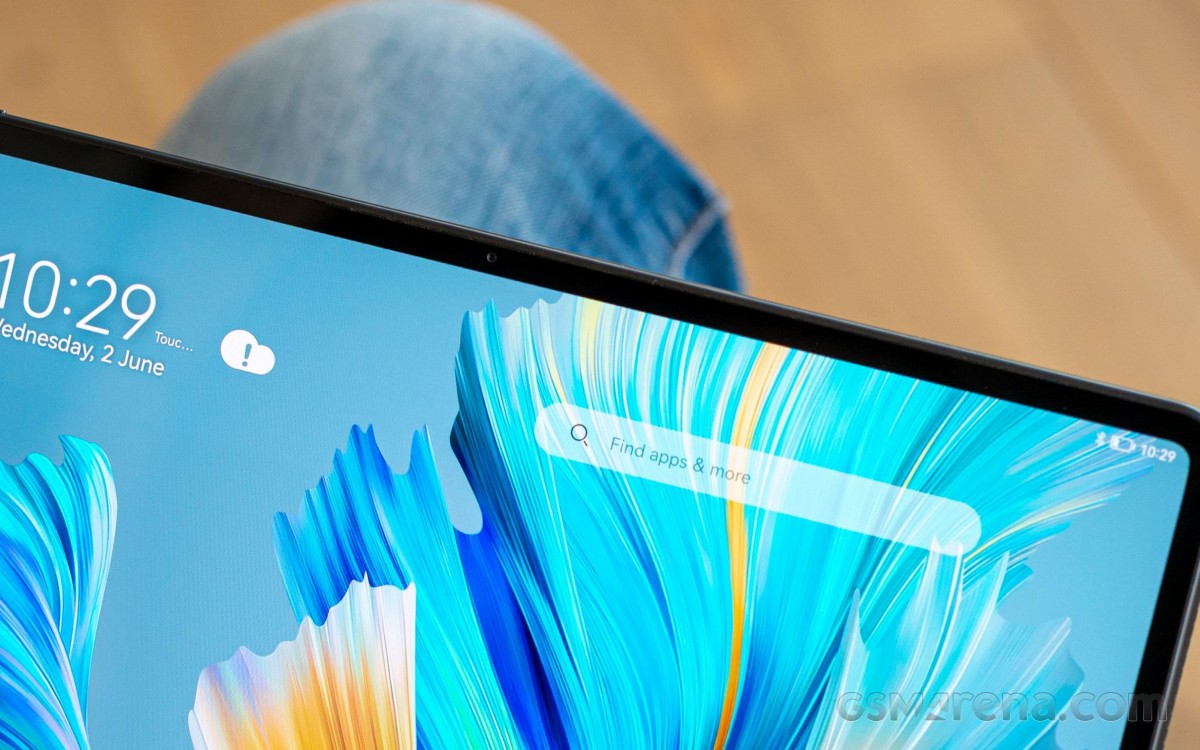 Oddly, the Huawei MatePad Pro 12.6 doesn't offer any type of biometric security - there is no fingerprint scanner, nor is there a 3D face scanning sensor. You can use a PIN, of course, or the much less secure 2D face recognition. A side-mounted fingerprint scanner would have been much appreciated, but it is what it is.
The rear panel is also flat and with a matte finish. Once again - we are not sure whether it's glass or plastic, but we are leaning towards the latter. The tri-camera setup is here, jutting out a bit around the top right corner. It contains the 13MP primary shooter, there is an 8MP snapper for ultrawide photos, and a 3D ToF camera for portraits and some more advanced AR features (if or when such become available). There is also a LED flash around, as well as a mic.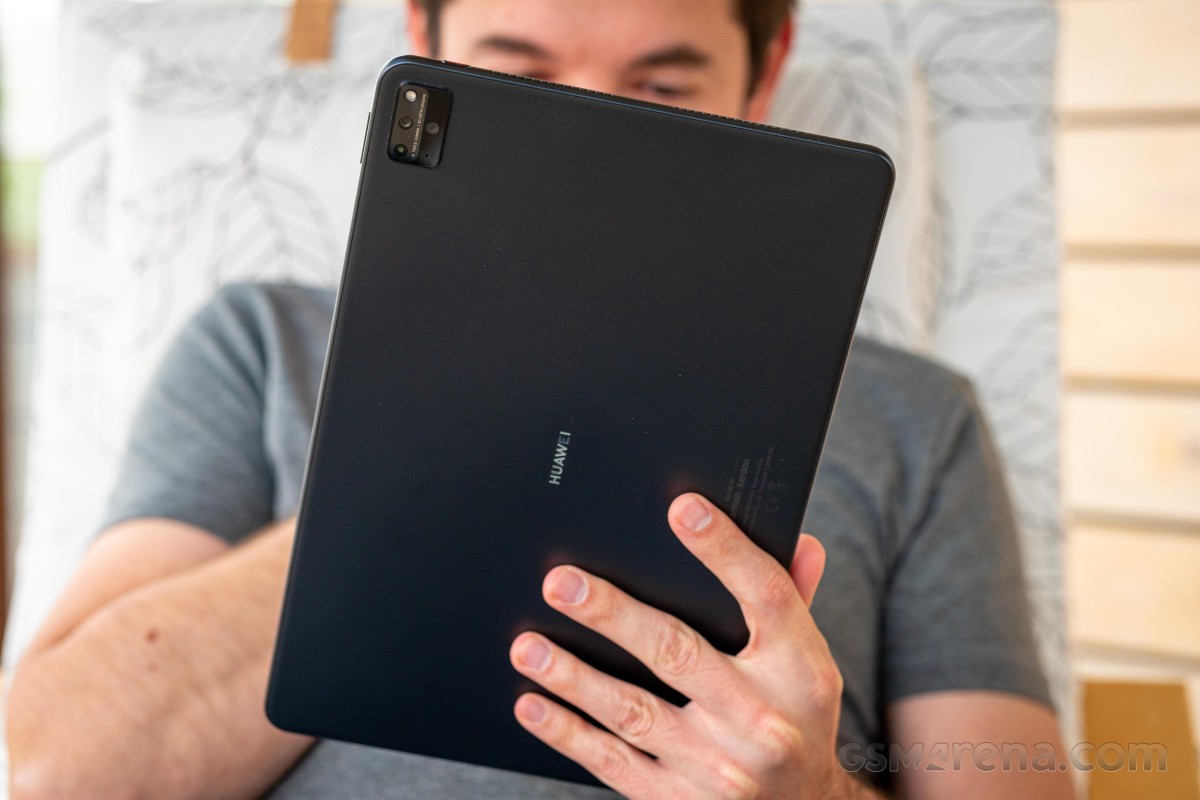 The sides of the MatePad Pro 12.6 are quite interesting. First, there are a total of eight speakers hidden behind four grilles. Huawei has used one large speaker for low and mid-tones and one smaller for high-tones - and this combo is repeated four times - two on each short side.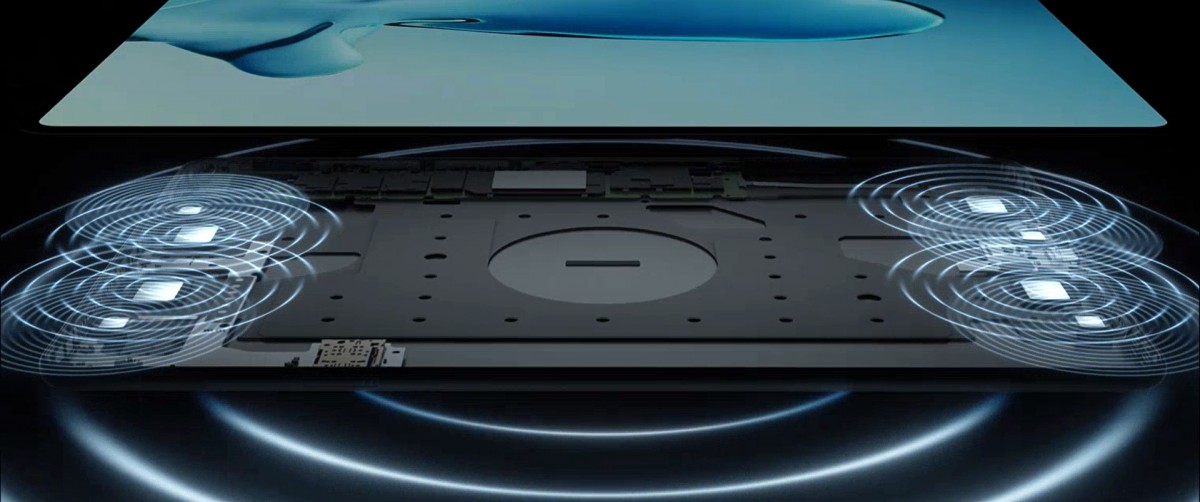 The setup has been tuned by harman/kardon, and as per our first impressions, the sound output is outstanding. Spoiler alert, this has to be one of the best speaker configurations we've heard from a portable device.
So, there are two speaker grilles on the right. The Power/Lock keys is also here.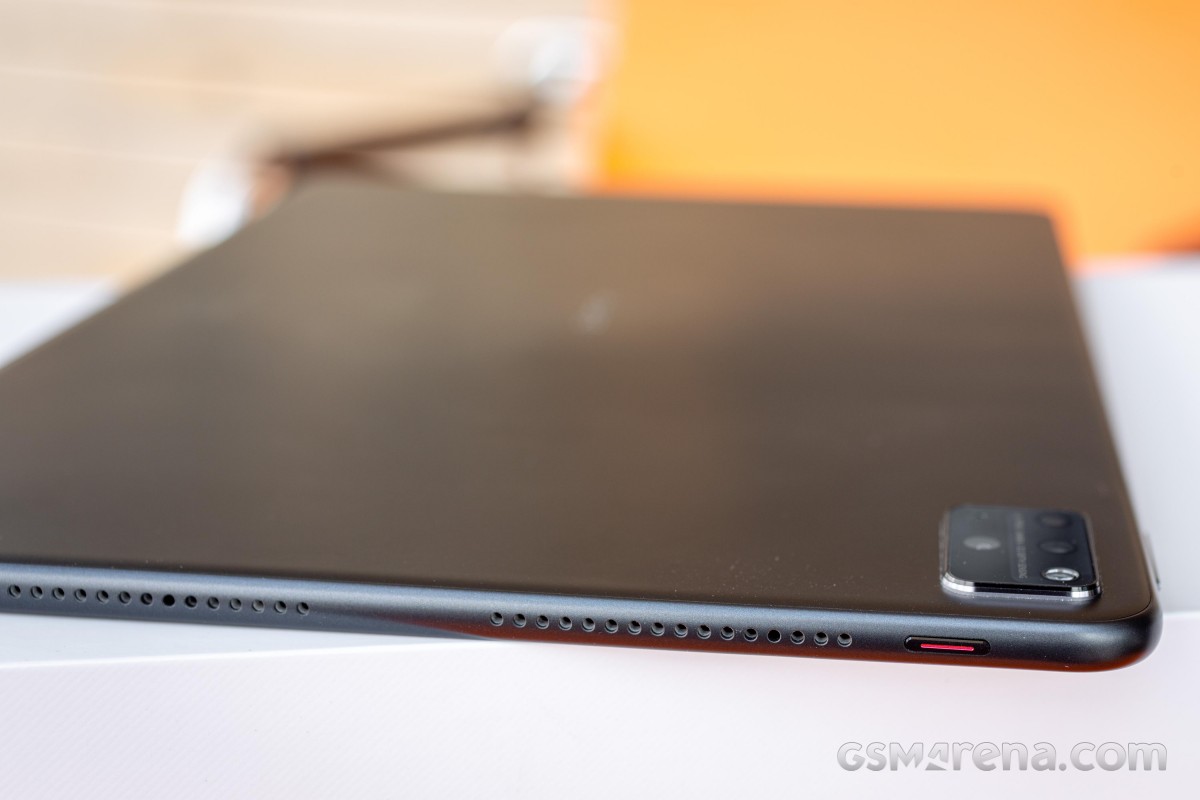 The left side accommodates the USB-C port plus the other two speaker grilles.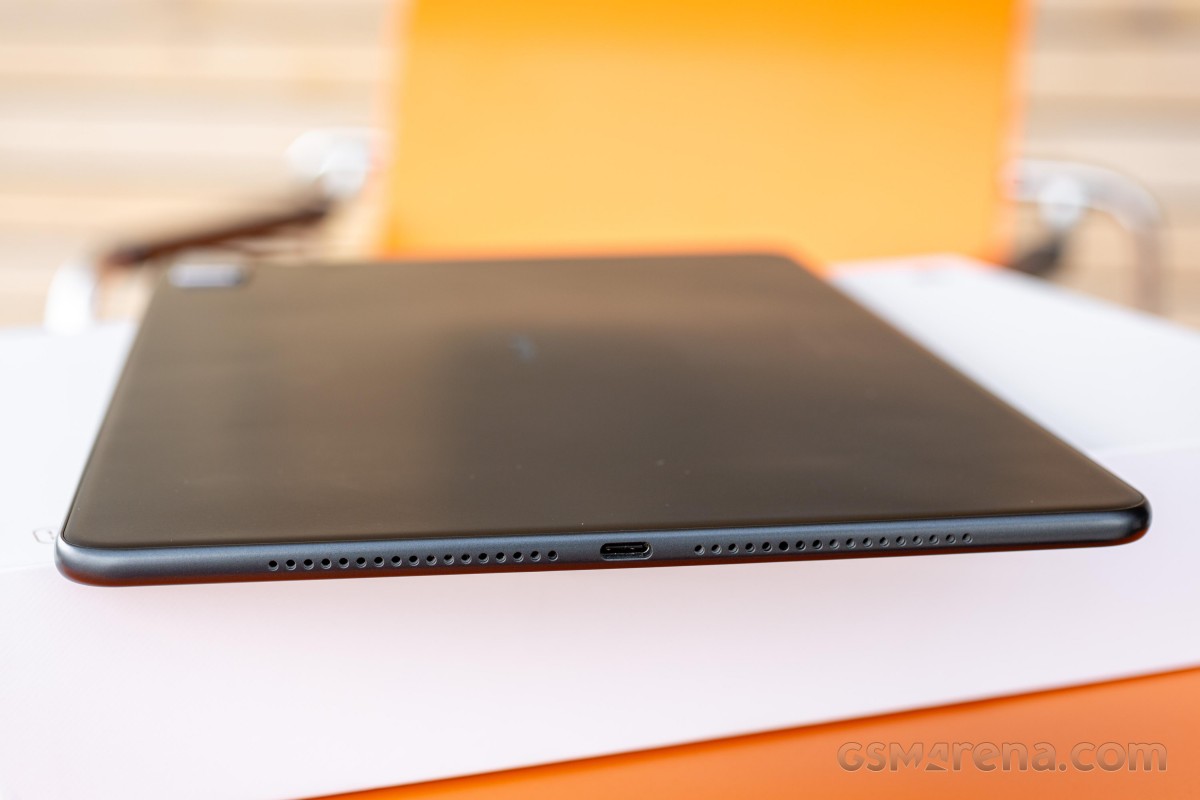 The bottom has the Nano Memory card tray. If you get the 5G-enabled model, you'll also find a nano-SIM slot here.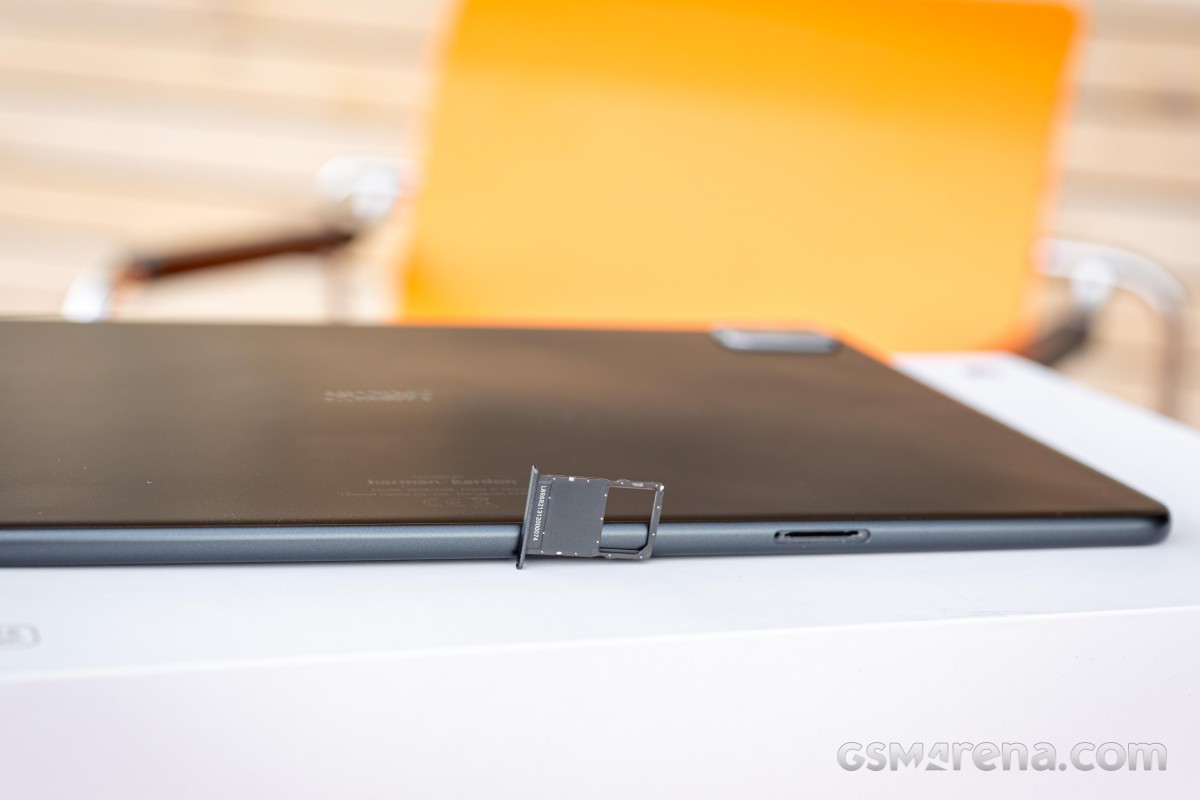 Finally, let's take a closer look at the top side as it has more to it than meets the eye. The volume rocker is here, and, honestly, it took us two days to get used to the fact that this is not the power key. Three microphone pinholes follow - they are part of the 4-mic setup for focused AI sound with noise canceling. But wait, there is more.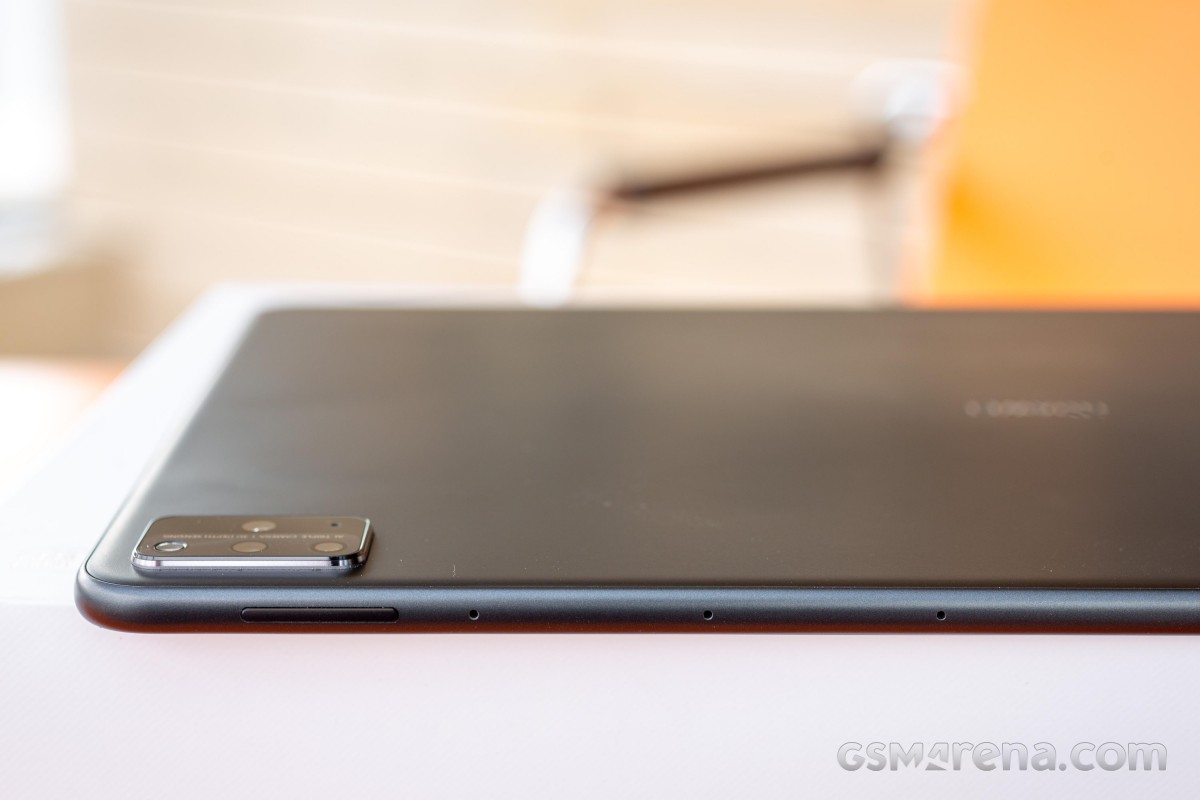 The space next to the microphones is not wasted. If you own the M-Pencil, this is where it attaches to the tablet. The magnet is really strong, and the pencil clicks nicely into place. You can attach it both ways, unlike the S-Pen on the Galaxy Tab S7+. The space contains a wireless charger, too, so your M-Pen is automatically recharged when resting (30 seconds are enough for 10 minutes of writing).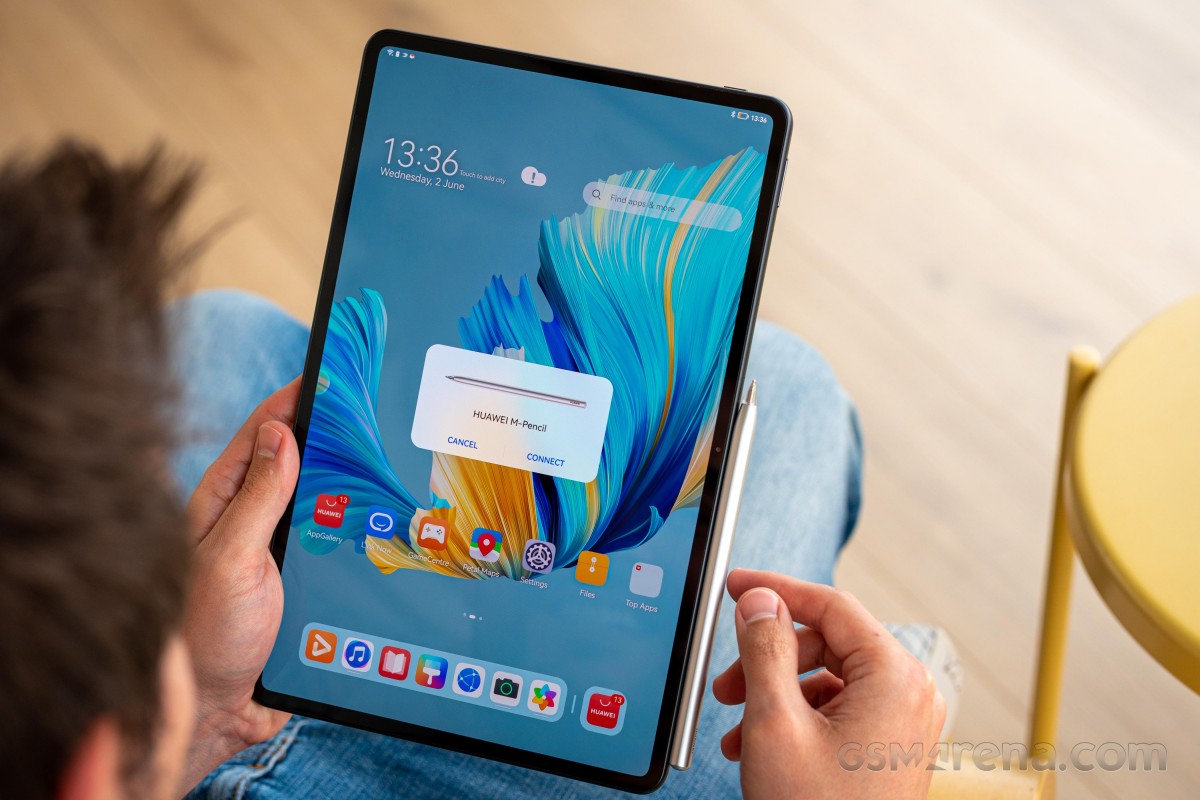 The pencil is great - solid and comfortable - it's metal with silver paste paint and a transparent tip with a platinum-coated nib (maybe that's why it costs €99). It is an active stylus and has a touch-sensitive area for tapping gestures.
The screen supports up to 4,096 pressure sensitive levels and offers 9ms latency, but just like it was with the Galaxy Tab S7+, the MatePad Pro 12.6 offers the ultra-fast responsiveness and high tip precision only within a handful of optimized apps.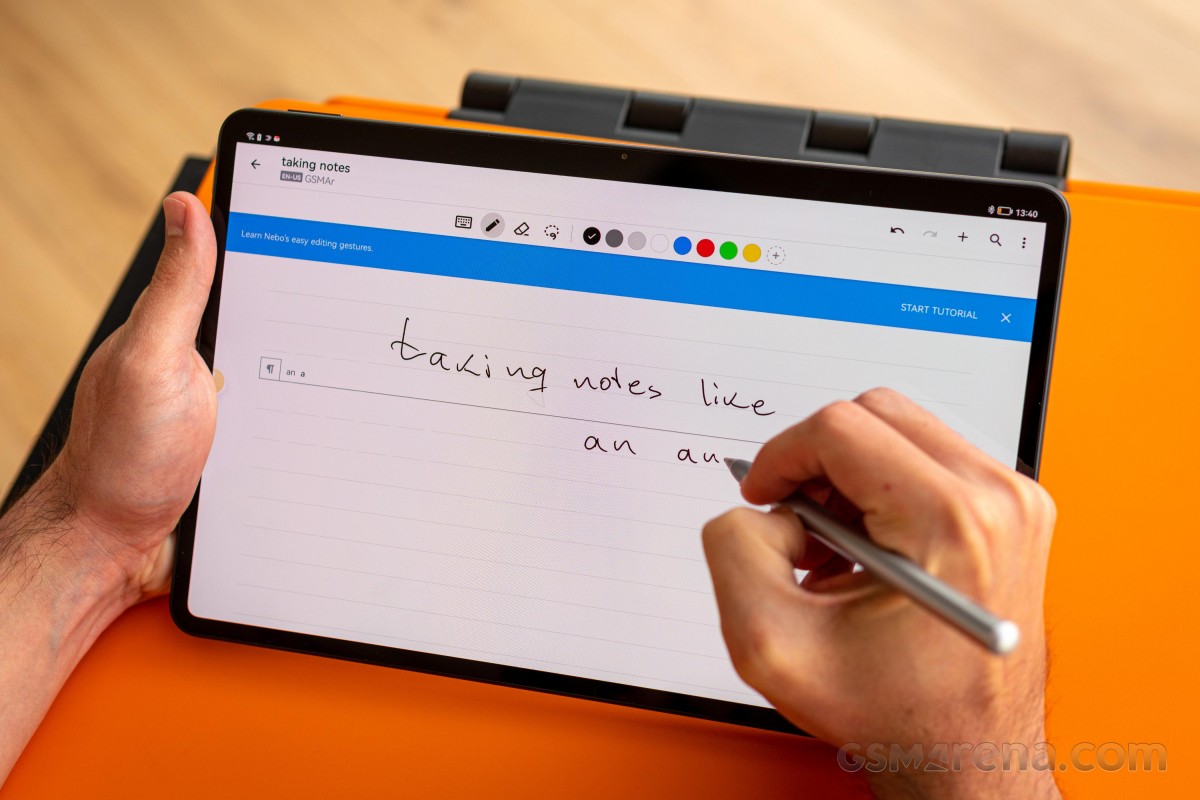 The other available accessory is the Smart Magnetic Keyboard. It's a full-blown keyboard cover with two magnetic positions for the tablet. It snaps firmly in either of those and, in fact, we had some hard time moving it out of there without taking apart the whole cover.
The Smart Magnetic Keyboard imitates leather on the outside, while its keys are plastic and have enough movement and excellent tactile feedback to feel like a real keyboard and not some gimmick case. It's thin and not that heavy and works as advertised. Obviously, there is no touchpad, not that it needed one. There is no integrated battery.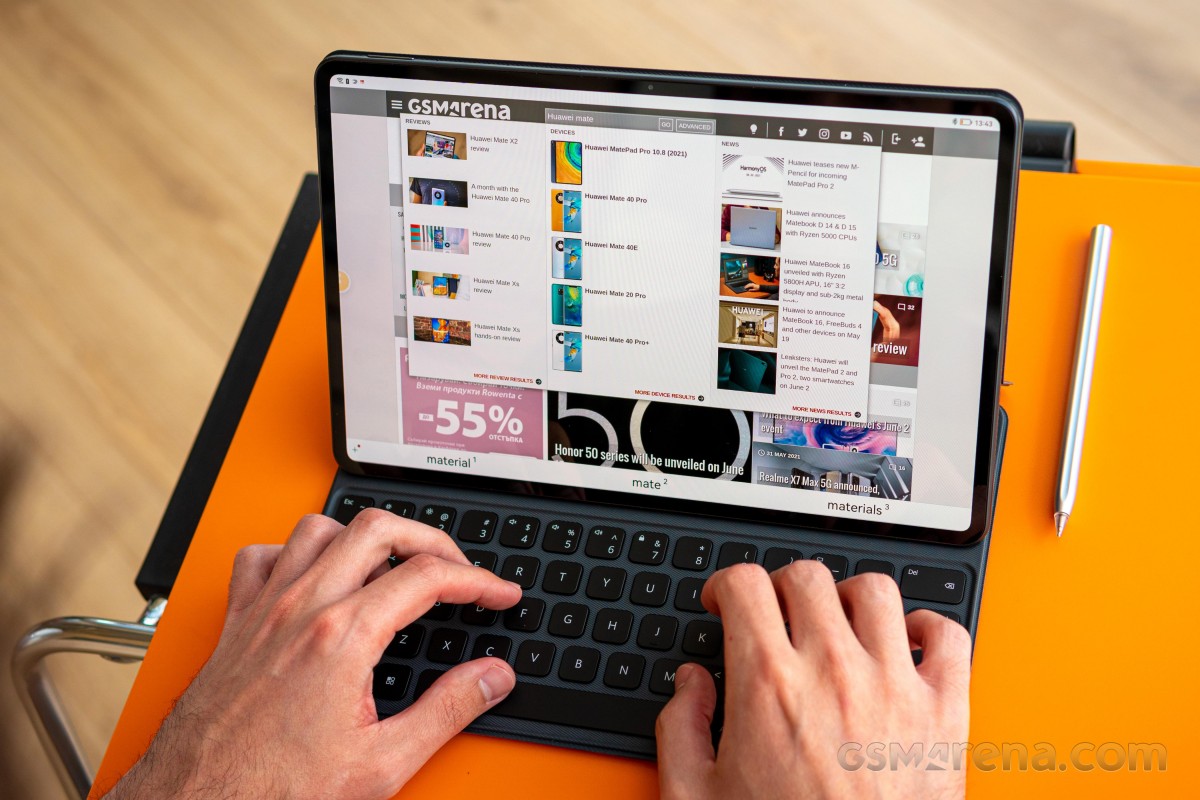 Both the pencil and the keyboard are quite easy to pair - just snap them to their respective places, and the tablet will do it for you.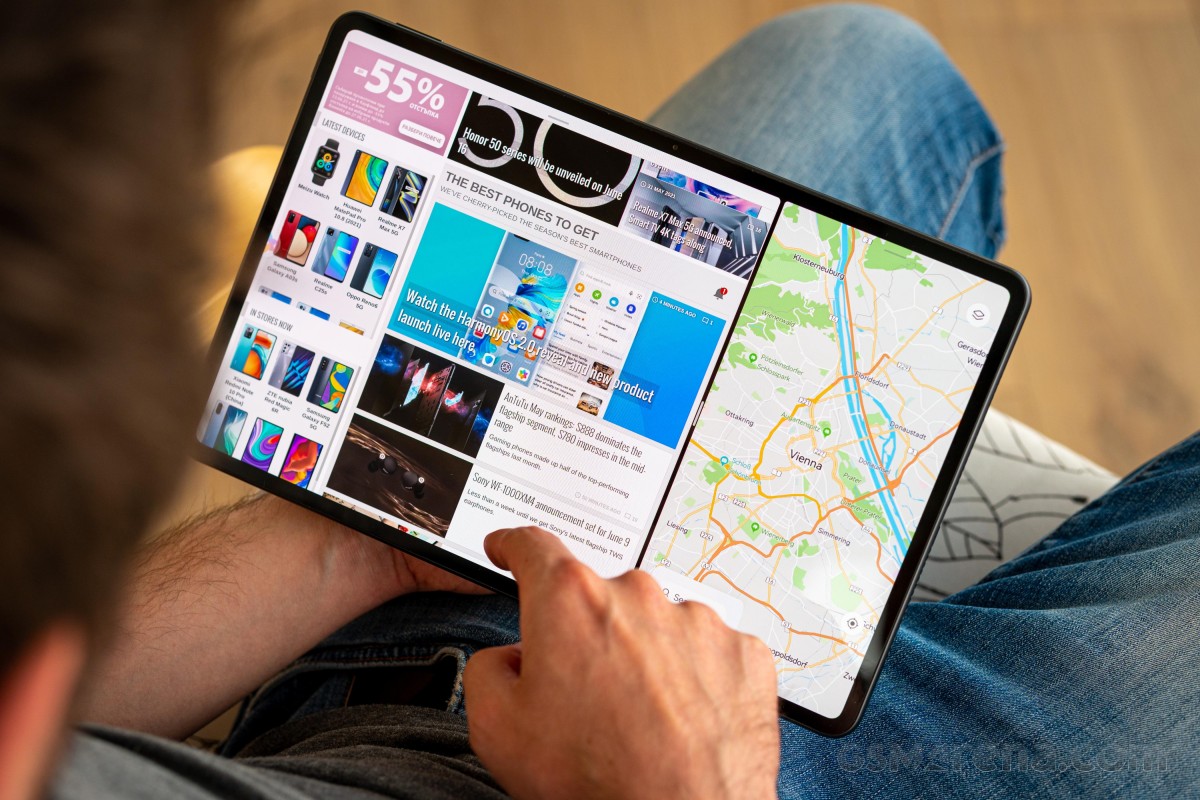 Whether you enrich your experience with either or both accessories or use the MatePad Pro 12.6 on its own - it will be a proper tablet experience. There is more than enough grip, the tablet is reasonably thin, and 609g is in the ballpark of all large slates. The MatePad Pro 12.6 is a very well-built tablet, and whatever its back is made of - it does feel and look premium. And the olive color version looks magnificent (we have the gray one) and really stands out.