Huawei MatePad Pro 12.6 review
GSMArena Team, 9 June 2021.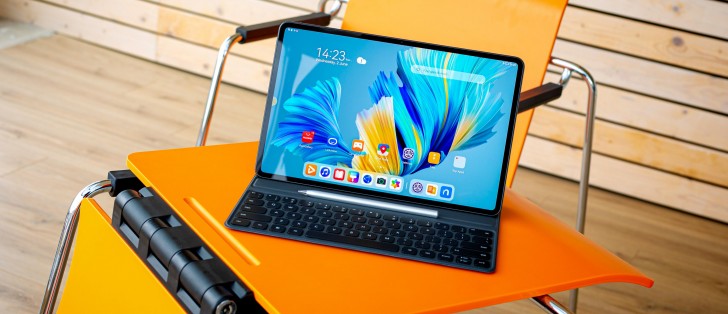 A vast OLED screen
The Huawei MatePad Pro 12.6 tablet is its 12.6" highlight feature has to be its large OLED screen. It's a high-res panel with 2,560 x 1,600 pixels (240ppi) and 16:10 aspect ratio.
The panel supports HDR10 video, though how easy it would be to get hold of such content on this device is debatable.
The screen refresh rate is fixed at 60Hz, and while we can live without HDR multimedia, we are not sure the lack of HRR is something we can swallow easily. And such big bites, unfortunately, are going to be piling up.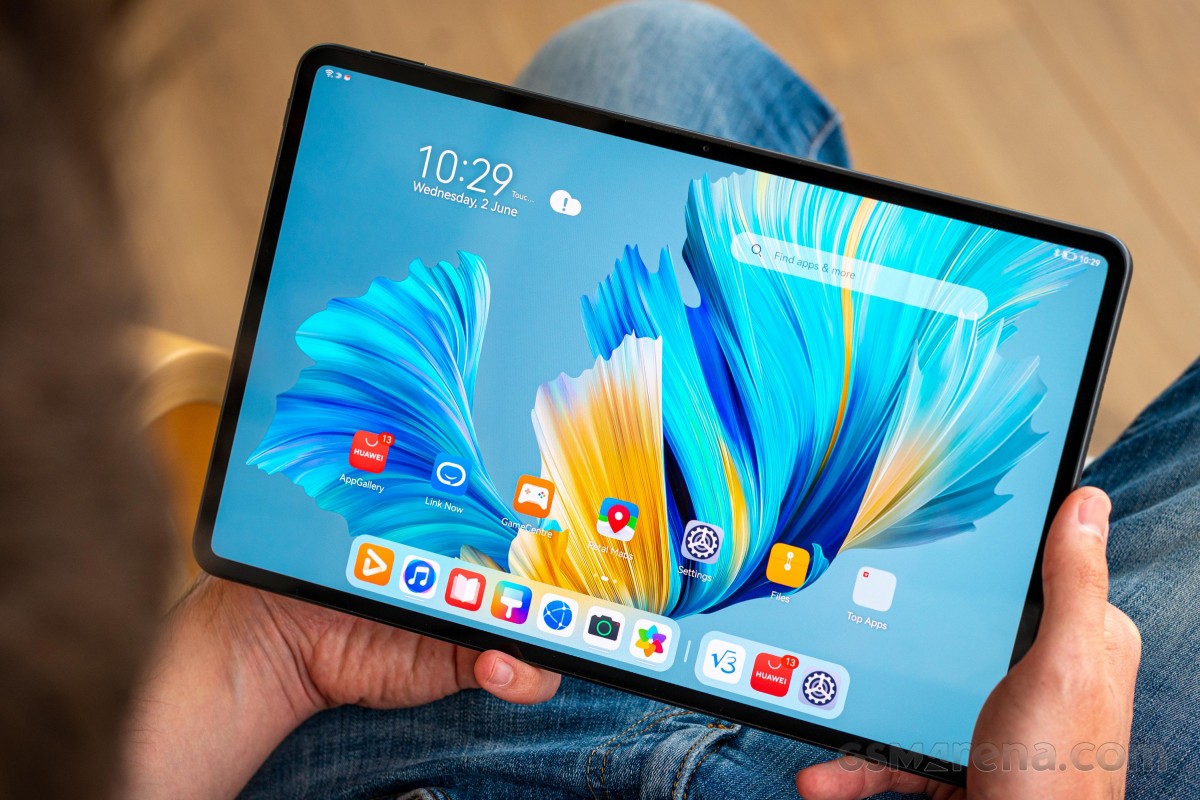 First, let's talk about the resolution. There is only one option in Settings, and it's called Smart Resolution. You either turn it on or off. You don't have control over the resolution is used, when, or where. This could have been handled better.
There is an ambient light sensor next to the front camera, so you can enjoy automatic brightness adjustments. True Tone is available, too, meaning there is probably a color sensor somewhere, too. We did like that the brightness levels are spread evenly across the scrubber.
There is also an eBook mode, which slowly desaturates all screen colors to mimic an eInk reader.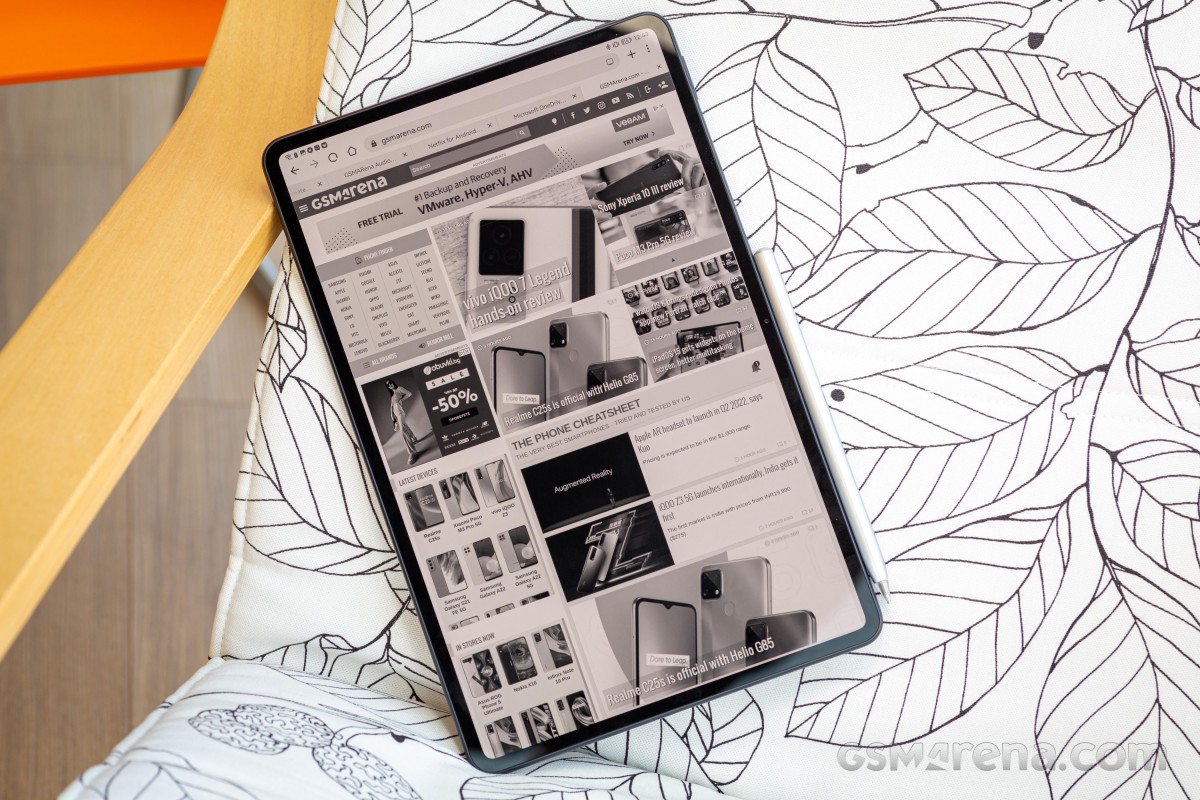 We measured a very good maximum brightness of 382 nits (for a tablet OLED panel). There is no light bleed in the black level, and that's how we get the Infinite contrast ratio, on in other words - a spectacular contrast.
Unfortunately, 382 nits are the maximum the screen can offer outside of HDR content. There is no sunlight boost when the tablet is exposed to bright light.
The minimum brightness at point white is 2.1 nits - a great setting for reading in a dark room!
Display test
100% brightness
Black,cd/m2
White,cd/m2
Contrast ratio
Huawei MatePad Pro 12.6
0
382
∞
Samsung Galaxy Tab S7+
0
388
∞
Samsung Galaxy Tab S7+ (Max Auto)
0
484
∞
Apple iPad Pro 12.9 (2018)
0.37
610
1649:1
Apple iPad Pro 12.9 (2020)
0.47
625
1330:1
Huawei Mate 40 Pro
0
485
∞
Huawei Mate 40 Pro (Max Auto)
0
807
∞
The color rendition is handled familiarly - you Choose between Normal (sRGB) and Vivid (DCI-P3) colors. Normal aims to reproduce sRGB content truthfully, and we can confirm the screen is perfectly accurate to the sRGB color space.
The Vivid option corresponds to the DCI-P3 color space and yields slightly bluish whites and grays. You can opt for a different color temperature (Default, Warm, Cool, Custom). Choosing Warm when using Vivid will fix the white and gray colors and offers a very good accuracy to the DCI-P3 space.
Finally, let's go back to the HDR10 support. The screen is indeed certified as such according to all hardware-reading apps we tried, while HarmonyOS 2.0 supports Google's Widevine L1 DRM (imagine our surprise). But having L1 support isn't the only requirement to enjoy high-res HDR content.
See, AppGallery doesn't offer apps like Netflix or Prime Video. You can install those from APKPure, or the Amazon Appstore, and they would run fine. But since they don't have the MediaPad Pro as a supported device, they serve SD content only for streaming. We tried the web versions (where available), same thing. And while it's not impossible for Netflix and Amazon to add the MediaPad Pro to its supported device, we don't believe it will happen given that both are US-based companies and things are not looking good for Huawei over there.
There is some good news, though. You can run YouTube just fine in your browser, and you do get 4K video playback, and it looks gorgeous on the screen.
Battery life
The Huawei MatePad Pro 12.6 may be just 6.7mm thin, but it has a massive 10,090 mAh battery with support for 40W wired charging and up to 27W wireless charging.
The MatePad Pro 12.6 clocked 10 hours and 43 minutes on our web browsing script, beating the Galaxy Tab S7+ by good three hours!
When it comes to video playback, the MatePad Pro 12.6 once again turned out to be an excellent performer with north of 15 hours endurance before its battery dropped to 10% - once again beating the Tab S7+ by three hours.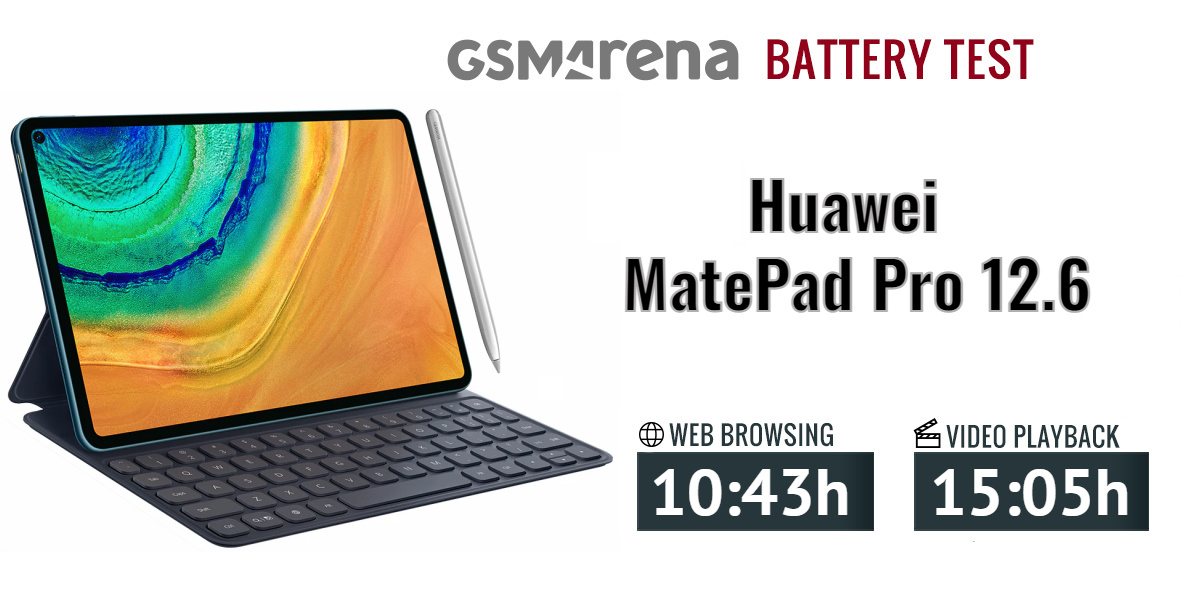 Charging speed
The massive 10,050mAh battery inside the Huawei MatePad Pro 12.6 incredibly fast to charge, too. The tablet supports Huawei 40W SuperCharge, and it ships with that charger and 5A-certified USB cable.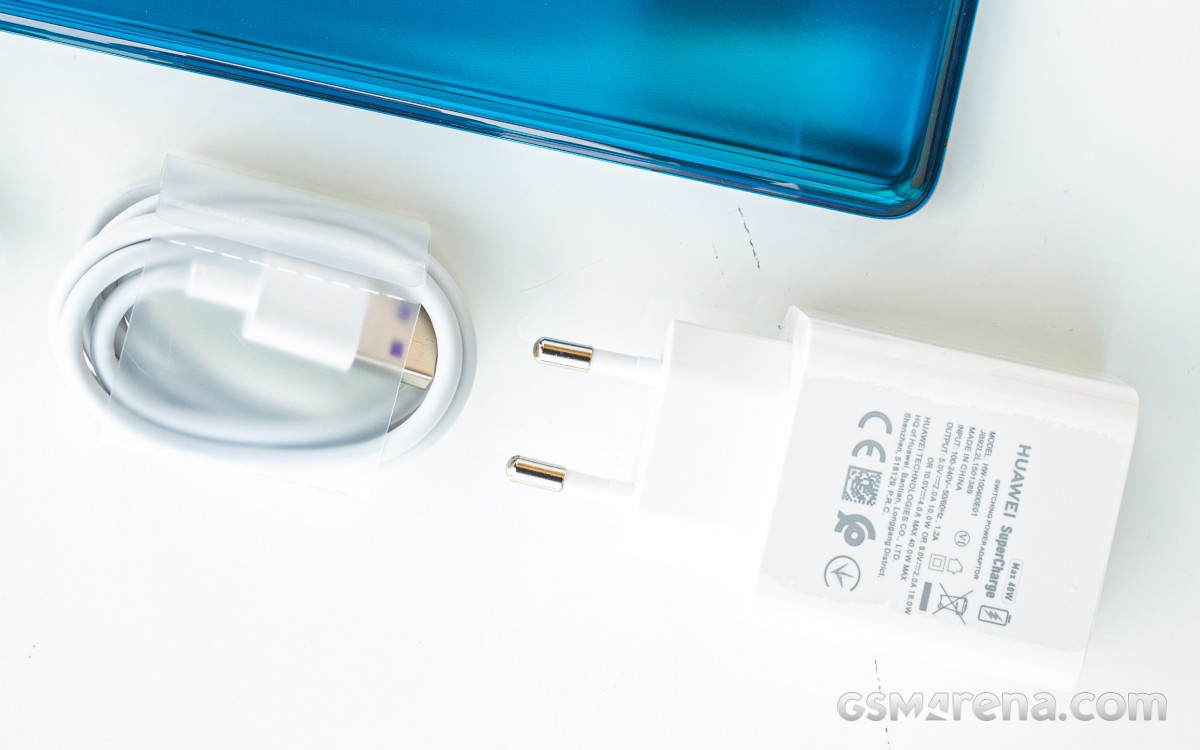 The tablet also supports wireless charging up to 27W, achieved by using Huawei's own 27W wireless charger, sold separately. The MatePad Pro also supports reverse wireless charging - you can recharge your phone, watch, or headphones on its back (you need to enable it from Battery Settings).
The bundled 40W power adapter replenishes 33% of the tablet's depleted battery in 30 minutes. Not bad.
30min charging test (from 0%)
Huawei MatePad Pro 12.6
33%
Apple iPad Pro 12.9 (2018)
20%
Samsung Galaxy Tab S7+
18%
One hour on that charger takes you to 64%, while a full charge requires 2 hours and 10 minutes.
Time to full charge (from 0%)
Huawei MatePad Pro 12.6
2:10h
Apple iPad Pro 12.9 (2018)
3:30h
Samsung Galaxy Tab S7+
3:35h
Speakers
The Huawei MediaPad Pro 12.6 has four speaker grilles placed symmetrically on its left and right sides. Underneath each grille are placed two speakers - a bigger and a smaller one, covering everything - from low (bass), mid- and high- frequency. This high-quality setup has been tuned by harman/kardon for even better experience and immersion.
And hands down, this is one of the best audio experiences we've had on a portable device, smartphones, tablets, and laptops included. The speakers sound incredible, the audio is deep and rich, and you can hear everything, pretty loud at that. The tablet may have scored a Very Good loudness, but these eight speakers together make it sound loud, really loud. So, as far as audio on the go is concerned, this is the one, guys.
Use the Playback controls to listen to the phone sample recordings (best use headphones). We measure the average loudness of the speakers in LUFS. A lower absolute value means a louder sound. A look at the frequency response chart will tell you how far off the ideal "0db" flat line is the reproduction of the bass, treble, and mid frequencies. You can add more phones to compare how they differ. The scores and ratings are not comparable with our older loudspeaker test. Learn more about how we test here.
Anonymous
07 Aug 2022
iFX
can I install windows on this tablet ? to operate like matebook E?
Does it have daul sim card
Normalguy
02 Aug 2021
fFA
Harmonyos will get better with time. You can't compare adult [ios,ipados/android] with a baby [harmonyos]. Whether that baby will survive or not it depend on demand.