Huawei P20 Pro bares all in video teardown
Vlad, 18 May 2018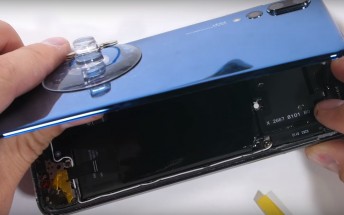 Huawei's P20 Pro recently got put through the durability testing performed by Zack from YouTube channel JerryRigEverything. Things didn't go so well - the phone's glass shattered during the bend test, something that most handsets these days are able to survive with ease.
The next step for Zack is to create a video teardown for the devices he tests, and today it was the P20 Pro's turn. Be aware that you're about to see exposed smartphone internals.
Hopefully you survived watching that better than the P20 Pro did being taken apart. The way the battery is kept in place by tons of adhesive (with no pull tabs) means self-repairs are a very dangerous affair.
All in all, this is a fascinating look inside one of the top of the line smartphones available at the moment. Oddly enough, it looks like the only camera sensor with OIS is the telephoto lens. Don't take this for granted though, it was a conclusion reached just going on how things look.
The speaker underneath the circular grille is rectangular, and the vibrator motor is around a fifth of the size of the ones in Apple's latest iPhones.
Related
I'm 100% sure he's a fanboy How can you even dare to say that EIS is better than OIS? There's no way in hell that's it better
JerryRig/Zack is a repairer with no training and no specific tools. You want to repair your phone get an authorized service center and not self-taught business major like JerryRig/Zack