Huawei P40 hands-on review
GSMArena team, 26 Mar 2020.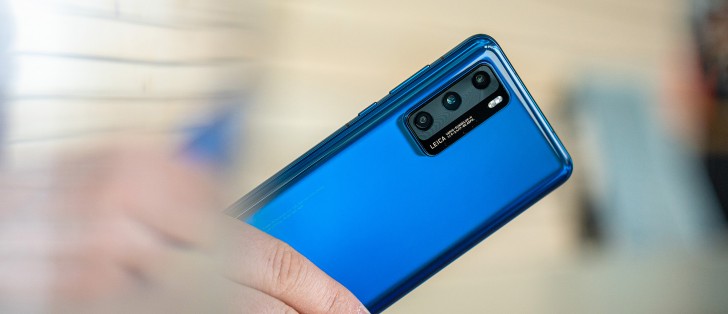 Design
Before we move onto the P40 and its specifics, we should offer a few comments on the overall P40 family design language. Over the years, we have grown accustomed to seeing rather recognizable design from Huawei. Whether it comes in the form of a particular home button or camera module design, the Chinese giant has pretty-much consistently had some little twist of its own.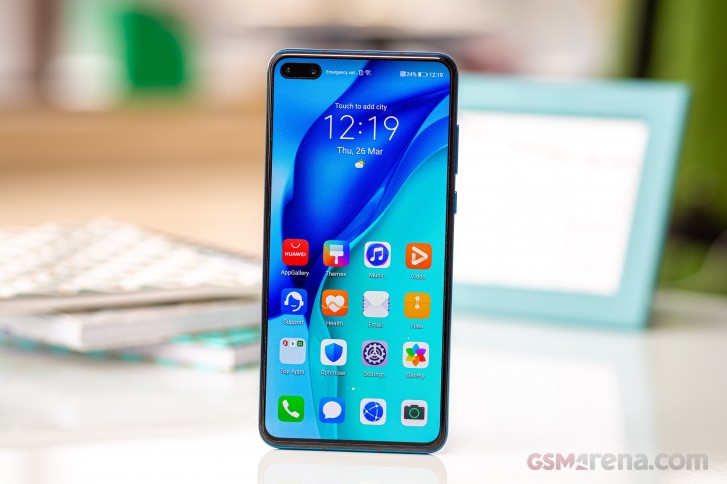 Honestly, when it comes to the P40, we aren't quite seeing it. Before you get your torches and head over to the comment section - we are definitely not saying that the P40 line has a bad design. That is not true, by any stretch of the imagination. It's just, arguably, not as instantly-recognizable, as some of Huawei's previous work.
And sure, there is only so much variety you can achieve with the standard "glass sandwich" design. Plus, there is the rather stand-out way in which Huawei has curled-up the edges, alongside the aggressive down-curve on the display on all four sides of the P40 Pro and Pro+ models. Still, looking at the regular Huawei P40, in particular, we can't help but get plenty of Samsung vibes. It's just an arguably more generic design, all-around.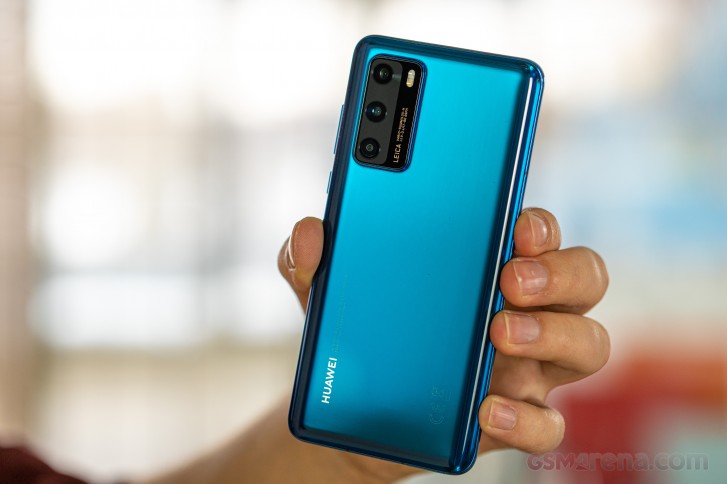 Reading through some of Huawei's promo materials for the P40, this seem to be less of an accident and more of a deliberate strive towards simplicity. Sure, looking at the wide, in comparative terms, of course, bezels around the display of the P40 and its visible frame is a lot less-striking that admiring the "Overflow display", "Glass of water" design of the P40 Pro and Pro+. However, there are still those among us that value the ergonomic and productivity benefits of a flat panel. And some curvy glass edges aside, the P40 offers a pretty retro experience in this regard. Proportion-wise, the vanilla Huawei P40 measures 148.9 x 71.06 x 8.5 mm and tips the scale at 175 grams. Not too bad, but it is worth considering that it is packing a 3,800 mAh - on the smaller side.
As far as build quality and bill of materials go, we are still a bit short on details. We do know that where the P40 Pro and Pro+ flaunt an IP68 ingress protection rating, the regular P40 has to settle for IP53. Hardly the end of the world. Also, Huawei didn't really make any fuss about "ceramic powder" and a five day baking process for the P40, like it did for the Pro+. Still, the P40 and P40 Pro might just have it one better, in our mind, in the finish and color options department. For the P40, Huawei has promised a choice of either a glossy finish, in Ice While, Black and Deep Sea Blue, or a matte finish, in Silver Frost and Blush Gold. We got to briefly handle both and we enjoyed the silky feel of the matte surface. We're sure we're not going to be alone on this one. The matt blue unit, we handled, also seems less susceptible to fingerprint and grease accumulation.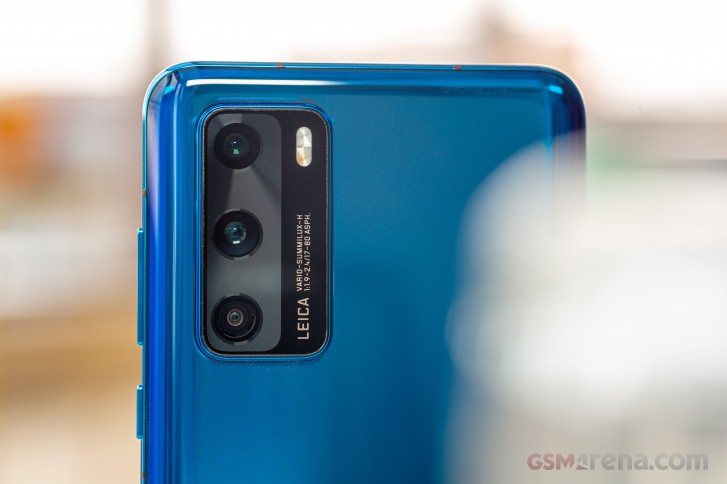 We would be remiss if we didn't mention that the P40 fits really snug in the palm, offering a solid feeling, with good ergonomics. It feels compact. Placing the phone on its back on a level surface is less of a glorious experience, due to the fairly large, in all dimensions, camera hump. A case will definitely fix that right up. On the plus side, the camera module is wide and flat enough that there is little wobble.
Controls
A more traditional design naturally goes together pretty well with a more conventional control scheme. There are no futuristic virtual volume keys and side swipes and panels on the P40. Instead, you get a set of very well-positioned and "clicky" volume rockers and a power button. Both of these, on the right-hand side of the device.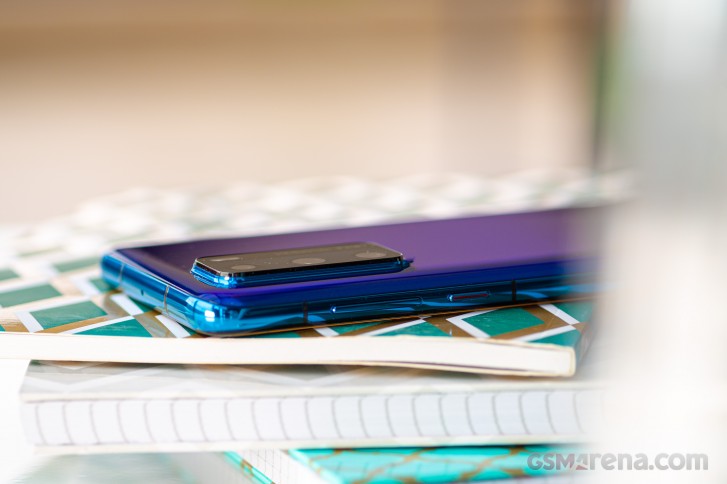 The power button even comes complete with a nice color accent and indentation, to easily feel-out. Literally no complaints in this department. Well, we were secretly hoping to get a 3.5mm audio jack, seeing how one is present on the P40 lite and P40 lite E. No luck, sadly. No IR blaster either. You only get a single, distinctly bottom-firing speaker on the P40. On the plus side, it does get very loud.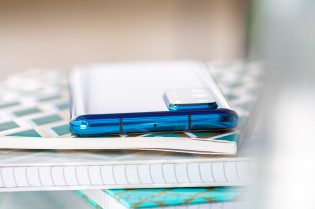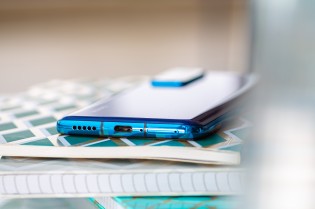 Huawei P40 top and bottom sides
Beyond that, there's nothing really unusual to note here, regarding layout. Well, perhaps it is worth noting that in typical Huawei fashion, the dual nano-SIM tray has one of its slots as a hybrid memory expansion, using a proprietary NanoMemory card standard, instead of SD.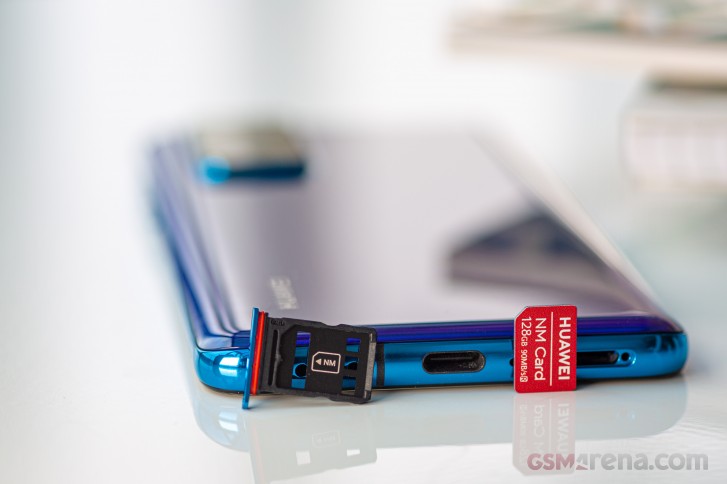 Just because the control scheme is kind of traditional, doesn't really mean its retro. On the contrary. Huawei has included its new generation in-display fingerprint reader solution, across the trio of P40 phones. Compared to its predecessor, this new module now has a 30% bigger surface area, which, in our short experience, did seem to help with consistency. Namely, since you can be a bit more careless with your finger positioning. We aren't exactly sure whether there are other improvements to speed and reliability in the new sensor, as well.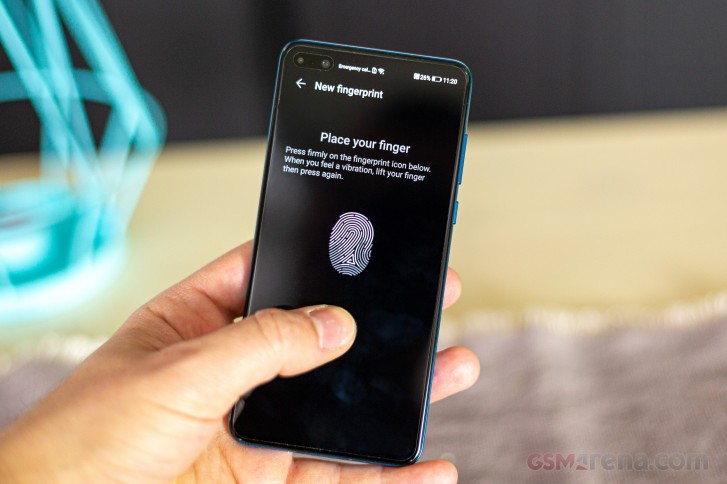 Since we are on the subject of security, Huawei is advertising an advanced IR Depth sensor, next to the selfie camera, for advanced face unlock. It seems to clearly be doing something, since face unlock is blazing fast on the P40. On the flip side, it does take up some extra space in the punch hole.
Display
Before we move on to the internals of the P40, there are a few things to note bout its display. As we already mentioned, the 6.1-inch panel retains a pretty flat surface area. Which can be both a good or a bad thing, depending on your personal needs, preferences and views on the matter.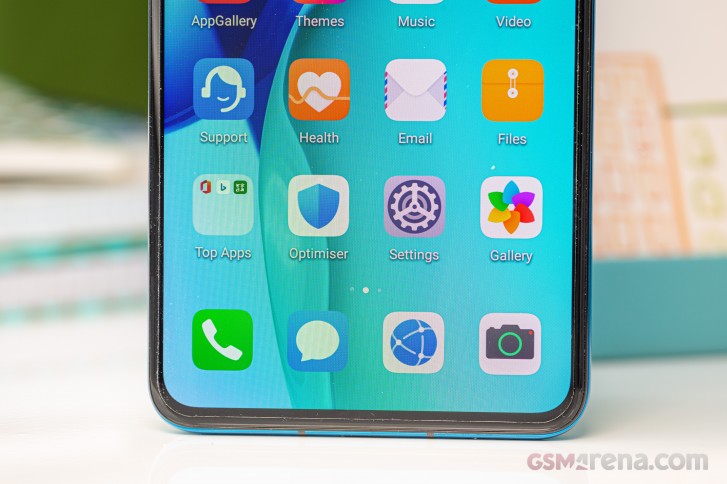 Size and shape, however, are not the only differences in the vanilla P40's panel, compared to that found on the P40 Pro and Pro+. Resolution is slightly lower, at 1080 x 2340 pixels and, clearly, the aspect ratio isn't quite as tall, sitting at 19.5:9, compared to 19.8:9. The most disappointing bit, however, is that even though this is still a stunning OLED panel, that looks great in person, Huawei decided to skimp-out on the high refresh rate. The vanilla P40 can only do 60Hz. Kind of a bummer, considering the ongoing and rapidly-expanding industry hype around high refresh rate. Also, not a particularly good look for Huawei, in direct comparison with Samsung's Galaxy S20. Also the proverbial "runt of the litter", but still equipped with a trendy, curvy 120Hz OLED.
Then again, that might not be a high priority for you personally. If it is, though, you definitely need to look up at an upgrade to the P40 Pro or Pro+. It should also be noted that those only go up to 90Hz, as opposed to Samsung's 120Hz.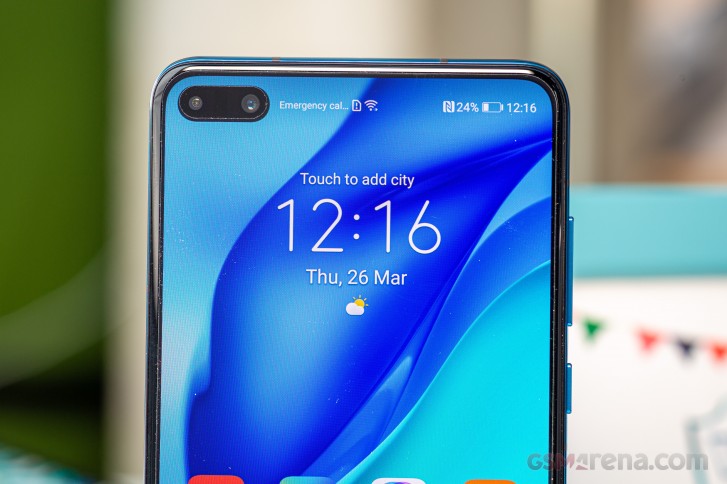 Regardless of which P40 model you go for, the pretty sizeable punch hole in the upper left corner will still be present. All three phones get a 32MP selfie snapper, alongside a depth module. The only downgrade on the P40 is the lack of autofocus. Then there is also the IR depth tech, which takes up some extra space, making for a rather big and obtrusive cut-out. The latter can be hidden in software, but is still not ideal.
I think, all negative comment about P40 series, because they never hold this phone..for me GMS is not a deal breaker just use my older phone for bussiness and the new no GMS phone for private time, the power of P40 series camera is my main reason. Th...
I'm buying the Huawei p40 pro+ God willing. I have been a Huawei enthusiast since the day of P8. GMS or not, I no where I belong