Huawei P40 Pro review
GSMArena team, 26 Mar 2020.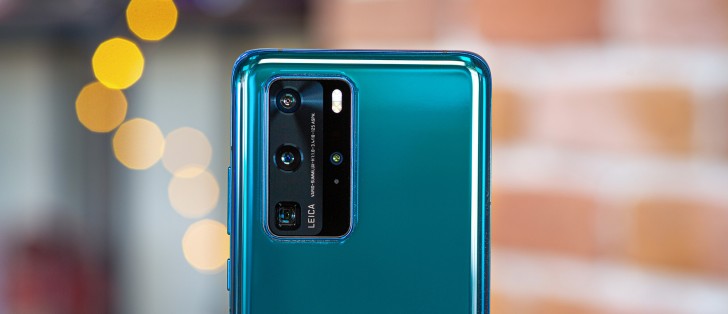 EMUI 10.1 on top of Google-less Android 10
The Huawei P40 Pro boots the EMUI 10.1. It's the latest version of Huawei's skin and it's based on Android 10. It has no Google services and as no access to the Play Store, but we guess that's old news already. Huawei does offer its new proprietary Mobile Services complete with Huawei's AppGallery. More options are available, but we'll talk about those in a bit.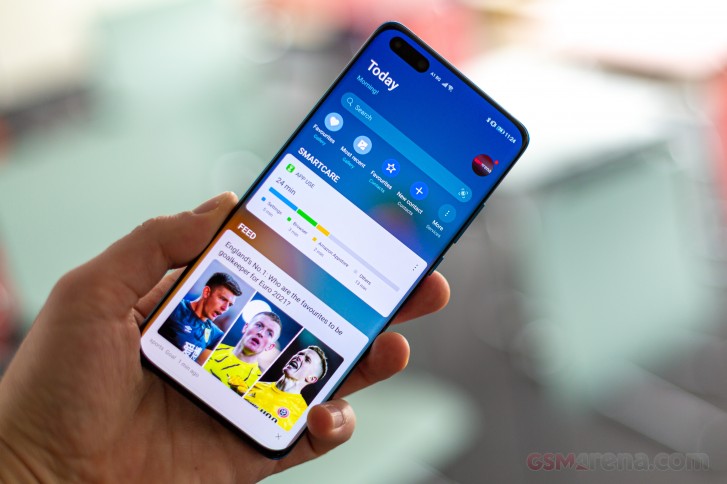 Let's start with how you unlock the Huawei P40 Pro. Both fingerprint and 3D Face Unlock are available and both can work side by side - whichever happens first. The optical fingerprint sensor is the fastest currently available and it's on par with the conventional scanners - it lights up with a white light the moment you touch it, and before you know it, you are on the homescreen.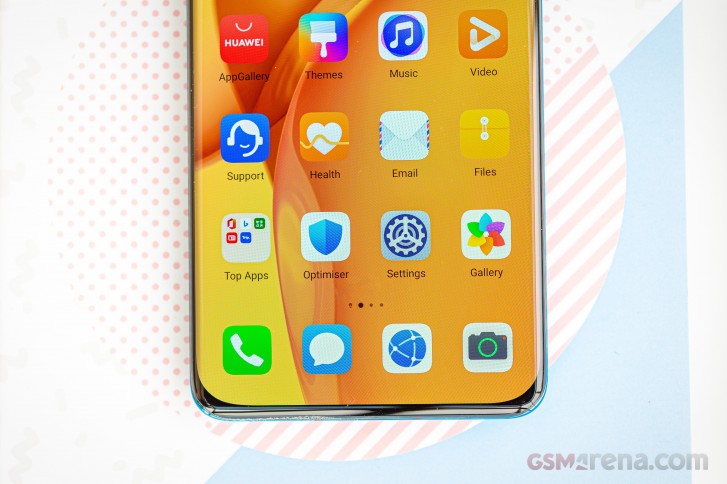 Thanks to the front ToF camera, secure (read 3D scan) Face Unlock is available a.k.a. Apple's Face ID. It works even in the dark and is often faster than the fingerprint reader as it scans and recognizes your face before you even touch the screen.
By the way, you can use Always-on screen and you can choose from a lot of different clock skins. This will drain your battery faster though.
Like all EMUI-driven devices, you can set up a magazine lockscreen style that changes the picture every time you wake up the screen. Sliding from the bottom will bring out quick shortcuts to some commonly used utilities.
On the homescreen, you will find all of the installed and system apps, but there's a toggle in the settings menu that lets you choose between the standard layout or a homescreen with an app drawer. It's a personal preference, and it's good to be able to choose.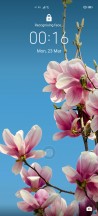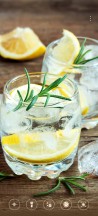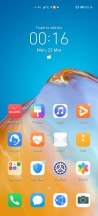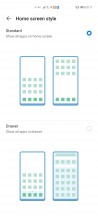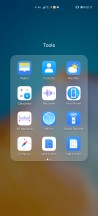 Lockscreen • Tools • Homescreen • Homescreen style • Some apps
There is a replacement for the Google Feed in this version of EMUI, and it's called Today. On this leftmost page, you will find a Search field, shortcuts to favorite contacts, photos, etc, Smart Care graphic (which is their analog of Google's Digital Wellbeing) and a News Feed filled with local news through a service provided from Huawei.
The homescreens are business as usual, and you can populate them with apps, folders, and widgets.
You can either embrace the notch, as usual, or you can mask it with a black status bar. It's quite the sizeable notch though and the top black bar may become an even bigger eyesore. We'd like to suggest switching to Dark Mode - it looks great on this OLED screen and the notch melts into everything.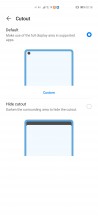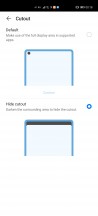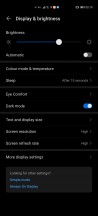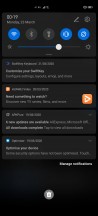 Embrace the notch • Hide the notch • Dark mode • Dark mode
The notification shade in EMUI 10 is the most heavily redesigned UI element with the toggles now adopting a more conventional circular shape and a blue color for the On state, very much like on Samsung's One UI and sort of like Google's own Android 10 design. There's a brightness slider and a row of toggles upon the first pull, and you pull down again for more toggles.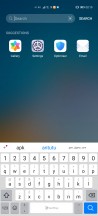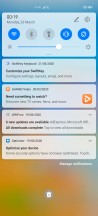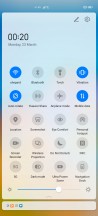 App/contacts search • Notification shade
Multitasking is a familiar affair, and the task switcher allows for split-screen or pop-up mode. Most of the default apps support pop-up view, but only few can get into split-screen and we found that odd.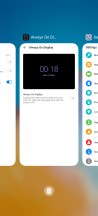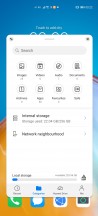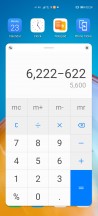 Recent apps • Pop-up view • Pop-up view
The P40 Pro default OS navigation is an iPhone-like gesture - swipe up for Home, swipe up and stop midway for Task switcher, or swipe from the left or right edge of the screen for Back. You can opt for the classic virtual buttons, of course.
And while we are talking about gestures, here is a blast from the past - Huawei is making the air gestures a thing again. Thanks to the 3D IR camera at the front, the P40 Pro is capable of recognizing various gestures such as pinch, grab, wave, swipe and you can operate it pretty much touch-less (COVID-19 doesn't like this).
So, you can take screenshots by hand grab, swipe to scroll, among other. Those are cool but they couldn't stick the first time we saw them on the Galaxy Note 3, and we doubt they will stick this time around, too. This is just too gimmicky.
From the phone manager app, which is now called Optimiser, you can access shortcuts to storage cleanup, battery settings, blocked numbers, Virus scan powered by Avast, and mobile data usage.
Huawei's Music app offers a way to listen to stored MP3s, and it also includes Huawei's own music services in compatible regions.
Same goes for the proprietary Video app - it plays your local videos, but it also includes Huawei's video streaming service similar to YouTube. Huawei has partnered with BBC to deliver more interesting content in addition to all funny and creative videos you will find within Huawei's own streaming servers.
Huawei's Health app is pre-installed, and it offers step counting, among many other things. There's a file manager app and a note-taking app.
Huawei is yet to launch its TomTom-based Maps app, but here is hoping this happens soon enough. And since the P40 Pro lacks a replacement for Google's location framework, apps like Pokemon Go and Harry Potter: Wizards Unite can't work.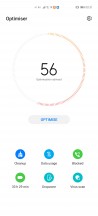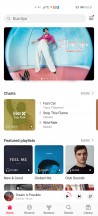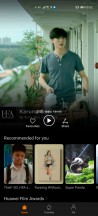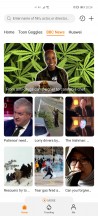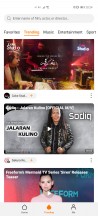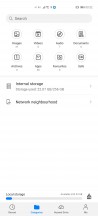 Optimiser • Music Player • Video • Video • Video • Files
The gallery is an entirely custom job, too, but it has the usual chronological and albums views plus an AI-powered highlights selection. As part of EMUI 10.1 is a new powerful image editor integrated within the gallery and it makes use of the additional information left out from the multi-stacking when shooting. You can remove reflections or even people, which are potentially running your shot. Just hit Edit on an image and if the AI didn't do that for you already, it can be done from the Gallery.
Few and far between phones these days, most of them Huawei's, have IR blasters, and so does the P40 Pro. Thanks to its Smart Remote companion app, you can control all of your legacy non-connected appliances with your phone.
Sound Booster is a new feature part of EMUI 10.1. It turns your phone into a remote mic and it streams the sound to your Bluetooth headphones or speaker (meaning you have to be in Bluetooth range). This could be great for babyphone purposes, as well as spying.
Huawei does not provide Google services pre-installed on the Huawei P40 Pro, as we mentioned a couple of times already, nor have they encouraged or assisted in the side loading of the Google Play Store by the users. You can sideload some of the Gapps like Maps, Gboard, and Chrome, but Gmail and Play Store won't work without Play Services, which you can't get to work easily.
As Google's stuff is gone Huawei is going to launch its own smart assistant called Celia in selected markets - UK, France, Spain, Chile, Mexico, and Columbia. It obviously supports three languages so far - UK English, French, and Spanish.
Celia's capabilities will be limited at launch - you can ask to dial a person or a number, or sent a text message. It can add calendar events, reminders, or run translation. Searching for multimedia within Huawei's default apps is also possible. It can tell you what the weather will be like, set an alarm, turn on/off the torch, or some popular setting like Wi-Fi. Celia will come with an OTA update and more features will be added with future updates.
Huawei has also partnered up with Qwant - one of EU's most popular search engine. And while currently Huawei's web browser and search tool are using Google or Bing, they will default at Qwant once the retail units of the P40 series ship.
A new service called MeeTime is coming to EMUI 10.1 via an OTA update later this year. It's basically a rival to Apple's FaceTime allowing you to make audio and video calls over the internet. It will also support screen sharing feature with markup support. Huawei also wants this service to expand beyond Huawei devices, so it will make it available to third-party developers post launch.
MeeTime was launched with the Mate 30 series in China six months ago and it already has 80+ million active users. Huawei is hopeful it will gain momentum outside China in time.
Finally, with EMUI 10.1 Huawei is expanding the multi-screen collaboration feature available between Huawei smartphones and MateBooks. Now in addition to the screen sharing and file exchange via drag and drop, you can make phone and video calls from your laptop. Opening files doesn't require transferring them to the phone or the laptop anymore - just double click and they will open on whichever device.
Now, let's talk about app stores. The App Gallery's catalog is your primary - the Play Store alternative from Huawei. Some apps are there, while others - aren't.
You can also use the Phone Clone app, which will copy everything from your old phone including all installed apps except for Google's (and some banking apps) on to your new P40 Pro. And that's surely a nice start, but it's not a real deal as you won't get future updates to these apps automatically.
So, your safest bet is to resort to using third-party app stores though. The Amazon App Store should do a fine job - it has plenty of the popular apps - both free and paid, so you'll manage just fine using Amazon's solution.
Or, if you don't need any paid apps, APKPure is another app repository and it works great for free apps and games. APKPure has a Store page with paid apps, too, but those are just links to the Play Store which obviously won't work on the Huawei P40 Pro.
Both Amazon AppStore and APKPure are great for keeping your apps up to date.
We go in greater detail into which apps work and which don't in another dedicated article, so you might want to check it out.
You can also download AppGallery on your current phone to see the app selection and gauge the general user experience.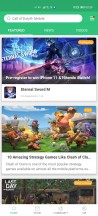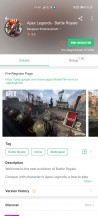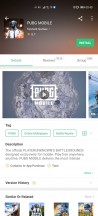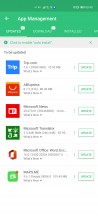 APKPure • APKPure • APKPure • APKPure
There is this alternative app depository called F-Droid. In there you can download NewPipe app, which is a free YouTube client. While YouTube works quite well in the browser and you can even watch 4K videos, NewPipe as an app works better.
There is potentially another alternative. It's a more time-consuming approach that requires some extra tinkering, and it's called the microG Project - the XDA-approved open-source framework for getting apps designed for Google Play Services to run on phones without actual Google Play Services. But this goes beyond the scope of this review.
Finally, there is one very easy way to install Play Store and Play Services via an app. You can read more about this method here. We tried it and the Chat Partner app successfully installed Play Store and Play Services, but we got "Device is not Play Protect certified" error and we were not able to fix it, unfortunately.
Performance and benchmarks
The Huawei P40 Pro runs on the Kirin 990 5G chipset - which has a bit faster processor than the regular non-5G Kirin 990 chip we worked with on the Mate 30 Pro.
The Kirin 990 5G has an octa-core processor with a familiar set of Cortex CPUs - 2xA76 + 2xA76 + 4xA55. In this 5G version of the SoC the maximum clock rates at 2.86GHz, 2.36GHz and 1.95GHz for the three respective clusters. The non-5G lowers the mid-cluster to 2.09GHz and the little one to 1.86GHz.
The GPU is a 16-core Mali-G76 - same for both version of the Kirin 990 chip.
Finally, the neural processing unit (NPU) of the 5G Kirin 990 is made up of two 'big' cores and one 'tiny', whereas the regular Kirin 990's NPU has shelves one 'big' core.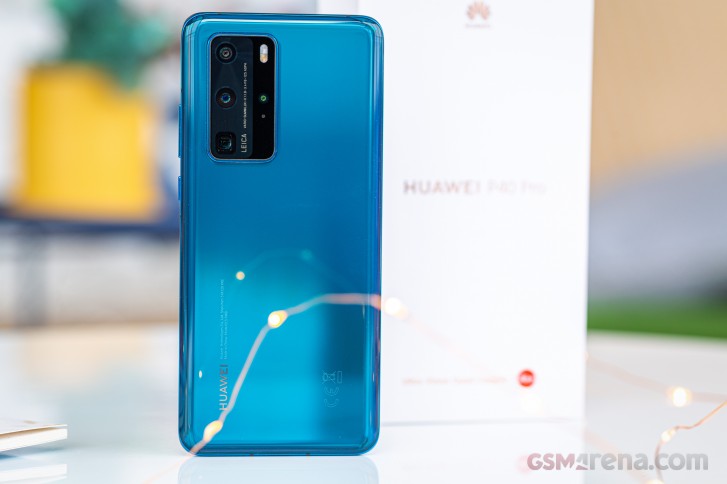 Huawei P40 Pro has a Performance mode where it won't be as conservative about heat and battery consumption and will offer, well, higher performance. We found that when active it leads to a minor GPU boost and had no effect on the CPU.
Single-core CPU results of the P40 Pro in GeekBench are a noticeable step up from the Snapdragon 855 devices though the Exynos's oversized custom cores are still unrivaled in the Android world. However, the iPhones outperform them, as usual though it doesn't really matter, does it?
GeekBench 4.4 (single-core)
Higher is better
Apple iPhone 11 Pro Max
5476
Samsung Galaxy S20 Ultra 5G
5005
Oppo Find X2 Pro
4273
Huawei P40 Pro
3942
Huawei Mate 30 Pro (Perf mode)
3864
Samsung Galaxy Z Flip
3538
OnePlus 7T Pro
3502
Huawei P30 Pro (perf. mode)
3323
GeekBench 5.1 (single-core)
Higher is better
Apple iPhone 11 Pro Max
1332
Samsung Galaxy S20 Ultra 5G
910
Oppo Find X2 Pro
906
Huawei P40 Pro
780
Huawei Mate 30 Pro (Perf mode)
779
OnePlus 7T Pro
773
Samsung Galaxy Z Flip
750
Huawei P30 Pro (perf. mode)
694
Under multi-core loads the situation changes significantly. The iPhone 11 Pro is still unmatched, but the P40 Pro comes out on top of all but one droid - the Snapdragon 865-powered Oppo Find X2 Pro though the difference between the Huawei and the Oppo is pretty slim.
GeekBench 4.4 (multi-core)
Higher is better
Apple iPhone 11 Pro Max
13870
Oppo Find X2 Pro
13362
Huawei P40 Pro
12848
Samsung Galaxy S20 Ultra 5G
12191
Huawei Mate 30 Pro (Perf mode)
11936
OnePlus 7T Pro
11246
Samsung Galaxy Z Flip
11066
Huawei P30 Pro (perf. mode)
10014
GeekBench 5.1 (multi-core)
Higher is better
Apple iPhone 11 Pro Max
3503
Oppo Find X2 Pro
3349
Huawei P40 Pro
3197
Huawei Mate 30 Pro (Perf mode)
3038
OnePlus 7T Pro
2803
Samsung Galaxy S20 Ultra 5G
2728
Samsung Galaxy Z Flip
2619
Huawei P30 Pro (perf. mode)
2521
The graphic performance is flagship-worthy even if it not chart-topping. For all intents and purposes you will experience top-notch gaming performance on all of the current flagships.
GFX 3.1 Manhattan (onscreen)
Higher is better
Galaxy S20 Ultra 5G (120Hz, 1080p)
74
Apple iPhone 11 Pro Max
60
Huawei Mate 30 Pro (Perf mode)
56
Samsung Galaxy Z Flip
56
Huawei P40 Pro
52
Huawei P30 Pro (perf. mode)
50
Oppo Find X2 Pro (120Hz, 1440p)
43
Oppo Find X2 Pro (60Hz, 1440p)
43
Galaxy S20 Ultra 5G (60Hz, 1440p)
42
OnePlus 7T Pro
40
GFX 3.1 Car scene (onscreen)
Higher is better
Apple iPhone 11 Pro Max
57
Galaxy S20 Ultra 5G (120Hz, 1080p)
43
Samsung Galaxy Z Flip
35
Huawei Mate 30 Pro (Perf mode)
34
Huawei P40 Pro
31
Huawei P30 Pro (perf. mode)
29
Galaxy S20 Ultra 5G (60Hz, 1440p)
25
Oppo Find X2 Pro (120Hz, 1440p)
25
Oppo Find X2 Pro (60Hz, 1440p)
24
OnePlus 7T Pro
24
3DMark SSE OpenGL ES 3.1 1440p
Higher is better
Oppo Find X2 Pro (120Hz, 1440p)
7159
Oppo Find X2 Pro (60Hz, 1440p)
7143
Galaxy S20 Ultra 5G (120Hz, 1080p)
6713
Galaxy S20 Ultra 5G (60Hz, 1440p)
6593
OnePlus 7T Pro
6238
Huawei P40 Pro
6062
Samsung Galaxy Z Flip
6032
Huawei Mate 30 Pro (Perf mode)
5988
Huawei P30 Pro (perf. mode)
4215
3DMark SSE Vulkan 1440p
Higher is better
Oppo Find X2 Pro (60Hz, 1440p)
6586
Oppo Find X2 Pro (120Hz, 1440p)
6526
Galaxy S20 Ultra 5G (120Hz, 1080p)
6308
Galaxy S20 Ultra 5G (60Hz, 1440p)
6249
Huawei P40 Pro
5637
OnePlus 7T Pro
5514
Huawei Mate 30 Pro (Perf mode)
5489
Samsung Galaxy Z Flip
5298
Huawei P30 Pro (perf. mode)
4231
Finally, the compound AnTuTu 8 test says all phones are fast, but the P40 Pro and its Kirin 990 5G is close to what the Galaxy S20 Ultra (Exynos 990) and the OnePlus 7T Pro (S855) offer. The Snapdragon 865 is the winner here by a large enough margin.
AnTuTu 8
Higher is better
Oppo Find X2 Pro
593717
Apple iPhone 11 Pro Max
536883
Samsung Galaxy S20 Ultra 5G
528631
Huawei P40 Pro
496356
OnePlus 7T Pro
493901
Samsung Galaxy Z Flip
487908
Huawei Mate 30 Pro (Perf mode)
484529
Huawei P30 Pro (perf. mode)
401208
Quite expectedly, the Huawei P40 Pro excels in the synthetic benchmarks and it can be a showoff in real life, too. It is not a chart-topping device, but close. And its thermal management is quite good, so you can keep doing what you are doing throttling-free for a long time.
The 90Hz screen and the fluidness that come with it further enhances the impression of speed and flagship-greatness, so it can't really get better than that.
I paid for this phone 300 euros, used. Downgraded to EMUI 10 from EMUI 12, installed GMS thru LZ Play, excellent upper mid ranger in 2023
Anonymous
26 Nov 2022
nDh
There is an option in developer settings to turn it off, it is on by default.
Please kindly assist me, i have same phone but i don't know how to set it back to normal ringing and get all calls and sound without using ear phones.