Huawei VP confirms the Mate 50 will eventually be a thing
Victor, 26 February 2022
Nothing is set in stone or really officially announced at this point, but Huawei Consumer Business Group Strategy Marketing Department Vice President, Li Changzhou chimed in on a community forum recently, kind of confirming that the Huawei Mate 50 family is eventually going to exist.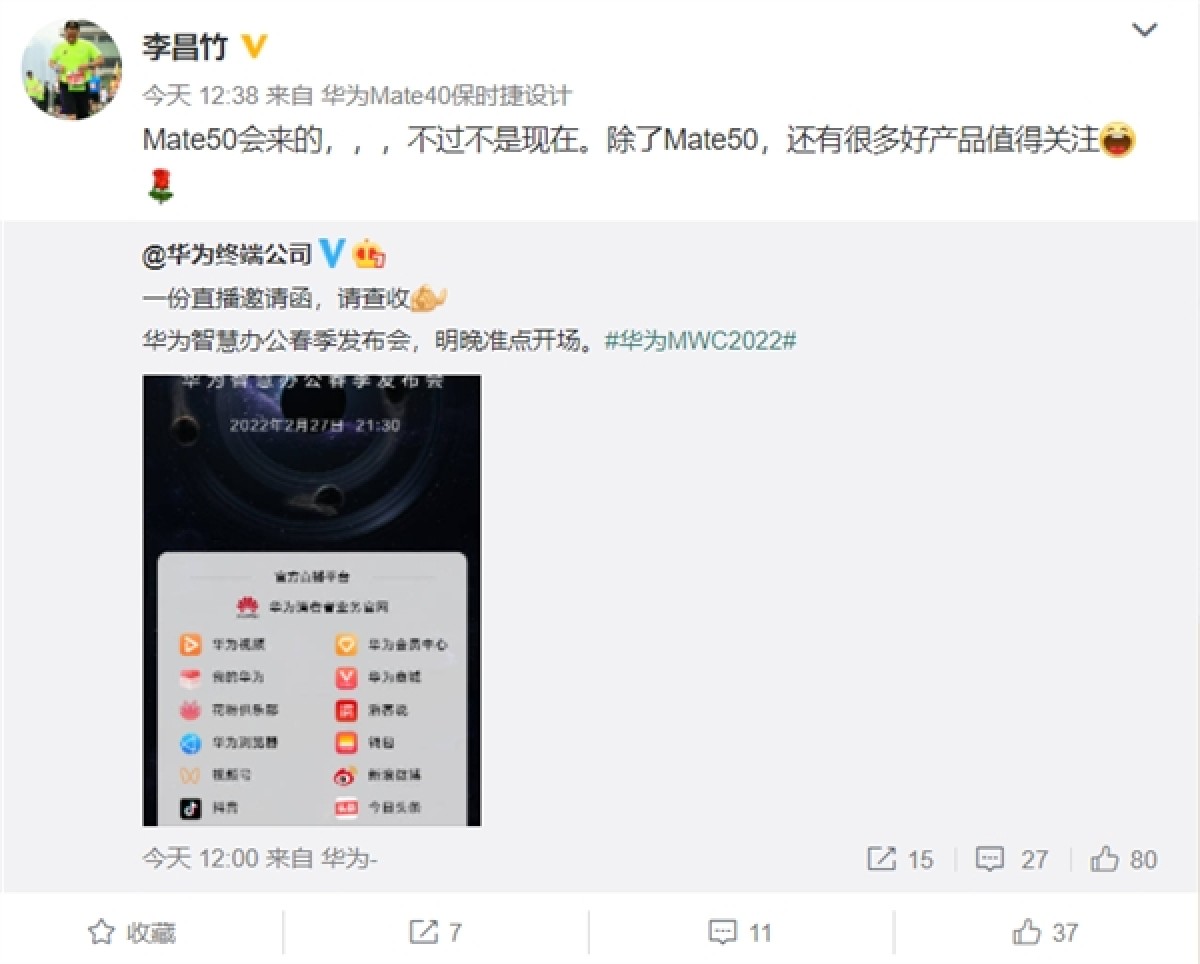 This is sort of a big deal not just for fans of the line, but potentially for Huawei in general and, depending on how you look at it, could even be considered a sort of "return to form" for the Chinese giant. Last year Huawei only introduced a single flagship line - the P50, which is sort of a step back from previous years, where the Mate lineup would offer a concurrent flagship assortment.
Li Changzhou did not share any specific info, as you might imagine. The community thread he hopped on to discussed the company's upcoming Spring 2022 Smart Office Live February 27 event, part of MWC 2022, which you can watch live here. He was answering an eager fan hoping to see a Mate 50 at the event. Roughly translated, the response reads: "The Mate 50 will come, but not right now. At present, there are still many other good products worth paying attention to."
That's good enough for us, and in any case, it's the closest thing to an official mention of the Mate line we've seen in a long time. Some reports have previously suggested that we could see a new Huawei Mate device some tine around June this year. Take these with a pinch of salt, but if that is the case, we can probably assume that any potential Mate 50 might be based on a second-generation Snapdragon 8 processor. Though, given the current state of legal affairs, it would have to be one locked to 4G connectivity. Unless, of course, something changes in the meantime. But that's all merely speculation at this point.
Related
only be sold in china. huawei flagship user experience is so cropped and do not worth a proper fluid flagship price at all. huawei is becoming too greedy.
Anonymous
28 Feb 2022
0U3
they should find a way to keep making kirin even if is without 5g, my friend's p50 pro battery is worst than p40 pro and is all because of snapdragon, based on youtube reviews the kirin version has almost the same battery life as 13 pro max whi...
Popular articles
Popular devices
Electric Vehicles