IDC: China smartphone market declined by 5% in 2017
Yordan, 06 February 2018
IDC released its Quarterly Mobile Phone Tracker report for China, and the numbers do not look good. According to the data, the market declined 15.7% in Q4 2017, compared with the same period 12 months ago, and 4.9% for the whole 2017. In absolute numbers, the October-December period saw 114.3 shipments, totaling to 444.3 million in 2017 against 467.3 million in 2016.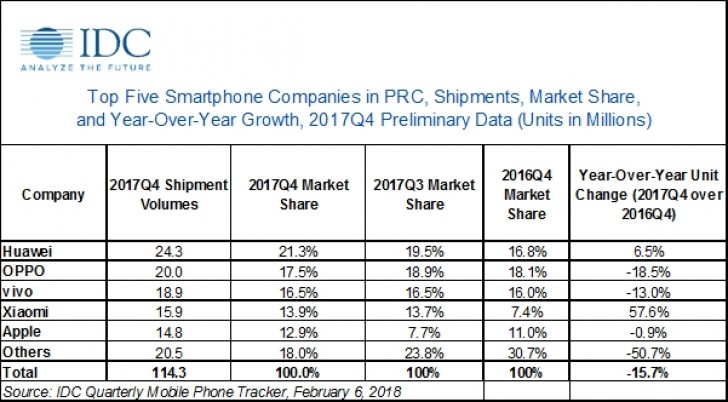 Apple shipped almost 10% fewer phones in the past 12 months, compared to 2016, but it remained a leader in the premium segment with 85% of all sales over $600. Due to impressive shipments of the iPhone X (about 7 million units, according to Canalys), Cupertino actually saw an increase in its YoY and QoQ share in premium sales. The phone arrived almost a month after its closest competitor Huawei Mate 10, but that did not prevent it from outselling it.
Huawei kept its top spot on the Chinese market in 2017 mostly due to its shipments in the ultra-cheap segment - under $200. The company shipped 24.3 million Huawei and Honor branded devices in Q4, and amounted to 90.9 million units for the whole 2017.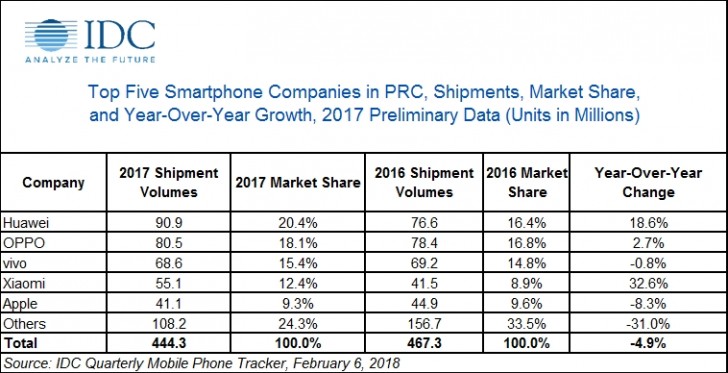 The mid-range segment is the strength of Oppo and vivo, with both BKK subsidiaries posting an increased portfolio in this sector, but due to the saturation of the market and the reduction of shipments in the low-end spectrum, both saw a decline on a yearly basis.
Samsung once more missed on making the top spots in China Samsung. IDC reports the Korean giant is still having troubles in the market, where it can't successfully compete with local makers.
Related
Anonymous
07 Feb 2018
tVk
Don't worry, you're not alone.. Chinese companies can make good phone with good hardware, but then at software they intend to mimic what Iphone can do.. I don't hate it, but some are very annoying... No app drawer, design almost copy Iphone, etc... C...
Anonymous
06 Feb 2018
kui
These stats don't include LG models, which could be part of the reason why LG is leaving the Chinese handset marketplace: they aren't selling well there. No I am not here to put down LG.
I hope that people don't take it in a wrong way, but I really dislike this Chinese tendency to copy successful American products. It's like they are infatuated with them. Almost every Chinese OEM uses an android interface that mimics iOS which is int...
Popular articles
Popular devices
Electric Vehicles