Infinix Note 11 Pro review
GSMArena Team, 28 October 2021.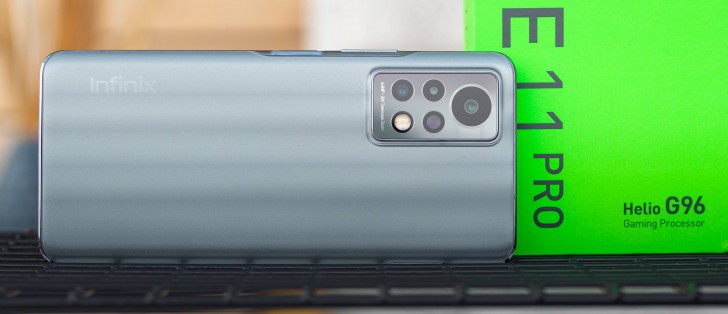 XOS 10 on top of android 11
Infinix has its own XOS Android skin, which has already gone through quite a few iterations over the years. So many, in fact, that it is a bit hard to keep track of. Our Infinix Note 10 Pro unit runs XOS 7.6 on top of Android 11. In contrast, the Infinix Note 11 Pro review unit originally shipped with an XOS 8, Android 11 ROM, which was apparently in a less-than-final state, and we had to update to the company's latest XOS 10 version. This was not a straightforward process, but we won't bore you with the details since we are sure retail units won't have to go through the same hassle and will just run XOS 10 on top of Android 11 out of the box. This is what we eventually ended up with.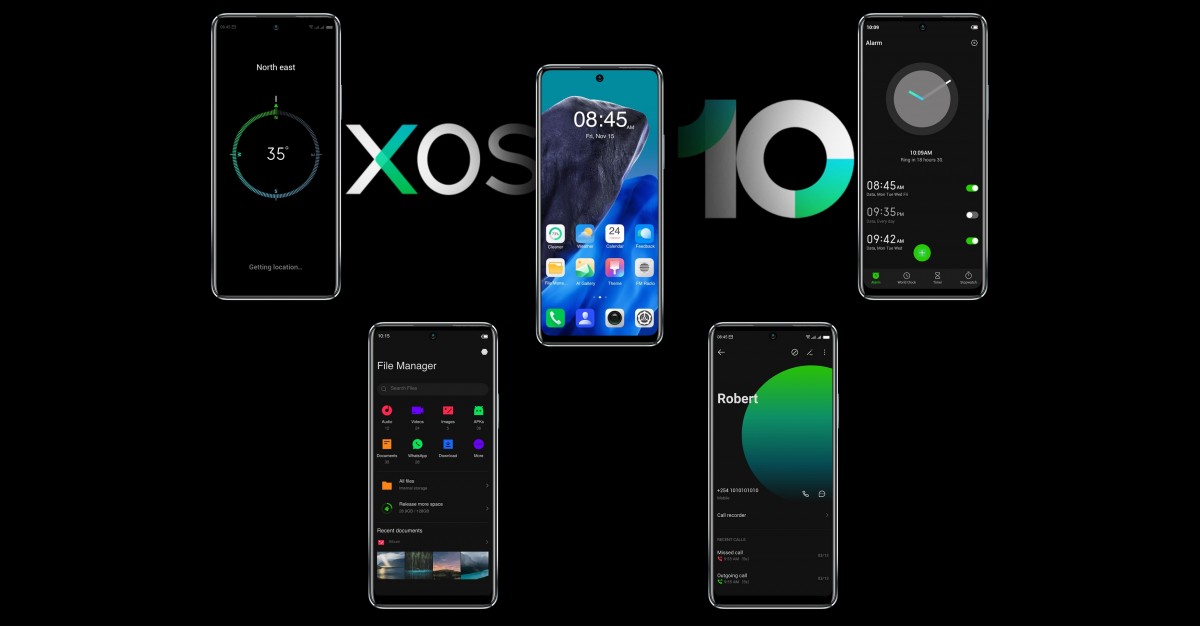 There is a lot of ground to cover with this new XOS, mainly since it is chuck-full of features and options. Perhaps even overwhelmingly so.
Many of the included apps could also be considered bloatware since Infinix has included quite a few of its own first-party apps, as well as third-party ones, oftentimes with overlapping feature sets.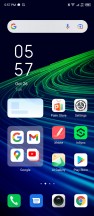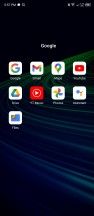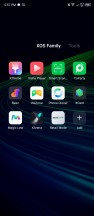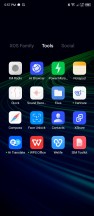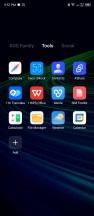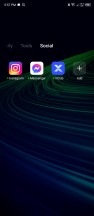 A large number of pre-loaded apps
The important thing to note is that XOS 10 works smoothly, with no hiccups or stutters despite the influx of apps. So Infinix has done its job pretty well in the custom UI department. And when we say custom, we mean custom. In no particular order, starting from the lock screen, you get an optional Magazine service. Beyond that, the clock screen is also affected by the powerful Theme support, which includes things like video slide shows, custom fonts, as well as an online Theme repository in the shape of a separate XTheme app.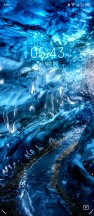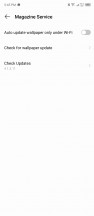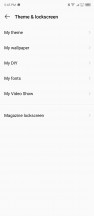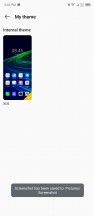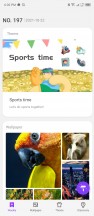 Lock screen • Magazine service • Extensive themes support
The home screen includes a custom feed as the leftmost desktop pane, as well as big folders to organize and categorize your shortcuts by default.
Of course, if this is not to your liking, you can revert back to just having a list of shortcuts on the home screens, sans folders. And that's just the tip of the iceberg when it comes to customization. You can tweak things like grid size, gestures, notification badges. You can even switch to a vertical rather than horizontal scrolling home screen and change the text color. That's on par with the customization we expect from a third-party launcher.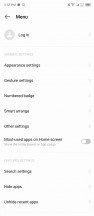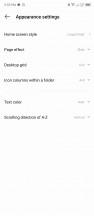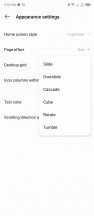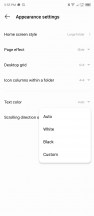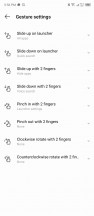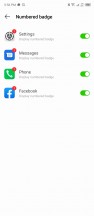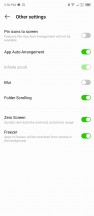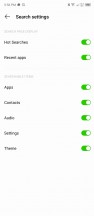 Launcher options and customization
XOS 10 is more visually polished overall, with rebound effects and a refreshed look and feel. While not new with XOS 10, it is worth noting that the notification shade and control center are separated out into two separate entities. Notifications are called up with a swipe down from the top left of the phone, while a top-right swipe reveals quick toggles and other controls.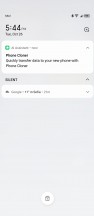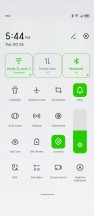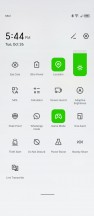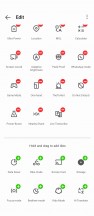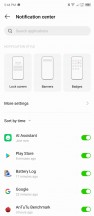 Notifications and quick toggles
We won't be going through every feature and app available in XOS 10, but there are some noteworthy highlights. There is actually a dedicated Special function menu that houses many of these.
Lightning Multi-Window has a self-explanatory title. It is a floating window implementation. Far from the best we've seen, but still functional.
The same goes for Smart Panel. It's among the more customizable implementations of this feature that we have seen.
Social Turbo houses a whole slew of powerful features meant to work on top of WhatsApp and enhance its factory experience.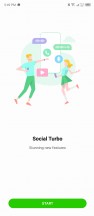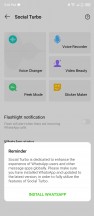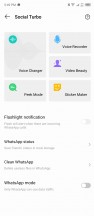 Social Turbo features to enhance WhatsApp
We have to mention MOL as well. It is a rather powerful translation engine that works system-wide and can even function offline. Not only can you use it to translate text, but it also features a Face-to-face translator component, which can be used to have an in-person conversation with a foreign speaker. Nothing that's not available as a third-party app, but still quite convenient to just have baked-in.
Naturally, you get other things like extensive gestures, app cloning, known as XClone, as well as some gimmicks like Peek Proof, which "hides" parts of the screen for whatever reason.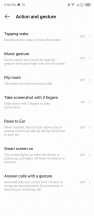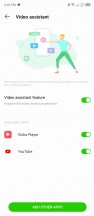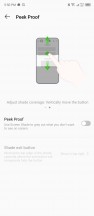 Gestures • XClone • Peak Proof
You get in-depth control over battery endurance and power-saving too through the Power Marathon app, including some interesting "smart" Ai features.
Speaking of Ai features, XOS 10 has a whole menu of these as one of the highlights of the new version 10 update. Ai Assistant can monitor for a number of triggers and gather all sorts of usage data and then send out notifications and suggest actions accordingly. There are quite a few intriguing quality of life improvements buried in this menu. Definitely worth checking out.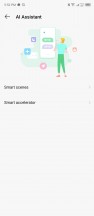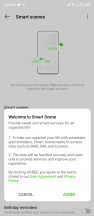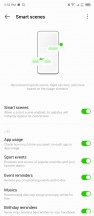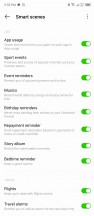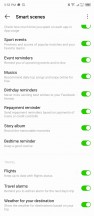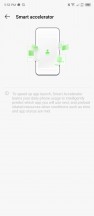 Smart Scenes and Smart Accelerator
Another highlighted XOS 10 feature, or rather set of features, called Monster Game Kit has to do with game optimization. Infinix has a baked-in Dar-Link 2.0 software, which promises Ai-driven, on the fly, automatic optimization of games, including frame rate stability, decreasing touch latency and managing hardware performance and temperature. There is a system-wide Game Mode toggle, as well as a Game Mode setting menu to tweak most of the behavior.
On the more tangible side of things, you also get the XArena app, which is your standard game launcher, complete with various tweaks, like notification suppression. Once you add an app to XArena and start it from there, you also get an in-game toolbar with plenty of convenient shortcuts, including floating app support.
Again, this is far from the most cohesive or feature-complete gaming suite we have seen. An fps counter, finer performance controls and some capture/streaming options are notable omissions. Still nitpicking aside, XOS 10 goes far and beyond most of its Android UI rivals in this department.
In fact, there is no denying that Infinix clearly has ambitious software effort, bordering on a whole dedicated ecosystem of its own. In case you need any proof of that, consider the Folax voice assistant, which appears to be a totally unique Infinix entry into the niche. A fairly-capable one at that, which doesn't even require a network connection to function.
And then there are also apps like InSync and Welife, which are meant to manage IoT ecosystems. The first appears to be a first-party Infinix one, with support for a range of Infinix smart TVs and an Infinix laptop. Impressively ambitious stuff.
Circling back to our original point about XOS 10, there is truly a lot to cover here, and we barely scratched the surface. If we had to sum up the experience, we would say it is fluent and pleasant from a performance standpoint and quite feature-rich, but also quite chaotic. XOS is still in desperate need of some debloating and organization. Thankfully, for the most part, you can do that yourself with a bit of time and tweaking, and the end result could be a very powerful and versatile Android 11 experience.
Performance and benchmarks
The Infinix Note 11 Pro uses a MediaTek Helio G96 chipset. It's a recently announced chip and still a not particularly popular one. We've personally only seen it working in the Realme 8i.
There could actually be another reason for the limited popularity of the particular chip other than it being quite new. Despite what the name suggests, the G96 is not exactly an all-around upgrade over the Helio G95. The Helio G96 features a pair of Cortex-A76 cores clocked at 2.05 GHz and six A55 cores, the same as the G95. However, its GPU is only a Mali-G57 MC2, a clear downgrade from the G76 MC4 that came before.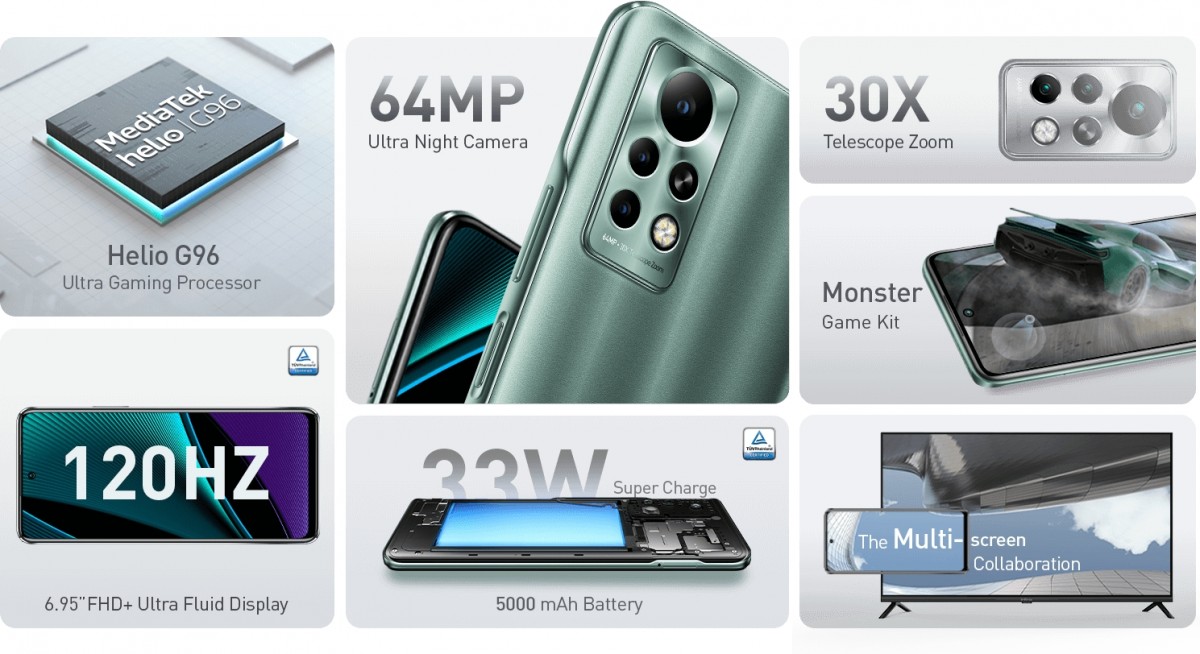 So, we can essentially expect a downgrade in GPU performance compared to the Helio G95 and on-par CPU numbers. In terms of additional features, the Infinix Note 11 Pro does claim to make use of fast UFS 2.2 storage. But, annoyingly, for some unknown reason, its video capture is limited to 2K resolution, while the DSP and encoder should be able to handle 4K@30fps.
Anyway, there is only one memory config for the Note 11 Pro - 8GB of RAM and 128GB of expandable storage. There is also support for Extended RAM, which adds an additional 3GB of virtual RAM to the pool for a total of 11GB.
Let's kick things off with GeekBench and some pure CPU loads. The Note 11 Pro and its Helio G96 are clearly doing well in the CPU department. Despite the identical CPU setup, you can even see the Note 11 Pro managing slightly better numbers in multi-threaded workloads than the G95 inside the Realme 8.
GeekBench 5 (multi-core)
Higher is better
Realme 8i
1886
Realme 8s 5G
1842
Infinix Note 11 Pro
1800
Realme 8 5G
1784
Realme 8
1690
Infinix Zero 8
1663
Infinix Note 10 Pro
1644
Xiaomi Redmi 9T
1400
Poco M3
1398
Xiaomi Redmi 9 (Prime)
1325
Xiaomi Redmi Note 8 2021
1314
Xiaomi Redmi 10
1294
Redmi Note 9
1292
Motorola Moto G30
1265
Samsung Galaxy A21s
1100
Samsung Galaxy A02s
495
GeekBench 5 (single-core)
Higher is better
Realme 8s 5G
616
Realme 8 5G
569
Realme 8i
539
Realme 8
533
Infinix Zero 8
532
Infinix Note 11 Pro
520
Infinix Note 10 Pro
510
Xiaomi Redmi 9 (Prime)
362
Redmi Note 9
361
Xiaomi Redmi 10
361
Xiaomi Redmi Note 8 2021
352
Poco M3
308
Xiaomi Redmi 9T
307
Motorola Moto G30
306
Samsung Galaxy A21s
184
Samsung Galaxy A02s
131
It is also great to see relatively consistent results with the Realme 8i, which also rocks the same Helio G96 chip.
AnTuTu is a bit more complex in its benchmark scenario and also includes graphical tests and takes into account things like storage and memory speed. This is perhaps where the advertised UFS 2.2 storage should shine through. That could very well be true, but any potential boost in those areas is clearly negated by poor GPU performance.
AnTuTu 8
Higher is better
Realme 8s 5G
329661
Infinix Note 10 Pro
310342
Realme 8 5G
302059
Realme 8
298328
Realme 8i
293507
Infinix Note 11 Pro
290797
Infinix Zero 8
282348
Xiaomi Redmi 9 (Prime)
201829
Redmi Note 9
200414
Xiaomi Redmi Note 8 2021
180195
Xiaomi Redmi 9T
177917
Poco M3
177904
Motorola Moto G30
170968
Samsung Galaxy A21s
107157
Samsung Galaxy A02s
90811
AnTuTu 9
Higher is better
Realme 8s 5G
383409
Infinix Note 10 Pro
365490
Realme 8 5G
361505
Realme 8
357488
Infinix Note 11 Pro
343527
Realme 8i
308544
Xiaomi Redmi Note 8 2021
165779
On the flip side, it is still great to see consistent results compared to the Realme 8i, even if they are a bit disappointing.
This trend continues into GFXBench and its graphical runs, where the two phones are almost always exactly neck to neck.
GFX Manhattan ES 3.0 (offscreen 1080p)
Higher is better
Infinix Note 10 Pro
54
Realme 8
53
Infinix Zero 8
49
Realme 8s 5G
41
Realme 8 5G
38
Infinix Note 11 Pro
37
Realme 8i
37
Xiaomi Redmi Note 8 2021
25
Motorola Moto G30
20
Poco M3
19
Xiaomi Redmi 9T
19
Samsung Galaxy A21s
16
Samsung Galaxy A02s
9.3
GFX Manhattan ES 3.0 (onscreen)
Higher is better
Infinix Note 10 Pro
48
Realme 8
48
Infinix Zero 8
42
Realme 8 5G
35
Motorola Moto G30
34
Realme 8i
33
Infinix Note 11 Pro
31
Realme 8s 5G
28
Samsung Galaxy A21s
28
Xiaomi Redmi Note 8 2021
22
Poco M3
17
Xiaomi Redmi 9T
17
Samsung Galaxy A02s
16
The Realme 8i does tend to get a couple of extra frames here and there in on-screen scenarios, which could be explained by the fact that it has a few fewer vertical pixels worth of resolution than the Note 11 Pro. Off-screen runs are the interesting ones for cross-device comparisons.
GFX Manhattan ES 3.1 (offscreen 1080p)
Higher is better
Infinix Note 10 Pro
33
Realme 8
33
Infinix Zero 8
30
Realme 8s 5G
27
Realme 8 5G
25
Infinix Note 11 Pro
24
Realme 8i
24
Xiaomi Redmi Note 8 2021
16
Motorola Moto G30
14
Poco M3
13
Xiaomi Redmi 9T
13
Samsung Galaxy A21s
9.4
Samsung Galaxy A02s
6.1
GFX Manhattan ES 3.1 (onscreen)
Higher is better
Realme 8
29
Infinix Note 10 Pro
28
Infinix Zero 8
26
Motorola Moto G30
26
Realme 8s 5G
24
Realme 8 5G
22
Realme 8i
22
Infinix Note 11 Pro
20
Samsung Galaxy A21s
19
Xiaomi Redmi Note 8 2021
14
Samsung Galaxy A02s
12
Poco M3
11
Xiaomi Redmi 9T
10
GFX Car Chase ES 3.1 (offscreen 1080p)
Higher is better
Infinix Note 10 Pro
20
Realme 8
20
Infinix Zero 8
18
Realme 8s 5G
16
Realme 8 5G
15
Infinix Note 11 Pro
14
Realme 8i
14
Xiaomi Redmi Note 8 2021
9.6
Xiaomi Redmi 9T
7.5
Motorola Moto G30
7.3
Poco M3
7.2
Samsung Galaxy A21s
6
Samsung Galaxy A02s
3.4
GFX Car Chase ES 3.1 (onscreen)
Higher is better
Realme 8
18
Infinix Note 10 Pro
17
Infinix Zero 8
15
Realme 8s 5G
14
Realme 8 5G
13
Motorola Moto G30
13
Infinix Note 11 Pro
11
Realme 8i
11
Samsung Galaxy A21s
11
Xiaomi Redmi Note 8 2021
8.7
Samsung Galaxy A02s
6.1
Poco M3
5.9
Xiaomi Redmi 9T
5.8
We can clearly see the older Helio G95, as found in the Infinix Note 10 Pro, Realme 8 and a couple of Tecno phones we have on the list, performs better in GPU tasks thanks to its four Mali-G76 GPU cores.
GFX Aztek Vulkan High (onscreen)
Higher is better
Infinix Note 10 Pro
11
Realme 8
11
Infinix Zero 8
10
Realme 8s 5G
8.9
Motorola Moto G30
8.7
Infinix Note 11 Pro
7.3
Samsung Galaxy A21s
6.6
Xiaomi Redmi Note 8 2021
4.7
Poco M3
4.1
Xiaomi Redmi 9T
4.1
Samsung Galaxy A02s
3.5
GFX Aztek ES 3.1 High (onscreen)
Higher is better
Infinix Note 10 Pro
12
Realme 8
12
Infinix Zero 8
11
Realme 8s 5G
9.7
Motorola Moto G30
9.1
Infinix Note 11 Pro
7.9
Samsung Galaxy A21s
7.1
Xiaomi Redmi Note 8 2021
5.4
Samsung Galaxy A02s
3.5
Poco M3
2.8
Xiaomi Redmi 9T
2.7
GFX Aztek Vulkan High (offscreen 1440p)
Higher is better
Infinix Note 10 Pro
7.5
Realme 8
7.5
Realme 8s 5G
5.8
Infinix Note 11 Pro
5.1
Poco M3
4.2
Xiaomi Redmi 9T
4.2
Xiaomi Redmi Note 8 2021
3.1
Motorola Moto G30
2.8
Samsung Galaxy A02s
1.1
GFX Aztek ES 3.1 High (offscreen 1440p)
Higher is better
Infinix Note 10 Pro
7.7
Realme 8
7.7
Realme 8s 5G
6.2
Infinix Note 11 Pro
5.6
Xiaomi Redmi Note 8 2021
3.4
Poco M3
2.8
Xiaomi Redmi 9T
2.8
Motorola Moto G30
2.8
Samsung Galaxy A02s
1.2
The same goes for MediaTek's Dimensity chips. Even though some of those lower-end models are closer in GPU performance to the Helio G96 and hence worse than the G96 or even the G90T, their call to fame is undoubtedly 5G on a budget.
This overall GPU performance spread carries over to 3DMark as well. Granted, that benchmark is a bit less favorable towards the Infinix Note 11 Pro and its Helio G96 chipset, but at least we were able to run Sling Shot Extreme on it, which was not the case with the Realme 8i.
3DMark SSE ES 3.1 (offscreen 1440p)
Higher is better
Infinix Note 10 Pro
2748
Realme 8
2610
Realme 8s 5G
2567
Infinix Zero 8
2537
Infinix Note 11 Pro
2431
Xiaomi Redmi Note 8 2021
1399
Motorola Moto G30
1185
Xiaomi Redmi 9T
1181
Poco M3
1175
Samsung Galaxy A21s
888
Samsung Galaxy A02s
438
3DMark SSE Vulkan 1.0 (offscreen 1440p)
Higher is better
Infinix Note 10 Pro
2854
Realme 8
2639
Infinix Zero 8
2556
Realme 8s 5G
2439
Infinix Note 11 Pro
2256
Xiaomi Redmi Note 8 2021
1424
Motorola Moto G30
1142
Xiaomi Redmi 9T
1107
Poco M3
1106
Samsung Galaxy A21s
901
Samsung Galaxy A02s
489
3DMark Wild Life Vulkan 1.1 (offscreen 1440p)
Higher is better
Infinix Note 10 Pro
1506
Realme 8
1486
Realme 8s 5G
1231
Realme 8 5G
1104
Realme 8i
1102
Infinix Note 11 Pro
1100
Xiaomi Redmi Note 8 2021
722
Motorola Moto G30
389
Poco M3
368
Xiaomi Redmi 9T
365
Anyway, the results are consistent with what we have already observed.
Before we close out the performance section, it is worth noting that the Infinix Note 11 Pro remained nice and cool with stressful loads. We saw no abnormal thermal throttling either. Infinix says that there is a 9-layer 3D graphene colling film inside the Note 11 Pro, which is probably helping in this department. Same foes for the Dar-Link 2.0 system for dynamically controlling temperature and performance.
While the MediaTek Helio G96 is far from a powerful chipset, particularly in the GPU department, the Infinix Note 11 Pro makes proper use of its performance. It delivers a smooth UI and general app experience. Thanks to some above-average handling of the 120Hz refresh rate enabled by the new chip and display combo, playing supported high refresh rate games is an easy and worthwhile endeavor more often than not. This is a rare feature, particularly on a budget phone.
Dan maleeky
10 Sep 2022
X5u
Which side speaker are