Lenovo to be the first one to release 5G ready smartphone?
Ro, 02 August 2018
Everyone is betting big on the upcoming 5G networks - from carriers to smartphone manufacturers. So the race to be the first OEM to release 5G-capable smartphone is on, but that won't happen until Qualcomm releases its Snapdragon 855 with the 5G-capable modem.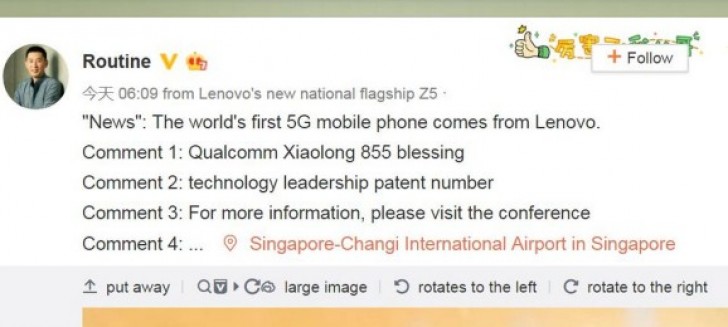 In a recent Weibo post, Lenovo's VP, Chang Cheng, said that Lenovo will be winning the race next year with the first 5G smartphone using Qualcomm's Snapdragon 855 chip. But shortly after the publication, the post got deleted, so we are left with only with the screenshot.
Either Lenovo is hyping up its fans, or it has something in mind and is way ahead of its competitors in the race. Either way, we see why smartphone manufacturers want to be the first ones to deliver the new tech to their handsets as they will go down in history as "the first ever." Sounds good on promo materials, right?
Related
Why so cruel? While I don't mind it if they close their smartphone division, I wouldn't want them to stop making laptops.
Lenovo is indeed hyping up its fans, as Lenovo's VP, Chang Cheng has done in the past stating that Lenovo Z5 will have 4TB storage and 45 days of battery backup.
Seeing as how 5G is going to be pushed in 2018 by Verizon in the US, and how 5G will become more common as the Snapdragon 855 has 5G capability, i dont think we'll have to wait for too long
Popular articles
Popular devices
Electric Vehicles