LG G5 review: Evening the odds
Evening the odds
GSMArena team, 22 March, 2016.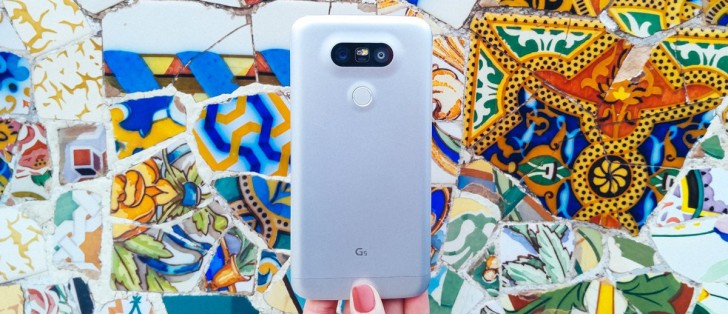 Performance
Update, Apr 04: We recently received a retail G5 review unit and we've updated all test results on this page accordingly. The good news is that there were almost no differences compared to our pre-production unit so all initial review conclusions are still valid.
LG G5 is powered by the most recent Qualcomm chipset - the Snapdragon 820 - and the chip maker promises up to 2x higher performance than the Snapdragon 810. The 820 SoC has a quad-core Kryo processor (2x 2.15GHz, 2x 1.6GHz) by a new custom proprietary design plus an Adreno 530 GPU and 4GB RAM.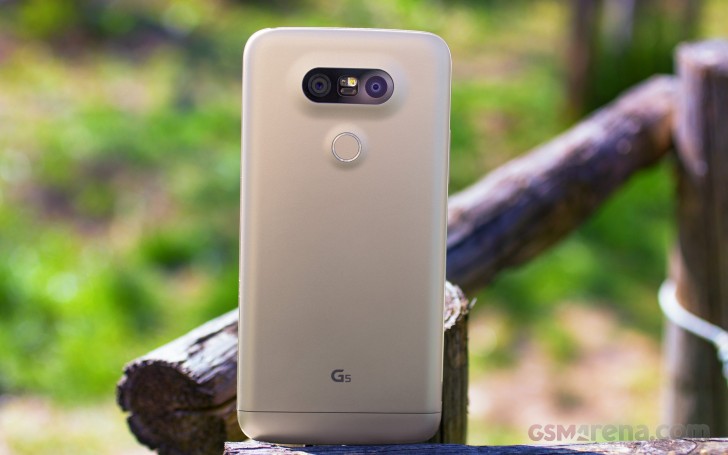 The single-core performance is where the Kryo CPU shines. It did better than any other Android competitor, including the Galaxy S7 Exynos's Mongoose core, and it indeed doubled the performance of its predecessor (the Cortex-A57 within the Meizu Pro 5). The Kryo is just short of Apple's Twister core, the best performer on the market right now.
GeekBench 3 (single-core)
Higher is better
Apple iPhone 6s Plus
2527
LG G5
2328
Xiaomi Mi 5
2305
Samsung Galaxy S7
2170
Meizu Pro 5
1545
Huawei Nexus 6P
1363
The multi-core performance is better than the Snapdragon 810 chips (Nexus 6P) and matches the Exynos 7420 octa-core processor inside the Galaxy S6 edge+ and Meizu Pro 5. It is also far ahead of what LG G3 and G4 could offer. The latest Exynos models of the Galaxy S7 series are doing better than the Snapdragon 820 chip, though, but don't forget they have additional four Cortex-A53 cores.
GeekBench 3 (multi-core)
Higher is better
Samsung Galaxy S7
6360
Meizu Pro 5
5578
LG G5
5362
Xiaomi Mi 5
5358
Samsung Galaxy S6
5215
Huawei Nexus 6P
4539
OnePlus 2
4429
Apple iPhone 6s Plus
4413
Sony Xperia Z5
4017
LG G4
3509
LG G3
2370
AnTuTu 6 is a compound test that gauges CPU, GPU, RAM, and UX multi-tasking capabilities. The LG G5 aced the test and edged the Galaxy S7. Don't forget the AnTuTu benchmark has an onscreen 3D test which runs at Quad HD resolution on the LG G5 and the Galaxy S7 while the Xiaomi Mi 5 has it on a 1080p display.
AnTuTu 6
Higher is better
LG G5
134541
Samsung Galaxy S7
132084
Xiaomi Mi 5
131758
Huawei Nexus 6P
89345
Samsung Galaxy S6
79038
Meizu Pro 5
67531
LG G4
60858
The BaseMark OS II 2.0 is another compound test, which in addition to CPU, GPU, RAM, and OS, also takes into consideration the browser performance. The LG G5 did great here, on par with the Galaxy S7.
Basemark OS 2.0
Higher is better
Apple iPhone 6s Plus
2261
Xiaomi Mi 5
2180
Samsung Galaxy S7
2128
LG G5
2065
Huawei Nexus 6P
2040
Meizu Pro 5
1837
Samsung Galaxy S6
1674
OnePlus 2
1622
LG G4
1584
Sony Xperia Z5
1482
LG G3
1189
Now, let's check the graphics out. The offscreen GFX Benchmark 3.0 and 3.1 Manhattan tests put the Adreno 530 (Mi 5) on par with the Mali-T880MP12 (Galaxy S7) and it's twice as good as the GPU inside the Galaxy S6 series.
GFX 3.0 Manhattan (1080p offscreen)
Higher is better
LG G5
47
Xiaomi Mi 5
45
Apple iPhone 6s Plus
39.5
Samsung Galaxy S7
38
Huawei Nexus 6P
25
Meizu Pro 5
25
Sony Xperia Z5
24
Samsung Galaxy S6
24
OnePlus 2
22
LG G4
14.9
LG G3
11
GFX 3.1 Manhattan (1080p offscreen)
Higher is better
LG G5
30
Xiaomi Mi 5
30
Samsung Galaxy S7
28
Apple iPhone 6s Plus
27.9
Sony Xperia Z5
18
Huawei Nexus 6P
17
OnePlus 2
16
Meizu Pro 5
14
The Quad HD resolution of the LG G5 takes its toll on the onscreen tests and halves the scores compared to the 1080p Xiaomi Mi 5, which has the same GPU. Still, you can consider these scores as flagship-grade nevertheless.
GFX 3.0 Manhattan (onscreen)
Higher is better
Xiaomi Mi 5
43
Apple iPhone 6s Plus
38.6
LG G5
28
Samsung Galaxy S7
27
Sony Xperia Z5
25
Meizu Pro 5
25
OnePlus 2
22
Huawei Nexus 6P
17
Samsung Galaxy S6
14
LG G4
9.4
LG G3
7.7
GFX 3.1 Manhattan (onscreen)
Higher is better
Xiaomi Mi 5
29
Apple iPhone 6s Plus
27.9
Sony Xperia Z5
19
OnePlus 2
16
Samsung Galaxy S7
15
LG G5
15
Meizu Pro 5
14
Huawei Nexus 6P
11
Finally, the BaseMark X test outed a rather unimpressive score if we are to compare it with others, but the Quad HD resolution may have been in play here, too.
Basemark X
Higher is better
Xiaomi Mi 5
33110
Samsung Galaxy S7
32345
LG G5
29456
Samsung Galaxy S6
27169
Sony Xperia Z5
23923
Huawei Nexus 6P
22825
OnePlus 2
21937
Meizu Pro 5
20038
LG G4
15090
LG G3
10580
The LG G5 performance is flagship-grade, capable of handling anything anytime, and it doesn't heat the shell much. We ran lots of benchmarks, one after another, and the G5 chassis did get warm, but far from hot. Unfortunately, we noticed some minor GPU throttling in the GPU benchmarks once the G5 gets warm, but nothing you could notice in real life. Oddly, the pre-production unit we had was cooler than the retail one and did not throttle at all.
Pros: -Amazing camera quality! -Working after 5 years -Removable battery Cons: -Overheating issues since I bought it (maybe it came with a defect and I probably should have returned it). During summer, the phone restarts a lot due to ove...
Best phone ever, attention to details, beautiful interface. Only downside is battery which doesn't last long. 9/10