LG G Flex review: Ahead of the curve
Ahead of the curve
GSMArena team, 13 December 2013.
Display
The LG G Flex has a new brand of OLED screen - Plastic OLED - manufactured by LG. Traditional OLEDS have their light diodes on a sheet of glass, but by using a plastic substrate LG managed to make the display flexible. The display unit itself can flex more than the phablet itself, but LG settled on this curvature as the most comfortable after testing numerous prototypes.


The LG G Flex has a 6" POLED screen with 720p resolution
Anyway, the screen has a massive 6" diagonal but the resolution is fairly low for the size, 720p. This works out to 245ppi, which is a mid-range number. Still, it's a full RGB matrix rather than a PenTile, which does help.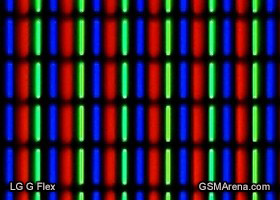 Unfortunately, there's a problem - at first we thought it was image noise in the wallpaper, but as we looked closer, we saw it in the UI too. The display seems to have issues lighting its pixels evenly, which causes the noisy look. The pixel density isn't high-enough to hide individual pixel errors either. The end result is fairly disappointing for a device in such a high price bracket, because once you see the problem, you start noticing it everywhere.
We used our microscope to snap a close-up photo to illustrate the problem. We took a screenshot of the LG G Flex UI and put it on our trusty old Nokia N8 (which has an AMOLED screen of comparable pixel density). The image below shows what the image looks like on the G Flex, on the N8 and finally, what it's supposed to look like.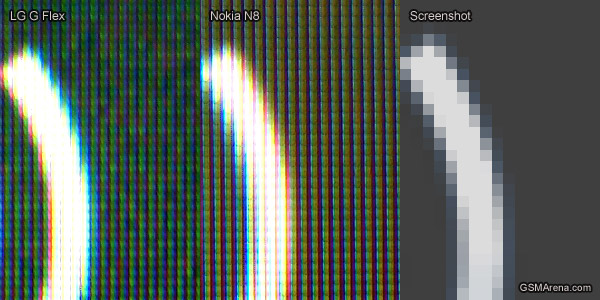 LG is promising 330 nits of brightness, which isn't very high even for an OLED (and LCDs can more than double that). Our own measurements put the maximum brightness at 411 nits and we kept the brightness slider at or near the maximum most of the time.
Typically for OLED, the display has stellar contrast and rich, saturated colors. Following the lead of Samsung and Nokia, LG introduced modes for the screen, which let the user control the saturation. You get three options - Standard, Vivid and Natural.
Display test
50% brightness
100% brightness
Black, cd/m2
White, cd/m2
Contrast ratio
Black, cd/m2
White, cd/m2
Contrast ratio
Oppo N1
0.25
285
1118
0.47
553
1164
HTC One Max
0.14
224
1591
0.40
629
1572
LG G Flex
0
131
∞
0
411
∞
Samsung Galaxy Note 3
0
149
∞
0
379
∞
Sony Xperia Z1
-
-
-
0.38
580
1513
Nokia Lumia 1520
0.22
263
1174
0.43
522
1207
Nokia Lumia 1020
0
172
∞
0
398
∞
Nokia Lumia 920
-
-
-
0.48
513
1065
Sony Xperia Z Ultra
-
-
-
0.47
467
1001
Sony Xperia Z
-
-
-
0.70
492
705
Huawei Ascend Mate
0.23
222
982
0.67
711
1053
Samsung Galaxy Mega 6.3
0.12
160
1364
0.32
440
1379
Samsung I9505 Galaxy S4
0
201
∞
0
404
∞
HTC Butterfly S
0.15
165
1117
0.43
451
1044
The screen is fairly reflective, which combined with the relatively low brightness results in sub-par sunlight legibility. By the way, LG claims the curvature helps reduce glare but, although we can see a point, we failed to notice a significant difference.
Sunlight contrast ratio
Nokia 808 PureView
4.698
Apple iPhone 5
3.997
Samsung Galaxy Note 3
3.997
Samsung I9300 Galaxy S III
3.419
Nokia Lumia 925
3.402
Samsung I9505 Galaxy S4
3.352
Samsung Omnia W
3.301
Samsung Galaxy S
3.155
Samsung Galaxy S4 mini
3.127
Samsung Galaxy S4 zoom
3.118
Nokia N9
3.069
Samsung Galaxy Note
2.970
Sony Xperia Z1
2.950
HTC One S
2.901
BlackBerry Q10
2.856
Samsung Galaxy S II
2.832
Samsung Galaxy S II Plus
2.801
BlackBerry Z30
2.790
Huawei Ascend P1
2.655
Sony Xperia ZR
2.672
Nokia Lumia 900
2.562
HTC One Max
2.537
Nokia Lumia 720
2.512
HTC One
2.504
Motorola Moto G
2.477
Sony Xperia Z
2.462
Samsung Galaxy S III mini
2.422
LG G Flex
2.407
Motorola RAZR i
2.366
Samsung Galaxy Note II
2.307
Apple iPhone 4S
2.269
HTC Desire 600 dual sim
2.262
LG Nexus 5
2.228
HTC One X
2.158
Nokia N8
2.144
Oppo Find 5
2.088
BlackBerry Z10
2.051
Apple iPhone 4
2.016
HTC One mini
2.003
LG G2
1.976
Sony Ericsson Xperia ray
1.955
Samsung Galaxy Camera
1.938
HTC Butterfly
1.873
Huawei Ascend P6
1.865
Sony Xperia V
1.792
Sony Xperia U
1.758
Meizu MX3
1.754
LG Optimus 4X HD
1.691
HTC One V
1.685
BlackBerry Q5
1.682
LG Optimus Vu
1.680
LG Optimus GJ
1.666
HTC Desire V
1.646
Sony Xperia Z Ultra
1.578
Samsung Galaxy Core
1.563
LG Optimus G Pro
1.552
LG Optimus 3D
1.542
Nokia Asha 302
1.537
Sony Xperia M
1.473
Nokia Lumia 610
1.432
Gigabyte GSmart G1355
1.361
HTC Desire C
1.300
Sony Xperia C
1.283
Nokia Asha 501
1.270
LG Optimus L7
1.269
LG Optimus L9
1.227
Meizu MX
1.221
Sony Xperia E dual
1.203
Samsung Galaxy Pocket
1.180
Sony Xperia tipo
1.166
Samsung Galaxy mini 2
1.114
The screen is protected by curved Gorilla glass. That's scratch-resistant but, unlike the coating on the back, once you scratch it, the damage will stay. We guess the special coating isn't transparent enough for screens yet, but it's something that's sorely needed by smartphones. All scratch-resistant glass eventually gets scratched and while we can live with gouges on the back, damage to the screen is harder to tolerate.
Battery life
The LG G Flex has a huge 3,500mAh battery despite 8.7mm thick body that is curved to boot. A large OLED screen isn't ideal for long battery life, but in the end things seem to balance out. The endurance rating is a stunning 97 hours - you can expect to go between two and three days without charging, depending on how much web browsing you do.
Web browsing is the Achilles heel - the G Flex lasted nine and a half hours, which while good is not much for the class. Talk time and video playback are at or near the top though.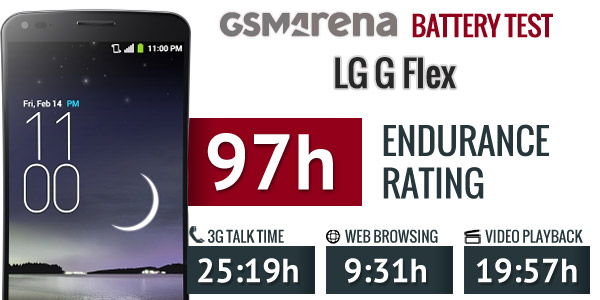 Mine LG G flex goes off anytime i watch vedio on facebook.whats the prblem?
i feel like god and its realy so good
When this phone came out on market i was very happy to see iand i was the second to use this piece when im on a call people used to stares on me,Thanks to LG,and i have been buying and selling these pieces,but the las one i purchase it has a problem ...