LG G Flex review: Ahead of the curve
Ahead of the curve
GSMArena team, 13 December 2013.
Great phonebook
The phonebook of the LG G Flex is pretty much the standard Jelly Bean affair with Optimus UI goodies sprinkled on top. It has a tabbed interface, in which the central tab lists all contacts alphabetically. You can navigate the tabs by swipes or, alternatively, touch the specific tab labels.
Contact images, where available, are displayed and there's a quick alphabet scroll on the right. There's also a regular search bar on top of the contacts list. The other tabs are Groups and Favorites on the right and Dial and Call logs on the left.
Filters keep the phonebook from getting messy - you can choose which groups are displayed and which are hidden (e.g. Family, email contacts, Twitter contacts and so on). The list can be sorted by first or last name and you can choose how contacts are displayed - First Name, Last Name or the opposite.
In the usual Android fashion, a tap on a contact photo brings up the quick contacts shortcuts. You can call the contact, send text or email or view their profile. You can also make a video call.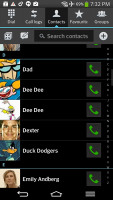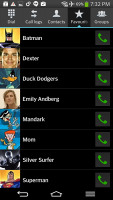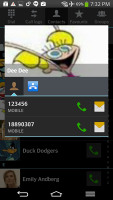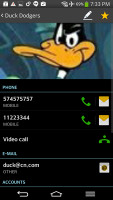 Contact display and sort setting • Viewing a single contact
Tapping on the name of a single contact brings up their details. Once you're there, you can edit the contact info by hitting the pencil icon in the upper right corner, while the star icon in the upper right will add them to favorites. Editing a contact is pretty straightforward; you can add or remove fields as needed, as well as specify the types of phone numbers, email addresses, ringtones, additional fields and even add notes.
VuTalk is also onboard. Once you register your number through the service you will be able to talk and draw at the same time with another friend who has the VuTalk active. It's a nice feature, but this means your other friend should own an LG smartphone as well.
Telephony
The LG G Flex had no trouble holding on to signal (even where signal was poor) and the in-call audio is consistently good and decently loud. It also supports native video calls.
The Dialer is basically a part of the Contacts app and integrates the Call log, Contacts and Favorites, each within its own tab. Again, these tabs are side-swipeable.
The Call log is clever and groups some of the calls, e.g. 3 missed calls from the same contact on the same day. A number next to the contact name shows the number of events. It's a great space saving feature.
Smart Dial is available and works for both numbers and names. Only one matching contact is displayed, but if you tap the down arrow button, the rest show up as well.
During a call you can pop-up the dialer should you need to dial another number. Also you can use the phone while on a call, just hit the menu key and a small green line replaces the notification area and acts like a shortcut back to the call.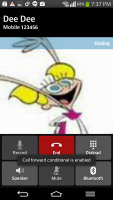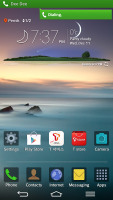 The in-call screen • Call notification
We also ran our traditional loudspeaker test on the LG G Flex, to find out that it has a loud enough speaker for the ringer to be heard even in noisier environments. It scored a Good mark, so missed calls and notifications are unlikely. We still suggest keeping the vibration on though.
| | | | | |
| --- | --- | --- | --- | --- |
| Speakerphone test | Voice, dB | Pink noise/ Music, dB | Ringing phone, dB | Overal score |
| Sony Xperia Z | 60.1 | 58.3 | 61.6 | Below Average |
| LG G2 | 65.7 | 62.2 | 66.2 | Below Average |
| LG Nexus 5 | 65.0 | 64.8 | 65.8 | Below Average |
| Meizu MX3 | 67.1 | 66.5 | 77.7 | Good |
| LG G Flex | 66.6 | 66.6 | 77.9 | Good |
| HTC One | 69.3 | 66.6 | 75.9 | Good |
| HTC One mini | 68.0 | 68.7 | 78.1 | Good |
| Samsung I9505 Galaxy S4 | 70.6 | 66.2 | 77.3 | Good |
| Samsung Galaxy Note 3 | 70.5 | 66.6 | 78.0 | Good |
| LG Nexus 4 | 71.0 | 66.6 | 78.8 | Good |
| Samsung Galaxy S4 Active | 72.7 | 66.6 | 78.1 | Good |
| LG Optimus G | 74.6 | 71.3 | 82.7 | Excellent |
Messaging has everything
The LG G Flex can handle all common message types: SMS, MMS and email. Email capability is excellent with support for Exchange available out of box, and social media buffs will be pleased with the level of SNS integration as well.
A press-and-hold on the text box gives you access to functions such as cut, copy and paste. You are free to paste the copied text across applications like email, notes, chats, etc.
Adding multimedia to a message is pretty straightforward - just hit the attach button next to the text field and select a number of available options, such as images, videos, voice recording, etc.
The Gmail client has the trademark conversation style view and can manage multiple Gmail accounts. Batch operations are supported too, in case you need to handle email messages in bulk. A cool feature in Gmail is that you can swipe left or right to move between messages in your inbox.
The generic email client supports multiple accounts, and operates in much the same fashion as the Gmail one. If you add multiple accounts, then the Combined Inbox feature will come in handy, although there's no conversation-style view like in Gmail.
Google Hangouts is the default app that handles instant messaging (Facebook is preinstalled, but Facebook Messenger isn't). Since its latest update it can also handle SMS and MMS messaging - Google's attempt at unifying all messaging services and while the initial release has some quirks that need ironing, it looks to be a promising platform. If you like it, you can set is as a default app for your SMS messaging too.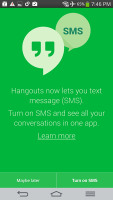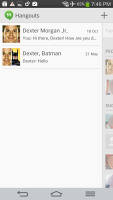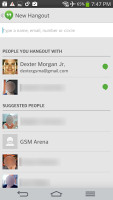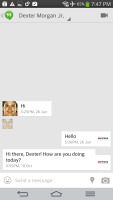 Google Hangouts can handle SMS too
QWERTY, Swype, voice and handwriting
The LG G Flex offers a standard QWERTY keyboard, which features both portrait and landscape typing. The keyboard fills up the screen nicely and offers great ergonomics with ample spacing between keys, still leaving enough room above the keyboard for you to see what you're actually typing.
The level of speed and accuracy are commendable in both portrait and landscape. There's a dedicated setting that enables keypress vibrations.
You can opt for one-hand mode, where the keyboard becomes smaller and sticks to the left or right side of the screen. It's invoked by flicking the portrait keyboard sideways and that way you can use it only with your thumb.
You can also split the landscape keyboard in two by doing a simple pinch gesture on it.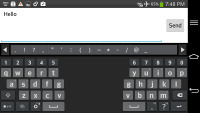 The split keyboard in landscape
There is Swype-like (LG dubbed it Path keyboard) input as well, though it's somewhat uncomfortably out of sight in the Input Language submenu. You need to enable Shape Writer instead of the standard QWERTY layout in the settings.
Mind you, having the Path keyboard option on will conflict with (and effectively disable) the Split and One Hand keyboard options.
Voice input is enabled too, as well as handwriting. Furthermore, since this is a Jelly Bean device there's also support for offline voice typing, as long as you have preinstalled the required language packages. We are really pleased with its speed and accuracy, too.
Mine LG G flex goes off anytime i watch vedio on facebook.whats the prblem?
i feel like god and its realy so good
When this phone came out on market i was very happy to see iand i was the second to use this piece when im on a call people used to stares on me,Thanks to LG,and i have been buying and selling these pieces,but the las one i purchase it has a problem ...