LG G Flex review: Ahead of the curve
Ahead of the curve
GSMArena team, 13 December 2013.
Q Theater is your multimedia hub
The so-called Q Theater is launched by doing a pinch zoom out gesture on your lockscreen, while in landscape orientation. Luckily it has a dedicated shortcut too.
It has very simple interface - an arc with four shortcut panes matching the display's curve - Gallery, Videos, YouTube and TV. The latter options is available only on the Korean LG G Flex, which is DMB-enabled.
The gallery and video explorers also feature arch-interface and they'll follow the screen curve once you start scrolling them. It's really a nice effect.
The gallery display your entire collection of pictures ordered by albums, but with not tags or names. The only available option is slideshow.
The same applies for the video browser too - you get all of your videos, but once you start watching one - you'll get all standard video options - aspect ratio, share, full screen, zoom. It has the same capabilities as the Video app we are going to talk about talk about in a minute.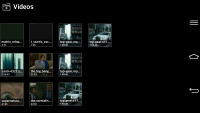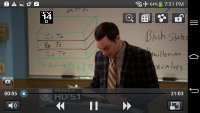 Q Theater embedded video player
The YouTube shortcut launches the Android's YouTube app, while the TV shortcut launches LG's TV app utilizing the DMB TV Tuner.
A familiar gallery plus Google Photos on board
The LG G Flex uses the same gallery app as the Optimus G, G Pro and G2- in effect, a near stock Android gallery with a few custom touches here and there. It automatically locates images and videos no matter where they are stored on the phone. By default, images are sorted by albums, but you can sort by location or time as well.
The different sets are tiled neatly across the screen. You can expand or shrink individual albums using a pinch to zoom gesture, making the elements of the grid of photos either really huge or very tiny.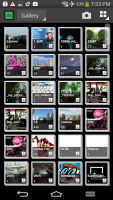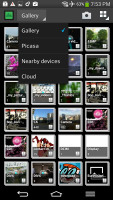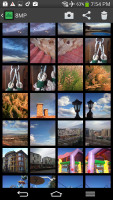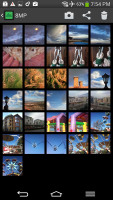 The Gallery can be sorted by albums, location or time
Once selected, you can view an image close up by pinch zooming or double tapping on the desired area. There is a sliding gallery along the bottom which allows you to quickly browse other images in the album. On the top there are three shortcuts for quickly sharing, editing or deleting the selected photo.
The Share feature offers quick sharing via Email, Google+, Picasa, Memo, Hangouts, MMS, SmartShare, VuTalk, Picasa or Bluetooth.
The Gallery app displays images in full resolution. Zooming and panning involves no lag whatsoever on the G2.
You also get the latest version of Google's default Photos app (the default gallery app in Android 4.4 KitKat). Upon opening the app you'll see two tabs - Camera and Highlights.
The Camera is a grid of your photos and videos, three on a line. The very first thumb is marked as Folders and will return you a step back to the old Album view, where you can choose to open a different album. The Gallery will always open the Camera album by default.
The Highlights tab has all of your Picasa and Google+ online photos. The Google Photo automatic upload is integrated in the new Gallery app. If you turn it on, your photos will be automatically uploaded to your Google+ profile, but won't be shared with others unless you do it manually.
Once you open a single photo you'll get three shortcuts below the image - Edit, Share and Delete. That's it. The Editor allows you to crop, rotate or add filters to your photo.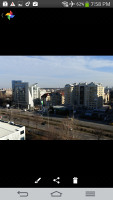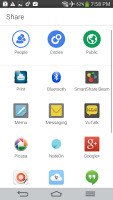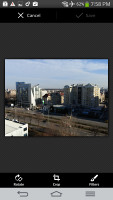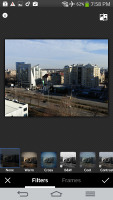 Viewing a single image • Sharing options • Editing an image
The Photos app has a few hidden goodies that we almost missed. There is a hidden navigation menu pane that is revealed with a swipe from the edge of the screen anywhere in the gallery. You can easily switch Google+ accounts from there, go to Albums, Videos, Photos you are tagged in, all Google+ photos or even the deleted photos.
There is also an Auto Awesome section. It is something like a smart gallery that combines similar photos and videos in a cool way - it either exports a collage picture or a motion gif. If you like the combination the gallery has made for you, there is a dedicated shortcut to save the new picture in the gallery. Awesome, indeed!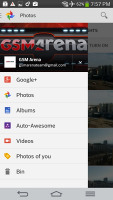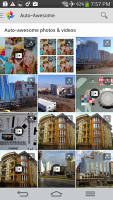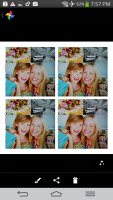 The hidden menu • Auto Awesome pictures
Capable music player
The music player on the LG G Flex also looks much like the one inside the Optimus G, G Pro and G2. The interface is simple, easy to use, but still offers a lot functionality.
The Now playing interface places a big album art image in the center with controls above and below it. Swiping the album art left or right is the easiest way to skip songs back and forth.
A press and hold on the album art will bring up a search menu, if you need to look up the title, artist or the album. After that you can pick where to search - your music collection, YouTube or a general Internet search. Flipping the device to landscape mode while on the Now playing screen squeezes in a list of other songs by the same artist.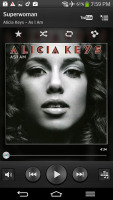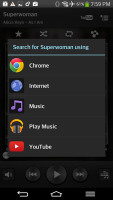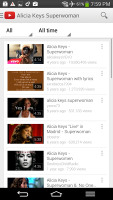 The Now Playing screen • The Search feature
There are equalizer presets and you can even create custom ones.
When you're playing a song it also gets displayed in the notification area, where you can pause and change tracks.
There is no FM radio on the LG G Flex, probably due to the FM-less nature of the Snapdragon 800 chipset.
Excellent video player
The video player on the G Flex has a fairly simple interface, giving you just a grid of all the videos on the device. There's an alphabet scroll to help users locate videos faster but that's about it. You can, of course, play videos from the Gallery if you prefer its folder-centric organization. For each video you've started, the thumbnail gets a tiny clock icon, which shows how far into the video you are.
The interface during playback is nothing overcomplicated, yet it's quite powerful. The live preview feature is here - it's a YouTube-like pop up preview of the video above the scrubber.
To get the basics out of the way, the available controls during playback include a scrubber for jumping to various parts of the video along with the standard play/pause and skip buttons. There's a pop-out button at the bottom right corner too, indicating that the app is part of the QSlide functionality on the Optimus UI. LG have implemented MX Player-like controls too - a swipe left or right will move the video forward or backwards, while a swipe up or down will tweak brightness.
Video Speed control is available (you can set values from 0.5x up to 2x). There's a lock button too, which hides all controls for pure full-screen viewing. Another cool feature in the video player is Live Zooming. You can zoom in (with the familiar pinch gesture) during playback and some serious magnification is allowed, not just a quick resize or fit to screen.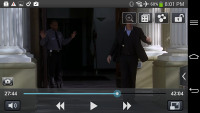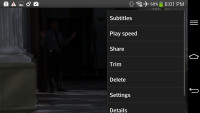 The video player user interface
The LG G Flex handled everything we threw at it - DivX, XviD, MKV and MP4/MOV up to, and including, 1080p resolution. The AC3 audio codec (among lots of others) is supported, so you don't have to worry about the sound. There are were no issues with higher bitrates and file sizes, either.
The video player also supports all popular subtitles formats. You can open subtitles manually in case the subtitle file is not using the same name as the video file. Non-Latin subtitles are supported as well and there are the usual options of choosing the font, color, size, etc.
LG took Samsung's pop-up play feature a whole lot further with QSlide. In the latest Optimus UI iteration, LG has added a new batch of apps that take advantage of the functionality. Those include the web browser, Memo, Voice recorder, Calendar, Calculator and more. Furthermore, you can launch any of them from the notification drawer.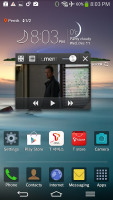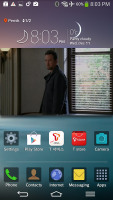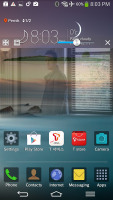 Q Slide lets you watch a video, while using the smartphone
Audio output is amazingly clean but quiet
The LG G Flex did very well in our audio output tests, posting some of the best scores we've seen so far. However it's volume levels were average at best, which prevents us from rating it as the best audio player in business.
The curved phablet aced the first part of our test, posting perfect scores - the stereo crosstalk reading was particularly imrpessive.
There's very little degradation when you plug in a pair of headphones - a tad of extra stereo crosstalk sneaks in, but the reading still remains great. The other aspects of the performance are virtually unaffected.
And here go the results so you can see for yourselves.
| | | | | | | |
| --- | --- | --- | --- | --- | --- | --- |
| Test | Frequency response | Noise level | Dynamic range | THD | IMD + Noise | Stereo crosstalk |
| LG G Flex | +0.02, -0.07 | -98.4 | 98.3 | 0.012 | 0.054 | -83.7 |
| LG G Flex (headphones attached) | +0.12, -0.02 | -91.9 | 92.0 | 0.045 | 0.070 | -66.5 |
| Oppo N1 | +0.14, -0.11 | -93.7 | 93.4 | 0.0036 | 0.076 | -83.7 |
| Oppo N1 (headphones attached) | +0.31, -0.26 | -93.2 | 92.4 | 0.0081 | 0.349 | -55.5 |
| HTC One Max | +0.14, -0.14 | -93.8 | 93.8 | 0.0009 | 0.015 | -94.1 |
| HTC One Max (headphones attached) | +0.26, -0.02 | -93.6 | 93.6 | 0.026 | 0.080 | -80.4 |
| Samsung Galaxy Note 3 | +0.02, -0.07 | -96.5 | 92.8 | 0.0035 | 0.0099 | -96.3 |
| Samsung Galaxy Note 3 (headphones attached) | +0.01, -0.09 | -96.2 | 92.7 | 0.017 | 0.017 | -62.1 |
| LG Optimus G Pro | +0.48, -0.11 | -81.7 | 82.0 | 0.010 | 0.028 | -80.7 |
| LG Optimus G Pro (headphones attached) | +0.31, -0.27 | -81.1 | 81.1 | 0.0097 | 0.052 | -66.2 |
| Sony Xperia Z Ultra | +0.02, -0.08 | -92.5 | 92.5 | 0.0058 | 0.011 | -90.7 |
| Sony Xperia Z Ultra (headphones attached) | +0.48, -0.11 | -87.8 | 87.0 | 0.047 | 0.168 | -51.9 |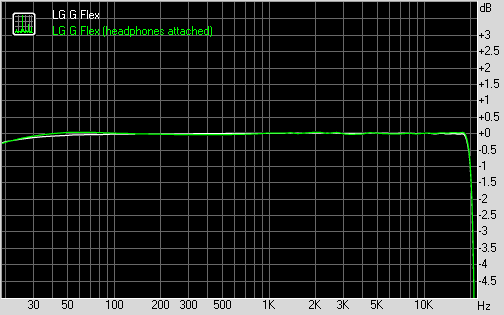 LG G Flex frequency response
You can learn more about the whole testing process here.
Mine LG G flex goes off anytime i watch vedio on facebook.whats the prblem?
i feel like god and its realy so good
When this phone came out on market i was very happy to see iand i was the second to use this piece when im on a call people used to stares on me,Thanks to LG,and i have been buying and selling these pieces,but the las one i purchase it has a problem ...