LG Wing 5G review
GSMArena team, 12 October 2020.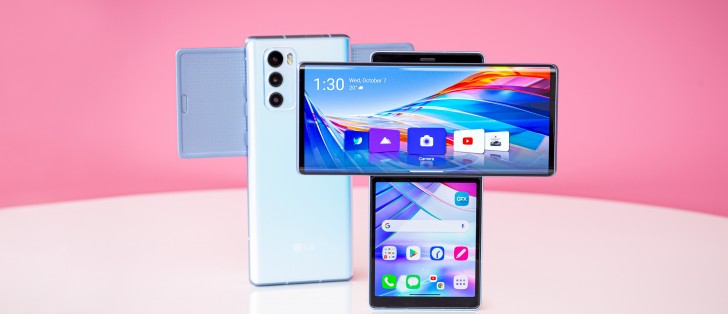 6.8-inch P-OLED display
LG's main screen is P-OLED, which delivers a solid experience even though it's not widely used by other manufacturers. P-OLED provides OLED's core benefits like the awesome blacks, the infinite contrast, the punchy colors, and the potential battery savings.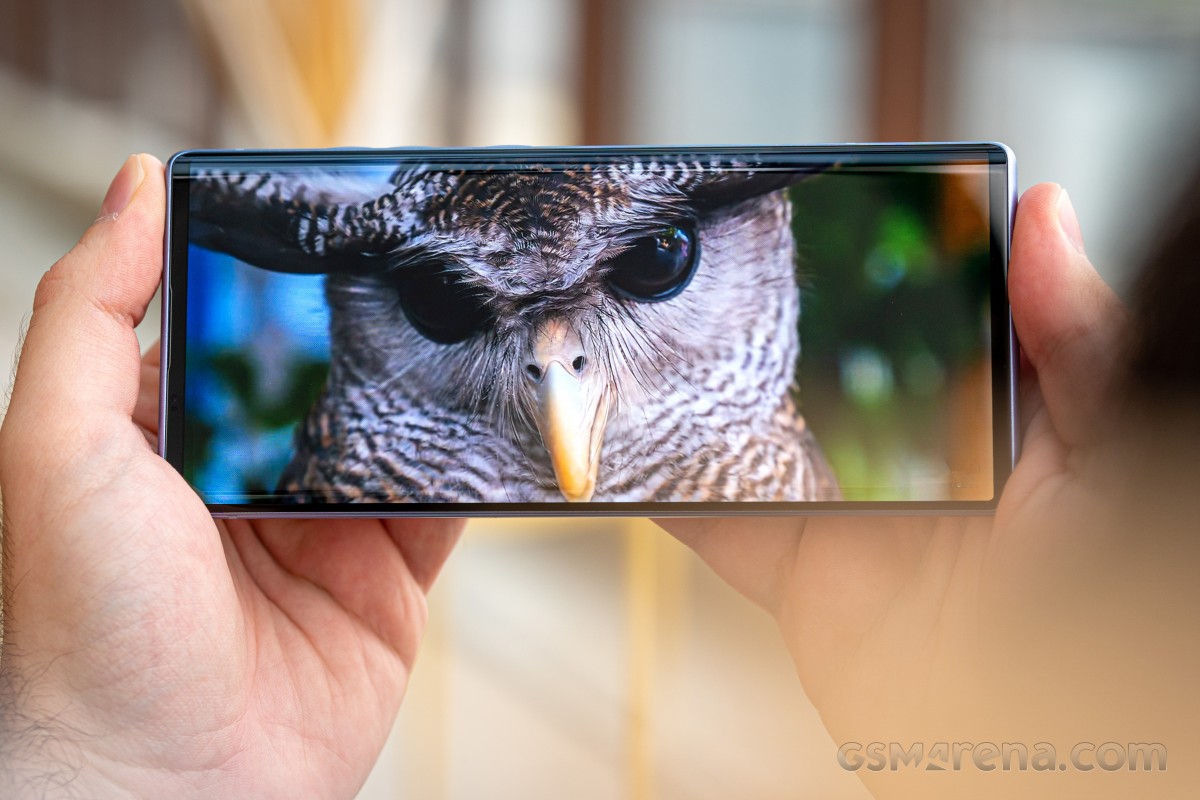 With a 6.8-inch diagonal and a 1080x2460px resolution, the main display on the LG Wing is quite close to the LG Velvet's. The Velvet, however, has a less visually-appealing notch design to accommodate the selfie camera. This makes the Wing's look more stunning and immersive even if it technically has a lower screen-to-body ratio.
Display test
100% brightness
Black,cd/m2
White,cd/m2
Contrast ratio
Oppo Reno4 Pro (Max Auto)
0
843
∞
OnePlus Nord (Max Auto)
0
756
∞
Samsung Galaxy Z Fold2 (cover display, Max Auto)
0
741
∞
Samsung Galaxy Z Fold2 (Max auto)
0
714
∞
Samsung Galaxy Fold (cover) (Max Auto)
0
623
∞
LG Velvet (Max Auto)
0
617
∞
Xiaomi Mi 10 Lite 5G (Max Auto)
0
610
∞
Samsung Galaxy Z Flip (Max Auto)
0
596
∞
Motorola Edge (Max Auto)
0
595
∞
LG Wing 5G (Max Auto)
0
586
∞
Samsung Galaxy Fold (Max Auto)
0.006
557
92833:1
LG V60 ThinQ 5G (Dual Screen)
0
513
∞
Oppo Reno4 Pro
0
508
∞
vivo X50 Pro (Max Auto)
0
503
∞
LG Wing 5G (secondary display, Max auto)
0
498
∞
vivo X50 Pro
0
489
∞
LG Wing 5G
0
485
∞
Samsung Galaxy Z Fold2
0
461
∞
Huawei Mate Xs
0
448
∞
LG Wing 5G (secondary display)
0
446
∞
Xiaomi Mi 10 Lite 5G
0
442
∞
Samsung Galaxy Z Fold2 (cover display)
0
425
∞
Motorola Edge
0
416
∞
Huawei Mate Xs (Unfolded)
0
413
∞
LG Velvet
0
405
∞
Samsung Galaxy Fold (cover)
0
380
∞
Samsung Galaxy Z Flip
0
377
∞
Samsung Galaxy Fold
0.002
370
185000:1
OnePlus Nord
0
323
∞
In terms of actual performance, the main display on the Wing is not chart-topping. LG has decided to handle its brightness a bit oddly on a software level. There is an actual toggle in the display settings that unlocks "extra brightness" on the panel. And no, that does not refer to max auto, since the panel still boosts beyond its manual 100% state with said toggle off. It just means - "give me all the brightness you have". A bit odd, but we'll roll with it. With that enabled, the Wing managed 485 nits at 100% on the slider and 586 nits in Max auto in bright conditions. Definitely usable outdoors, but a far cry from Samsung OLED numbers.
Color accuracy is also adequate, but not really impressive overall. You get to choose between three color mode toggles - Natural, Cinema, and Vivid. On top of that, there is also a color temperature adjustment slider available in Natural mode and a Custom mode, with a white point adjustment option, RGB channels, and saturation, hue, and sharpness. Despite its depth, the setup only offers slight control and wasn't versatile enough for us to get a properly color-accurate result out of the Wing.
The best result we got was an average deltaE 2000 of 4.1 and a maximum of 7.4 in Natural mode. This was done by comparing against the DCI-P3 color space, as we typically do. Switching over to an sRGB palette didn't yield any difference in either Natural or Cinema mode. That is to say, the colors themselves ended up differently offset, but still mostly the same deltaE 2000 deviations from color-accurate ones.
In more practical terms, the Wing seems to have a noticeably bluish, cold tint across its entire UI. If you want to get more balanced colors out of it, you should either go for the Natural mode or leave in on Vivid for that "punchy" OLED look and learn to live with it.
One thing worth mentioning is that the LG Wing lacks any official HDR support. No HDR10 or Dolby Vision, which is unfortunate. To be clear, the phone can accept and decode HDR video streams, but its display can't visualize the extra data. There is proper Widevine L1 certification, so things like Amazon Video and Netflix will stream at a higher resolution.
Secondary 3.9-inch display
The secondary display on the LG Wing is nothing short of a curiosity. It has a diagonal of 3.9 inches and a resolution of 1080 x 1240 pixels. That means that while it looks quite square in person, it is actually not. Rather, it has a weird aspect ratio, that works out to about 27 : 31.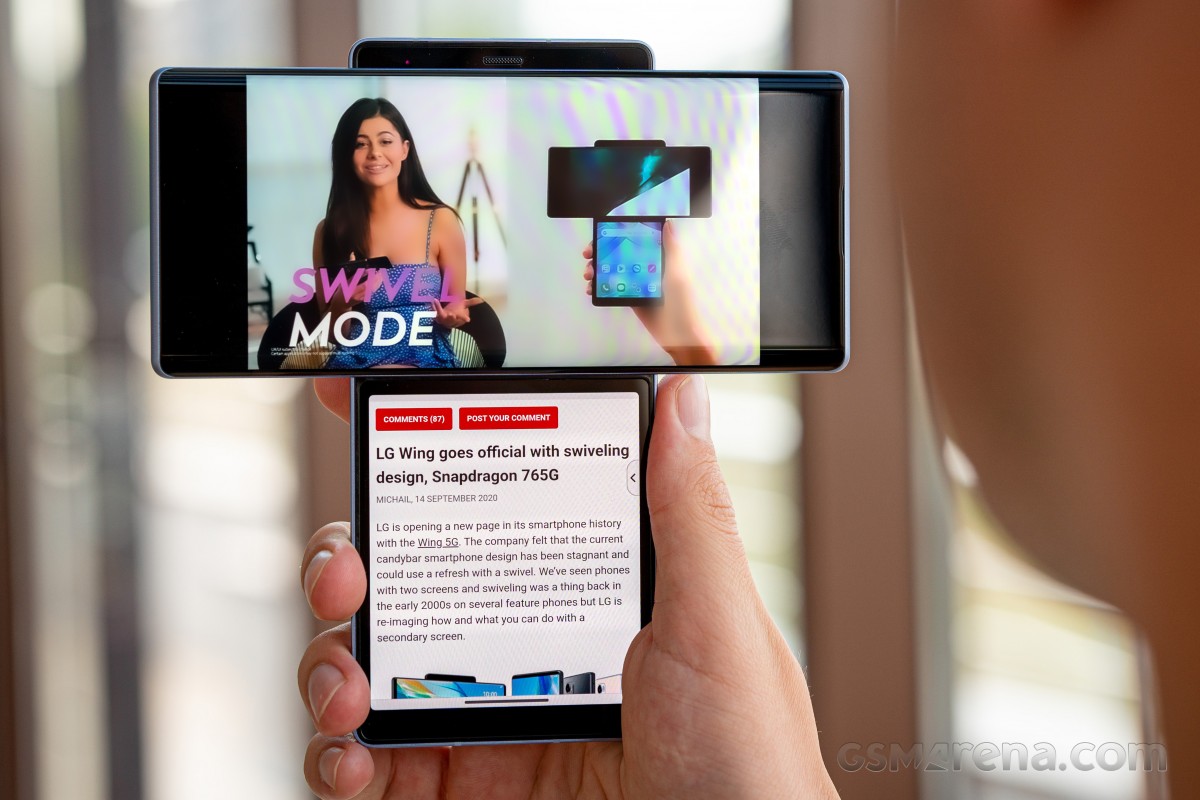 This detail might be more significant than it appears on the surface. LG doesn't limit the user in terms of what to show on this secondary display. Sure, some soft limitations in the form of apps enabled by default, and LG clearly envisions most users having a keyboard there, or, ideally, one of the few officially supported dual display interface apps and games. We'll get more into that in the software section.
However, nothing is preventing you from opening anything on said display, and most apps will work, with very few outliers that actually crash or refuse to function properly. However, this versatility in such an odd size and form factor does have its downsides. Notably, many things not optimized for the particular resolution tend to look a bit blurry on the second display. With 'blurry' meaning 'less sharp', despite the higher pixel density.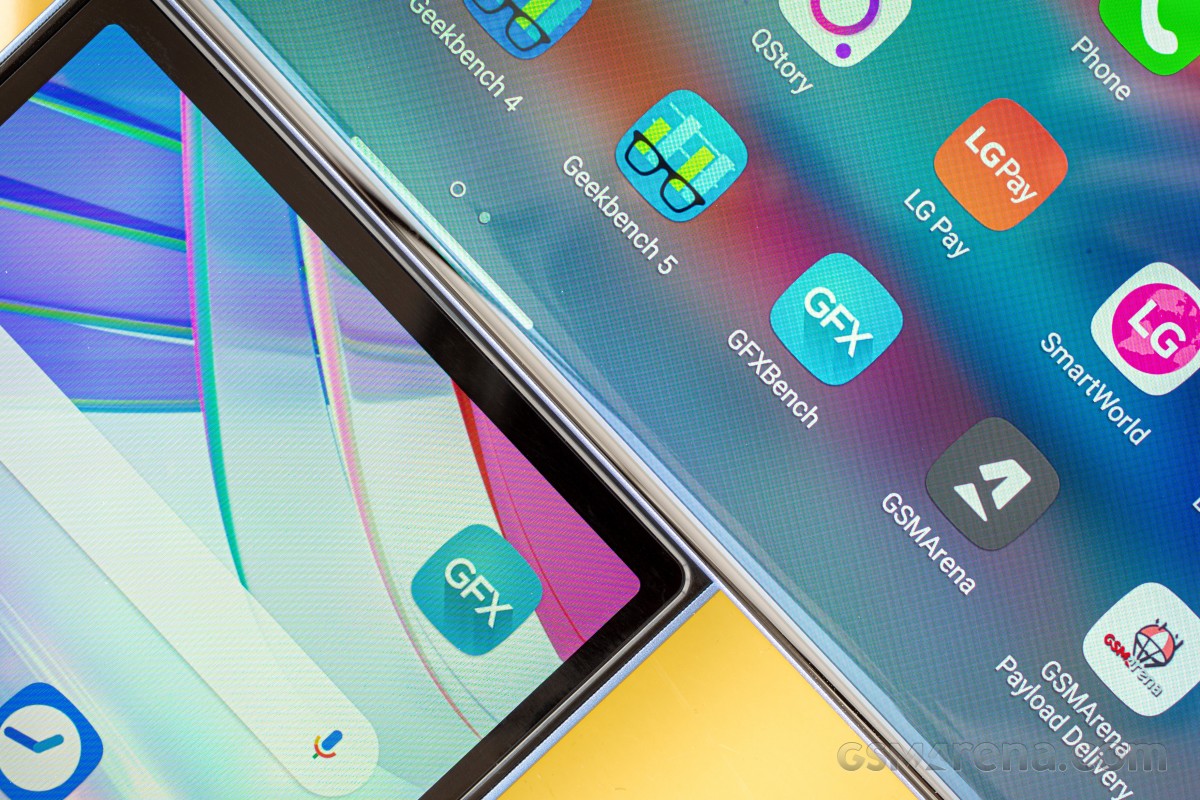 This includes some text elements and the majority of rasterized components, like images. Our best guess is that this has something to do with how the OS handles scaling. You can read more about it here, if you are interested. And, to be fair, the amount of added blur is not significant enough to be a dealbreaker. In fact, many users might not even notice it.
Just like its bigger counterpart, the smaller screen also uses OLED technology. One distinction is that it is a G-OLED panel, instead of a P-OLED. The former is not a widespread marketing term and theoretically denotes that it uses glass instead of a plastic substrate. That, in itself, is not enough information to actually discuss any practical distinctions between the two. Nor is it a solid indication of the presence or absence of an extra protective payer on top of any of the displays. In fact, LG hasn't shared any official data on that front, which is not ideal.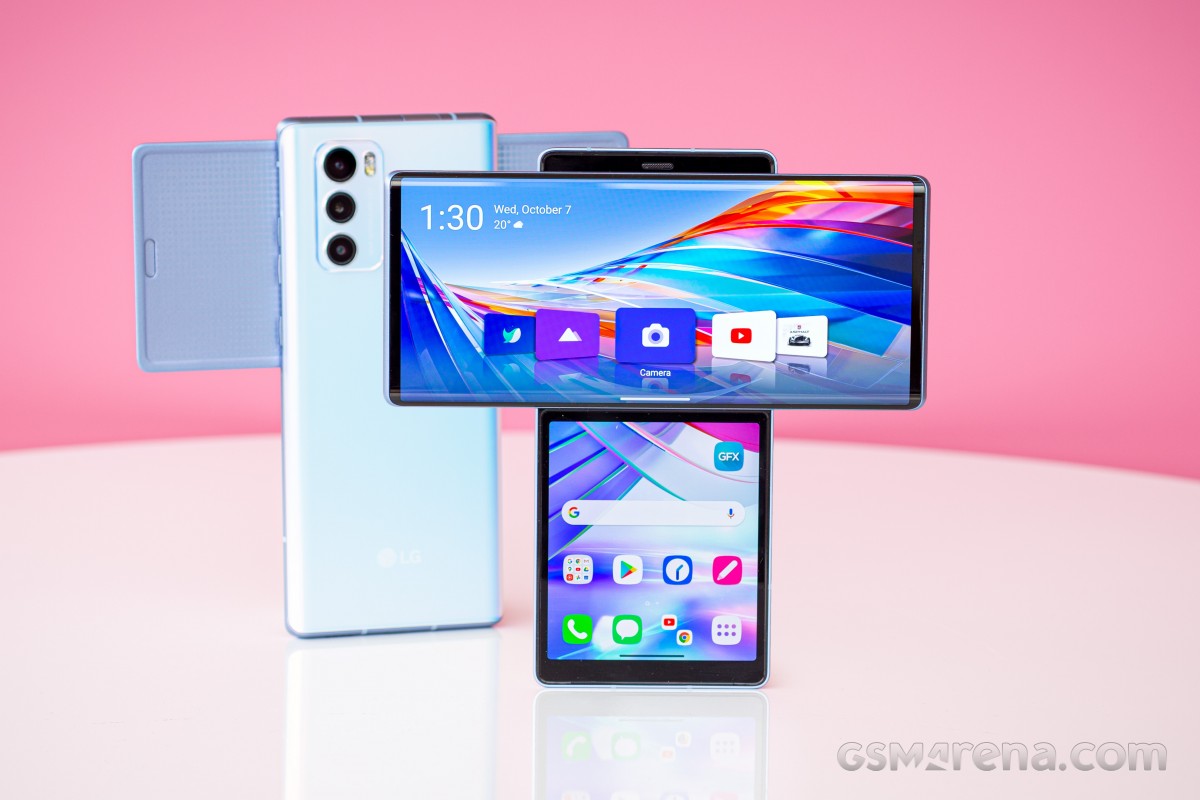 In terms of brightness, contrast, and colors, the Wing's secondary display surprisingly comes quite close to its bigger counterpart. Extra points for LG there, since that is hard to pull off. You can see both the regular and Max auto figures in the table above - 446 nits and 498 nits, respectively. They are not impressive on their own, but it is actually quite a decent showing given the panel's specific nature.
Mind you, these numbers were also achieved with the extra brightness toggle on. It seems to affect both panels' brightness cap, which makes sense, especially since the default behavior of LG's brightness controls - both manual and automatic, is to apply the settings to both panels simultaneously. You can decouple the two and adjust them separately, as well.
The secondary display is notably missing the full set of color modes. You still get to choose between a color profile that matches the one on the main panel, as close as possible, or a Custom option. The latter features the same in-depth control over RGB channels, as well as saturation, hue, and sharpness. However, just like on the main display, these don't have enough of an effect to properly calibrate the small display. It managed an average deltaE 2000 of 4 and a maximum of 8.2, which is not far-off from the main panel. Again, far from color-accurate, but much more forgivable given the circumstances.
Battery life
The LG Wing is equipped with a 4,000 mAh battery. Not an incredibly impressive number in 2020, but still decent.
With an OLED main display and a pretty power-efficient 7nm Snapdragon 765G with a built-in modem, the Wing has plenty of prerequisites to make great use of that battery. With an overall endurance rating of 87 hours in our proprietary test, we can't say we are overly impressed, but it is a decent score.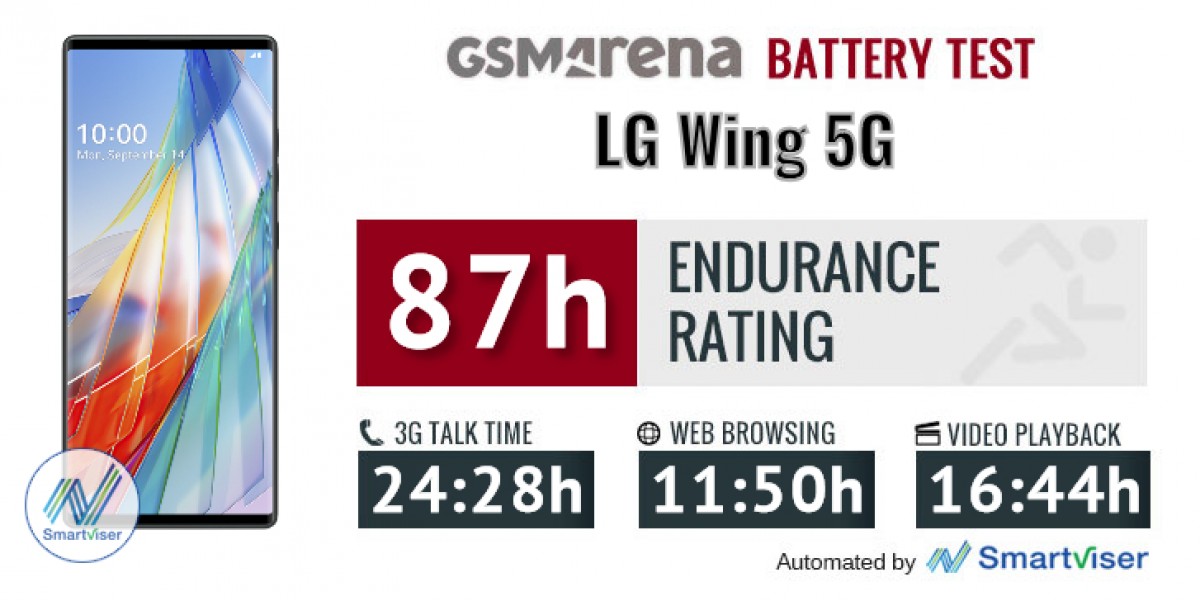 Our battery tests were automated thanks to SmartViser, using its viSer App. The endurance rating above denotes how long a single battery charge will last you if you use the LG Wing for an hour each of telephony, web browsing, and video playback daily. We've established this usage pattern so that our battery results are comparable across devices in the most common day-to-day tasks. The battery testing procedure is described in detail in case you're interested in the nitty-gritty. You can check out our complete battery test table, where you can see how all of the smartphones we've tested will compare under your own typical use.
A comparison with the LG Velvet, which we recently reviewed, instantly comes to mind here. It has a slightly bigger battery than the Wing but was also suffering a bit in the standby department, posting a slightly lower shore than what we would expect from the Snapdragon 765G. We are happy to report that this is not the case with our Wing review unit, which is much more in-line with other Snapdragon 765G phones in this regard.
Other than that, we see some excellent 3G talk time numbers and equally solid on-screen ones. Of course, this is without involving the secondary display on the Wing. We don't really have a standardized protocol for testing such a dual display setup. It is one thing just having the secondary display on, displaying a static image, and a whole different thing actually having it do something, like browsing the web.
Adding a browser on the bottom screen to our standard offline video test, running on the main one resulted in about 11 hours of usage from a single charge - quite a bit of a downgrade from the nearly 17 hours of video playback on just the main display. But also, about what we expected.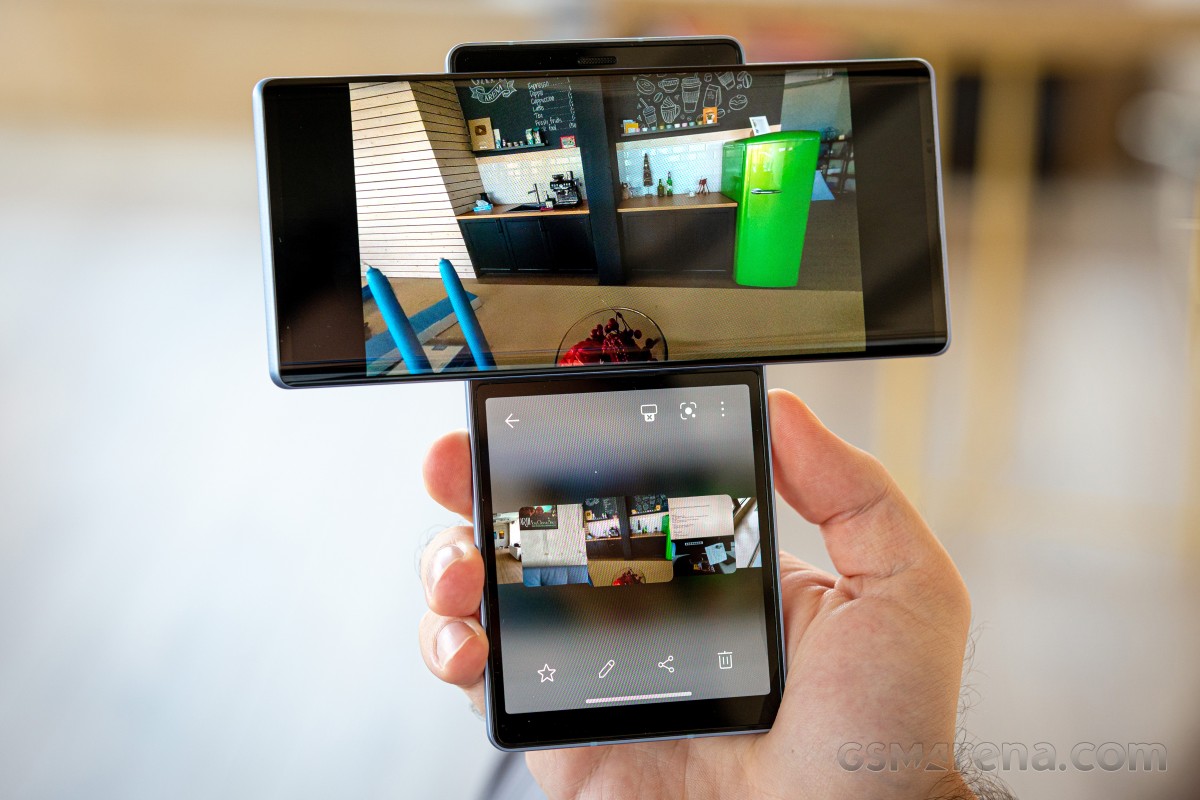 Charging
Charging is a lot less similar between the Wing and the Velvet, with the latter shipping with a 16W PD brick and promising up to 25W on PD, while the Wing has a proper 25W adapter in the box, but one that works on the QuickCharge 4+ standard instead. That makes it a lot more similar to the LG V60 ThinQ 5G instead.
30min charging test (from 0%)
Xiaomi Mi 10 Pro 5G
77%
vivo iQOO 3 5G
76%
OnePlus 8
69%
Galaxy S10 Lite
63%
Galaxy S20+
62%
Galaxy S20 FE (25W)
57%
Asus Zenfone 7 Pro
56%
Sony Xperia 5 II
45%
Galaxy Note20 Ultra 5G
43%
LG Wing 5G (25W bundled)
39%
Galaxy S20 FE (15W bundled)
37%
Time to full charge (from 0%)
vivo iQOO 3 5G
0:50h
Xiaomi Mi 10 Pro 5G
0:50h
OnePlus 8
0:53h
Galaxy S20+
0:57h
Galaxy S10 Lite
1:02h
Galaxy S20 FE (25W)
1:10h
Galaxy Note20 Ultra 5G
1:23h
Asus Zenfone 7 Pro
1:32h
Galaxy S20 FE (15W bundled)
1:35h
LG Wing 5G (25W bundled)
1:40h
Sony Xperia 5 II
1:49h
The Wing is not the speediest phone to charge to 100% by any stretch of the imagination. Its bundled charger can get it from 0% to around 39% in half an hour, with a full charge taking just over 1:40 hours. Not too shabby, even if just a bit faster than the Velvet. Overall, LG seems to have gone for a more relaxed and conservative charging curve once again. There's no shame in that since it is probably better for the battery's long-term health anyway.
The Wing also includes 13W wireless charging support. Again, just a bit faster than what the Velvet has at 10W.
Loudspeaker test
The LG Wing only has a single bottom-firing speaker at its disposal. Not only is it not backed-up by any hybrid setup from the earpiece, but it also finds itself in an unfavorable position for multimedia consumption on an unfolded Wing. It seems like there was simply not enough room to put speakers on the swiveling part, besides the main display, which would have been the ideal setup.
In terms of performance, the Wing only managed a Below average loudness score. The speaker doesn't sound incredibly impressive, either. Mids come out fairly nice, but voices tend to get muddied. Highs are a bit "screechy" and not really crisp. You can, at least somewhat, address some of these problems through the included equalizer.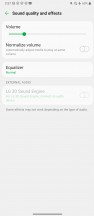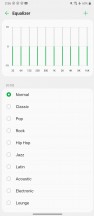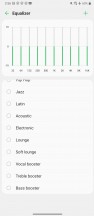 Equalizer and LG 3D sound engine
There is also the LG 3D sound engine, but that does not apply to the built-in speaker.
Use the Playback controls to listen to the phone sample recordings (best use headphones). We measure the average loudness of the speakers in LUFS. A lower absolute value means a louder sound. A look at the frequency response chart will tell you how far off the ideal "0db" flat line is the reproduction of the bass, treble, and mid frequencies. You can add more phones to compare how they differ. The scores and ratings are not comparable with our older loudspeaker test. Learn more about how we test here.
Audio output quality
We've recently discontinued our audio output quality test.
The reason for that is that most phones that arrived for testing were already excellent in this regard. Whatever difference there was, it was marginal and probably indistinguishable to anything but our lab equipment.
Because the company shut down a long ago.
Joseph Weindl
16 Apr 2023
k%n
How do I find Hunger Games music on FM radio? How do I get to listen to ads that are actually funny on Spofify instead of the boring lawyer ads on FM radio? See why FM is inferior? Unless you tell me how to find The Dark Knight and Hunger Games music...
Anonymous
11 Apr 2023
gqb
Just because there are better online streaming technology out there doesn't make FM Radio redudant or irrelevant. For people who don't have enough coverage to go online, old tech like FM Radio is still relevant and makes a lot of sense.