Motorola Atrix 4G review: Enter the Atrix
Enter the Atrix
GSMArena team, 15 April 2011.
Phonebook has socializing in its blood
The Motorola Atrix 4G phonebook can store practically unlimited amount of numbers and contacts plus you can store various details about individual contacts.
You can also integrate your contacts with Facebook and check their status updates directly from the phonebook. This is great, but MOTOBLUR doesn't exactly pioneer it, as it can be found on devices like the HTC Desire and the Samsung Galaxy S, so it's really nothing new though it's a nice to have it.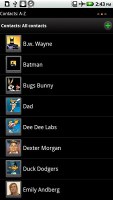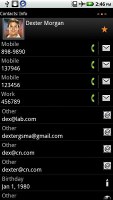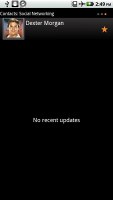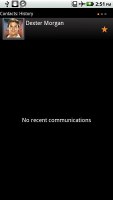 The Phonebook • Social network integration in the Phonebook
You can add new phonebook fields besides the preset ones. There's no limit to the fields you can add to a contact.
When viewing the contact list, you can swipe left to reveal the History – a list of all recent communications with all contacts. Alternatively, a right swipe displays all recent status updates from all contacts.
This swipe magic is available when viewing individual contacts too – in this case, only history and status updates for that contact are displayed.
For this to work, you have to link the contact with their Facebook, Twitter, MOTOBLUR address book or Gmail accounts. This gets done in a second – tap the menu key, Link contact and pick the appropriate account (those are pulled automatically from the services you're logged on to).
The phonebook shows MOTOBLUR at its best – blurring the distinction between "local" and "online" and putting all the info from all the sources at your fingertips.
Telephony has Smart dialing
The Motorola Atrix 4G had no problems with holding on to a signal. And we didn't have any reception issues while in a call.
The Atrix 4G features the CrystalTalk technology. It makes use of a secondary microphone on the back of the phone to clear any background noise and a primary one to focus on your voice. In practice it works great. You can set the noise suppression to be normal, high or low.
We had some issues with the earpiece of the Atrix 4G. When you dial up the earpiece volume to maximum it would make crackling sounds. It was very annoying and we had to lower the call volume by 2-3 points.
The Smart dialing feature comes with the Atrix 4G, which is great as it spares you the time to go into your phonebook to find a contact or going to the specific contact widget.
Voice commands are here too, just like with the tougher DEFY. They can be used to dial, send message and so on, but aren't the best around.
The Atrix 4G lacks the turn-to-mute a call function of the DEFY but has the tap-to-snooze the alarm function.
We ran our traditional loudspeaker test on the Motorola Atrix 4G. The handset rated as Good, so it stands right in the middle in terms of loudness. You shouldn''t have issues hearing it it even in louder environments.
| | | | | |
| --- | --- | --- | --- | --- |
| Speakerphone test | Voice, dB | Pink noise/ Music, dB | Ringing phone, dB | Overall score |
| Samsung I9000 Galaxy S | 66.6 | 65.9 | 66.6 | Below Average |
| LG Optimus 2X | 65.7 | 60.0 | 67.7 | Below Average |
| Motorola MILESTONE 2 | 66.5 | 63.6 | 74.9 | Average |
| HTC Incredible S | 66.5 | 66.1 | 76.7 | Good |
| Motorola Atrix | 73.2 | 65.1 | 77.8 | Good |
| HTC Desire HD | 69.7 | 66.6 | 78.3 | Good |
| Nokia N8 | 75.8 | 66.2 | 82.7 | Very Good |
| HTC Gratia | 73.2 | 73.6 | 83.5 | Excellent |