Motorola Edge 20 review
GSMArena Team, 11 Sept 2021.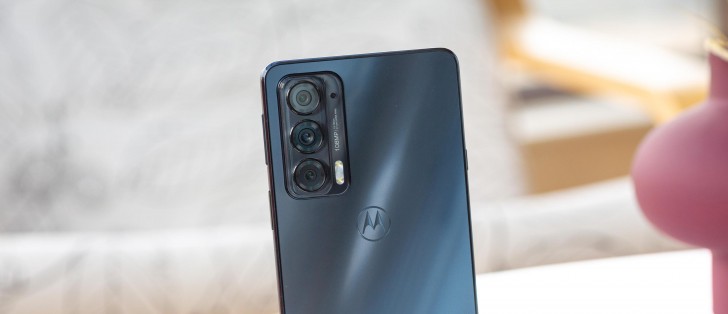 Large 144Hz OLED
The 6.7-inch OLED display is without a doubt the showstopper of the Motorola Edge 20. It's a premium panel with 10-bit color support, HDR10+ capabilities, 144Hz refresh rate and (reportedly) 576Hz touch sampling rate. The only mainstream feature on this screen is its extended 1080p resolution.
The panel has a small punch-hole around the top, and it's covered by a Gorilla Glass 3 sheet.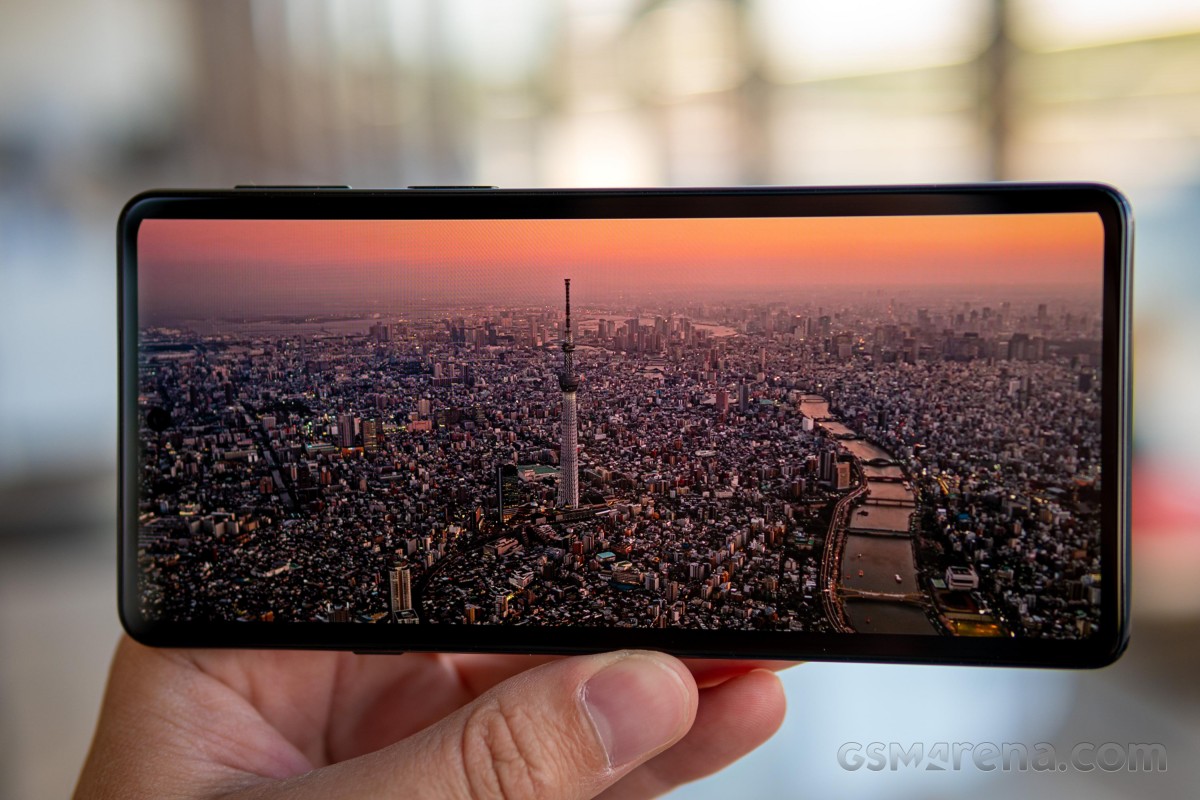 The 10-bit color support for the OLED screen means it can display up to 1 billion colors - that's still a rarity as most screens max out at 16 million. There is also HDR10 and HDR10+ support, as well as Widevine L1 DRM.
For now, only YouTube plays HDR10, Netflix does SDR 1080p, while Prime is limited to 480p. This seems to be down to a compatibility issue, and we hope Motorola and the streaming services sort this out quickly.
The Edge 20 display supports up to 144Hz refresh rate. This option is static, though there is a dynamic 120Hz setting in addition to the standard 60Hz option.
The touch panel is sensing with a 576Hz sampling rate, making for unbelievably low touch lag and excellent responsiveness when it comes to gaming.
Naturally, the screen has wide-gamut color support and fully covers DCI-P3 space.
And now, here come our findings of the Edge 20 display.
Our measurements show the screen maxes out at 466 nits when brightness is adjusted manually. If you enable Adaptive Brightness and the Edge 20 is exposed to bright light, its screen can go as high as 650 nits. These are some good numbers of an OLED, and you will have no problem seeing it even on the brightest of days.
The display should be capable of even higher peak brightness when showing HDR conten.
The minimum brightness we measured at point white is a mere 1.8 nit!
Display test
100% brightness
Black,cd/m2
White,cd/m2
Contrast ratio
Motorola Moto Edge 20
0
466
∞
Motorola Moto Edge 20 (Max Auto)
0
650
∞
Motorola Edge
0
416
∞
Motorola Edge (Max Auto)
0
595
∞
Motorola Moto G100
0.349
498
1427:1
Motorola Moto G100 (Max Auto)
0.434
613
1412:1
Samsung Galaxy A52 5G
0
378
∞
Samsung Galaxy A52 5G (Max Auto)
0
787
∞
Samsung Galaxy A72
0
396
∞
Samsung Galaxy A72 (Max Auto)
0
825
∞
Realme GT 5G
0
443
∞
Realme GT 5G (Max Auto)
0
650
∞
Realme GT Explorer Master
0
504
∞
Realme GT Explorer Master (Max Auto)
0
805
∞
Poco F3
0
511
∞
Poco F3 (Max Auto)
0
716
∞
Poco X3 Pro
0.327
458
1401:1
Poco X3 Pro (Max Auto)
0.4
534
1335:1
nubia Red Magic 6R
0
439
∞
nubia Red Magic 6R (Max Auto)
0
588
∞
The screen is tuned to comply with the DCI-P3 (Saturated mode) or sRGB (Natural mode) color spaces. The accuracy is good for the Saturated profile - the colors are not too saturated, but the white and gray hues are a bit bluish. You can fix that by using the Warmer setting on the Color Temperature bar. The Natural profile has superb accuracy to sRGB with an average deltaE of 2.
Now, let's talk about the refresh rate. The display offers a choice of Auto, 60Hz, and 144Hz refresh rates. Only the Auto mode is adaptive - it can switch between 48Hz, 60Hz, 90Hz and 120 Hz.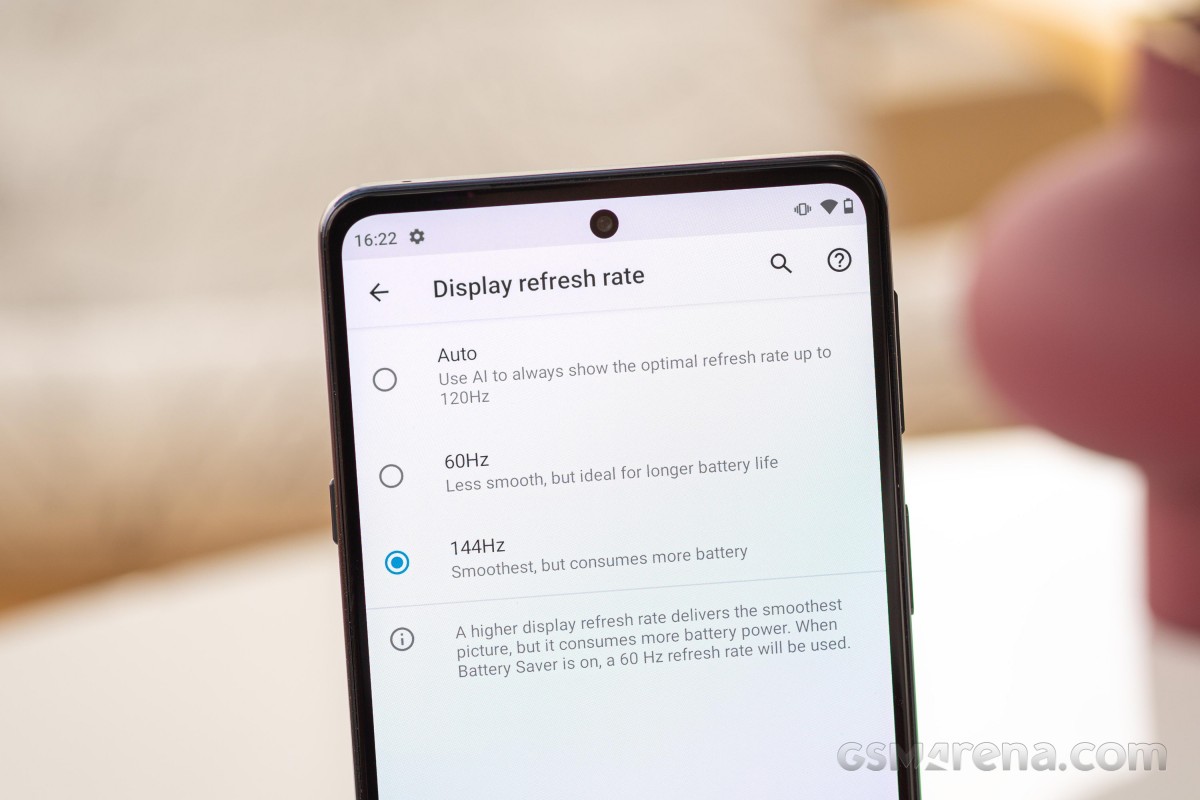 Opting for either 60Hz or 144Hz will always display content at that setting except for the Peek Display - it is always shown at 48Hz no matter what. High refresh rate gaming is possible, just make sure you enable High Performance from the Game Sidebar and restart the app.
The Auto mode maxes out at 120Hz, and it dynamically switches between 48Hz, 60Hz, 90Hz and 120Hz. The Peek Display was the only thing we saw using 48Hz. Static images and video playback/streaming always revert to 60Hz, while various HRR-compatible games and apps can use 90Hz or 120Hz.
The HRR handling is not ideal, but we've seen far worse, so we'd take it. The Auto mode seems to be working as expected, we only wish for the 144Hz to have been included in it, too.
Battery life
The Motorola Edge 20 is powered by a 4,000 mAh battery. It has a slightly smaller battery and a larger screen than the Realme GT Master, which uses the same Snapdragon 778G chipset.
The Edge 20 scored an 86h endurance rating on our battery life test - an uninspiring number, crippled by mediocre standby and so-so web time. The Motorola Edge 20 can last over a day in 3G calls; you can browse for about 11 hours or watch videos for 18 hours.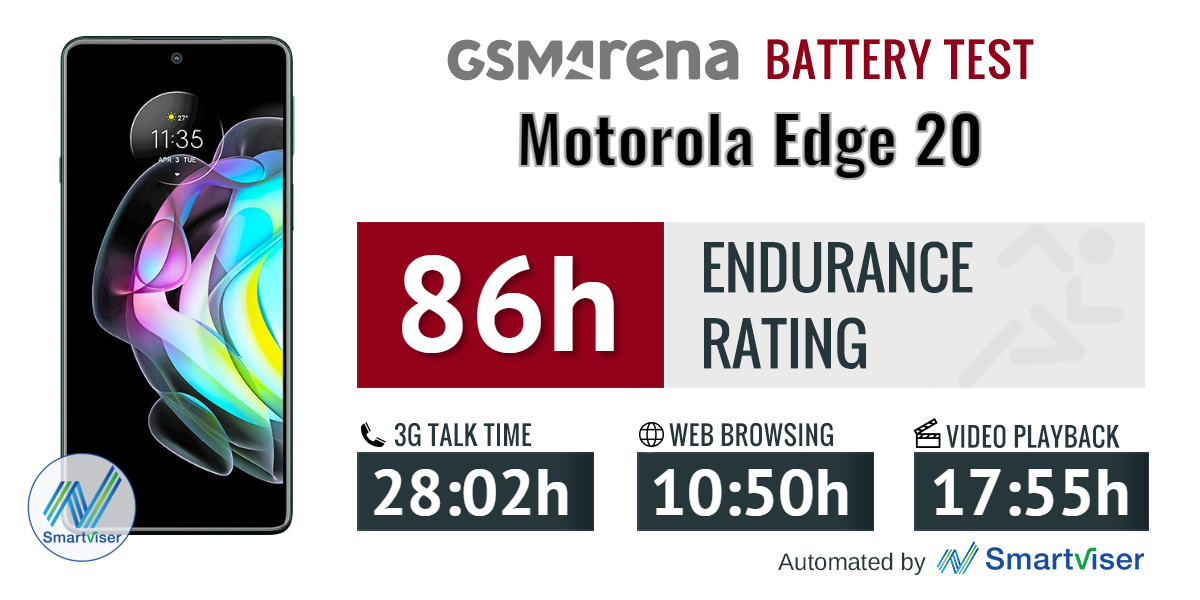 The web test was done at the highest refresh rate option, as usual. Opting for Auto refresh rate (which used 60Hz for the most part) yields just 40 more minutes, up to 11 hours and 30 mins. That's quite an insignificant difference.
Our battery tests were automated thanks to SmartViser, using its viSerDevice app. The endurance rating denotes how long the battery charge will last you if you use the device for an hour of telephony, web browsing, and video playback daily. More details can be found here.
Video test carried out in 60Hz refresh rate mode. Web browsing test done at the display's highest refresh rate whenever possible. Refer to the respective reviews for specifics. To adjust the endurance rating formula to match your own usage - check out our all-time battery test results chart.
Charging speed
The Motorola Edge 20 ships with a 30W adapter and a 3A-rated USB-C-to-C cable inside the box. The charger supports USB PD, so it can fast charge other compatible devices, too.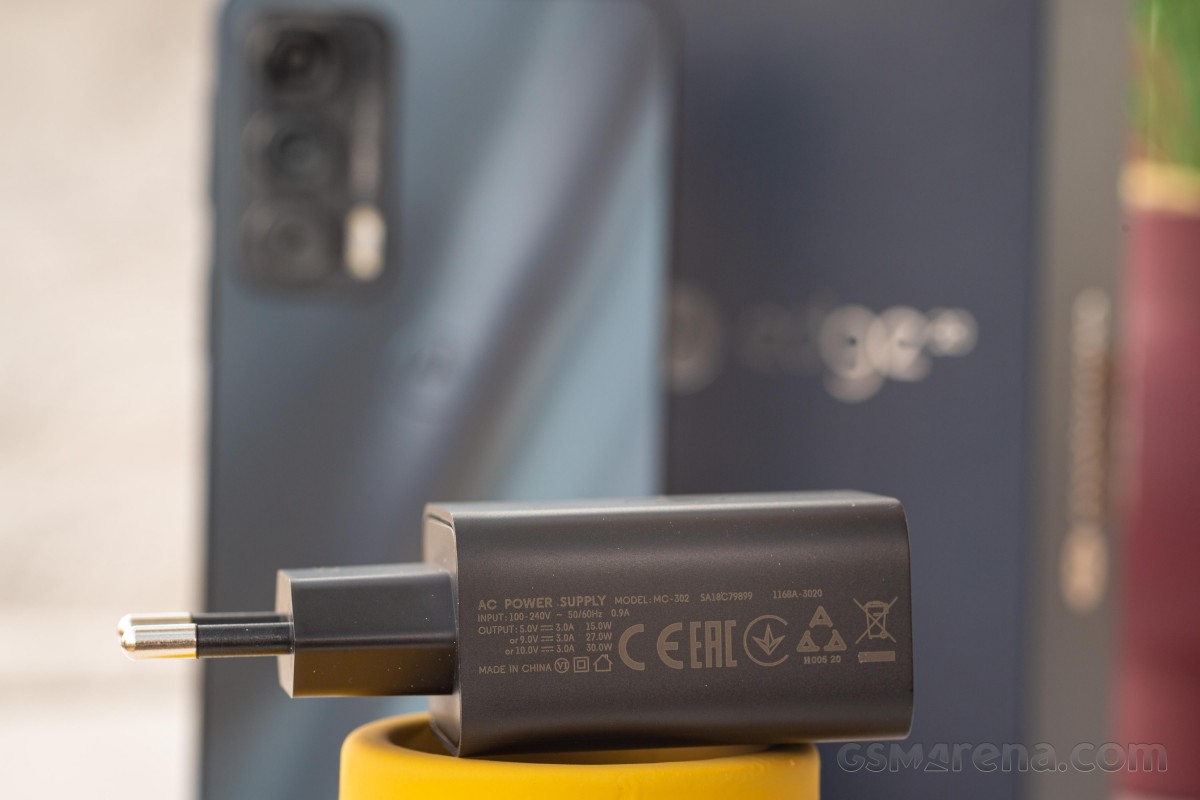 The phone goes from flat to 68% in half an hour when hooked on this 30W TurboPower charger. Another 10 minutes and 86% of the battery is full. That's plenty fast!
30min charging test (from 0%)
Higher is better
Realme GT Master
100%
OnePlus Nord 2
98%
Realme GT Explorer Master
96%
Realme 8 Pro
88%
Realme GT 5G (65W)
87%
Poco X3 GT
75%
Motorola Edge 20
68%
Samsung Galaxy A52 (25W)
52%
Poco X3 Pro
50%
Motorola Edge
37%
Motorola Moto G100
37%
Samsung Galaxy A52
34%
Samsung Galaxy A52 5G
34%
A full charge takes 1 hour, and we'd say that's pretty solid, too. The phone recharges slowly after 90%. It takes 42 mins to reach 90% and about 20 mins to get the last 10%.
Time to full charge (from 0%)
Lower is better
Realme GT Master
0:30h
OnePlus Nord 2
0:31h
Realme GT Explorer Master
0:33h
Realme 8 Pro
0:38h
Realme GT 5G (65W)
0:39h
Poco X3 GT
0:48h
Motorola Edge 20
1:01h
Poco X3 Pro
1:08h
Samsung Galaxy A52 (25W)
1:30h
Samsung Galaxy A52 5G
1:39h
Motorola Moto G100
1:54h
Samsung Galaxy A52
2:03h
Motorola Edge
2:32h
The Edge 20 does not support wireless charging. There is no reverse charging option either.
Speaker
The Motorola Edge 20 has one bottom-firing speaker, unlike the original Motorola Edge, which had a stereo setup. It scored an average score in our loudness test, and it sure isn't among the loudest we've heard.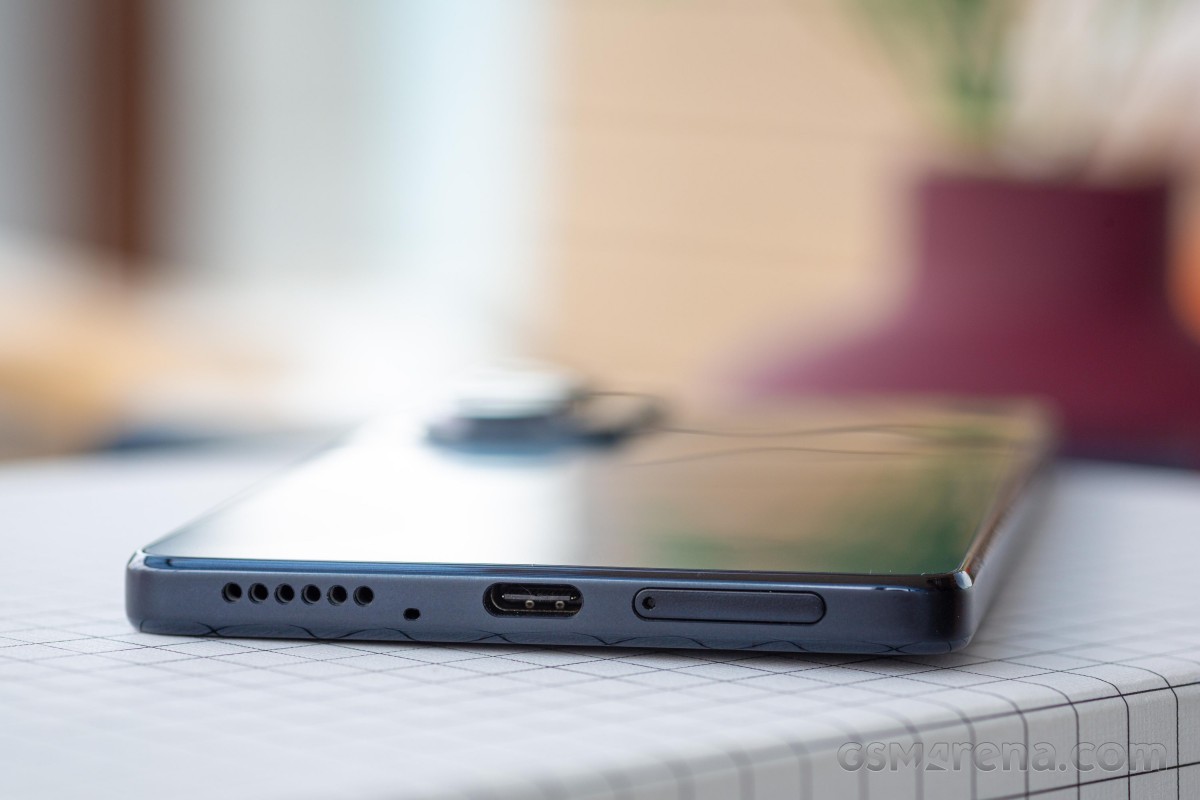 The audio quality is notably good, though. We can hear the bass and well-presented high-pitched tones. The mid-tones are a bit muted, and so they could have been better, but even as is - the Edge 20 sounds better than most of the phones we've picked for our tool below.
Use the Playback controls to listen to the phone sample recordings (best use headphones). We measure the average loudness of the speakers in LUFS. A lower absolute value means a louder sound. A look at the frequency response chart will tell you how far off the ideal "0db" flat line is the reproduction of the bass, treble, and mid frequencies. You can add more phones to compare how they differ. The scores and ratings are not comparable with our older loudspeaker test. Learn more about how we test here.
Shiva Kiran
17 Sep 2023
dUm
I have received the Android 13 update in UK
Anonymous
14 Sep 2023
3LH
I've received update just now
I am abdulmanan
14 Aug 2023
mGu
Please give me information when Motorola edge 20 received android 13 update