Motorola Moto G100 review
GSMArena Team, 31 March 2021.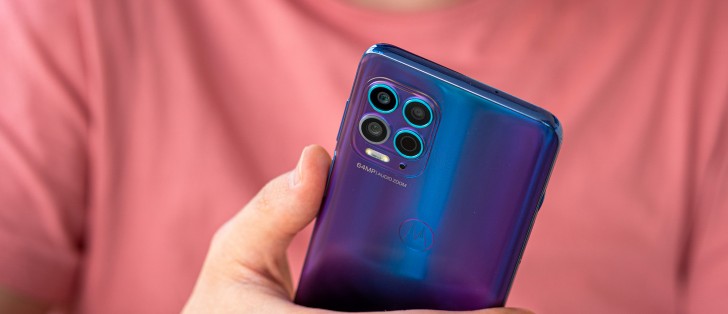 Looks like AOSP Android 11, has a bunch of Moto mods
The Moto G100 follows Motorola's principle for offering a stock Android look, but with a fair share of in-house features on top. The latest addition is the 'Ready For' functionality which deserves its own section further below.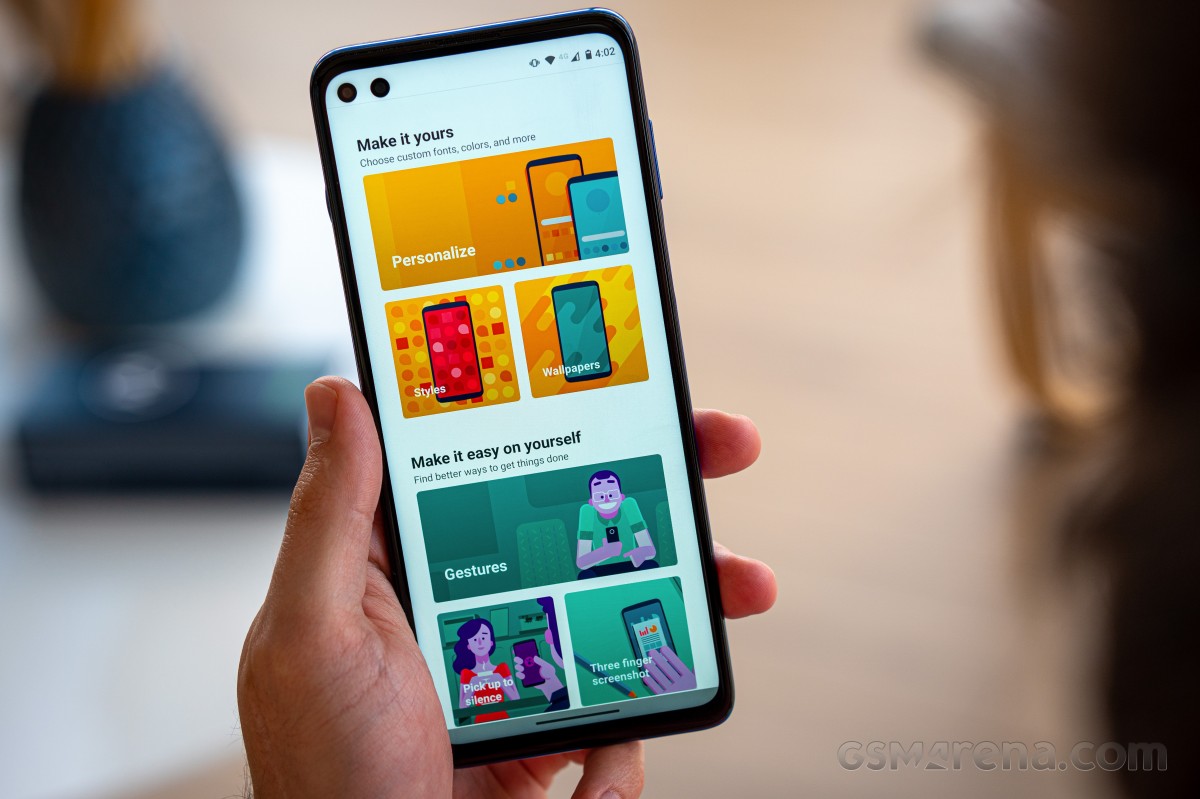 The majority of the proprietary features are arranged in the Moto app. The first category is personalization allowing you to choose the icon shapes, the quick toggles appearance, the accent colors and the font. There is also a wide selection of wallpapers, the same ones you'd find in the Google Wallpapers app, plus some Moto-specific interactive ones.
Then come the gestures. The karate chop motion that turns on and off the flashlight is here, along with the twisting motion that launches the camera app. Both work even when the device is locked. The lift-to-unlock gesture works well with the face unlock as it unlocks the device as soon as you pick it up and look at the screen. A new addition is the swipe-to-split function that triggers the split-screen functionality.
A new one we don't remember seeing before is the Power touch. When you double-tap the power button, a shortcut menu appears where you can arrange apps, tools and even contacts for quick access.
The display-related features are Peek Display and Attentive Display. The former works as a second-best alternative to the Always-on display but with some added functionality. The screen lights up when it detects motion that's close to the phone or when you pick it up. Once you've received some kind of notification, you can tap on it and see the message itself and even interact with it from the lock screen. As for the Attentive Display, it's pretty self-explanatory - it disables the screen timeout as long as there's a face looking at the screen. Pretty useful when reading long articles, though you do probably scroll often enough for the screen not to lock anyway.
Since Android 11 brings some new features of its own, Motorola has added a 'What's new' section to get you acquainted with those. The one-time permissions allow you to grant access to certain apps to your storage, location, contacts, etc., only temporarily. You will be asked again when the app needs the respective permission once more when you use it.
Notification grouping is an effort to keep your notification shade tidy and focus on your conversations. Notification cards from ongoing conversations from your messaging apps will appear on top as high-priority compared to other app notifications.
Bubbles is one of the long-awaited features for messaging apps that Facebook's Messenger has had for years now. The apps that support the feature will prompt you with a notification in the form of a floating, interactive bubble. Tapping on it will open up the chart for a quick reply, just like Messenger.
Nearby Share with other devices running a recent Android version is also possible, making file transfers easier than ever.
And lastly, we have the updated power menu that now displays shortcuts to connected devices such as home automation or Chromecast through the Google Home app.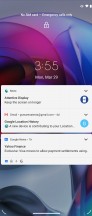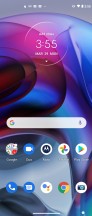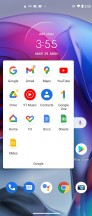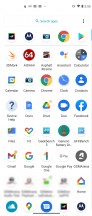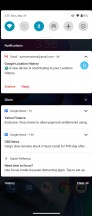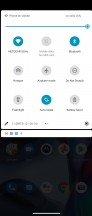 Lockscreen • Homescreen • Folder view • App drawer • Notifications • Quick toggles
Ready For platform
With the Moto G100, Motorola introduces the Ready For platform that enables you to use the phone as the heart of a big-screen setup for several use cases. By connecting a TV or monitor, you can get a Windows-desktop-like experience, play a game on your phone, display it on the external screen, or even have a big-screen video chat experience.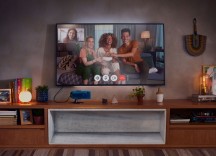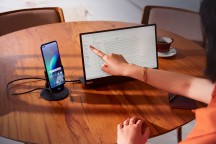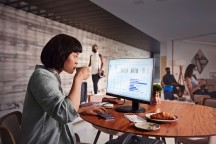 Official use case photos from Motorola
Motorola sells just the right accessory to facilitate the connection. It's called the Ready For dock and features a cradle where the phone plugs in and which can be rotated 90 degrees depending on your needs. The dock connects to a TV or monitor via the Ready For cable that's USB-C on the dock end and HDMI on the display end.
Technically, a mere cable connection will work just as well as the dock for connection purposes, but you won't be getting the benefits of the stand. The fatter HDMI end has an additional USB-C port for providing power to the phone, but that's optional - it'll work on battery power as well.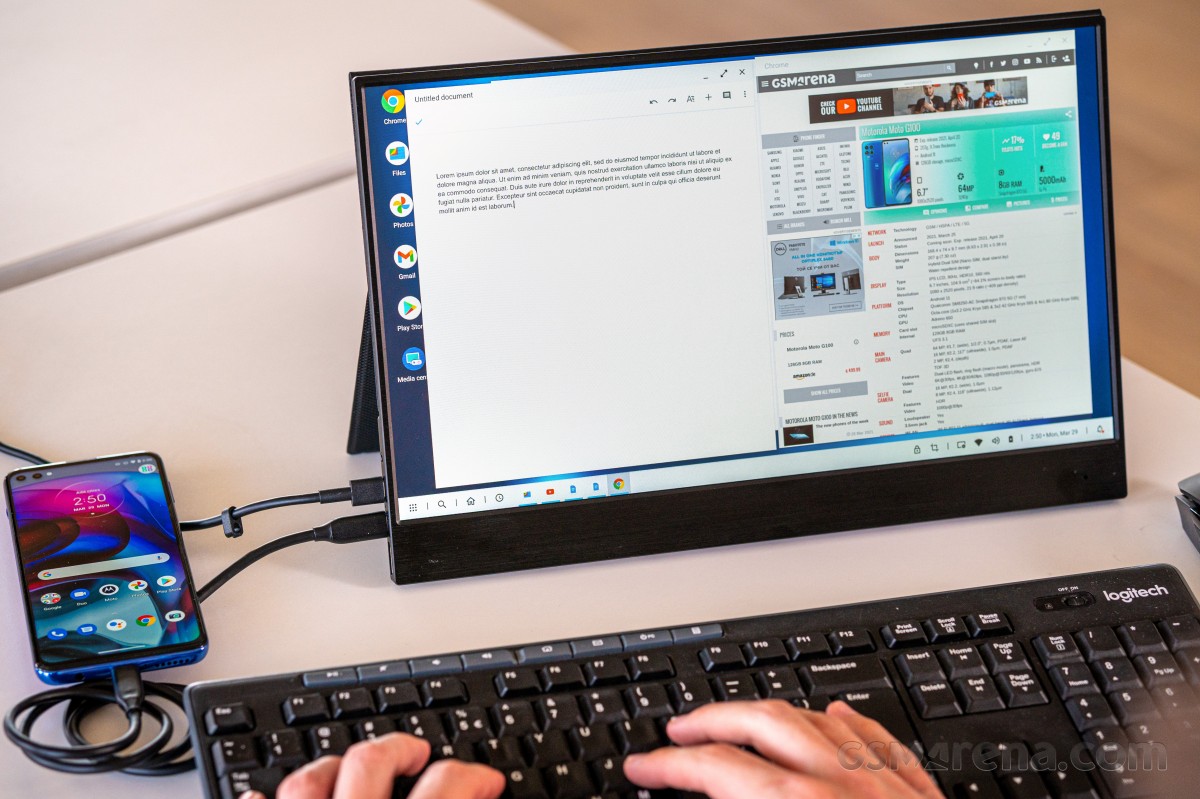 There's also the one-cable option - if you have a monitor with a USB-C port, you can connect the phone using a USB-C-to-C cable, and that will get you the display output while keeping the phone powered. In this scenario, you can plug in peripherals like a keyboard and mouse to the monitor. Otherwise, they need to be connected via Bluetooth to the phone.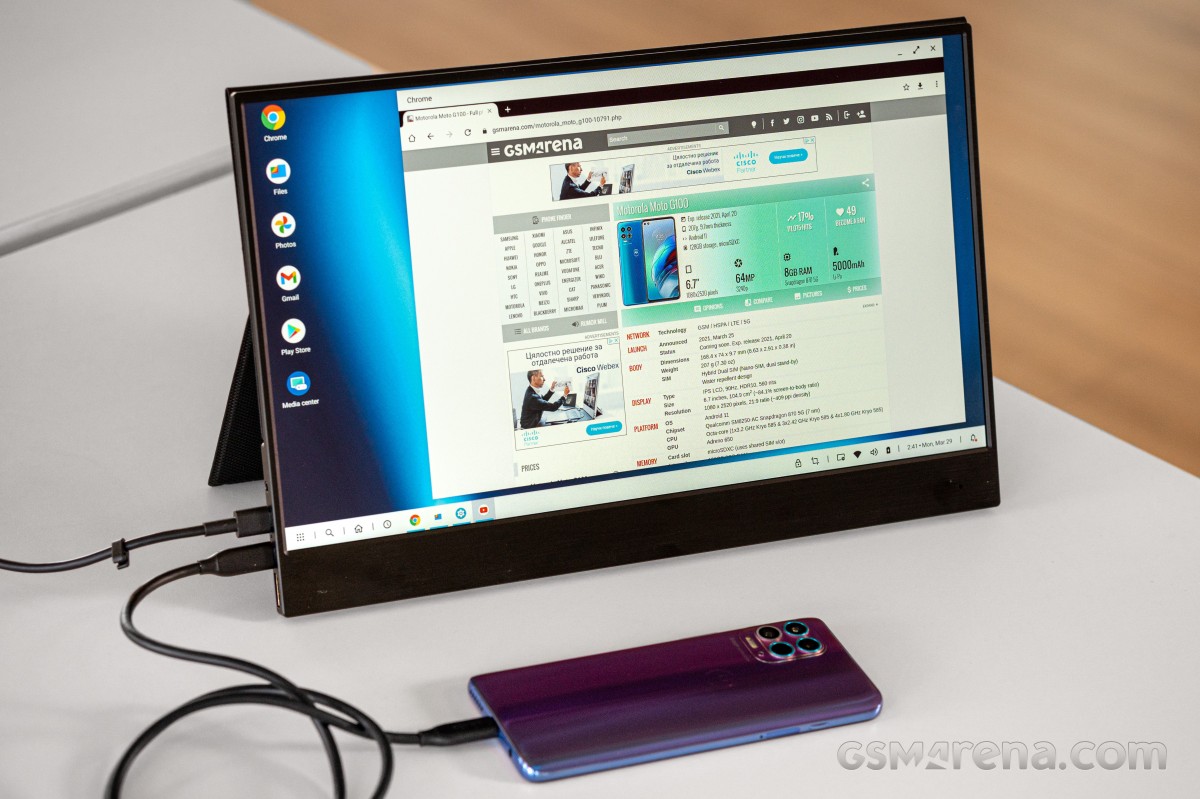 If you don't have a mouse handy and your connected monitor isn't touch-enabled, the phone's screen can be used as a trackpad. In our test setup with a touch monitor, where we didn't need the trackpad, text input worked with an onscreen keyboard on the monitor. But if you have the trackpad on the phone enabled, a keyboard will pop up there when there's a need for text input.
Another use case is for video calls, where you can use the phone's camera to capture yourself and an external display to see the other participants. We couldn't get the phone to use the rear camera for an actual call, though it does work for recording a video message within Duo. In any case, having the two selfie cameras does allow for extra versatility.
The third major Ready For use case is for gaming on a bigger screen. You connect an external controller and run the game on the phone, with the obvious benefit being the larger display for gameplay.
Synthetic benchmarks
The Moto G100 is packing some serious processing power in the form of a Snapdragon 870 chipset. A second rehash of the SD865 (there was also the SD865+), the SD870 comes with even higher CPU clocks and its prime core goes all the way up to 3.2GHz. It's the next best thing after a Snapdragon 888, and those are (normally) hard to come by for Moto G100 money.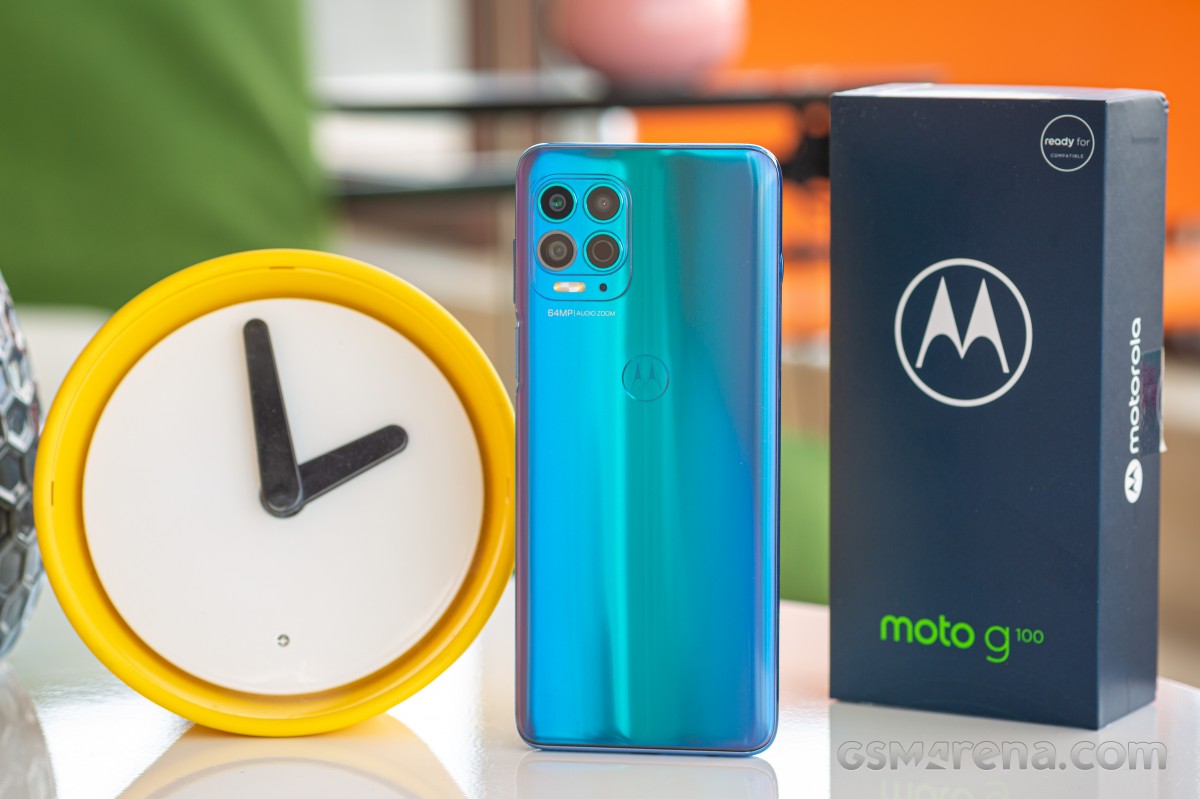 In the single-core CPU test in GeekBench, the Moto G100 posts excellent numbers, a notch below the 865+-equipped Galaxy Note20 Ultra and Zenfone 7 Pro. The Moto is ahead of the bulk of SD865 and SD865+ devices we've tested, and even beats the SD888 Oppo Find X3 Pro, though that's more the Find's fault since the OnePlus 9 with an SD888 is notably ahead of the Moto G100.
GeekBench 5 (single-core)
Higher is better
OnePlus 9
1129
Samsung Galaxy S21+ 5G
1091
Asus Zenfone 7 Pro
996
Samsung Galaxy Note20 Ultra 5G (Snapdragon)
988
Motorola Moto G100
950
vivo X50 Pro+
930
Oppo Find X3 Pro
926
OnePlus 8
919
Xiaomi Poco F2 Pro
916
Samsung Galaxy S20 FE
906
Xiaomi Mi 10T Pro
901
OnePlus 8T
893
Galaxy S20+ (120Hz, 1080p)
886
Huawei P40 Pro
780
Oppo Reno4 Pro 5G
615
OnePlus Nord
610
Motorola Edge
586
LG Velvet 5G
586
Under multi-core loads, the Moto G100 isn't quite as competitive, but let's not forget it's the absolute top-end chipsets above it in the chart. SD765 handsets stand no chance, not in single-core and not in multi-core.
GeekBench 5 (multi-core)
Higher is better
OnePlus 9
3629
Samsung Galaxy S21+ 5G
3476
vivo X50 Pro+
3411
OnePlus 8
3399
Xiaomi Poco F2 Pro
3332
Oppo Find X3 Pro
3316
Xiaomi Mi 10T Pro
3311
Asus Zenfone 7 Pro
3302
Samsung Galaxy S20 FE
3296
Samsung Galaxy Note20 Ultra 5G (Snapdragon)
3294
Huawei P40 Pro
3197
OnePlus 8T
3126
Oppo Reno5 Pro 5G
3091
Realme X7 Pro
2997
Motorola Moto G100
2860
Galaxy S20+ (120Hz, 1080p)
2703
OnePlus Nord
1953
LG Velvet 5G
1905
Motorola Edge
1862
Oppo Reno4 Pro 5G
1805
In Antutu, the Moto G100 places around the middle of the pack, beating the Exynos Galaxy S20+ and the SD865 Galaxy S20FE, but losing to the OnePlus 8T (SD865) and the Zenfone 7 Pro (SD865+).
AnTuTu 8
Higher is better
OnePlus 9
715196
Oppo Find X3 Pro
656467
Samsung Galaxy S21+ 5G
622276
vivo X50 Pro+
621433
Asus Zenfone 7 Pro
602934
OnePlus 8T
576625
Samsung Galaxy Note20 Ultra 5G (Snapdragon)
571312
OnePlus 8
564708
Xiaomi Mi 10T Pro
563961
Motorola Moto G100
556137
Samsung Galaxy S20 FE
543986
Xiaomi Poco F2 Pro
538221
Realme X7 Pro
510317
Galaxy S20+ (120Hz, 1080p)
500114
Huawei P40 Pro
496356
Oppo Reno5 Pro 5G
435166
Oppo Reno4 Pro 5G
317139
OnePlus Nord
312794
Motorola Edge
305989
LG Velvet 5G
297372
With the above numbers in mind, it's worth pointing out that the Moto G100 is hitting above its weight in the GPU benchmarks. Sure, the early-2021 crop of handset outperforms it, and the SD865+ Galaxy Note20 Ultra manages to snatch a narrow win, but that's pretty much it.
GFX Manhattan ES 3.1 (offscreen 1080p)
Higher is better
OnePlus 9
119
Oppo Find X3 Pro
113
Samsung Galaxy S21+ 5G
111
Samsung Galaxy Note20 Ultra 5G (Snapdragon)
94
Motorola Moto G100
91
Asus Zenfone 7 Pro
90
Samsung Galaxy S20 FE
89
OnePlus 8T
88
OnePlus 8
88
Xiaomi Poco F2 Pro
87
Xiaomi Mi 10T Pro
87
vivo X50 Pro+
85
Galaxy S20+ (120Hz, 1080p)
85
Realme X7 Pro
80
Huawei P40 Pro
75
Oppo Reno5 Pro 5G
74
OnePlus Nord
38
Oppo Reno4 Pro 5G
37
Motorola Edge
34
LG Velvet 5G
33
GFX Manhattan ES 3.1 (onscreen)
Higher is better
Samsung Galaxy S21+ 5G
100
Samsung Galaxy Note20 Ultra 5G (Snapdragon)
86
Motorola Moto G100
79
Asus Zenfone 7 Pro
78
Samsung Galaxy S20 FE
77
Xiaomi Mi 10T Pro
77
Galaxy S20+ (120Hz, 1080p)
75
vivo X50 Pro+
74
OnePlus 8T
60
OnePlus 9
60
Realme X7 Pro
60
Xiaomi Poco F2 Pro
59
Oppo Reno5 Pro 5G
57
Oppo Find X3 Pro
55
Huawei P40 Pro
52
OnePlus Nord
34
Motorola Edge
32
Oppo Reno4 Pro 5G
31
LG Velvet 5G
29
GFX Car Chase ES 3.1 (offscreen 1080p)
Higher is better
OnePlus 9
70
Oppo Find X3 Pro
70
Samsung Galaxy S21+ 5G
66
Samsung Galaxy Note20 Ultra 5G (Snapdragon)
57
Motorola Moto G100
56
Asus Zenfone 7 Pro
54
OnePlus 8T
53
Samsung Galaxy S20 FE
52
OnePlus 8
52
Xiaomi Poco F2 Pro
51
vivo X50 Pro+
51
Xiaomi Mi 10T Pro
51
Galaxy S20+ (120Hz, 1080p)
50
Realme X7 Pro
46
Huawei P40 Pro
44
Oppo Reno5 Pro 5G
43
OnePlus Nord
21
Oppo Reno4 Pro 5G
21
Motorola Edge
19
LG Velvet 5G
19
GFX Car Chase ES 3.1 (onscreen)
Higher is better
OnePlus 9
58
Samsung Galaxy S21+ 5G
54
Samsung Galaxy Note20 Ultra 5G (Snapdragon)
51
Motorola Moto G100
47
Asus Zenfone 7 Pro
46
Xiaomi Mi 10T Pro
46
OnePlus 8T
46
OnePlus 8
46
Samsung Galaxy S20 FE
45
vivo X50 Pro+
43
Galaxy S20+ (120Hz, 1080p)
42
Xiaomi Poco F2 Pro
40
Realme X7 Pro
40
Oppo Reno5 Pro 5G
36
Oppo Find X3 Pro
33
Huawei P40 Pro
31
OnePlus Nord
19
Motorola Edge
18
Oppo Reno4 Pro 5G
18
LG Velvet 5G
16
GFX Aztek Vulkan High (onscreen)
Higher is better
OnePlus 9
43
Samsung Galaxy S21+ 5G
37
Samsung Galaxy Note20 Ultra 5G (Snapdragon)
34
Motorola Moto G100
33
Asus Zenfone 7 Pro
31
OnePlus 8T
31
Samsung Galaxy S20 FE
30
OnePlus 8
30
Xiaomi Mi 10T Pro
29
Xiaomi Poco F2 Pro
28
Galaxy S20+ (120Hz, 1080p)
26
OnePlus Nord
13
Motorola Edge
12
Oppo Reno4 Pro 5G
12
LG Velvet 5G
11
GFX Aztek ES 3.1 High (onscreen)
Higher is better
Samsung Galaxy S21+ 5G
43
OnePlus 9
40
Samsung Galaxy Note20 Ultra 5G (Snapdragon)
34
Galaxy S20+ (120Hz, 1080p)
32
Motorola Moto G100
31
Asus Zenfone 7 Pro
31
OnePlus 8
31
Samsung Galaxy S20 FE
30
Xiaomi Mi 10T Pro
30
OnePlus 8T
29
Xiaomi Poco F2 Pro
28
OnePlus Nord
13
Motorola Edge
12
Oppo Reno4 Pro 5G
12
LG Velvet 5G
11
Overall, we're really satisfied with the Moto G100's performance. The Snapdragon chip inside is easily powerful enough to meet whatever you throw at it, with some comfortable futureproofing. It's also good enough to power an external screen with multiple apps running side by side. Intensive benchmarking sessions did result in some heat build-up and minor throttling, but neither is severe enough to be an issue.
The camera is surprisingly good in outdoor and indoor conditions especially for human subjects as it gives quite natural colours. The noise is also fairly well controlled in indoor pics (I also had the Xiaomi 10s with hmx main sensor which is a much...
Looking for good case recommendations. I searched all over eBay and Amazon and all I found was TPU (thermoplastic polyurethane) and PC (polycarbonate) but nothing sturdy as you described. I also checked otterbox but they don't produce for this m...
Anonymous
27 Feb 2022
pYc
Was going to get the G100, but then found that you can't have dual SIMs and microSD at the same time, which is plain stupid. The Moto G6 I want to replace takes all at once, which is what I want.