Moto Z2 Play review
GSMArena team, 10 October 2017.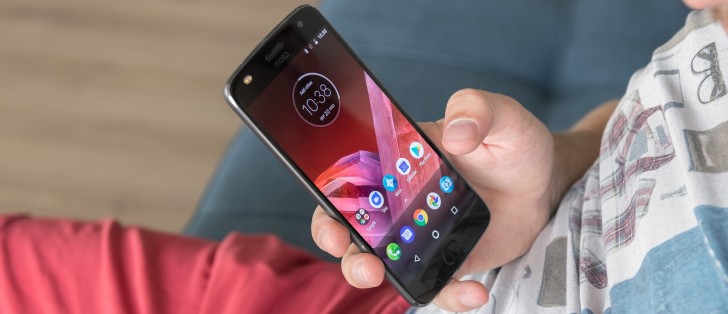 Display
The Moto Z2 Play might share a screen diagonal with its more-expensive Z2 Force sibling, but this is where the similarities end in the display department. The two clearly employ very different panels, but thankfully both of our favorite OLED variety. Mid-rangers that punch above traditional LCD constraints are always a pleasant sight.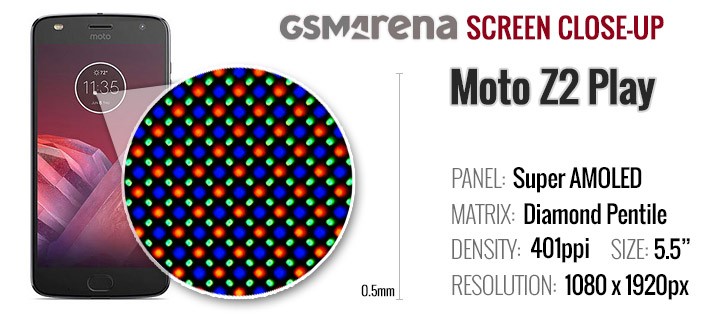 The Super AMOLED branding suggest Motorola did some shopping over at Samsung's for the particular panel. While some might miss the QHD resolution, we think FullHD still looks perfectly sharp across a screen with a 5.5-inch diagonal. Plus, lower resolution typically means better graphics performance and improved power efficiency. These traits fit in perfectly with the efficient Snapdragon 626 chipset in the Z2 Play as well. But more on that in a little bit.
As far as numbers are concerned, the Moto Z2 Play managed a solid 432 nit max brightness in our tests. This is noticeably brighter than the Z2 Force in normal lighting conditions, but also far from what the Z2 Force can output in auto overdrive mode when bright light is available (559nits).
Display test
100% brightness
Black, cd/m2
White, cd/m2
Contrast ratio
Samsung Galaxy S7 edge max auto
0.00
610
∞
Xiaomi Mi 6
0.462
603
1305
Huawei P10
0.416
592
1423
LG G6 max auto
0.277
564
2036
Samsung Galaxy S7 max auto
0.00
563
∞
Motorola Moto Z2 Force (Max Auto)
0
559
∞
Motorola Moto Z Play (max auto)
0
526
∞
Xiaomi Mi Max 2
0.401
519
1294
Lenovo Moto Z Force Droid (max auto)
0.00
517
∞
Lenovo P2 max auto
0
510
∞
Oppo F3 Plus
0.343
509
1485
Lenovo Moto Z max auto
0.00
506
∞
Xiaomi Redmi Note 4 (S625)
0.322
484
1503
LG G6
0.228
468
2053
OnePlus 5
0
435
∞
Motorola Moto Z2 Play
0
432
∞
Xiaomi Mi Max
0.46
424
922
ZTE Nubia Z17 (Max Auto)
0.268
392
1461
Samsung Galaxy S7 edge
0.00
392
∞
Samsung Galaxy S7
0.00
391
∞
ZTE Nubia Z17
0.267
388
1451
Motorola Moto Z2 Force
0
376
∞
Lenovo Moto Z
0.00
371
∞
Motorola Moto Z Play
0
371
∞
Lenovo Moto Z Force Droid
0.00
352
∞
Lenovo P2
0
346
∞
Xiaomi Mi Note 2
0.005
341
68200
This appears to be one significant difference between the pair of panels, or perhaps their respective controllers - the Z2 Play never actually managed to shine brighter than 432 nits. It does have a light sensor and a properly functioning one, judging by its readings. Auto brightness also works as expected. It is just that there is no overdrive mode. Even so, these numbers constitute an improvement over the original Moto Z Play. We also had no real trouble using the Z2 Play outdoors, thanks to its very impressive 4.459 sunlight legibility rating.
Sunlight contrast ratio
Samsung Galaxy S8
4.768
Samsung Galaxy S8+
4.658
Samsung Galaxy S6 edge+
4.615
Motorola Moto Z2 Play
4.459
Oppo R11
4.454
Samsung Galaxy S7 edge
4.439
OnePlus 3
4.424
Samsung Galaxy S7
4.376
HTC One A9
4.274
Samsung Galaxy Note7
4.247
Samsung Galaxy A3
4.241
Nokia 8
4.239
OnePlus 3T
4.232
Google Pixel XL
4.164
ZTE Axon 7
4.154
Samsung Galaxy Note8
4.148
Meizu Pro 7 Plus
4.147
Samsung Galaxy S6 edge
4.124
Samsung Galaxy A7 (2017)
4.124
Samsung Galaxy Note5
4.09
LG V30
4.022
Huawei Nexus 6P
4.019
OnePlus X
3.983
Vivo Xplay5 Elite
3.983
Oppo R7s
3.964
Apple iPhone 7
3.964
Huawei P9 Plus
3.956
Meizu Pro 6 Plus
3.935
Lenovo Moto Z
3.931
Samsung Galaxy A7 (2016)
3.918
OnePlus 5
3.914
Samsung Galaxy C5
3.911
Samsung Galaxy C7
3.896
Samsung Galaxy A5
3.895
Samsung Galaxy J7 outdoor
3.879
Samsung Galaxy J2 outdoor
3.873
Samsung Galaxy A8
3.859
Apple iPhone 6
3.838
Sony Xperia XZs
3.818
Samsung Galaxy A9 (2016)
3.817
Motorola Moto X (2014)
3.816
Samsung Galaxy J7 (2017)
3.812
Samsung Galaxy A5 (2017)
3.804
Samsung Galaxy J7 (2016) outdoor mode
3.802
Xiaomi Redmi Pro
3.798
LG V20 Max auto
3.798
Sony Xperia XZ
3.795
Samsung Galaxy A5 (2016)
3.789
Apple iPhone 6s
3.783
Meizu Pro 5
3.781
Microsoft Lumia 650
3.772
Xiaomi Mi 6
3.767
Sony Xperia XZ1
3.765
Samsung Galaxy J7 (2016)
3.756
Sony Xperia XZ1 Compact
3.729
Oppo F1 Plus
3.709
Vivo X5Pro
3.706
Sony Xperia X Compact
3.694
Samsung Galaxy A3 (2017)
3.688
Apple iPhone SE
3.681
Huawei Mate 9
3.68
Samsung Galaxy A7
3.679
Meizu PRO 6
3.659
BlackBerry Priv
3.645
Sony Xperia XA1 Ultra
3.597
Apple iPhone 7 Plus
3.588
LG G6
3.556
Apple iPhone 6s Plus
3.53
Motorola Moto Z Play
3.526
Samsung Galaxy J3 (2016)
3.523
Samsung Galaxy J3 (2016) outdoor mode
3.523
Acer Jade Primo
3.521
Microsoft Lumia 950
3.512
Oppo R7 Plus
3.499
nubia Z11
3.466
Huawei P10 Plus
3.456
HTC U Ultra
3.453
Samsung Galaxy J7
3.422
Meizu MX5
3.416
LG V20
3.402
Huawei P10
3.379
Samsung Galaxy J5 (2016)
3.378
Oppo R9s
3.352
Honor 8 Pro
3.341
Oppo R7
3.32
Lenovo P2
3.316
Honor 9
3.289
Xiaomi Mi 5s
3.276
Nokia 5
3.261
Nokia 6 (Chinese version)
3.244
Xiaomi Mi 5
3.24
Nokia 6 (Global version)
3.238
Samsung Galaxy J2
3.235
Sony Xperia X Performance
3.234
Xiaomi Mi Note 2
3.228
Motorola Moto X Play
3.222
Oppo F3 Plus
3.218
Huawei Mate 9 Pro
3.206
Huawei P9
3.195
ZTE Nubia Z17
3.159
Lenovo Vibe Shot
3.113
Motorola Moto X Force
3.105
LG Nexus 5X
3.092
HTC U11
3.089
Huawei Mate S
3.073
Microsoft Lumia 640 XL
3.065
Sony Xperia XA1
3.012
Sony Xperia L1
2.994
Sony Xperia X
2.989
Huawei P10 Lite
2.974
Samsung Galaxy Note
2.97
Sony Xperia Z1
2.95
Huawei Mate 8
2.949
Xiaomi Redmi 4
2.92
Xiaomi Redmi 3S
2.913
Sony Xperia XA Ultra
2.906
LG G5
2.905
HTC One S
2.901
Xiaomi Redmi 3s Prime
2.893
Xiaomi Mi 5s Plus
2.884
Sony Xperia XZ Premium (sRGB)
2.877
Sony Xperia XZ Premium
2.877
Sony Xperia Z5
2.876
Nokia 3
2.871
Microsoft Lumia 550
2.851
Lenovo Moto M
2.813
Xiaomi Redmi 3 Pro
2.803
Sony Xperia Z5 compact
2.784
Meizu MX6
2.751
LG V10
2.744
Xiaomi Redmi 3
2.735
Xiaomi Redmi Note 4 (S625)
2.714
Meizu M5
2.71
Sony Xperia M5
2.69
Huawei P9 Lite
2.679
Xiaomi Redmi 4 Prime
2.679
Vivo V3Max
2.659
Xiaomi Mi Mix
2.658
Doogee Mix
2.642
Xiaomi Mi 4i
2.641
Xiaomi Redmi 4a
2.635
Xiaomi Mi 5X (Standard)
2.616
Sony Xperia XA
2.609
Motorola Moto G4 Plus
2.582
Motorola Moto G4 Plus (max auto)
2.582
Meizu M5s
2.58
Xiaomi Mi 4c
2.574
LeEco Le Max 2
2.567
Microsoft Lumia 640
2.563
Asus Zenfone 3 ZE552KL
2.563
Xiaomi Mi Max 2
2.561
Lenovo Moto G4
2.544
Lenovo K6 Note
2.544
Oppo F1
2.528
Sony Xperia Z5 Premium
2.525
Huawei Honor 7 Lite / Honor 5c
2.506
Sony Xperia M4 Aqua
2.503
Oppo F1s
2.481
Motorola Moto G
2.477
Lenovo Vibe K5 Plus
2.473
Huawei G8
2.471
Huawei nova
2.467
Sony Xperia Z
2.462
Lenovo Vibe K5
2.459
Meizu m3 max
2.447
Xiaomi Mi 5X (Auto)
2.417
HTC 10 evo
2.407
Huawei Honor 7
2.406
Sony Xperia E5
2.386
ZUK Z1 by Lenovo
2.382
HTC 10
2.378
Oppo F3
2.376
vivo V5 Plus
2.371
Meizu m1 note
2.362
Huawei nova plus
2.329
HTC One E9+
2.305
Alcatel One Touch Hero
2.272
Apple iPhone 4S
2.269
Lenovo Vibe K4 Note
2.254
Sony Xperia C5 Ultra
2.253
Xiaomi Redmi Note 3 (MediaTek)
2.249
Sony Xperia C4 Dual
2.235
Xiaomi Mi Note
2.234
Motorola Moto G (2014)
2.233
LG Nexus 5
2.228
Huawei P8
2.196
Meizu M5 Note
2.189
Huawei Honor 6
2.169
Xiaomi Redmi Note 2
2.166
OnePlus Two
2.165
HTC One X
2.158
LG Aka
2.145
Xiaomi Redmi Note 4 (X20)
2.145
Archos 50 Diamond
2.134
Xiaomi Redmi Note
2.119
Xiaomi Mi 4S
2.095
Acer Liquid X2
2.084
Huawei P8lite
2.078
vivo V5
2.059
Moto G 3rd gen max manual
2.026
Xiaomi Mi 3
2.001
Xiaomi Mi Max
1.996
Sony Xperia E4g
1.972
OnePlus One
1.961
Meizu m3 note
1.923
BlackBerry Leap
1.892
Meizu m2 note
1.892
HTC Butterfly
1.873
Sony Xperia Z1 Compact
1.772
ZTE Nubia Z9 mini
1.759
Sony Xperia U
1.758
Asus Zenfone Selfie
1.68
Motorola Moto E (2nd Gen)
1.675
ZTE Nubia Z9
1.659
Jolla Jolla
1.605
Motorola Moto E
1.545
Sony Xperia M
1.473
Sony Xperia L
1.351
Xiaomi Redmi 2
1.311
HTC Desire C
1.3
Sony Xperia C
1.283
Meizu MX
1.221
Sony Xperia E
1.215
In terms of color reproduction, Motorola's clearly worked towards a vibrant "OLED"-ish color palette more than anything else. The Z2 Play comes with two color modes - standard and vibrant, neither of which is really calibrated against sRGB. In our test with a colorimeter at max brightness, both exhibited an average deltaE of about 4.8 and a maximum of about 10.
Setting the panel to 200 nits doesn't improve things notably. Since the Z2 Play doesn't offer any manual color correction, you are pretty much stuck with a consistent color deviation and especially punchy reds no matter what you do. That being the case, vivid mode seems to be the best choice, since it at least boosts the other colors and brings them closer to the hot, fiery reds.
Connectivity
Just like its sibling, the Moto Z2 Play is available with either one or two SIM slots. There are of the smallest Nano-SIM variety and we are happy to report, Motorola found a way around using a hybrid slot for the microSD. Instead, it is positioned on the back side of the same tray - impressive, for such a slim phone.
Naturally, mid-range internals necessitate a few downgrades from the impressive connectivity load-out of the Z2 Force flagship. Still, most of these cutbacks are not really deal-breakers for most users. The X9 LTE modem is still capable of a respectable 300 Mbps down stream and 150 Mbps up.
The X9 chip also offers decent network band support, including HSDPA 850 / 900 / 1900 / 2100 and LTE 1(2100), 3(1800), 5(850), 7(2600), 8(900), 19(800), 20(800), 28(700), 38(2600), 40(2300), 41(2500). 2x20 MHz carrier aggregation is a nice little touch as well.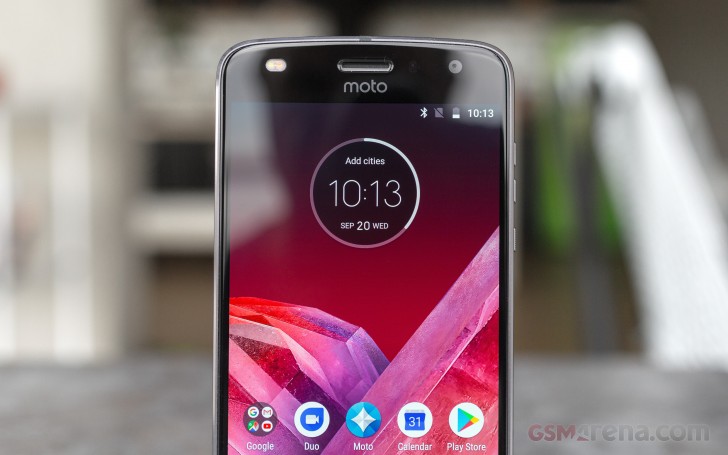 On the local side, the Moto Z2 Play has Wi-Fi a/b/g/n (2.4GHz) + ac (5GHz). It's a 1x1 configuration, but you do still get 802.11ac Wave 2. Bluetooth is fairly modern as well - v.4.2 (A2DP, EDR, LE). A-GPS, Wi-Fi Direct, Android Beam, and NFC with support for tap-to-pay services are also on board.
The Moto Z2 Play also offers the good old 3.5mm audio jack, putting to shame the Z2 Force as it not only is thinner but it also has a bigger battery and an FM radio receiver. The audio jack is positioned on the bottom, right next to the fast USB 3.1, Type-C port. The latter offers USB On-The-Go support.
Battery Life
In its second iteration, the Moto Z Play model comes with a drastically slimmed-down 6mm profile. We can't really blame Motorola for the design choice, since slapping a Moto Mod on top of the 7mm thick original Moto Z Play does make for a very bulky package.
A new fancy waistline, however, means a reduced battery capacity - by as much as 500 mAh to be specific. While still better than the 2,730 mAh capacity by the Z2 Force, the Z2 Play's 3,000mAh battery capacity is still a notable downgrade.
Just like its predecessor, the Z2 Play uses an efficient 14nm Qualcomm mid-range chipset. This time around, it is even the improved and tweaked Snapdragon 626. Throw in the frugal Super AMOLED panel and you've got yourself a promising start. While you don't exactly end up with the 100 hours of endurance of the original, you still get a respectable 76 hour score.
This is surprisingly similar to what the Moto Z2 Force manages with its smaller, 2730 mAh battery. The Z2 Force did handle its standby cycle a little better for a few extra hours of endurance. On the other hand, the Z2 Play seems to last significantly longer in calls. Web browsing and video playback on both models fall in line neatly. Both do very well as media players over extended periods of time too.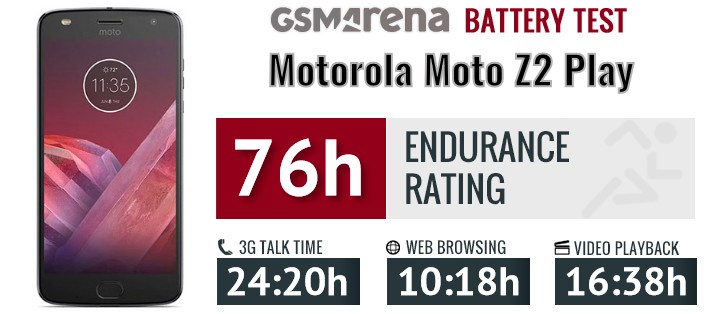 Put into perspective, these are really solid numbers on today's smartphone scene. Furthermore, you can easily slap on a Moto Mod battery pack to conveniently extend the battery life even further.
In terms of charging, Moto includes one of its TurboPower adapters in the box. Rated at 5V@3A, 9V@1.6A, and 12V@1.2A, the charger pumps out a maximum of 15W of power. In 30 minutes it charges the phone's battery from 0 to 74%, which is even more than the promised 50%.
The battery testing procedure is described in detail in case you're interested in the nitty-gritties. You can also check out our complete battery test table, where you can see how all of the smartphones we've tested will compare under your own typical use.
I buy new phone moto Z2 play i need to update
in the review it says the z2 play has wifi ac (5GHz) Wave 2, but it does not. it only has wifi N 5ghz