Netflix India announces price cuts for all plans, now start at INR149/month
Sagar, 14 December 2021
Netflix introduced its mobile-only plan in India in July 2019 priced at INR199/month in a bid to increase its subscriber base. Now in yet another attempt at increasing its subscribers, and hence the revenue, the company has announced price cuts in the Asian country across all its plans, now starting at INR149/month and going up to INR649/month.
While Netflix has dropped the prices of all its plans in India, it hasn't made any changes to what those plans offer, so you'll continue enjoying the benefits as before, just at a lower price. You can check out the table below for more details.
| Plan | Mobile | Basic | Standard | Premium |
| --- | --- | --- | --- | --- |
| Old Price (per month) | INR199 ($2.62/€2.32) | INR499 ($7/€6) | INR649 ($9/€8) | INR799 ($/11€9) |
| New Price (per month) | INR149 ($2/€1) | INR199 ($2.62/€2.32) | INR499 ($7/€6) | INR649 ($9/€8) |
| Number of screens you can watch on at the same time | 1 | 1 | 2 | 4 |
| Number of phones or tablets you can have downloads on | 1 | 1 | 2 | 4 |
| Unlimited movies, TV shows and mobile games | Yes | Yes | Yes | Yes |
| Watch on your mobile phone and tablet | Yes | Yes | Yes | Yes |
| Watch on your laptop and TV | No | Yes | Yes | Yes |
| Maximum streaming resolution | 480p | 480p | 1080p | 4K+HDR |
This announcement from Netflix comes on the day when Amazon increased the price of its yearly Prime Membership in India from INR999 ($13/€12) to INR1,499 ($20/€17), which offers access to Prime Video, Amazon Music, and Prime Reading. However, the e-commerce giant also has cheaper plans for those who don't want an annual subscription - a monthly plan priced at INR179 ($2.36/€2.09) and a quarterly plan that costs INR459 ($6.05/€5.35).
Unlike Netflix, these Prime membership plans don't restrict video streaming quality on Prime Video, but there is a Prime Video Mobile Edition plan - priced at INR89 ($1.17/€1.04) per month - which only allows SD-quality playback.
Another major player in the OTT segment in India is Disney+ Hotstar, having three annual subscription tiers - Mobile, Super, and Premium, priced at INR499 ($7/€6), INR899 ($12/€10), and INR1,499 ($20/€17), respectively.
None of these restrict streaming to standard definition, but you do see ads with the Mobile and Super plans despite paying for the service - something that doesn't happen with Netflix and Amazon Prime Video.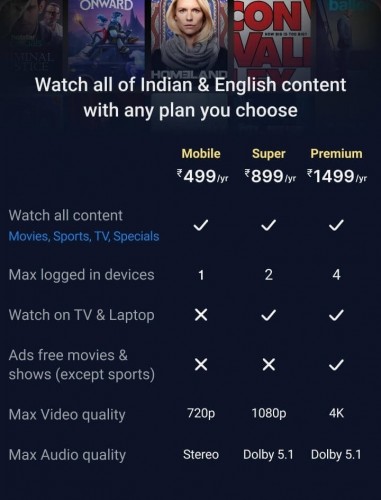 Disney+ Hotstar subscriptions in India
Related
Nah. Nothing good is available on Netflix in India. And their Indian original shows and movies are the worst type of propaganda shows ever made against Indians themselves. And they still expect to succeed in India. Weird.
Did you see what others charge? Netflix is still costly in India. Netflix costs an hours wage in the US for 1080p while it costs more than a days wages in India for the same plan.
The rest of the world prices go up to subsidise India 🤣🤣
Popular articles
Popular devices
Electric Vehicles