Nokia 9 PureView review
GSMArena team, 05 April 2019.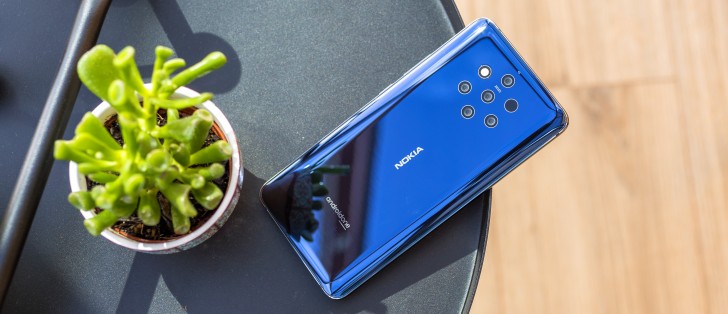 Android One, Pie edition
Like many of Nokia's smartphones, the Nokia 9 comes with Android One out of the box, so you'll know you're going to get quick and timely updates. It's worth noting that carrier-specific versions might not receive updates just as quickly as those sold in the unlocked (retail) channel.
Where the Pixels have an Always on display or Ambient Display, the Nokia 9 has Glance screen. A remnant of Lumia times, its usual behavior is to pop up every time the phone detects movement and to go off after a predefined time-out (up to 30 seconds). It can be configured to show a clock, missed calls count, unread messages count, among other small notifications. On the PureView, however, you can leave it on at all times.
The under-display fingerprint is positioned a bit higher than on most other phones, but we quickly got used to it. The setup process takes a bit longer than usual - kind of remind us of the Galaxy S10 in this respect - but it's not something you do every day so we weren't going to be too harsh on it had it worked well.
However, we were quite disappointed by the way it operated. To start off, it's hardly as fast as the other sensors we've seen on phones that came out this year. And we encountered all sorts of software glitches while using the sensor. Often times, the PIN keyboard appeared while trying to scan a finger causing multiple accidental entries of the number 5.
Other times we observed that upon a quick lock and unlock the phone will bypass the biometric sensor and put you straight on the homescreen or whatever was opened last. And after a few seconds the Nokia 9 will "remember" it didn't ask you for your fingerprint, then proceed to lock the phone and pop-up the fingerprint prompt. This needs to be fixed ASAP and we hope HMD is already on it.
The fingerprint woes aside, the software on the Nokia 9 is Android as Google intended it through and through. The standard Android 9 homescreen utilizes the default Android pill-based navigation.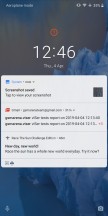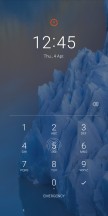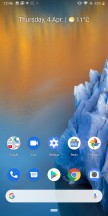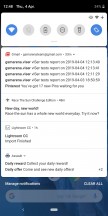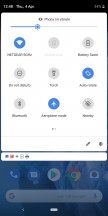 Lockscreen • Lockscreen • Homescreen • App drawer • Notifications and toggles
The Nokia 9 uses the default Pixel navigation. A tap on the pill button takes you Home, a quick flick from it to the right switches back and forth between the last two apps, while sliding it to the right takes you to one of the UIs for task switching. A short-ish swipe up from the bottom evokes the 'other' task switcher which is also the way to go into multi-window, and it's about as clumsy as they could have possibly made it.
A longer (like seriously-almost-all-the-way-to-the-top-longer) swipe up takes you straight to the app drawer, though a second swipe up from Task switcher 2 will also work. It's not all ideal, obviously. And there's a back button on top of all that, there's no gesture for that.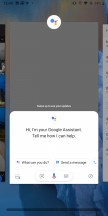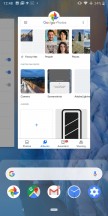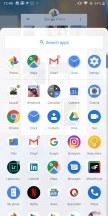 Task switcher 1 • Task switcher 2 • App drawer
As for multimedia, it's all in the hands of Google's default apps. The Photos app is in charge of gallery-related tasks and video playback, while Google Play Music is the audio player. There's a file manager with batch actions and Google Drive sync, and Google's Calendar is Nokia's calendar of choice.
Nokia has worked closely with Google so that the Google Photos app could natively understand how to support photos taken with the Nokia 9's five cameras. Google Photos is able to adjust the focal point after taking the photo, adjust the amount of bokeh, and will be able to display the full-size RAW files - which are DNG.
Nokia has also worked with Adobe to fully support editing RAW data from the images taken on the Nokia 9. This can be done in the free mobile version of Adobe Lightroom. Interestingly, since Android One is all about a clean slate - Nokia isn't preloading the app on the Nokia 9, but it gives you the option to install it during the initial setup.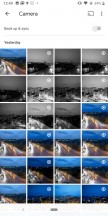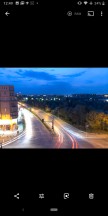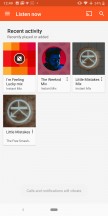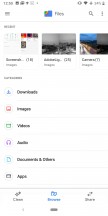 Google Photos • Photos • Lightroom • Google Play Music • File manager
Performance and benchmarks
The Nokia 9 is powered by last year's Qualcomm Snapdragon 845. As a matter of fact, every image shot with the Nokia 9 uses information from all five cameras. The challenge for Nokia was to take full advantage of the chipset as much as possible in order to process images coming from all five cameras both quickly and efficiently so it doesn't run down the battery.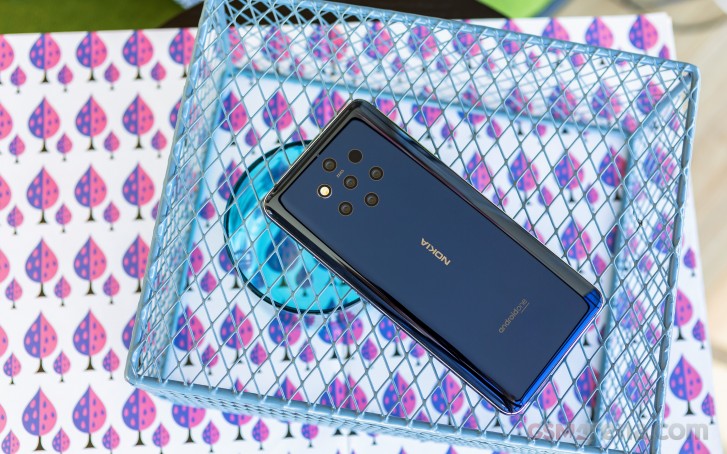 Our guess for the previous-gen chip is that since Nokia worked hard for a long time to optimize the camera algorithms, which use all the chip essentials - CPU, GPU, ISP, DSP - it would have been impossible to translate this work for the Snapdragon 855 samples when they became available late last year. Plus, the Nokia 9 PureView isn't that expensive, so there is that, too.
So, the Nokia 9 has an octa-core processor - 4x2.8 GHz Kryo 385 Gold & 4x1.77 GHz Kryo 385 Silver. Adreno 630 GPU is in charge of graphics.
The Nokia 9 comes with 6GB of RAM and 128GB of internal storage. This appears to be the only memory variant that will be available.
We ran our usual sets of benchmarks and the scores are in. The GeekBench app is all about the processor and here the Nokia 9 does in line with the other S845 phones and is very close to what the latest Kirin 980 chip can do. It is also not that far from the latest Exynos either.
GeekBench 4.1 (multi-core)
Higher is better
Xiaomi Mi 9
11181
Samsung Galaxy S10
10174
Huawei Mate 20 Pro (perf.)
10110
Samsung Galaxy S10e
10081
Huawei P30 Pro (perf. mode)
10014
Huawei Mate 20 Pro
9712
Huawei P30 Pro
9649
Xiaomi Pocophone F1
9003
Nokia 9 PureView
8986
Google Pixel 3
8146
Nokia 8
6568
GeekBench 4.1 (single-core)
Higher is better
Samsung Galaxy S10
4543
Samsung Galaxy S10e
4518
Xiaomi Mi 9
3503
Huawei Mate 20 Pro (perf.)
3390
Huawei P30 Pro (perf. mode)
3323
Huawei Mate 20 Pro
3291
Huawei P30 Pro
3270
Xiaomi Pocophone F1
2438
Nokia 9 PureView
2405
Google Pixel 3
2377
Nokia 8
1925
The Adreno 630 has been already dethroned by the new Adreno 640 within the Snapdragon 855. It is still a flagship-grade GPU, especially under a 1080p screen. The Nokia 9 has a Quad HD one though, which means it will do lower than expected when it comes to rendering on-screen graphics content. There are quite a few Android flagships to run on 1080p screens and this gives them a big edge over the 1440p ones like the Nokia 9. And the Nokia 9 does pretty well, scoring close to the Galaxy S10.
GFX 3.1 Manhattan (onscreen)
Higher is better
Samsung Galaxy S10e
57
Xiaomi Mi 9
56
Google Pixel 3
55
Xiaomi Pocophone F1
53
Huawei P30 Pro
50
Huawei P30 Pro (perf. mode)
50
Samsung Galaxy S10
37
Nokia 9 PureView
33
Huawei Mate 20 Pro
27
Huawei Mate 20 Pro (perf.)
27
Nokia 8
18
GFX 3.1 Car scene (onscreen)
Higher is better
Samsung Galaxy S10e
40
Xiaomi Mi 9
35
Google Pixel 3
33
Xiaomi Pocophone F1
31
Huawei P30 Pro (perf. mode)
29
Huawei P30 Pro
27
Samsung Galaxy S10
23
Nokia 9 PureView
19
Huawei Mate 20 Pro
17
Huawei Mate 20 Pro (perf.)
16
Nokia 8
12
3DMark SSE 3.1 Unlimited
Higher is better
Xiaomi Mi 9
5816
Nokia 9 PureView
4959
Samsung Galaxy S10
4550
Samsung Galaxy S10e
4545
Huawei P30 Pro (perf. mode)
4315
Google Pixel 3
3647
Huawei P30 Pro
3522
The compound benchmark AnTuTu confirms the very good skills of the Nokia 9. Here the score is a match to the Huawei P30 Pro's.
AnTuTu 7
Higher is better
Xiaomi Mi 9
372006
Samsung Galaxy S10
328366
Samsung Galaxy S10e
325192
Huawei P30 Pro (perf. mode)
316156
Huawei Mate 20 Pro (perf.)
308050
Huawei P30 Pro
290189
Nokia 9 PureView
288473
Huawei Mate 20 Pro
273913
Xiaomi Pocophone F1
265314
Google Pixel 3
233699
Nokia 8
210323
The Snapdragon 845 will be held against the Nokia 9 PureView even if its price isn't suggesting cutting-edge technology across the board. But it really shouldn't. The chip has enough punch to meet today's demands hassle-free even under that Quad HD screen.
There isn't a game or an app you can download today that will slow down the Nokia 9. The only thing that could eat a lot of resources is the post-processing of the images you take. But it works only when the phone is unlocked, and you aren't doing something important such as running an app.
Unfortunately, while the Nokia 9 is well equipped to handle a lot, the OS has quite a few bugs and the camera app crashes often. Indeed, there is some more work to be done, but the potential is there. The PureView may also get hot due to the extensive work being done with image processing - especially after taking numerous photos, but it's with reasonable limits.
Fingerprint recognition is very reliable with an index finger instead of a thumb. You also can add more than one print now.
Yes camera app really need an major update