Nokia Asha 200 review: Dual SIMpatico
Dual SIMpatico
GSMArena team, 3 February 2012.
Series 40, no touch included
The Nokia Asha 200 is running Series 40 and is going back to basics with hardware input only. Visually, the main difference is that some UI elements have been reduced due to the lack of need for thumbability and what you're left with is Nokia's well known for many people landscape oriented touchless interface.
The icons have been reworked to match Symbian Anna's appearance, which is refreshing when compared with devices like the C3.
Here is a video demo of the S40 interface running on the Nokia Asha 200.
Active standby mode (or Home screen mode, as Nokia call it here) is available as usual. It divides the screen into four sections, each of which is effectively a widget. The top row of the screen is reserved for status indicators (time, signal, etc.).
By default, the clock is on top, followed by Social (Facebook, Twitter and Flickr integration) and two Shortcut bars at the bottom, each of which grants instant access to four favorite functions or apps.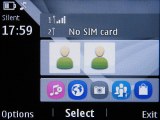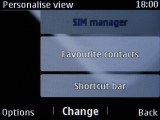 The homescreen • Editing the active stand-by
There are two D pad button shortcuts available on the homescreen. A left or right click can be set to launch an app (both native and Java) or change the phone profile. By default, a left click opens the app collection and a right swipe opens the Java apps and games folder.
There are two soft keys on either side of the D pad that have corresponding functions in either UI menu. The soft keys are user-configurable - you can assign your shortcut of choice to each of them.
The main menu has only two views - Grid and List. The grid layout is handy for offering numpad shortcuts.
You can also rearrange the icons in the menu in whichever order you like, in both grid and list view.
The familiar Go To shortcut is available and it gives you access to a list of nine shortcuts from the homescreen.
The lockscreen is standard Nokia - you get a date and clock interface with the underlying wallpaper.
The biggest omission as usual is multitasking - we've given up hope that Nokia will add that a long time ago. This leads to bottlenecks though they are rare.
You can't leave it running in the background. You have to go through that every time you want to do something with the app, except check the latest notification (notifications do come in the background and only the last one is displayed).
Easy phonebook
The phonebook of the Nokia Asha 200 will store about 2000 contacts depending on the fields you use, which isn't as good as unlimited storage but should do for those of us that aren't that popular. You can set the phonebook to display contacts from the phone memory, SIM memory or both.
Adding a contact is simple and straightforward - the phone asks for number, first and last name and that's it. When you need to add other details you can always go back and edit the contact. The phonebook can be set up to automatically store new contacts in a chosen location (phone, SIM) or to always ask.
Each contact can be assigned a variety of fields but the phone numbers are limited to 5. First names are separate from last names, eliminating problems which may occur with synchronization. You can assign individual ringtones to each contact.
A handy shortcut in the Options menu for each contact brings up the SMS conversations you've had with that contact.
The phone book has search functionality too. Contacts can be copied, moved or deleted either individually or in bulk.
Peoples choice
15 Jul 2017
fsV
My windows phone nokia 200 asha is not having any issue, but slight problem occured as i was browsing, for the fact that i am not an I T person i contacted my chief service provider Google.com through her i discovered you, so perfect my request,
I hardly hear conversation on my phone,what is the likely causes and proffered solutions Thanks.