Nokia E66 review: Clean-cut business tool
Clean-cut business tool
GSMArena team, 15 August 2008.
Display is great
Nokia E66 features a 2.4" 16M-color QVGA display. Its performance is completely up to Nokia's usual high standard with great contrast and brightness. Those make the picture really vibrant and a pleasure to look at. The ambient light sensor also makes sure the display is maximum user-friendly under any kind of lighting conditions.
The Nokia E66 screen offers the usual uncompromised legibility under direct sunlight. No matter how bright the sun outside, you can always read the display easily without trying hard finding a proper angle.
Keypad is among the best we've seen
Sliding Nokia E66 open reveals the alphanumeric keypad which we're really fond of. It has large keys with terraced layout and great touch orientation. Press feedback levels are also commendable.




The alphanumeric keypad is a joy to work with
The only problem is the insufficient headroom for the fist row of keys, where the slider does get in the way. It can be troublesome for users with large hands but it seems the new Eseries are more interested in reducing size than accommodating this concern.
We already mentioned the main controls on the slider, which do deserve an excellent mark too. The backlighting is also strong and pleasing to render the E66 perfect to handle in the dark.



The phone looks great in the dark too
Telephony
With Nokia E66 you are extremely unlikely to experience any reception issues. Sound during calls is very clear and free of any interferences. The phone sports the really nice Smart Dialing feature, which helps you quickly find a contact straight on the standby screen. All you need to do is type some digits and all contacts with names (first or last) containing letters corresponding to them get displayed.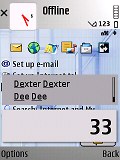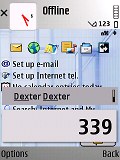 The smart dial feature is really nice
Nokia E66 sports an advanced call manager for filtering your incoming calls. You can opt for various settings - accepting only calls from your contacts, from all non-private numbers or from anyone. In addition you can set up different ringing profiles that can be scheduled to activate at a certain time (hour and day). Finally, you can also set the behavior of the phone when rejecting a call - busy tone, reject with SMS or answering machine on are some of the options.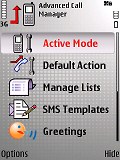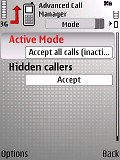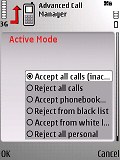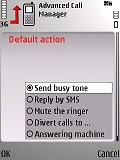 The advanced call manager is really handy for filtering your calls
Finally, the Nokia E66 also has support for VoIP calls - you just enter your account details and you are all set.
We conducted our traditional speakerphone test with Nokia E66. Unluckily it turned out to be one of the quietest handsets we have seen so far. This means that missing a call in noisy environment is rather likely with the Nokia E66. Here is how it ranked among a few of the other handsets we have tested. You can find information on the actual testing process, along with the full list of tested devices here.
| | | | | |
| --- | --- | --- | --- | --- |
| Speakerphone test | Voice, dB | Pink noise/ Music, dB | Ringing phone, dB | Overal score |
| Nokia E66 | 66.9 | 66.1 | 66.8 | Below Average |
| Nokia E51 | 67.0 | 65.7 | 71.2 | Average |
| Nokia E71 | 68.0 | 66.5 | 76.2 | Good |
| Sony Ericsson W960 | 72.3 | 73.5 | 76.7 | Very Good |
| Samsung i620 | 75.7 | 73.6 | 76.7 | Excellent |
Nokia e66 was my old phone before this windows Lumia. The thing that I really enjoyed on the e66 was the car game. But now, unfortunately, there us a lock and now I cant access it
Nokia E66 my phone is lock. Please guide me nokia code