Nokia Lumia 1320 review: Playing by the book
Playing by the book
GSMArena team, 03 February 2014.
Display
The Nokia Lumia 1320 has a 6" IPS LCD screen of 720p resolution for a pixel density of 245ppi. The LCD incorporates Nokia's ClearBlack tech - a set of polarizing filters, which minimize glare. Plus, there's Gorilla Glass 3 on top - the strange thing is the Lumia 1520 has only the second gen screen protection and not this one.



The 6" IPS LCD on the Lumia 1320
The capacitive display has the super sensitive touch technology allowing it to detect user input even through gloves. Just make sure you enable it in the settings menu if you need it, as it's disabled by default to conserve battery power.
A cool option that the Lumia 1320 has is the Lumia Color Profile. It gives you two sliders to play with in the settings - one for color temperature (which spans the cool, neutral and warm range) and color saturation (natural to vivid).
The Nokia Glance screen keeps the clock and notification icons visible on the lockscreen. This could be set to only display for a little while after lock, intermittently on and off and always on. There's a separate always on setting for when the device is charging. A Night mode allows you to pick a different color for the Glance screen info - Red, Green or Blue - if the default White setting is too bright for your sleepy eyes.
One new option in GDR3 is the screen rotation lock. That's an important feature for a phablet, but unfortunately it's only accessible in the Settings menu, which means you have to leave the app you are using to change it, there are no quickly accessible toggles here (this is a common problem for any setting in Windows Phone).
The Lumia 1320 screen isn't the sharpest we've seen on a phablet. The 720p resolution stretches a bit thin on the 6" diagonal, but it's not too bad really. You can fairly comfortably read books on the Lumia 1320 and view websites. Granted, it's not as crisp to look at as is the Note 3 or the Lumia 1520.
The great news is that the viewing angles and contrast are good and colors look great. Outdoor visibility is another key area where the 6" IPS LCD excels - you won't be having any problems showing your friends any content even in bright sunlight.
Display test
50% brightness
100% brightness
Black, cd/m2
White, cd/m2
Contrast ratio
Black, cd/m2
White, cd/m2
Contrast ratio
Nokia Lumia 1320
0.34
341
1008
0.62
671
1089
Samsung Galaxy Note 3
0
149
∞
0
379
∞
Samsung Galaxy Note 3 Neo
0
142
∞
0
389
∞
Samsung Galaxy S4
0
201
∞
0
404
∞
Apple iPhone 5s
0.14
163
1145
0.49
596
1219
Nokia Lumia 1520
0.22
263
1174
0.43
522
1207
Sony Xperia Z Ultra
-
-
-
0.47
467
1001
Samsung Galaxy Mega 6.3
0.12
160
1364
0.32
440
1379
Sony Xperia Z1 Compact
-
-
-
0.34
626
1819
Sony Xperia Z1
-
-
-
0.38
580
1513
HTC One
0.13
205
1580
0.42
647
1541
Sunlight contrast ratio
Nokia 808 PureView
4.698
Apple iPhone 5
3.997
Samsung Galaxy Note 3
3.997
Samsung Galaxy Note 3 Neo
3.487
Samsung I9300 Galaxy S III
3.419
Nokia Lumia 925
3.402
Samsung I9505 Galaxy S4
3.352
Samsung Omnia W
3.301
Samsung Galaxy S
3.155
Samsung Galaxy S4 mini
3.127
Samsung Galaxy S4 zoom
3.118
Nokia N9
3.069
Samsung Galaxy Note
2.970
Sony Xperia Z1
2.950
HTC One S
2.901
BlackBerry Q10
2.856
Samsung Galaxy S II
2.832
Samsung Galaxy S II Plus
2.801
BlackBerry Z30
2.790
Huawei Ascend P1
2.655
Sony Xperia ZR
2.672
Nokia Lumia 900
2.562
HTC One Max
2.537
Nokia Lumia 720
2.512
HTC One
2.504
Sony Xperia Z
2.462
Samsung Galaxy S III mini
2.422
Motorola RAZR i
2.366
Samsung Galaxy Note II
2.307
Alcatel One Touch Hero
2.272
Apple iPhone 4S
2.269
HTC Desire 600 dual sim
2.262
LG Nexus 5
2.228
HTC One X
2.158
Nokia N8
2.144
Oppo Find 5
2.088
BlackBerry Z10
2.051
Apple iPhone 4
2.016
HTC One mini
2.003
LG G2
1.976
Sony Ericsson Xperia ray
1.955
Nokia Lumia 1320
1.941
Samsung Galaxy Camera
1.938
HTC Butterfly
1.873
Huawei Ascend P6
1.865
Nokia Lumia 1520
1.813
Sony Xperia V
1.792
Sony Xperia Z1 Compact
1.772
Sony Xperia U
1.758
Meizu MX3
1.754
LG Optimus 4X HD
1.691
HTC One V
1.685
BlackBerry Q5
1.682
LG Optimus Vu
1.680
LG Optimus GJ
1.666
HTC Desire V
1.646
Sony Xperia Z Ultra
1.578
Samsung Galaxy Core
1.563
LG Optimus G Pro
1.552
LG Optimus 3D
1.542
Nokia Asha 302
1.537
Sony Xperia M
1.473
Oppo N1
1.470
Nokia Lumia 610
1.432
Gigabyte GSmart G1355
1.361
HTC Desire C
1.300
Nokia Asha 503
1.281
Nokia Asha 501
1.270
LG Optimus L7
1.269
LG Optimus L9
1.227
Meizu MX
1.221
Sony Xperia E dual
1.203
Samsung Galaxy Pocket
1.180
Sony Xperia tipo
1.166
Samsung Galaxy mini 2
1.114
Battery life
With a sufficiently large battery inside, Nokia quotes the Lumia 1320 at a maximum 3G talk time of 21 hours and 9 hours of video payback time. Our own test was concluded with an endurance rating of 75 hours. That's how long the smartphone's battery would last you if you use it for an hour of web browsing, an hour of video playback and an hour of talking each day.
That's not bad, but if you want even better battery performance in the Windows Phone segment, the Lumia 1520 is definitely the one to check, as it crossed the 100 hour battery rating barrier late last year.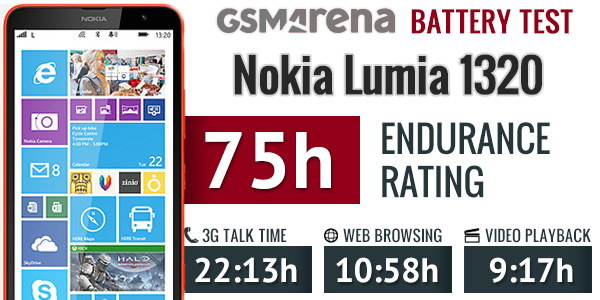 You can find the complete test breakdown over here in our blog.
I want deleted my outlooks photos and I can do it how will go
Thanks have a problem with my phone , the call history didn't appear
Nokia and Microsoft has given the Lumia 1320 phone as office phone. But it does not support pendrive connectivity via OTG cable. This create difficulty to take files from phone to pen drive. If it is possible then it will reduce more efforts...