Nokia XL Dual SIM review: Start to Finnish
Start to Finnish
GSMArena team, 02 May 2014.
Display
The Nokia XL features a 5" IPS LCD touchscreen of WVGA resolution (480 x 800) and a low pixel density of 187ppi. At the price point, we wouldn't have complained about the resolution too much until recently, but the Moto G and its 720p display (over twice as many pixels as WVGA) changed that.



Nokia XL has a 5" WVGA screen • it's noticeably bigger than the 4" screen of the Nokia XL
What we miss more is perks like Nokia ClearBlack, which is a polarizing filter that diminishes reflections and greatly improves screen legibility in sunlight.
There seems to be no scratch-proof glass of any kind, certainly not the popular Gorilla Glass.
Anyway, the large screen lends itself to comfortably browsing desktop pages, which don't require zooming in too closely. The low pixel density otherwise becomes apparent, with small text almost illegible and medium-sized text looking soft. Thin fonts don't work well, bold or italic text looks off.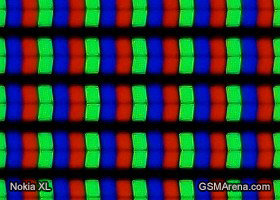 Viewing angles are surprisingly good for a display in this price bracket, however contrast and colors are not great.
Display test
50% brightness
100% brightness
Black, cd/m2
White, cd/m2
Contrast ratio
Black, cd/m2
White, cd/m2
Contrast ratio
Nokia Asha 503
0.28
178
647
0.56
358
635
Nokia X
0.39
247
637
0.64
461
715
Sony Xperia tipo
-
-
-
0.75
561
751
Nokia XL
0.33
251
752
0.53
466
874
Nokia Lumia 520
-
-
-
0.51
422
834
Sony Xperia E
0.19
157
813
0.50
433
875
Sony Xperia E dual
0.21
181
844
0.54
473
870
Samsung S7500 Galaxy Ace Plus
0.27
239
873
0.6
528
888
Nokia Asha 501
-
-
-
0.37
354
947
Motorola Moto G
0.35
315
906
0.57
550
967
Sony Xperia C
0.18
151
842
0.66
639
962
Apple iPhone 5
0.13
200
1490
0.48
640
1320
Brightness is good, we found that setting it at about 50% is usually good enough, but even at full blast it's not enough to overcome the reflectivity of the screen. The Nokia XL has one of the most reflective screens we've seen, earning it a place at the bottom.
Sunlight contrast ratio
Nokia 808 PureView
4.698
Apple iPhone 5
3.997
Samsung Galaxy Note 3
3.997
Samsung Galaxy S5
3.549
Alcatel Idol X+
3.527
Samsung I9300 Galaxy S III
3.419
Nokia Lumia 925
3.402
Samsung I9505 Galaxy S4
3.352
Samsung Omnia W
3.301
Samsung Galaxy S
3.155
Samsung Galaxy S4 mini
3.127
Samsung Galaxy S4 zoom
3.118
Nokia N9
3.069
Samsung Galaxy Note
2.970
Sony Xperia Z1
2.950
HTC One S
2.901
BlackBerry Q10
2.856
Samsung Galaxy S II
2.832
Samsung Galaxy S II Plus
2.801
BlackBerry Z30
2.790
Huawei Ascend P1
2.655
Sony Xperia ZR
2.672
Nokia Lumia 900
2.562
HTC One Max
2.537
Nokia Lumia 720
2.512
HTC One
2.504
Sony Xperia Z
2.462
Samsung Galaxy S III mini
2.422
Motorola RAZR i
2.366
Samsung Galaxy Note II
2.307
Apple iPhone 4S
2.269
HTC Desire 600 dual sim
2.262
LG Nexus 5
2.228
HTC One X
2.158
Nokia N8
2.144
Oppo Find 5
2.088
BlackBerry Z10
2.051
Apple iPhone 4
2.016
HTC One mini
2.003
LG G2
1.976
Sony Ericsson Xperia ray
1.955
Samsung Galaxy Camera
1.938
HTC Butterfly
1.873
Huawei Ascend P6
1.865
Sony Xperia V
1.792
Sony Xperia U
1.758
Meizu MX3
1.754
LG Optimus 4X HD
1.691
HTC One V
1.685
BlackBerry Q5
1.682
LG Optimus Vu
1.680
LG Optimus GJ
1.666
HTC Desire V
1.646
Samsung Galaxy Ace 3
1.622
Sony Xperia Z Ultra
1.578
Samsung Galaxy Core
1.563
LG Optimus G Pro
1.552
LG Optimus 3D
1.542
Nokia Asha 302
1.537
Sony Xperia M
1.473
Nokia Lumia 610
1.432
Samsung Galaxy Grand Neo
1.393
Gigabyte GSmart G1355
1.361
Samsung Galaxy Grand
1.321
HTC Desire C
1.300
Nokia Asha 501
1.270
LG Optimus L7
1.269
LG Optimus L9
1.227
Meizu MX
1.221
Nokia XL
1.204
Sony Xperia E dual
1.203
Samsung Galaxy Pocket
1.180
Sony Xperia tipo
1.166
Samsung Galaxy mini 2
1.114
Battery life
The Nokia XL doesn't have a tack sharp screen or a blazing fast chipset, but the upside of that should be good battery life. With a 2,000mAh battery we were a bit skeptical, yet the XL proved us wrong with a 62 hour endurance rating. Note that we tested the dual-SIM version of the phone with two SIM cards in it.
Talk time was pretty good nearly 11 hours, although the HTC Desire 600 dual sim did an hour more with a smaller battery. It's the web browsing that was particularly impressive though, 12 hours is about as good as we've seen (another dual-SIM HTC, the 5" Desire 700, did even better).
It's the video playback time that let the phone down with 6 and half hours. The video player has limited capabilities as we'll see later.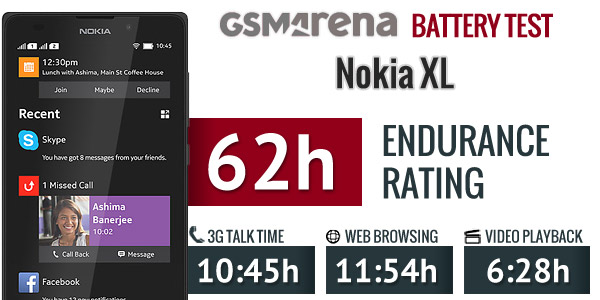 Anyway, for a dual-SIM device the Nokia XL showed excellent standby performance. This allowed it to top both the Desire 600 and 700 in terms of endurance rating.
For a more detailed breakdown of the Nokia XL battery performance check out our blogpost.
Even in India Nokia store stopped working so getting help from other platforms to update apps. Though if Nokia works better than other brands then I think it's one of the best and sturdy smartphones. Still waiting for good reviews on its new handsets...
Nokia XL i bey 2015 soudia Arab no working Store i will go Pakistan store open now i coming UAE but Nokia Store not working , Nokia play store Nokia XL i think in Gulf Country Nokia Play store have problem please check this problem
Does it support MHL? Please answer as soon as possible.