Oculus Go unveiled: a $200 standalone VR headset
Peter, 12 October 2017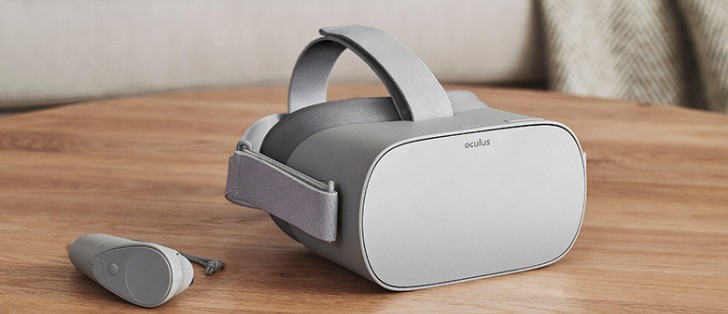 The Oculus team shook up the VR market with several big announcements. First is a permanent price cut to $400 for the Rift (with controllers). Then there's a new VR headset – the Oculus Go – and finally, an update on the Santa Cruz prototype.
You can think of the Oculus Go as a standalone Gear VR. It does not need a phone inside it, but it can't stream the game video from a PC either. The games run on the device itself and there's already a library of titles – the Gear VR games specifically. (Android isn't mentioned anywhere, but it has to be, right?)
For game control and interaction there is a single motion controller with a touch area and a trigger.
The Go will start selling in early 2018 for $200 – half the price of a Rift. And it has a higher resolution screen than the rift – 2,560 x 1,440px (single panel) vs. 2,160 x 1,200px (split between two panels). Oculus did switch from OLED to LCD, however, and the frame rate is still unknown.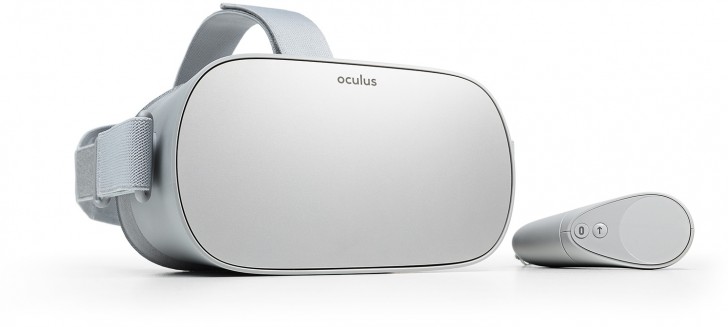 There are a few downsides to this. You'll be playing smartphone games, which do offer variety but not cutting edge graphics. There's no official info on the chipset, but unofficial info claims Snapdragon 821. No external hardware is used for the tracking, meaning it will be less accurate than the Rift.
The Oculus Go is very portable, especially compared to the Rift. You don't even need headphones since there are built-in speakers (but also a jack if you do prefer headphones). The headset is made out of a breathable cloth and you can wear it with glasses.
We'll reserve judgment for now, but we're still not entirely clear on how this is better than $100 Gear VR or Daydream VR. Sure, you need a phone, but you probably have one already – and you can buy a better one with the $100 you save off the Go.
Moving on, Oculus gave an update on the Santa Cruz – its prototype wireless headset that will be a more advanced version of the Go. It has two motion controllers that bring hand presence without the need for external tracking hardware (like the Touch controllers use).
Related
it has no positional tracking ....it's literally the same as a gear vr
AnonD-708340
16 Oct 2017
pJy
I don't know how you can make that statement without trying it first hand. It has several advantages on paper. Bascially it's one unit so optimisations can be for hardware included inside. Price wise it is very affordable - much less than a Samsun...
AnonD-708340
16 Oct 2017
pJy
"No external hardware is used for the tracking, meaning it will be less accurate than the Rift." - Shouldn't these types of statements be at least based on experience rather than conjecture? What happens if heaven forbid progress was made in inside...
Popular articles
Popular devices
Electric Vehicles